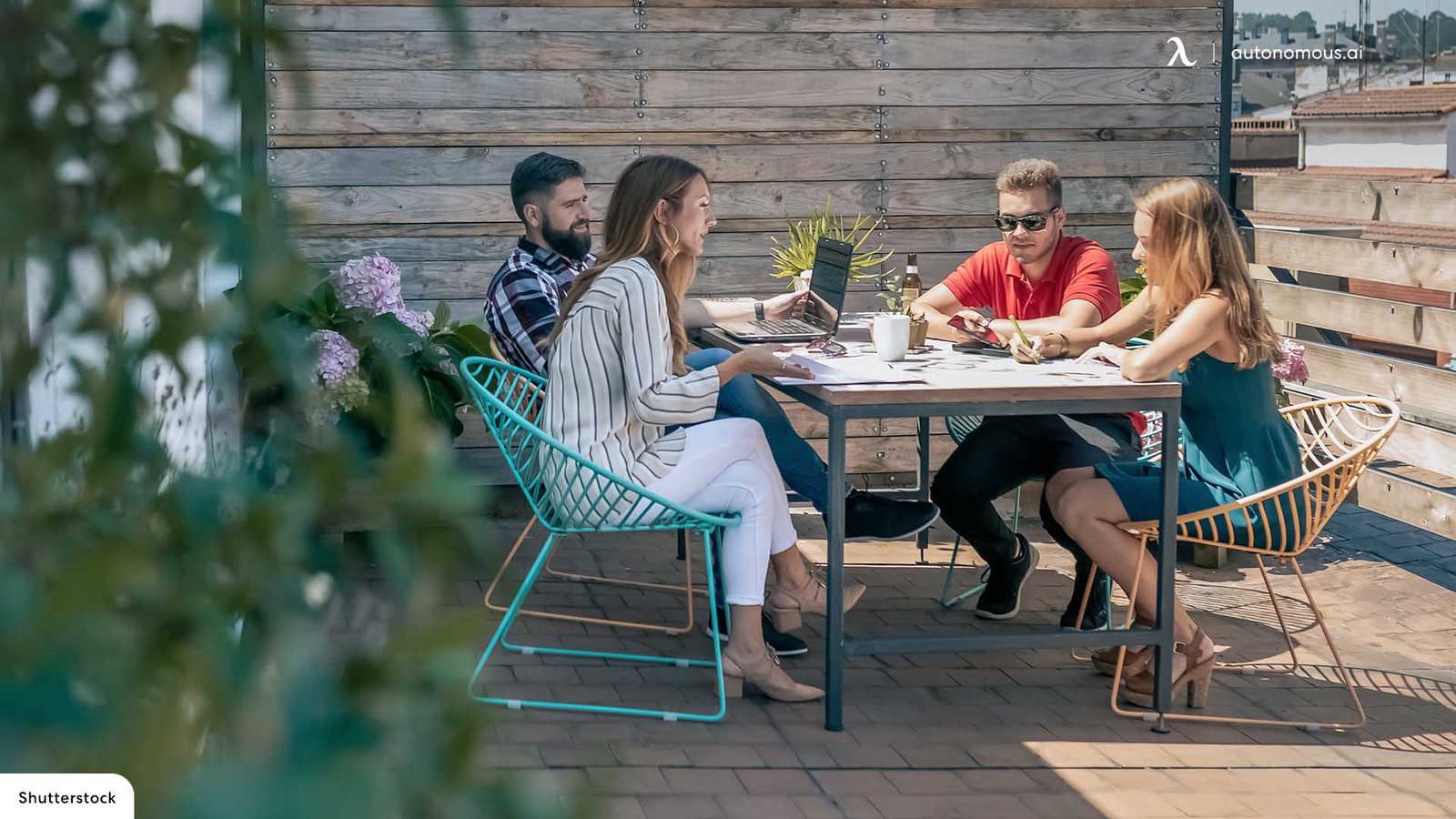 Workplace Inspiration
Things To Consider When Designing Rooftop Office

Autonomous
|
Jan 18, 2022
3,208 Views
Out with drab and gray office decors; in with the trendy and modern office. Most folks expect an airy, well-lit and trendy office. An office space that allows you lounge seating and separate reprography rooms.
Convert your rooftop into an office space. Enjoy beautiful views of the city and the well-done landscaped gardens you have created on your rooftop. Rooftop office designs are available in plenty.  It would be best to be sure of what your minimum requirements are from your office space.
Your rooftop need not just stay as a concrete jungle.  Turn it into an amazing space where your creative juices flow as you work in peace and serenity, enjoying nature. 
What is Attracting People to Go in For a Rooftop Office?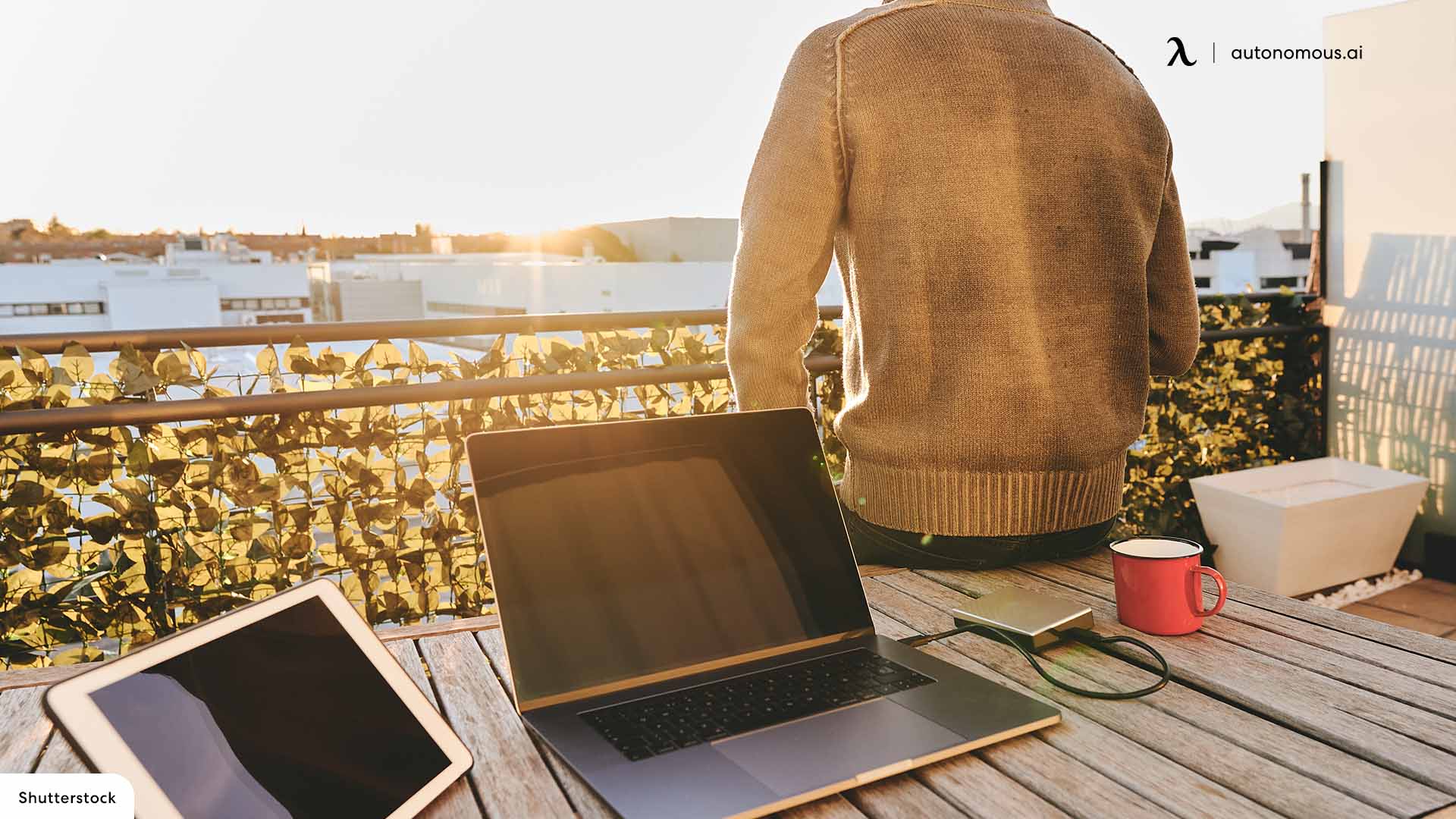 Apart from economizing the floor space and private space, many folks use conservation and sustainability as the main 'mantra' in doing up rooftops.  Though not a new thing, having a rooftop is picking up speed. Perhaps it's the need for the pandemic of a home office that makes people look for additional space.
Additionally, having a garden on the rooftop reduces carbon emissions.  How is that?  The rooftop gardens provide better insulation and reduce the working of your HVAC, thereby reducing energy bills.  You also enjoy the fruits or vegetables that are homegrown and perhaps organic.
Consider the value of increased aesthetics, and you cannot ignore rooftop office ideas amidst landscaped gardens.
Considerations When Designing Rooftop Office
1. Purpose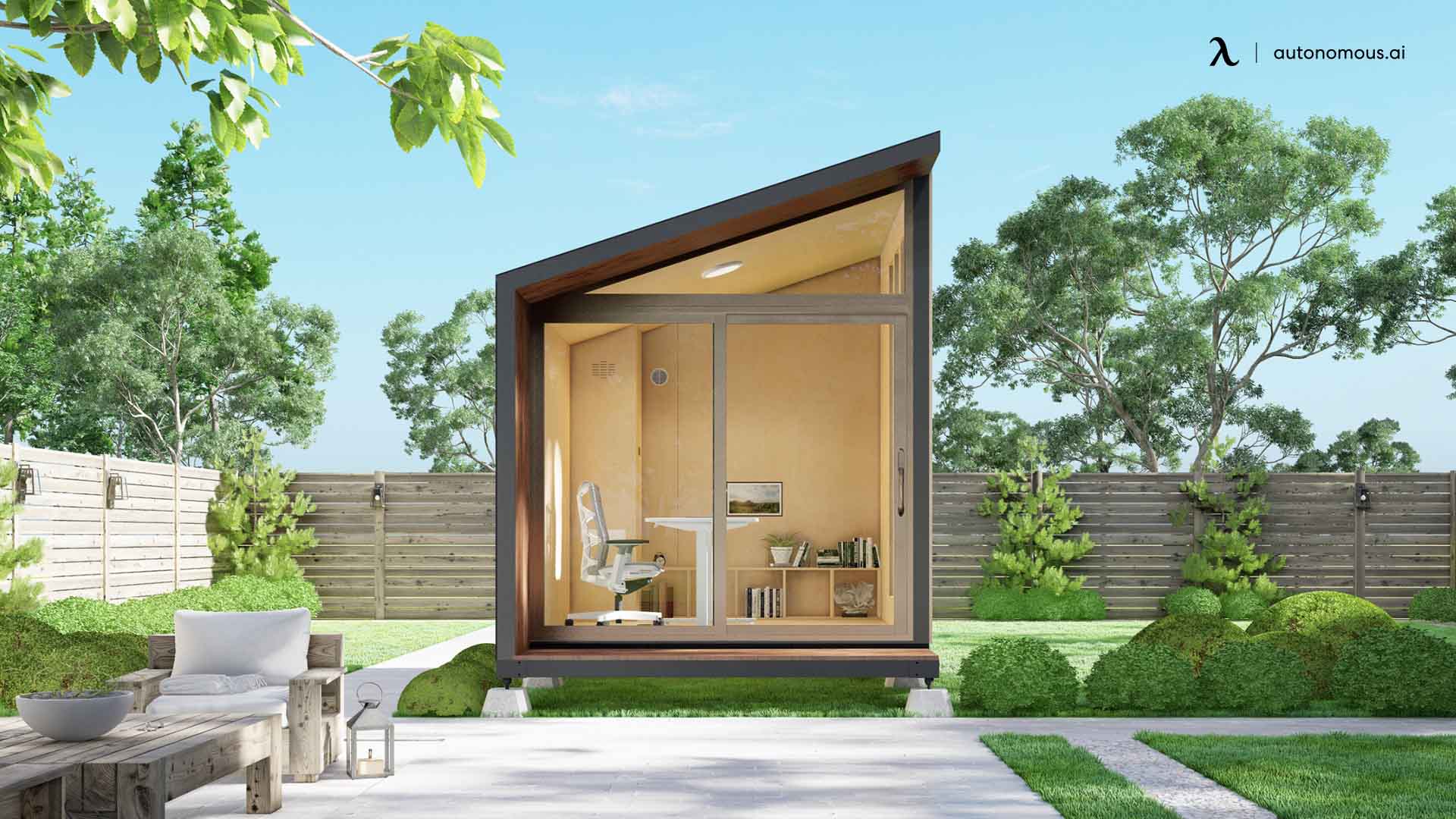 It is critical that you know the purpose of having a rooftop office design. Are you expecting visitors to this rooftop office space?  What kind of space will you need for meetings?  Or is it going to be a pod only?  Other questions to ponder are if you plan to have any additional rooms on the rooftop?  Or will you be using the space for a home gym or an alfresco deck?  For many more ideas, do explore our research on garden office pods.
2. Structural Foundation
Architects that you consult will need to check on the existing structural factors for the building.  Can it take the load factor?  Will there be any structural damages? Can they build in your needs and the area under consideration by moving to a different area on the rooftop? Their recommendations would also be based on the local laws of enforcing agencies and their limitations.
The structural foundation is also influenced by the kind of additional mechanical equipment you may install. For example, are you replacing or shifting the current HVAC system that is installed?
Don't be disappointed, as you may have some workarounds that you could manage.
3. Waterproofing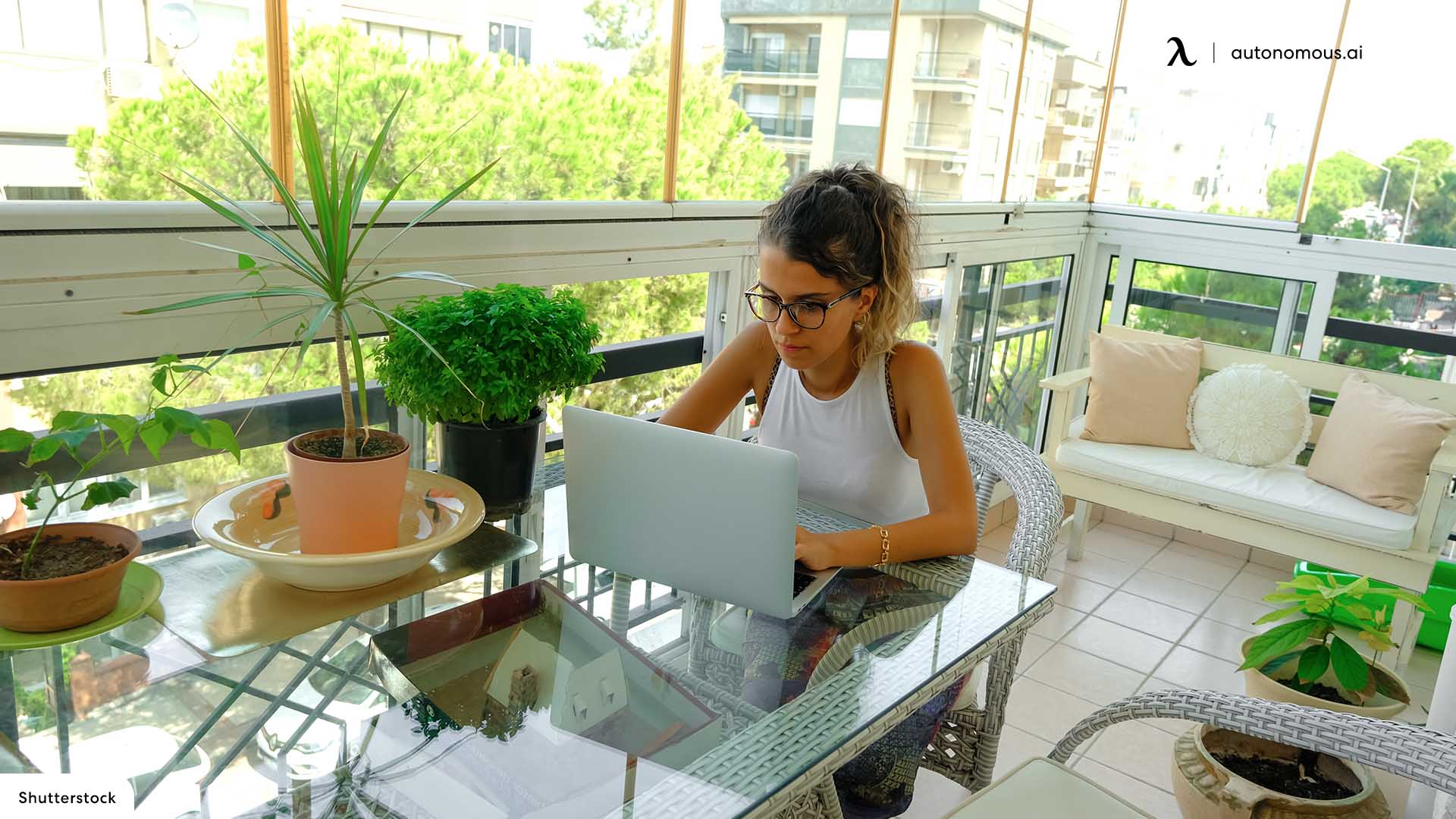 One of the biggest challenges you can expect is waterproofing. If it is an existing building, redoing the waterproofing could cost you quite a bit. Retrofitting can be expensive, time-consuming and require regular annual maintenance. You want to be sure to budget this.
Having an office rooftop terrace garden along with your office is almost like a dream come true.  However, you want to ensure that the waterproofing is well done to prevent issues in the future.  Technology has advanced, but ensure that your contractors do not cut corners for a few dollars more.
4. Accessibility
Most city/ local laws require new constructions to be adhered to the Americans with Disabilities Act, 1990.  Your architect consultant should be able to help you with this topic. However, consideration for this may involve unexpected costs that you may need to think about. You may need ramps, elevators, and inclined paths if you have visitors or anyone at home who steps into your rooftop office design often.
5. Comfort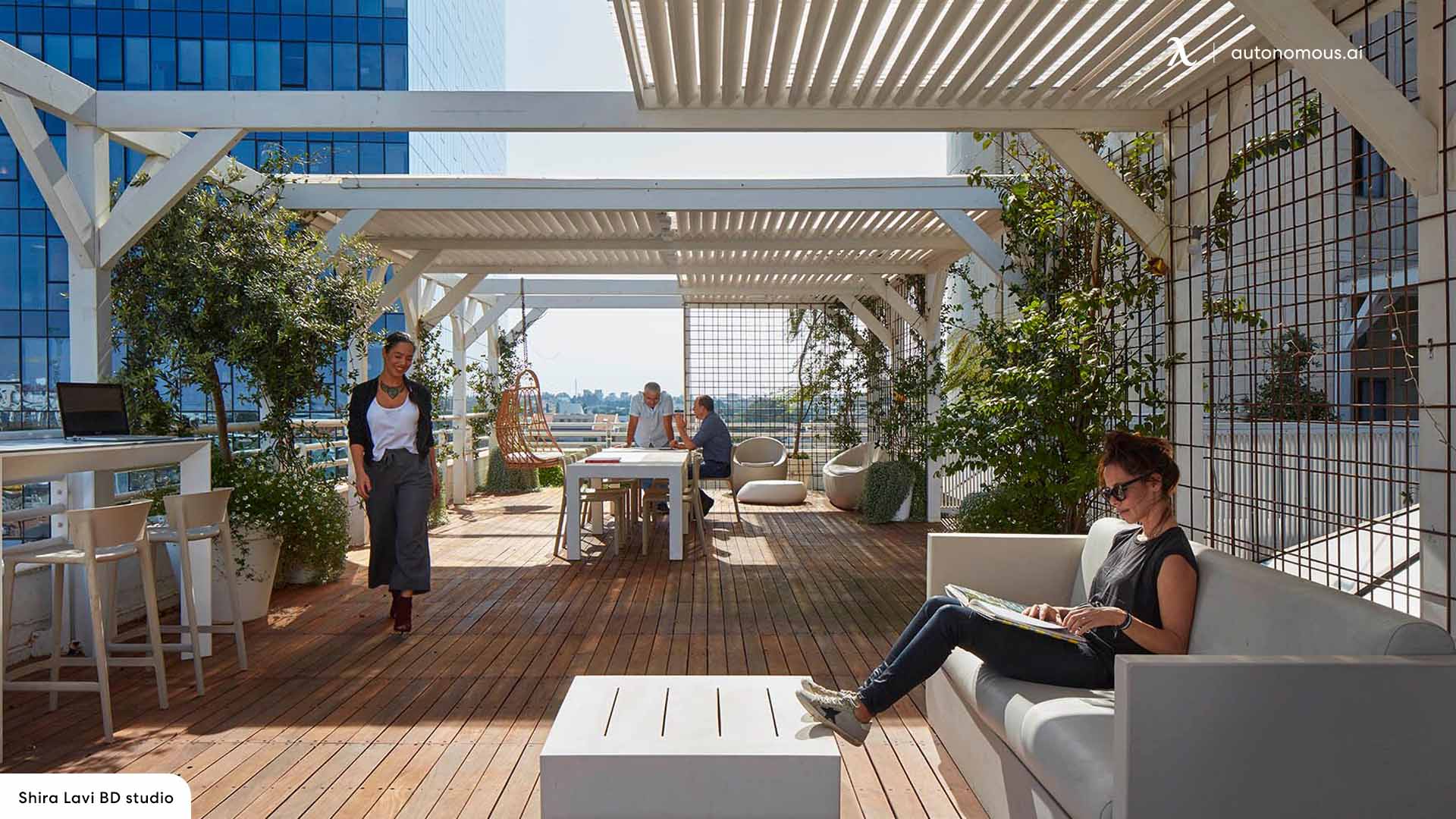 Many folks miss out on function over form or design when designing a rooftop office.  Having an open rooftop office design is nice but of little use when you have rains or scorching heat.  Plan for some covered areas to enjoy the weather when needed, along with your office rooftop garden.  Don't forget to add an adjustable floor lamp for reading if you plan to sit outdoors with a glass of beer.
If you have considered a landscaped garden for view, you should go for a wooden pod for a garden. You will love the minimal installation time, integrated ventilation system, and brilliantly lit ninety-eight square feet of space with glass panels. Ready for a plug-and-play, you can safely manage this with minimal help.
Some folks find it helpful to have a pantry for tea/coffee and a little more. This avoids folks from going down to the kitchen when all you want is a nibble to keep the mind working. 
As you sit on your terrace garden, don't miss out on installing a LED floor lamp for reading. 
6. Safety
Safety should be factored into the design, especially if you have kids at home.  Most civic construction laws would also dictate this.  Consider adding grills and railings or parapets if it is not added already into the design.  These are usually about four feet in height at a minimum.  Check the local laws with your architect.  Additionally, provide clear lighting with various home office lighting ideas.
Have an Alfresco deck on your rooftop with an office?  Add outdoor solar light strings to set ambiance after a hectic workday.  Relax in the open, knowing there is enough light to avoid accidents.
7. View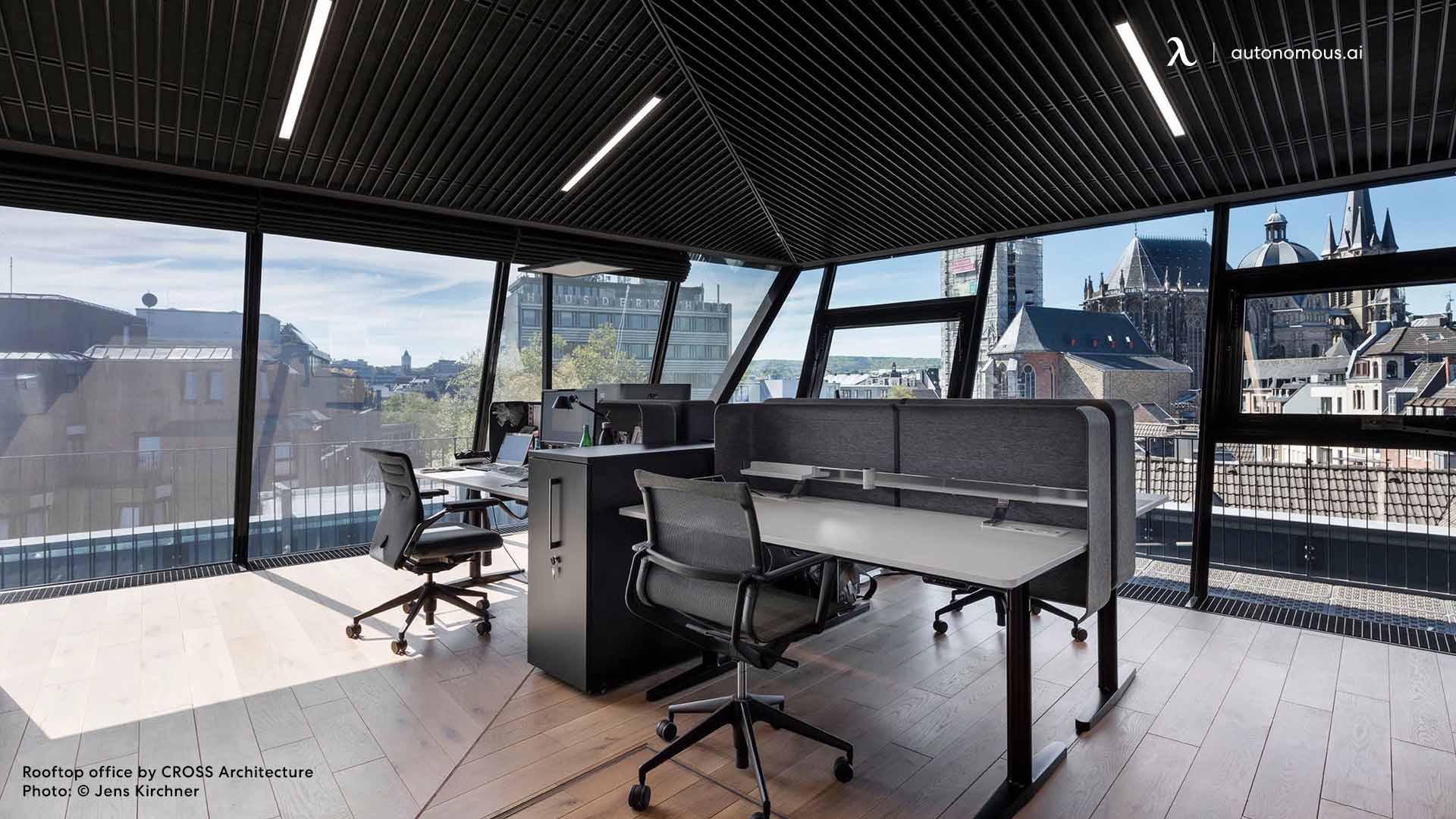 Folks, who go in for a rooftop office design for different scenic views, should also consider if it is worth the costs? At times, buildings may be swamped and closed in by other high-rise buildings, leaving you with little scenic views.  You may like to explore some outdoor office pod ideas too. 
Usually, rooftops inside a city are likely to face challenges. High walls on the parapets or wooden grills with green shrubs and ample lighting can still make it attractive. You are less likely to face such challenges if you plan a rooftop office outside the city. 
Wrap-up
A rooftop office design is so cool and nourishing for a tired mind to work productively. Take your time to think about these considerations before going in for one. Happy Working!
Video ads for product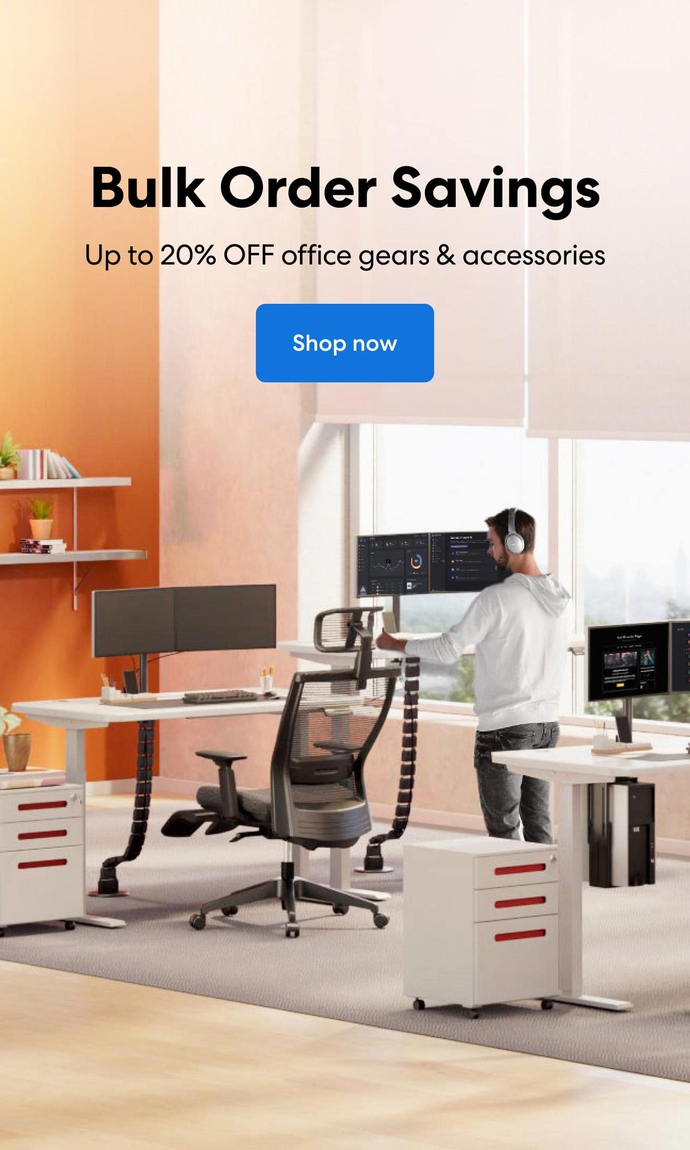 Subcribe newsletter and get $100 OFF.
Receive product updates, special offers, ergo tips, and inspiration form our team.