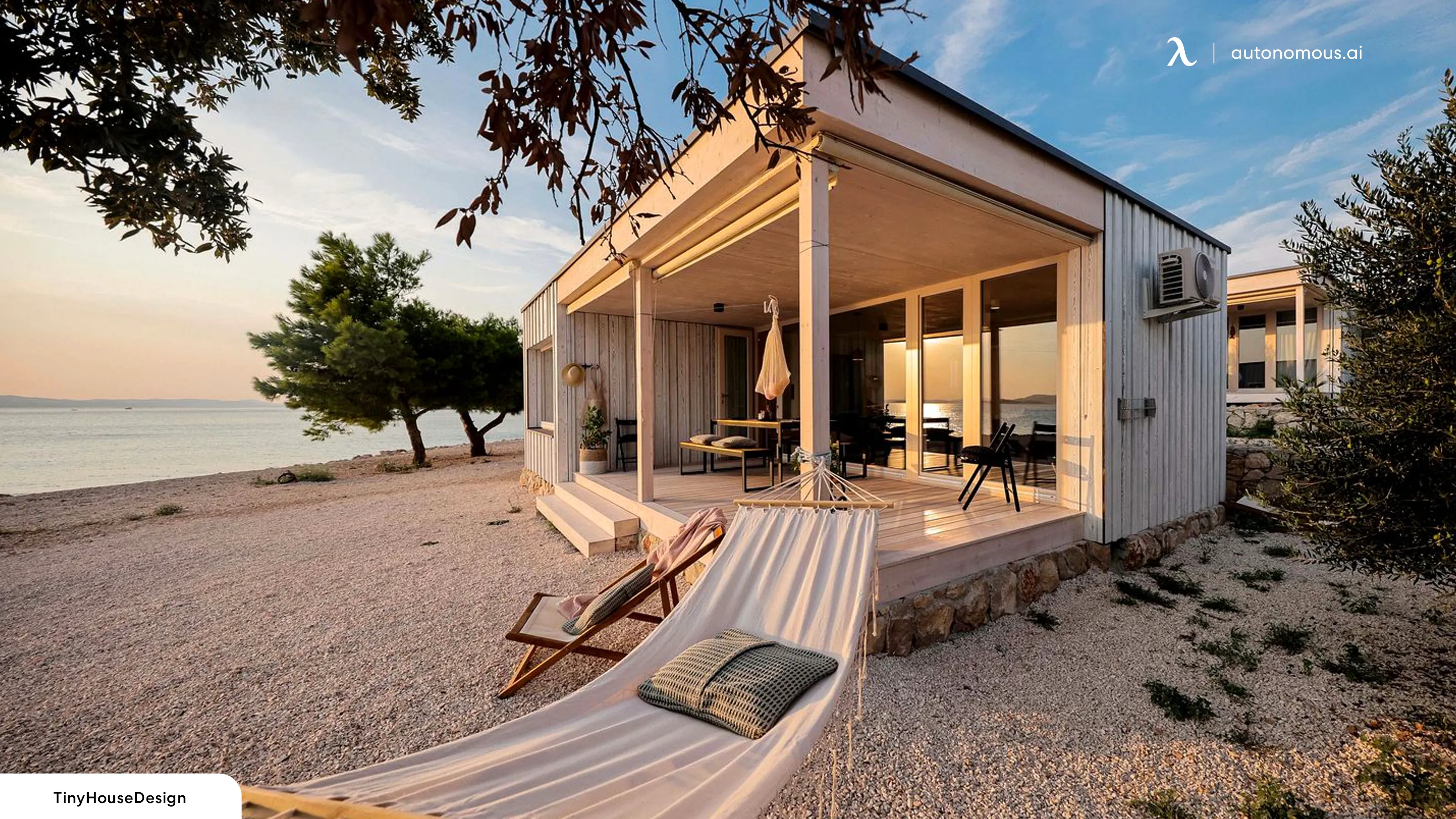 Workplace Inspiration
Tiny Beach House Designs for Privacy and Relaxation

Autonomous
|
May 31, 2023
524 Views
Are you looking for a thrilling getaway? Or a long, sunny vacation with your loved ones?
Many of us are probably daydreaming about the nearby beach right now, as beach houses uniquely take us away from reality. Therefore, we've stirred up eight of the best tiny beach house designs so you can relax and experience peace on your getaway.
Inspiring Tiny Beach House Designs
Two Bedroom Tiny Beach House
Location: Westerly, Rhode Island
This charming coastal beach shed is conveniently located a short distance from the beach, and the heart of Westerly, so you can enjoy all the area has to offer.
Enjoy your morning coffee or evening glass of wine while enjoying the salty sea air on the front porch. In the kitchen of this 1918's-build historic home, guests will find a farmhouse-style sink, butcher block counters, and soaps manufactured in the area; this is one of the best small beach house design ideas. This two-bedroom micro-home has all the amenities you need for a private retreat.
Modern Beach Hut
Location: Lincolnshire, UK
This contemporary beach shed in Sandilands is ideal for relaxing privately during the summer. The firm departed from conventional architecture by enlarging and renovating a former restroom building into a modern beach pod using cutting-edge geometric forms and materials.
The structure's unique red peak is constructed from stained timber boards. Instead of glass, the northwestern facade is covered in opaque polycarbonate panels to let natural light in. The architects conclude that this small beach house design idea reflects the eccentric features of the current structure on this site and enhances the area's tourism appeal.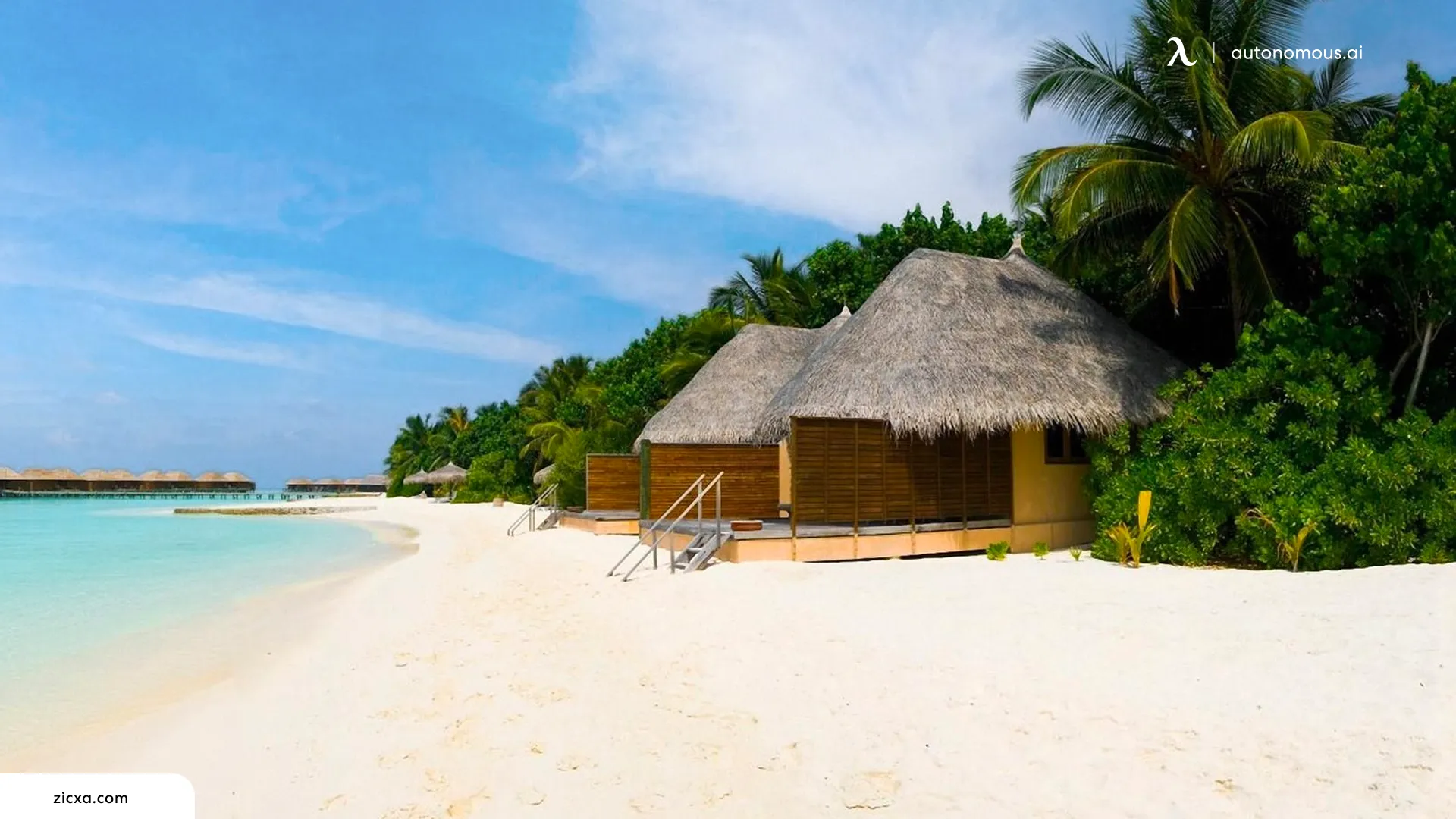 Villa Bon Bida
Location: Willemstad, Curaçao
Villa Bon Bida, which translates to "Villa Good Life," is a private residence on the shores of Curacao's Spanish Water Bay, offering spectacular views of the island's scenery and sunset skies from the property's pergola and dock.
Breakfast under the pergola is our favorite beach shed idea and the perfect way to start the day after a leisurely wake-up. Following that, you can unwind in a hammock and finish that book you've been meaning to read.
Curaçao offers many sights to see, and if you're feeling adventurous, you can rent a car and see them all at your own pace. You can return to your tiny beach home to relax with a drink on the veranda and take pictures of the gorgeous sunset.
The property has two bedrooms and two bathrooms, making it suitable for a small group private getaway.
Wooden Beach House
Location: Kitty Hawk, North Carolina
It turns out that a person can have it all. This cozy home on the seaside is close to a public beach and offers peace. Built on stilts, it overlooks the beach, barely a few hundred feet away from the crashing surf.
We love that this tiny beach house has a large terrace that looks out over the water and the stars above. There are beach chairs, an umbrella, and a beach cart tucked away in the basement of this one-bedroom cottage. You will surely enjoy the beach shed house idea of an outside shower where you can clean up after a day at the beach beneath the stars.
Bayside Bungalow
Location: Olympia, Washington
This beach house by the Bay of Puget packs all the conveniences of home into a compact log cabin on wheels and is just steps from a private beach. You can have a meal made from scratch in the fully equipped kitchen, relax in the cozy window seat, or look at the night sky through the glass roof inside the sleeping loft.
You may get your fill of nature's splendor every day from any warm nook in this beach pod because it is surrounded by a peaceful garden and towering fir trees. We love how the place is surrounded by nature, providing you with the perfect getaway from your life.
Minimal Beach House
Location: San Diego, California
After a long day at the beach or in the city, you can relax in this comfortable one-bedroom beach shed. It's a quick 15-minute drive from the airport and only four houses from the beach.
They have a parking area, a washing machine, amenities for families, such as a Pack 'n' Play, and upscale features, such as a walk-in rain shower included in their guest house plan. Additionally, a sleeper sofa is available in the living room for families or groups of three.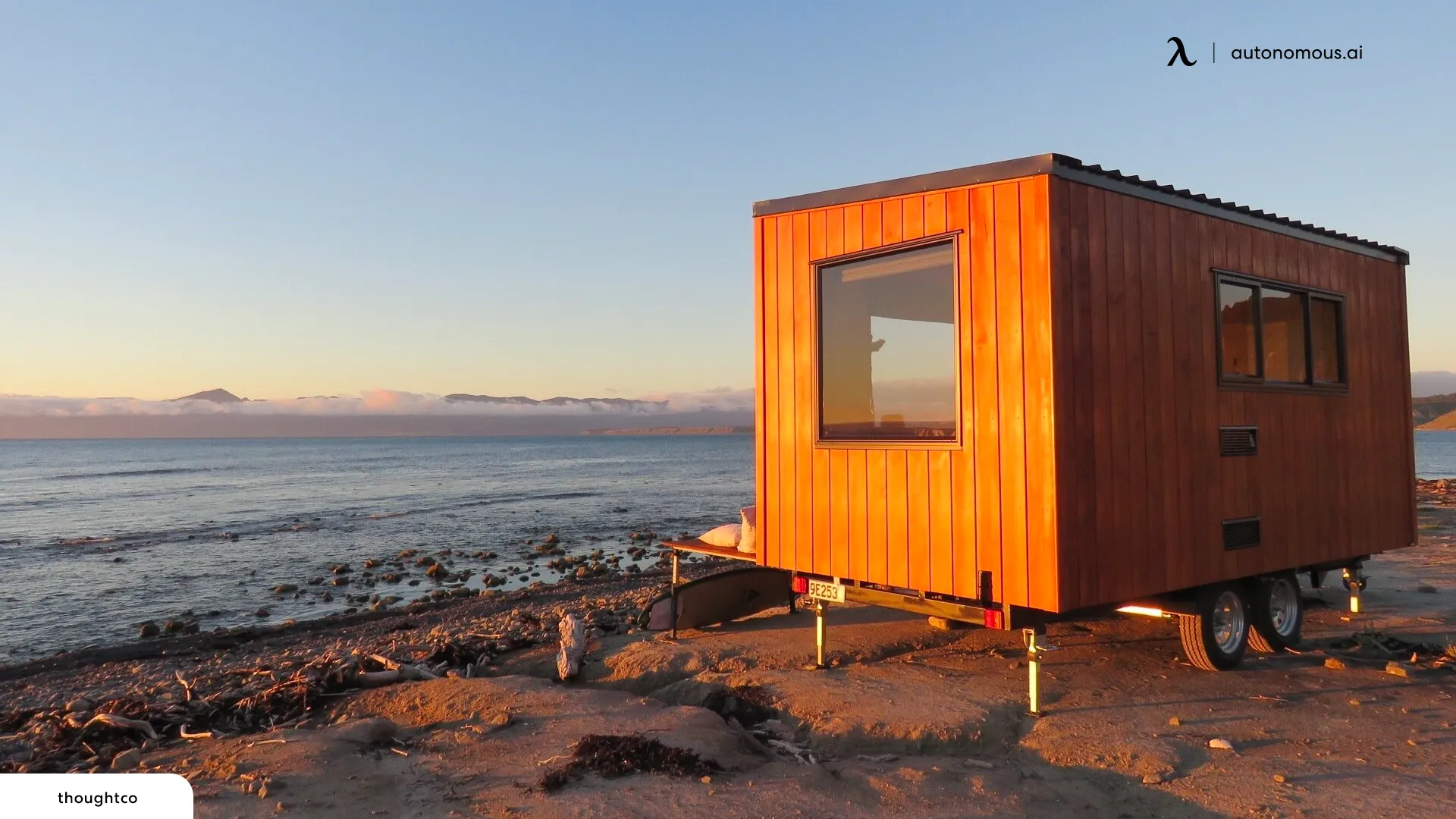 Margate Beach Hut Inspired Houses
Location: Margate, UK.
Margate, a popular tourist destination only an hour by rail from London, is renowned for its rich history, unique architecture, and breathtaking sunsets across the Channel. These tiny houses are for sale under $15000, so if you decide to make one of these homes your permanent abode, the sunset may be a regular part of your view.
The architect set out to update the "iconic English beach hut typology" with this collection of 11 beachside homes. In the modern day, this small beach house design idea represents the pinnacle of relaxation and privacy.
Treehouse Cottage
Location: Captain Cook, Hawaii
The Big Island's finest treasure is not a five-star hotel but rather an eccentric tiny beach house in Kealakekua Bay beneath a tall ficus tree. The one-bedroom beach shed has a full kitchen with a stove and mini refrigerator, making it ideal for honeymooners or single explorers. Swimmers, snorkelers, and those just looking for a quiet place in nature will find this beach an ideal destination.
Guide to Beach Vacation
Select a time that works for you
The initial step in planning a trip to the beach is picking a date. Selecting a time range will greatly facilitate your decision-making. Keep in mind that prices tend to increase significantly during busy seasons.
Choose your destination
It would be best to research the local climate, weather, and wave conditions of your preferred location before booking a trip. The weather in the Caribbean is pleasant for most of the year; with the exception of the late summer/early fall hurricane season.
Consider the specifics
Creating a checklist is the next major step after finalizing your travel dates and tiny beach house locations. Consider the number of people staying at the beach shed, how close you need to be to the nearest town, and how quickly you want to get to the beach. Also, decide whether you need a special beach house, such as a backyard guest house or a modular ADU.
Establish a financial plan
Consider transportation costs like flights and rental cars before deciding on a weekly or nightly fee. You can also look up some DIY house kits if you're short on cash.
Examine reviews
After selecting and shortlisting your desirable beach pods, it's time to check out customer feedback. Previous customers might leave useful reviews that can help you decide upon the perfect tiny beach house for yourself.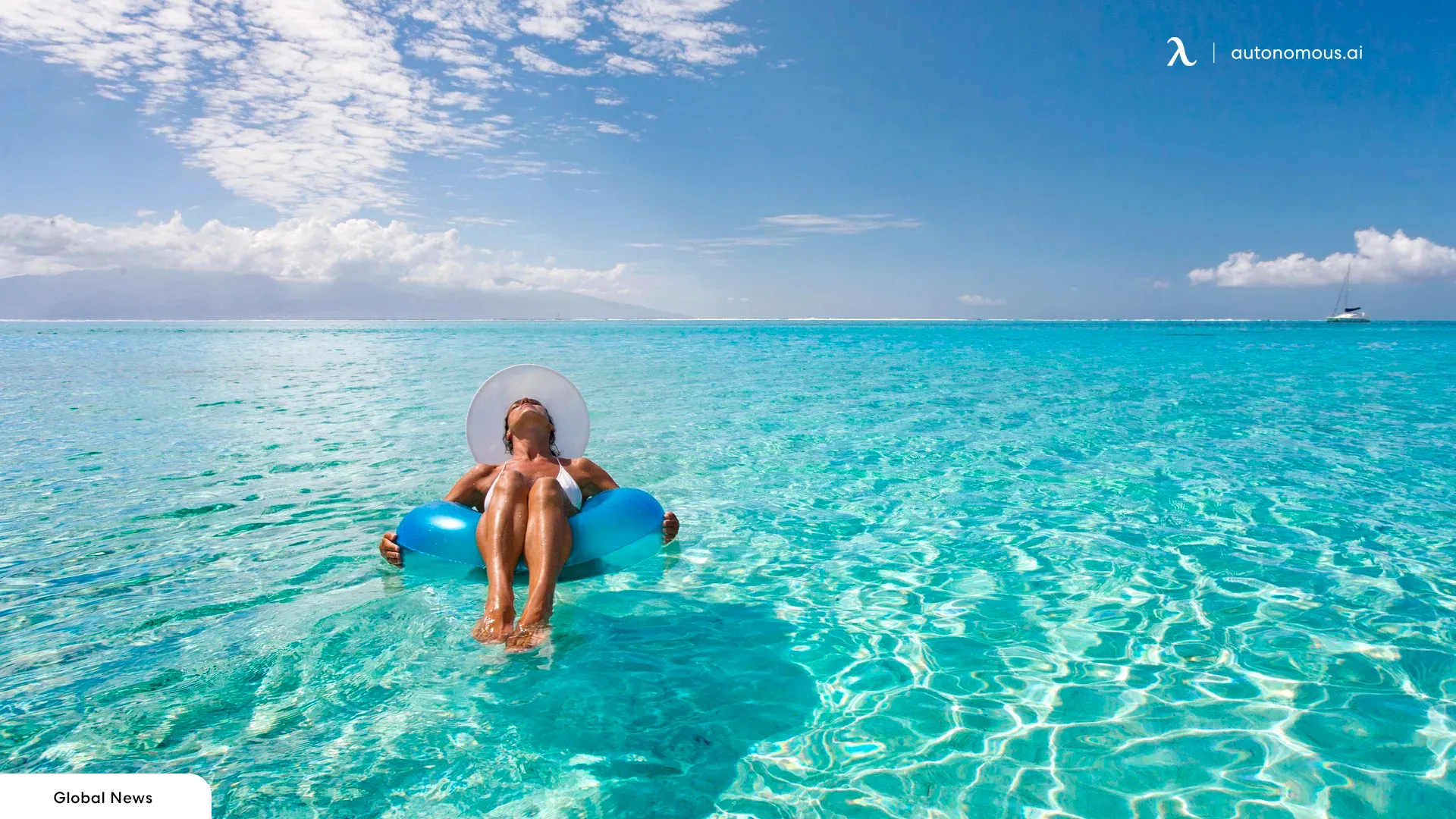 Ending note
Think of how relaxing it would be to spend your time off on a gorgeous beach property with your loved ones, far from the stresses of everyday life. A beach shed provides the best of both worlds, with the comforts of home and the scenic splendor of nature right outside the windows.
If you're looking for quality private time, the tiny beach houses on our list above are a great place to start.
Video ads for product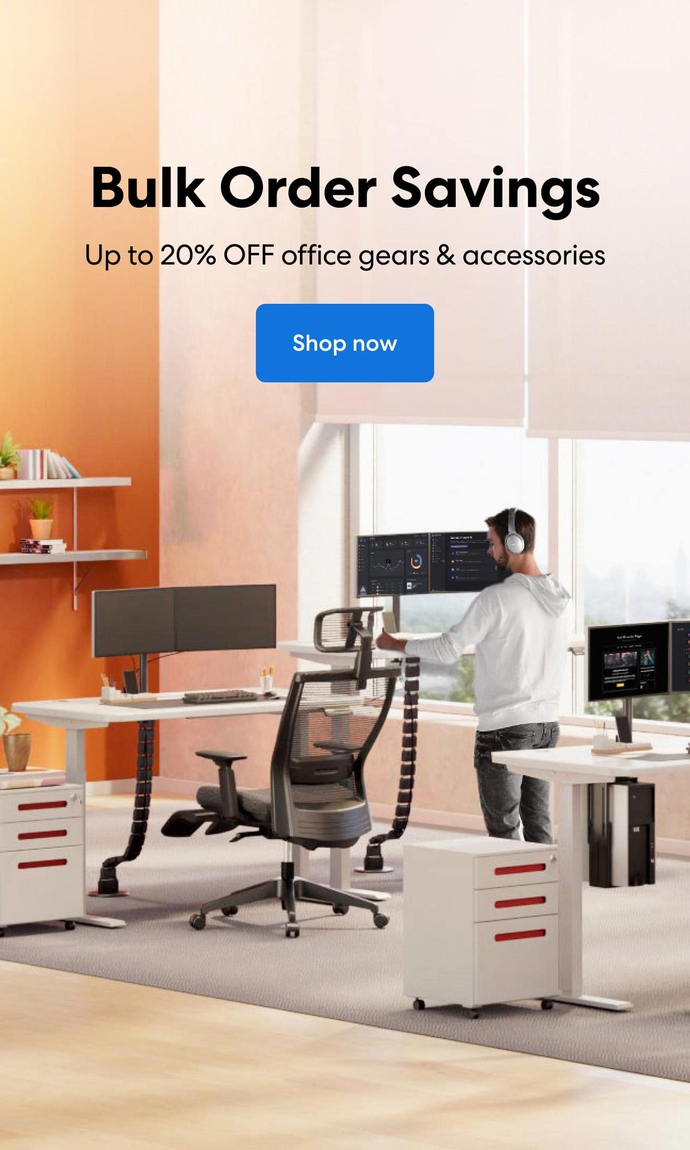 Subcribe newsletter and get $100 OFF.
Receive product updates, special offers, ergo tips, and inspiration form our team.