Smart Products
Tips for Choosing the Perfect Glass Desk for Your Office

Ryan Tanaka
|
Nov 19, 2023
884 Views
Are you searching for a glass-top standing desk? Many people like the appeal of glass because it's bright, see-through, and can help them concentrate. However, choosing the right one can be problematic, especially if you haven't been desk-shopping in a while. 
Today, you will learn some helpful tips for selecting your glass desk. However, you'll also discover the benefits of standing desks and why they help you sit less during your day. Likewise, we will focus on a few ways to maintain the glass so that it doesn't scratch or turn yellow over time. 
Let's dive in! 
Why Are Glass Desks Appealing for a Contemporary Office Setting?
When you consider the material of the top of your white standing desk, you have few choices: glass or wood. Wooden desks are often made of medium-density fiberboard (MDF), which means they feature wood chips and particleboard. The grain surface is printed and then bonded to the board to make it look like a wooden desktop. 
However, a glass office desk is much different because the desktop itself is transparent or semi-transparent. In some cases, you can use colored glass, as well. Its thickness often varies and can be anywhere from 6mm to 19mm, which is just one of many reasons to consider it. 
People often see a glass-top office desk as a statement piece since the glass is sleek and more modern. It makes others feel that you take your appearance and business seriously. Likewise, glass desks with drawers can complement your interior design by adding formality and elegance. 
A glass desk could also be combined with leather chairs. Complementary furniture will help you create a more stylish suite, whether it's your home office or a meeting room.
Before jumping into the aesthetics that glass offers, it's crucial to understand the drawbacks and benefits. Let's learn about them now:
Benefits of Glass Desks
Here are the benefits of glass desks:
Brightens Up the Space – A glass desk will brighten up your space, whether it's a meeting room or office. Its transparency will give the illusion of having more open areas and can even transform small and dark rooms into well-lit and uncluttered places.
Easy to Clean – Glass isn't an absorbent material, so it's easier to clean and maintain compared to a wooden desk, which might absorb spills and stains. You'll learn more about maintenance tips below.
Less Damage – Chips and scratches on a wooden desk are problematic, and it's difficult to repair them. If the desk faces outward to welcome visitors, you might think it looks unsightly. However, a glass desk doesn't have those same issues, so you won't have the defects.
Great Style – A glass computer desk is highly stylish, so it will appeal to executives and the like.
Durable and Strong – Most people think glass is fragile and might easily shatter. However, a glass office desk uses tempered glass, so it's more durable than you think. Likewise, the manufacturing process uses controlled chemical or thermal treatments, so it's stronger than traditional glass. While tempered glass could shatter or break, it does it safely without large pieces.
Disadvantages of Glass Desks
Just as there are many benefits of glass desks with drawers, you also have to think of the disadvantages, which include: 
More Expensive – Glass isn't a cheap material, so you might have to spend more. However, it's a worthwhile investment because you will create lasting impressions with your clients and will feel better knowing you have a beautiful desk.
Fingerprints and Dust – Glass desks are prone to dust, stains, spills, smudges, and fingerprints. Since it's a transparent and clear surface, you'll notice them more. Therefore, you will have to clean them regularly.
Noise – Glass is a hard material, so when glasses, mugs, or files are put on it, you'll hear the sound. This might not be an issue for most people, but it's something to consider nonetheless.
Heavy – If you plan to stay in your office for a few years, the weight of a glass desk might not be so bad. However, if you're often moving around, it might make it difficult.
How to Choose Suitable Glass Desks for Your Office?
Whether you want a small standing desk or something larger, it's important to select the right one. Plus, you can add glass to the desktop to make it stylish. You learned about that earlier!
Here are the steps to take to choose a suitable glass office desk for your space: 
Consider How the Glass Will Be Used
Is the glass going to be structurally supported, or will it simply sit on top of the desktop to protect its surface? This decision will determine the strength and thickness of the glass, so it's crucial to consider your end goal. Strength is essential, and the wrong thickness might break if you put too much weight on it. If you are using it as the desktop, you'll want a ½-inch thickness, but you only require ¼-inch-thick glass for a protective cover.
Determine Glass Type
There are many glass options available, but annealed and tempered are the most popular for glass desks. Annealed glass is untreated, and you'll need about ½-inch thick. Tempered glass, on the other hand, will add strength and make it harder to break. Chemicals are used to treat the glass, and it's often called safety glass. Therefore, if it does break, it does so in pebble-like pieces, so there aren't any sharp edges.
Size
Make sure you know your desk dimensions before buying glass. Otherwise, you might purchase the wrong size and have to return it or use it for another project.
Choose Decorative Elements
Having a glass desk doesn't mean you have to limit your decorative elements. Add personality and style here! For the structural design, consider trapezoids, circles, rectangles, and triangles. Then, tint, back-paint, or stain the glass. If you prefer a more traditional approach, the simplicity of transparency is elegant and beautiful.
Choose the Edgework
The edge treatment might be a small detail, but it makes a difference in the aesthetic and style of the piece. Beveled or flat edges are professional and modern. However, ogee or waved edges offer more personality and bring creativity into the mix. Edge corners will also contribute to the style. Think about where it will be placed. If it's in a high-traffic area, you may want a clipped or radius corner, but a sharp corner might be ideal in an office where the desk is the centerpiece.
Enjoy the New Desk
You've determined everything you need to know and can select a desk that meets all of your needs. Now, it's time to bring the image to life and enjoy working on your new desk! 
Maintenance Tips for Glass Desks
Choosing the right desk materials is crucial for your home office, and glass is an excellent option. However, you need to know how to maintain it so that it looks great for years to come. Here are the top tips to consider: 
Use placemats and coasters to reduce marks and spillage issues.
Never put heavy items directly on the glass itself.
Regularly wipe it down or use a mild detergent to clean it.
Use a dry cotton cloth to buff the surface. Anything else might create scratches.
Remove grime by using white vinegar and baking soda.
People often ask these questions when learning how to maintain their glass desks: 
What's the Best Cleaner for Glass?
There are many options available for glass cleaning, but a budget-friendly choice is to use one part of white vinegar and two parts of water. Spray it on the glass and wipe it with a lint-free cloth to avoid streaks. If you like commercial cleaners, an aerosol foam option would be great. 
What Should I Avoid Putting on My Glass Desk?
Abrasives shouldn't be used on glass, and you should also avoid acid and ammonia. Paper towels can also be problematic because they leave streaks and could scratch the glass if they're very rough. 
Why Do I Notice Streaks When I Clean My Glass-top Office Desk?
Look at the type of cleaner you use here. Most cleaning products leave behind residue that streaks up as they dry. Quality cleaners don't do that.
You should also be using an absorbent towel to wipe away the cleaning solution. Otherwise, you're simply moving around the moisture, which will lead to streaks. Microfiber could be a great choice! 
If towels don't help here, you might wipe the cleanser away with a newspaper. Crumple up a few sheets to absorb the cleaner and give your desk a lint-free finish. You may also wish to avoid cleaning the glass in direct sunlight. The surface might dry too fast, which can lead to streaking.
Do I Have to Wipe My Glass Desks Horizontally or Vertically?
It doesn't matter which way you prefer to wipe the glass. Instead, you should focus more on maintaining even pressure while you swipe. 
How Do I Avoid Scratches and Discoloration of My Glass?
You should take proper care of the glass to keep it looking great for years to come. Therefore, you shouldn't place items with rough bases or sharp corners directly on the glass because it could dull or scratch the surface. If you routinely drink or eat at the desk, make sure you use placemats and coasters. 
Ideas to Help You Setup Your Office with a Glass Desk
Whether you have a black office desk or choose another color, you can set up your office for a glass desk. 
It's likely that the desk will be the focal point of the room. Therefore, you may want to keep it in the middle of the space. Your office chair will go behind it, and most people like to face away from the windows in the room. 
If you face toward the door, you will easily be able to welcome clients and visitors without having to yell for them to come in or let them see your back. 
Typically, it depends on the setup of your room. Most people like to have the window behind them so that they enjoy the natural light without it being in their eyes. You can then add bookshelves on the sides. As long as you make sure you have enough space to move around the desk, you'll be fine.
Other things to consider include: 
Filing cabinets
Dry-erase boards
Printer space
Containers for your office supplies
Desk setup 
Most people use filing cabinets to store their documents and even office supplies. Likewise, you may add a few dry-erase boards to help you get the creative juices flowing or remember important events. 
You also have to think about the space you'll require for printers, fax machines, and other equipment. Finally, you'll be focused on setting up your glass desk to hold everything you need. Items might include: 
In/out trays
Laptop
Keyboard
Mouse/mouse pad
Second/third monitors
Modem boxes
Fans
Candy dishes
Hand sanitizer
Why Choose Standing Desks from Autonomous?
There are many benefits of using a standing desk. Since you aren't sitting all the time, you will burn more calories, experience less back pain, and become more productive. 
Autonomous has many standing desks available, but you may also want to use glass as the desktop. You can use almost any of the desks this brand offers and utilize your own desktop. However, you could simply purchase the SmartDesk frame itself. Then, you can add the glass to the top! You've created something beautiful and elegant for your home office!
Conclusion 
Choosing a glass desk for the office has many benefits, which you learned about today. Likewise, you focused on the appeal of glass desks and how to choose one for your office. We also gave you maintenance tips and ideas to help you set up your space. 
You need quality furniture brands when setting up a home office. Many people like the appearance of glass, but they also want to enjoy the perks of a standing desk. You can get the best of both worlds with Autonomous at your side. Choose the adjustable-height desk frame and put any desktop on it you like! The options are limitless!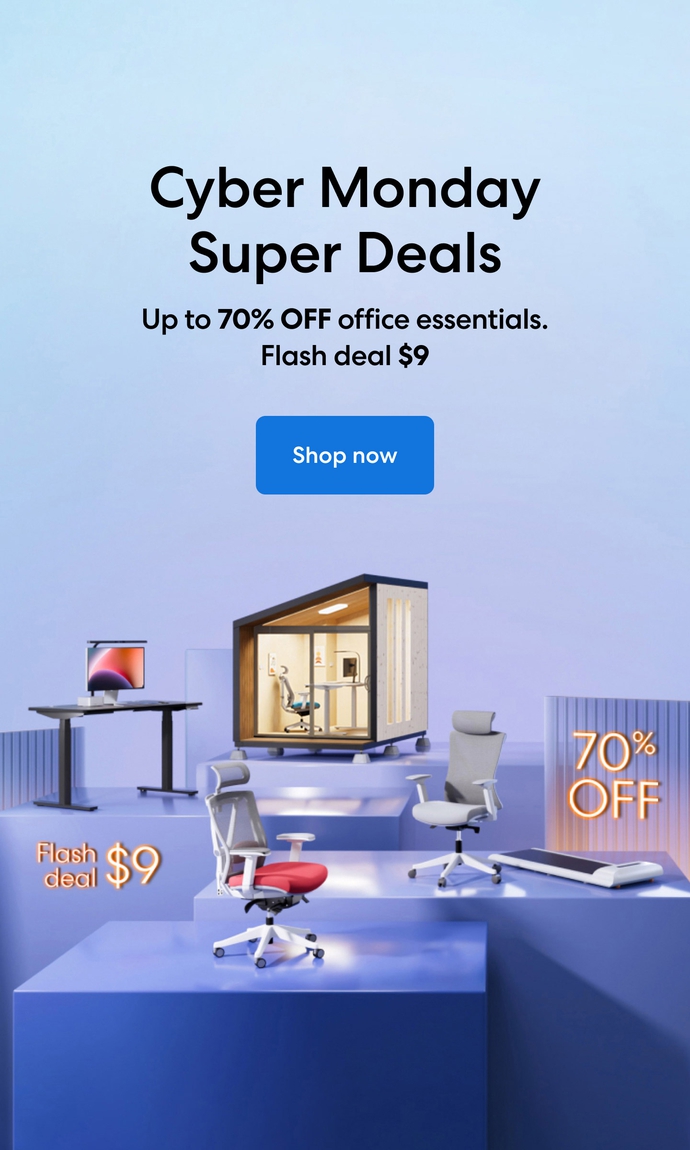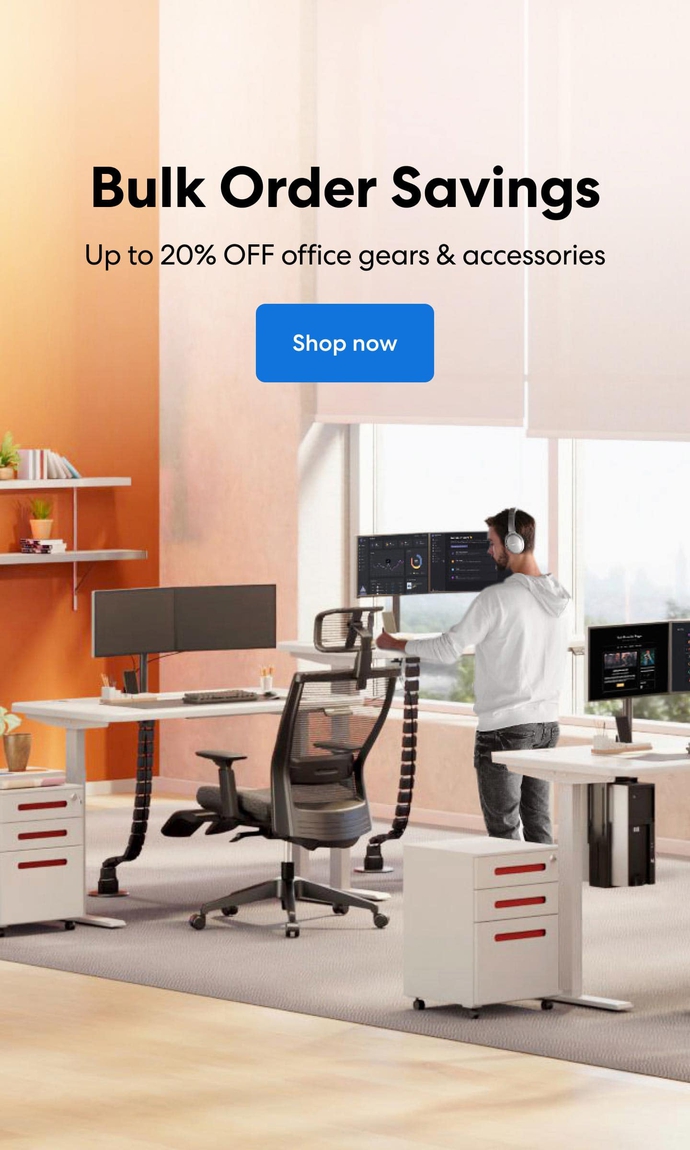 Subcribe newsletter and get $100 OFF.
Receive product updates, special offers, ergo tips, and inspiration form our team.