Smart Products
The Best Glass Adjustable Desks for Office in 2022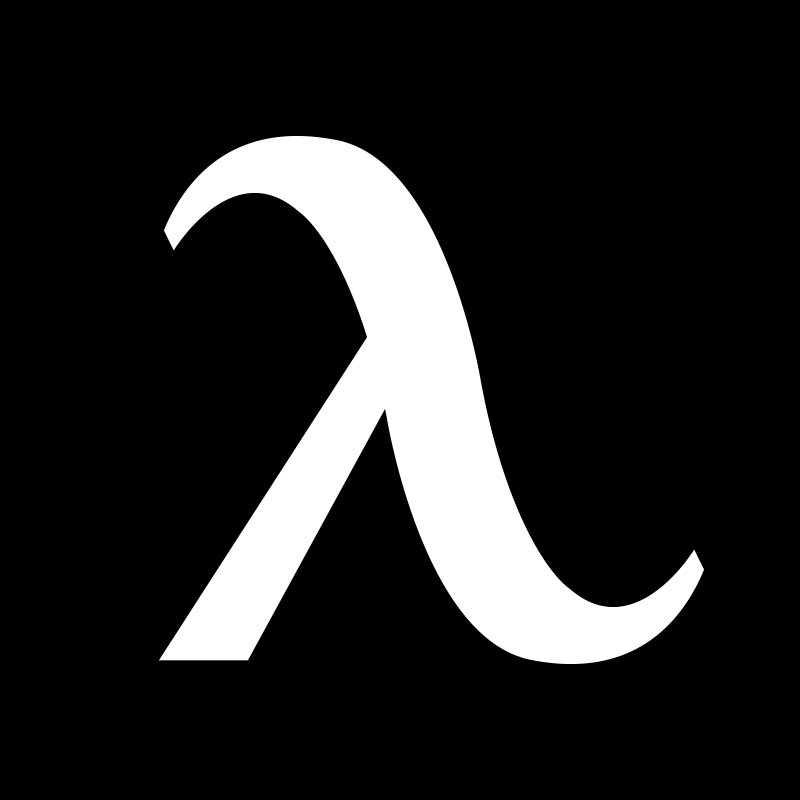 Autonomous
 | 
Mar 8, 2022
If you have been feeling bored beyond measure when working from home, chances are you need a change in scenery. Work from home offers flexibility and the right type of control over various things, but it is also known to isolate employees who have pretty offices and professional spaces meant for productivity. And let's be honest, our homes were not ready for that kind of responsibility, nor did we have any free space for a home office setup.
Besides that, the fact that our moods are dependent on our surroundings, if you are constantly feeling lousy when working from your home office, then you must invest in creating a proper home office setup with all the right accessories. Yes, creating a personalized home office space has improved employees' productivity and motivation. Though an office setup might seem like a tough and expensive task, you can achieve one within your budget as well.
With a small standing desk and just the right choice of accessories, your desk can be your most productive place in the home. This article will cover the best glass adjustable desk for a little modern and one-of-a-kind look in your home office.
Best Glass Adjustable Standing Desk for Modern Office Spaces
Below are some of the best glass-standing desks and white desktops.
1. Wistopht Compact Desk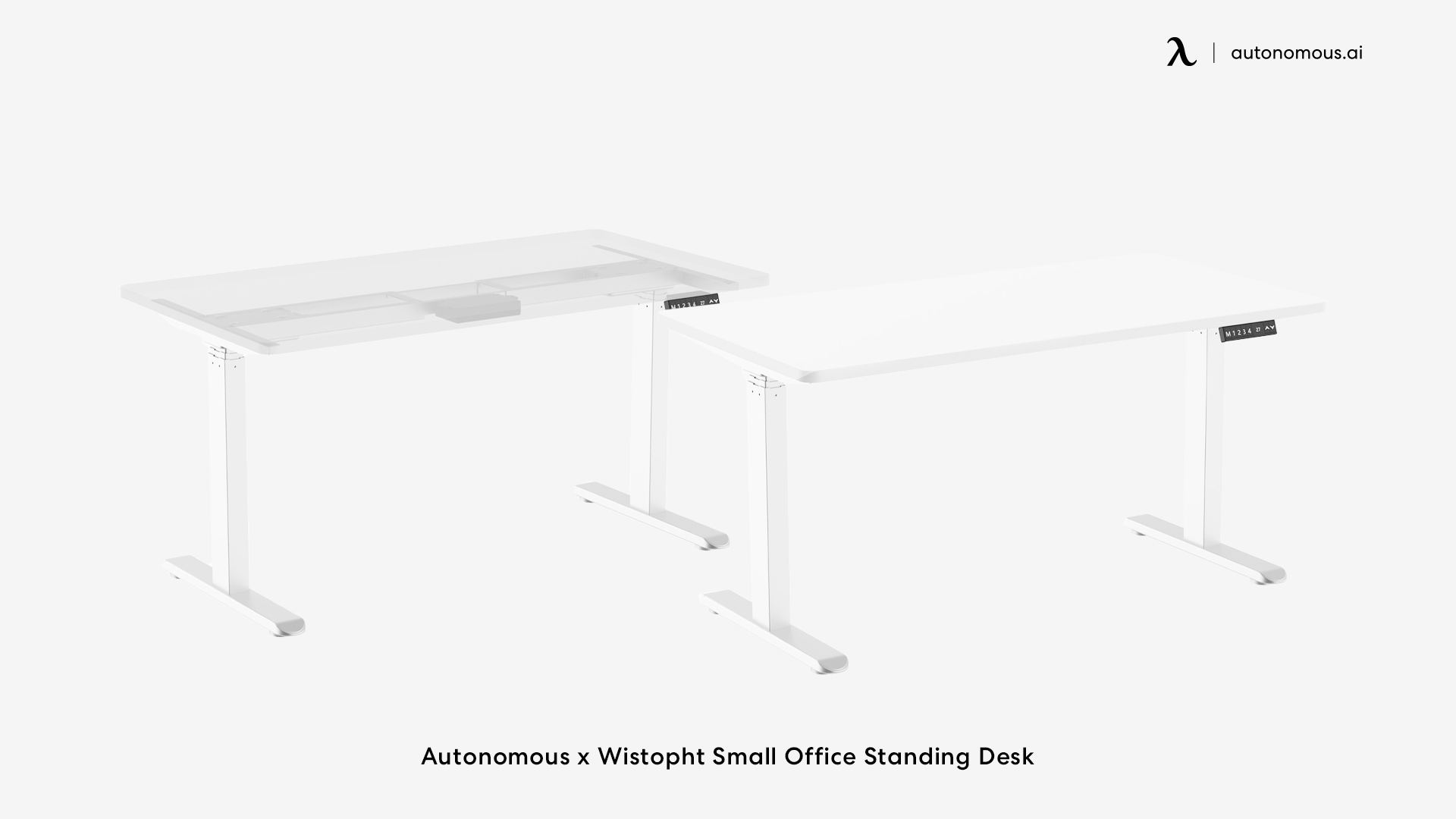 This white glass standing desk is an all-rounder product with many features to love. The tempered glass standing desk is different from its competitors in many ways. It is available in both black and white themes and includes various smart features such as a digital display, touch screen keys, and a wireless charger to keep your devices charged and fresh.
The desk has a height range of 27 to 45 inches which suits most of the crowd, and it also comes with embedded drawers to keep all your essential items organized. With a 5 year warranty, the Wistopht glass adjustable desk is made with a high-quality glass surface that can bear up to 170 pounds of weight.
2. SmartDesk Pro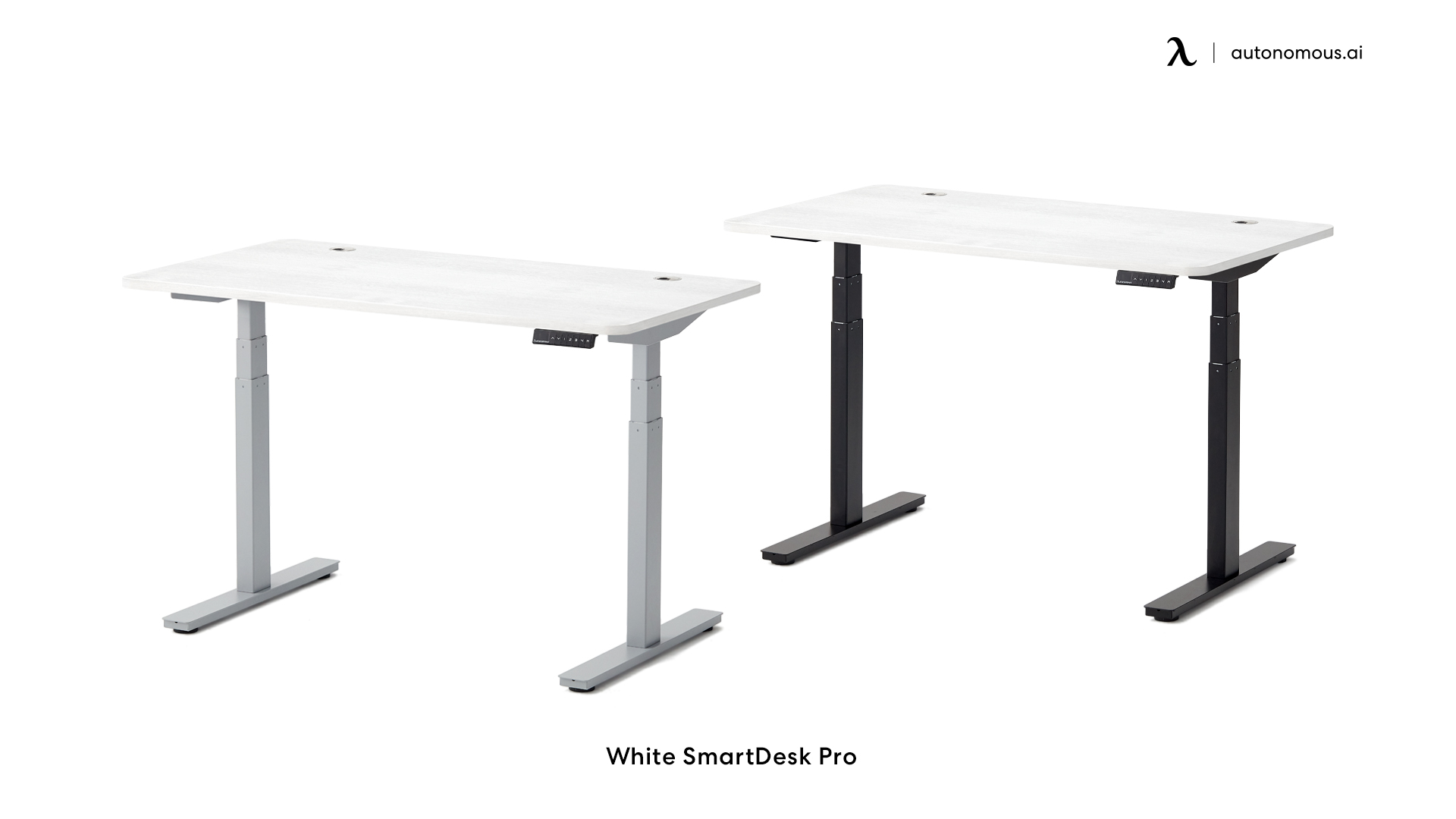 If you are looking for a sturdy office standing desk that gives you the right base for a heavy tempered glass desktop, then smart desk pro from autonomous is a good pick. This office desk comes with all the essential features you are likely to fall in love with. The desk is height adjustable from 26 to 52 inches covering even the taller crowd. It comes with four programmable settings and an upgraded electric motor mechanism.
With a dual-motor operation, the desk is easy to operate and moves up and down with just a touch of a button. It comes with a natural wood top and other classic finishes, but you can pair this one with a separate office desktop according to your needs.
3. Air Lift Tempered Glass Standing Desk
Making to the list of the best white desks with a tempered glass desktop, the airlift desk is 47 inches tall but also gets lower due to the easy height-adjustable mechanism. This adjustable height desk looks smooth and has a spacious surface for you to even operate with multiple screens at once. The tempered glass surface isn't just for show purposes, but the desk has a touch screen control panel for a user-friendly height adjustment.
Moreover, you get three different programmable settings, and the sleek design makes it a product suitable for compact places. The desk also has wide legs to support an entire load of accessories and bear up its load flawlessly.
4. Comhar Glass Top Standing Desk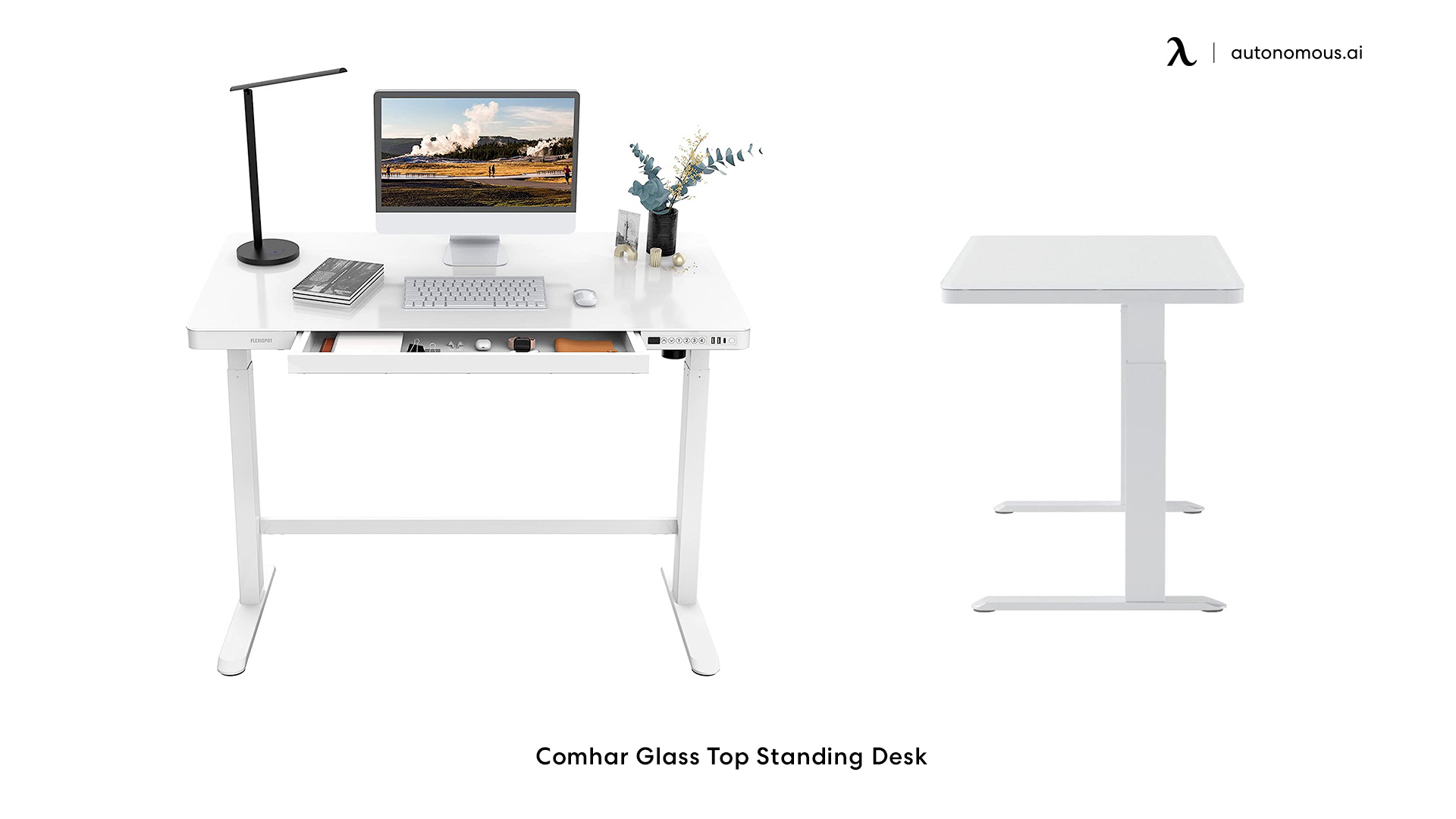 The glass top in Comhar is a result of smart engineering and as opposed to the many desks that might scratch you with the blunt glass corners this one has round edges to solace that issue once for all. The glass adjustable deskk size makes it a top pick when we talk about people with limited space in their modern home offices. The desk's anti-collision feature prevents you from accidentally hitting a chair, and the extended keypad controls are both useful.
5. Haiaoja Glass Standing Desk
The Haiaoja glass standing desk has powerful dual motors to support 80 kgs. The glass adjustable desk has a height range of 70 cm to 115 cm thus can be a suitable fit for the extra tell crowd. We love the sturdy tempered glass top that provides a stylish look to this desk.
3 Memory buttons, 1 multi-function setting button, 1 child protection lock, and 1 wireless charger are included in the Electric Sit Stand Desk. The built-In touch screen adds elegance and modernity to the desk.
6. Seville Glass Tempered Standing Desk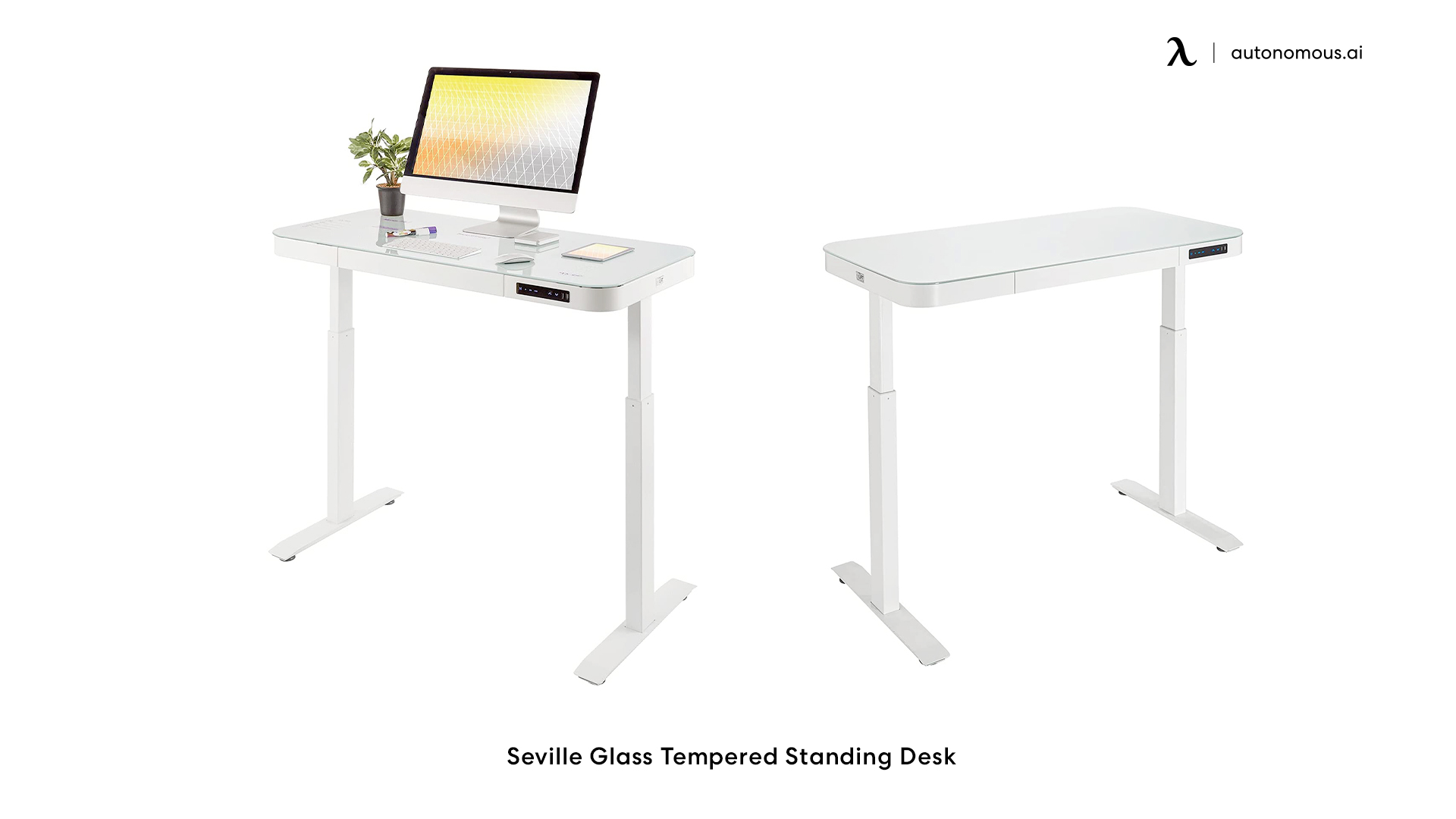 The Seville glass tempered desk has a height range ideal for shorter to taller people. The desk ranges in height from 29 inches to 47 inches with the help of powerful dual motors. With a dual-motor combination, that desk has a quiet and swift movement; hence it is the best fit for busy office spaces where you don't want to distract others with the loud motor noise.
The tempered glass top is finished with a fine beveled edge to give an ultra-modern look. The three touch memory buttons ensure you can adjust and enter the right height for you. The desk also has a blue led light display for a clear display and a soothing look.
7. Lumi Glass Top Standing Desk
This glass top standing desk from Lumi has a maximum height of 47 inches hence it is a stumble pick for a taller crowd. The electric standing desk has a very unique design and we dedicate the reason for win to its elegant glass top that is one of the strongest you will find. It is safe enough to support up to 130 lbs. It provides enough space for all of your office materials and your laptop or desktop computer.
Any company office or home in your house will benefit from the refinement of a white desk. Its ergonomic design and aesthetic are ideal for anyone who likes to adjust the height of their glass adjustable desk from 30" to 47.7".
Sum Up
Glass desks have an impression of being up to no good because of the sensitive glass material that resides on the top. But the truth is glass is one of the strongest and most versatile materials for desk surfaces, and it also gives you the advantage of being pretty and aesthetically pleasing.
A tempered glass standing desk is an ageless product that suits every office theme. It is also easier to maintain than a wooden desktop, which is always susceptible to scratches and similar issues. Let's pick one of the best options above and shop for it now!
Hey, you have special pricing through your company.
Get exclusive rewards
for your first Autonomous blog subscription.
WRITTEN BYAutonomous
We build office products to help you work smarter.
Coming at You Live from Autonomous' Social Media!