Smart Products
The Best Glass Standing Desks for Office in 2023
2,486 Views
If you have been feeling bored beyond measure when working from home, chances are you need a change in scenery. Work from home offers flexibility and the right type of control over various things, but it is also known to isolate employees who have pretty offices and professional spaces meant for productivity. And let's be honest, our homes were not ready for that kind of responsibility, nor did we have any free space for a home office setup.
Besides that, the fact that our moods are dependent on our surroundings, if you are constantly feeling lousy when working from your home office, then you must invest in creating a proper home office setup with all the right accessories. Yes, creating a personalized home office space has improved employees' productivity and motivation. Though an office setup might seem like a tough and expensive task, you can achieve one within your budget as well.
With a small standing desk and just the right choice of accessories, your desk can be your most productive place in the home. This article will cover the best glass adjustable desk for a little modern and one-of-a-kind look in your home office.
Best Glass Adjustable Standing Desk for Modern Office Spaces
Sitting in your office chair all day won't do your body any good, no matter how comfortable it is. You can enjoy sitting or standing with an electric, height-adjustable glass top standing desk. Do you want to boost your energy and productivity? You can raise the desk so that you can move a little while working by pressing a button. Would you like to take some time to focus deeply in your chair? The glass top adjustable height desk can be lowered by pressing another button. In our opinion, the Northread Smart CompactDesk is the best glass standing desk for most people after reassessing our best picks as well as testing these models for approximately three months. There are various attractive glass adjustable desk customization options that you won't find on any competitor, and it's steady at its highest setting. Below are some of the best glass-standing desks and white desktops.
1. Wistopht Compact Desk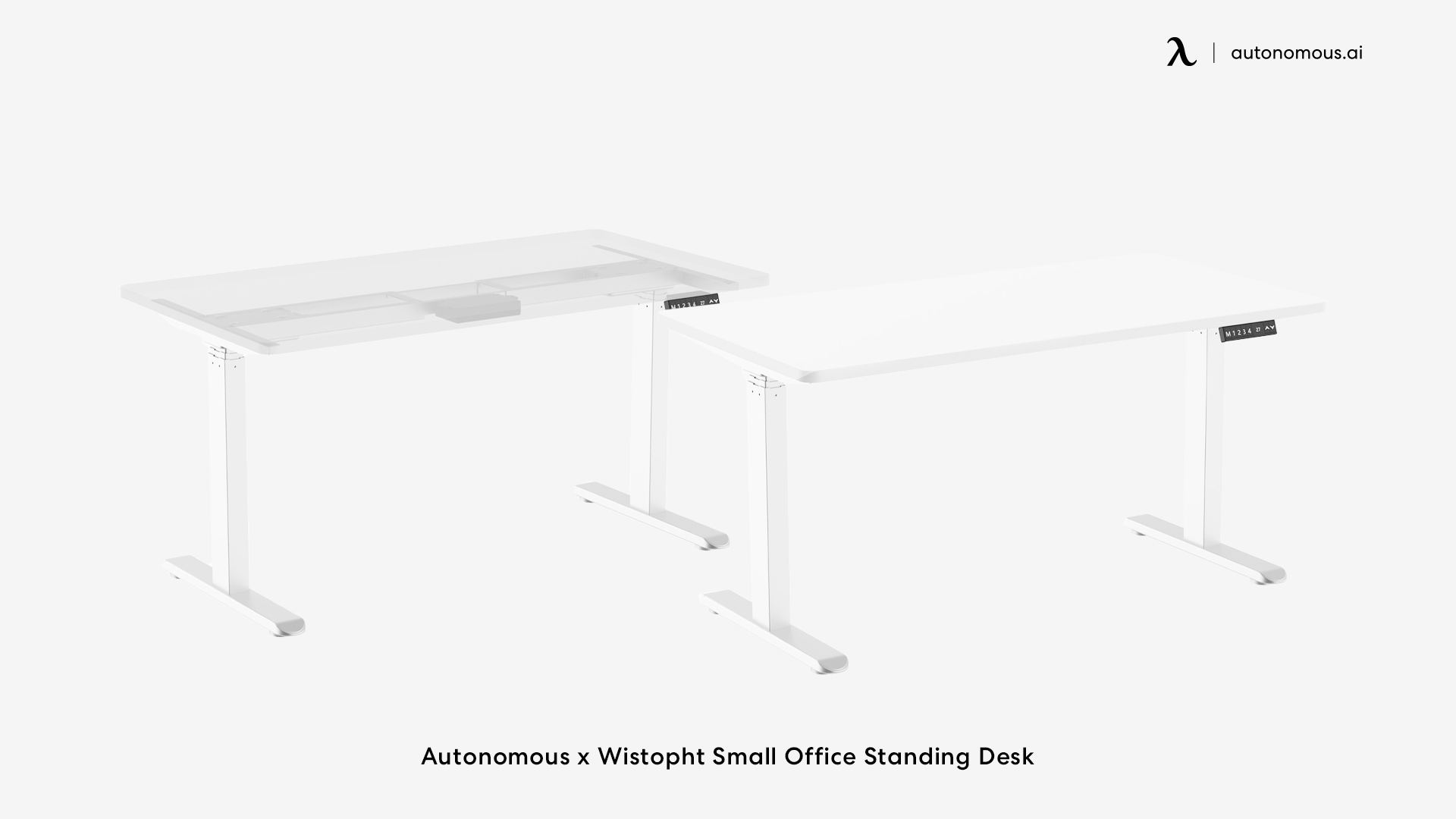 This white glass standing desk is an all-rounder product with many features to love. The tempered glass standing desk is different from its competitors in many ways. It is available in both black and white themes and includes various smart features such as a digital display, touch screen keys, and a wireless charger to keep your devices charged and fresh.
The desk has a height range of 27 to 45 inches which suits most of the crowd, and it also comes with embedded drawers to keep all your essential items organized. With a 5 year warranty, the Wistopht glass adjustable desk is made with a high-quality glass surface that can bear up to 170 pounds of weight.
2. SmartDesk Pro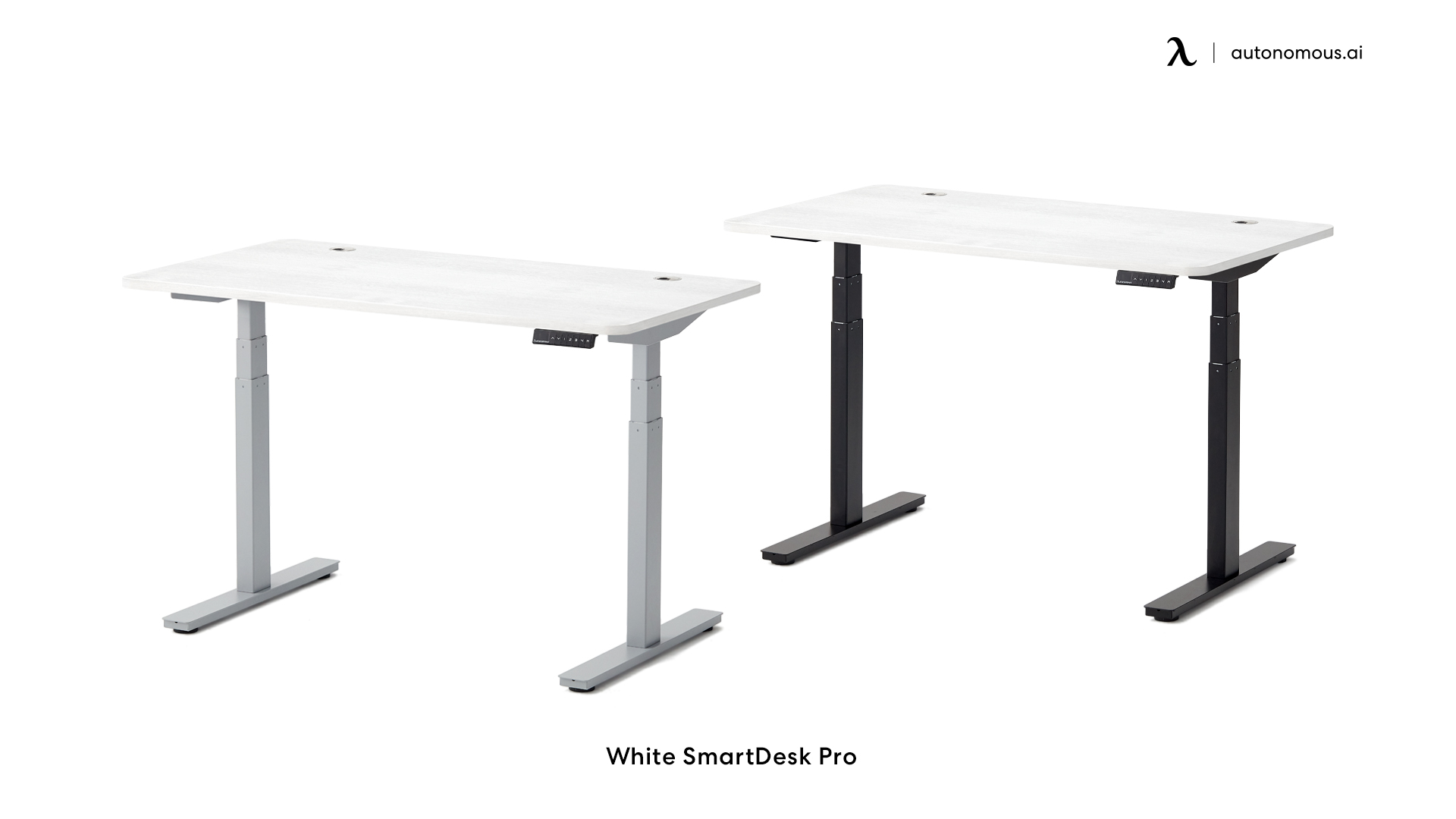 If you are looking for a sturdy office standing desk that gives you the right base for a heavy tempered glass desktop, then smart desk pro from autonomous is a good pick. This office desk comes with all the essential features you are likely to fall in love with. The desk is height adjustable from 26 to 52 inches covering even the taller crowd. It comes with four programmable settings and an upgraded electric motor mechanism.
With a dual-motor operation, the desk is easy to operate and moves up and down with just a touch of a button. It comes with a natural wood top and other classic finishes, but you can pair this one with a separate office desktop according to your needs.
3. Northread Smart CompactDesk: Touchscreen & Chargers
This is the larger version of Northread's smart, compact desk, which features touch screen charging stations and a desk drawer that can serve as a keyboard stand. This desk is extremely versatile, and one of its biggest advantages is its ability to cut down on unnecessary wires. In the top right-hand corner of the desktop, you'll find the height adjustment console, which is an LED touchscreen.
You can customize the height range of this glass standing desk with a simple tap, and four height settings are available. In addition to the wireless charging point, there is a USB port on the desktop for charging your smartphone or smartwatch. A power strip is located on the right side of the Smart CompactDesk with Touch Screen & Chargers for plugging in any other devices that are not wirelessly charged. A charging point and two plug points are also available here. Additionally, there is a drawer that holds your accessories or a keyboard that measures 18.9 inches.
4. Northread Glass Top Standing Desk: Drawer & USB Charger
The ApexDesk CompactDesk is a little larger and would be a better fit for someone who would like more desk space. As well as tempered glass desktops, this Glass Top Standing Desk with Drawer & USB Charger has four memory settings and a glossy finish. It doesn't have a touchscreen. The controls are found on a LED display console that is located on the front of the desk, alongside two USB and Type-C ports. The easy lifting system can adjust the desk's height from 27.2 inches to 44.9 inches. The desktop has smooth, rounded edges, and strong characteristics. They are durable and comfortable too.
5. ApexDesk CompactDesk: Touchscreen Control & USB Charging Port
In addition to its elegant tempered glass desktop surface, the Lumi 4-inch desk is very stable and compact. This desk supports up to 30 pounds and is large enough to hold laptops, PCs, and other desk accessories. With its ergonomic design, the glass desk with a USB charging port is perfect for anyone who likes to adjust their desk height from 30" to 47.7". The height adjustment controls are located on the desk's surface and serve as a touchscreen. 
You can choose from five programmable buttons with a customizable memory preset for multiple desired desk heights on the LED touchscreen memory control LCD display for this glass standing desk. There is also a press-lock drawer on the desk for storing files and office supplies and a USB input on the side so you can charge your phone and other electronics. In addition to being made of full steel, this desk comes with tempered glass for the desktop and is compliant with ANSI/BIFMA standards.
6. Wistopht CompactDesk
Wireless charging, touchscreen control, and digital display are all included with this glass table top. This product features a minimal design that will fit into any layout and can be purchased in black or white. In addition to supporting tablets, laptops, and smartphones, it is durable enough to support dual monitor setups if necessary. There are four ports on the glass-top office desk, a wireless charge pad, and convenient cable management, so you won't have to worry about cluttering up your desk with too many wires. 
On the bottom right corner of the desktop, you'll find all the controls for charging and height adjustment. A small lightning bolt of this glass standing desk identifies wireless charging points, and touchscreen height-adjustment controls are displayed beneath it. You can switch between a wide range of height settings ranging from 27.9 to 45.6 inches.    
7. LifeDesk SmartLegs 1 ER with Top
With its unusual triangular foot and desktop shape, this is a smaller height-adjustable desk made for smaller rooms or corners. With its 175-pound commercial-grade motor, this adjustable stool can lift between 23" and 48". This height-adjustable small electric desk, like all others we offer on our site, includes four memory settings and an application that reminds you when to change positions and helps you find your optimal fit. On the right, you will find a console with controls, which aren't touch screens. 
8. Height Adjustable Rolling Desk from Mount-It!
Wheels are included in portable desk designs like this one for greater flexibility. To make sure you don't lose any space, the portable standing desk has four shelf levels: a middle shelf for books and other office items, a bottom shelf for your CPU, a top shelf, and a keyboard shelf for your laptop or PC. This glass sit-stand desk is ideal for holding just the bare necessities and can be placed in the corner of the room or almost anywhere else. You can use it seated or standing since it is height-adjustable.
9. Air Lift Tempered Glass Standing Desk
Making to the list of the best white desks with a tempered glass desktop, the airlift desk is 47 inches tall but also gets lower due to the easy height-adjustable mechanism. This adjustable height desk looks smooth and has a spacious surface for you to even operate with multiple screens at once. The tempered glass surface isn't just for show purposes, but the desk has a touch screen control panel for a user-friendly height adjustment.
Moreover, you get three different programmable settings, and the sleek design makes it a product suitable for compact places. The desk also has wide legs to support an entire load of accessories and bear up its load flawlessly.
10. Comhar Glass Top Standing Desk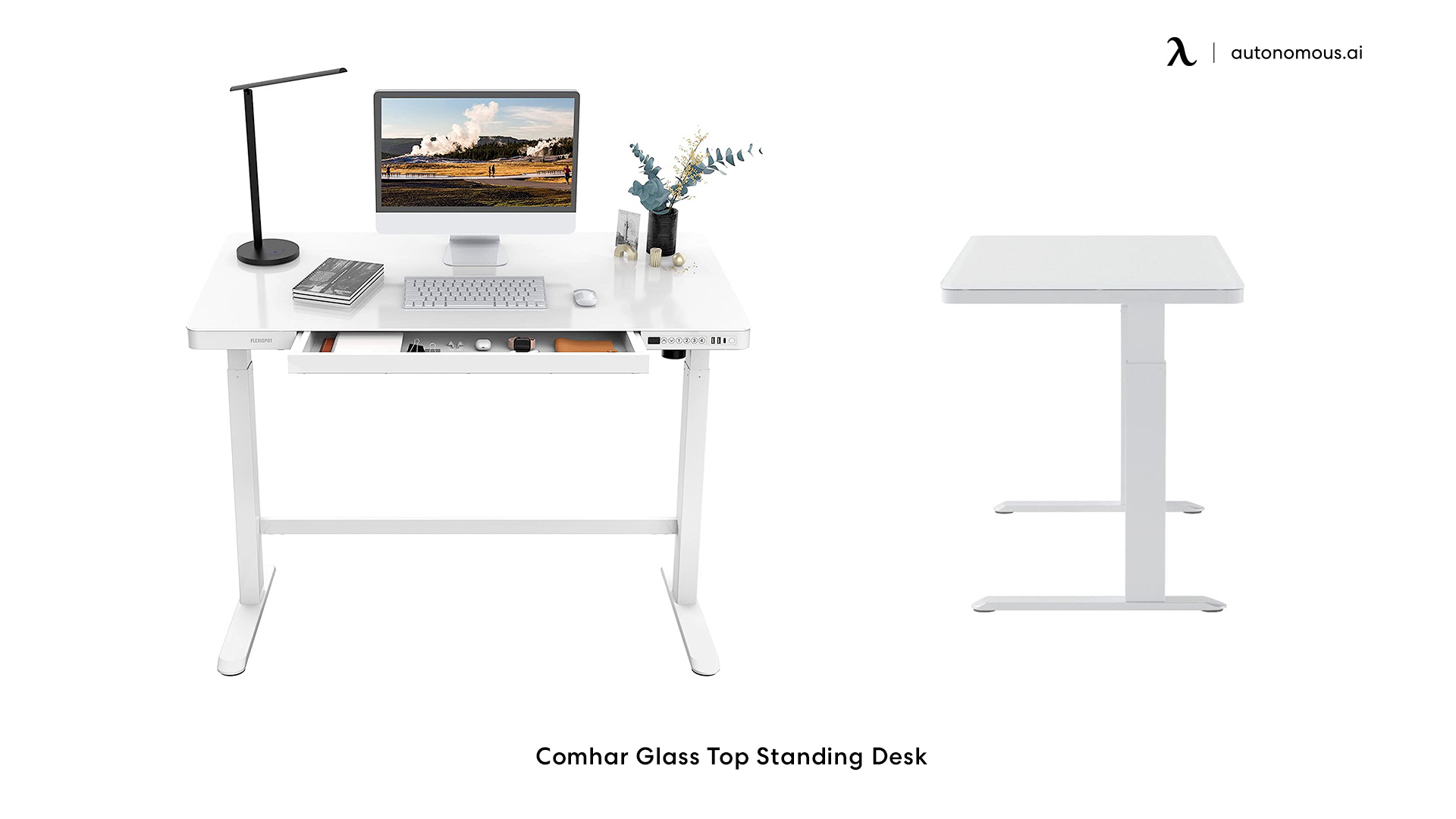 The glass top in Comhar is a result of smart engineering and as opposed to the many desks that might scratch you with the blunt glass corners this one has round edges to solace that issue once for all. The glass sit-stand desk size makes it a top pick when we talk about people with limited space in their modern home offices. The desk's anti-collision feature prevents you from accidentally hitting a chair, and the extended keypad controls are both useful.
11. Haiaoja Glass Standing Desk
The Haiaoja glass standing desk has powerful dual motors to support 80 kgs. The glass adjustable desk has a height range of 70 cm to 115 cm thus can be a suitable fit for the extra tell crowd. We love the sturdy tempered glass top that provides a stylish look to this desk.
3 Memory buttons, 1 multi-function setting button, 1 child protection lock, and 1 wireless charger are included in the Electric Sit Stand Desk. The built-In touch screen adds elegance and modernity to the desk.
12. Seville Glass Tempered Standing Desk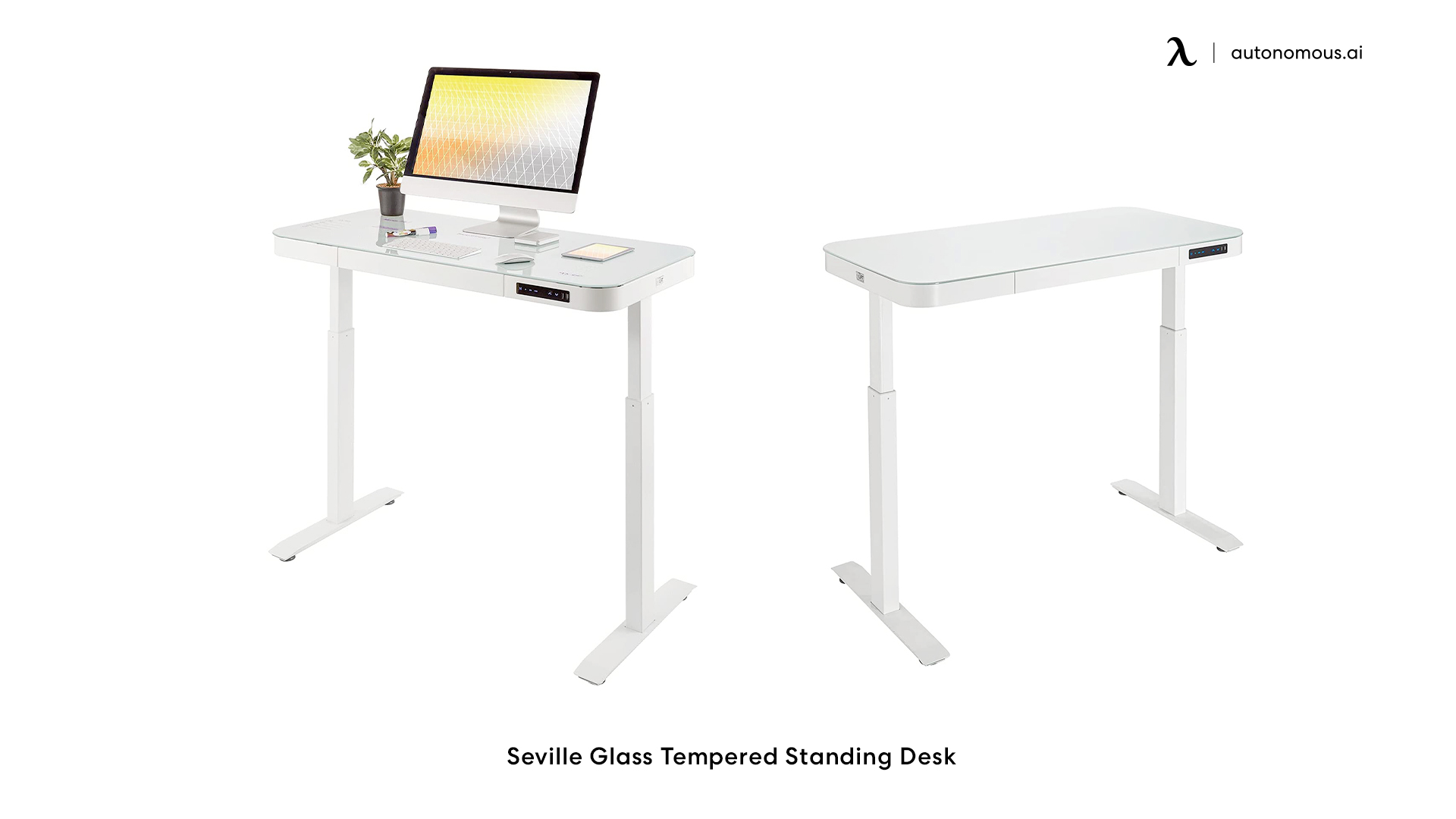 The Seville glass top adjustable height desk has a height range ideal for shorter to taller people. The desk ranges in height from 29 inches to 47 inches with the help of powerful dual motors. With a dual-motor combination, that desk has a quiet and swift movement; hence it is the best fit for busy office spaces where you don't want to distract others with the loud motor noise.
The tempered glass top is finished with a fine beveled edge to give an ultra-modern look. The three touch memory buttons ensure you can adjust and enter the right height for you. The desk also has a blue led light display for a clear display and a soothing look.
13. Lumi Glass Top Standing Desk
This glass top standing desk from Lumi has a maximum height of 47 inches hence it is a stumble pick for a taller crowd. The electric standing desk has a very unique design and we dedicate the reason for win to its elegant glass top that is one of the strongest you will find. It is safe enough to support up to 130 lbs. It provides enough space for all of your office materials and your laptop or desktop computer.
Any company office or home in your house will benefit from the refinement of a white desk. Its ergonomic design and aesthetic are ideal for anyone who likes to adjust the height of their glass adjustable desk from 30" to 47.7".
Sum Up
Glass desks have an impression of being up to no good because of the sensitive glass material that resides on the top. But the truth is glass is one of the strongest and most versatile materials for desk surfaces, and it also gives you the advantage of being pretty and aesthetically pleasing.
A tempered glass standing desk is an ageless product that suits every office theme. It is also easier to maintain than a wooden desktop, which is always susceptible to scratches and similar issues.  Let's pick one of the best options above and shop for it now!
Subcribe newsletter and get $100 OFF.
Receive product updates, special offers, ergo tips, and inspiration form our team.
WRITTEN BYAutonomous
We build office products to help you work smarter.