Smart Products
Top 20 Bamboo Standing Desks - Best Reviews & Choices
71,296 Views
One of the best ways to make you more comfortable and productive in a home or work office environment is picking the right desk. These days, there are so many different types of options, including standing desks. If you are thinking about buying a bamboo standing desk, this article is going to give you the merits of this choice. You can also find out about 20 of the best bamboo sit-stand desk options available for you. 
How to Find the Right Office Desk for You
Picking an office desk is no small feat. Every office space is different, and you might even be trying to convert a room into a workable area in your home. Many people today are involved in remote work, and there may be space constraints there as well. There are a few key considerations you must make when you pick an office desk. Here are a few of them to start you off.
1. How much office space do I want to give to the desk?
While you may be tempted to choose the largest desk for more working room, this may not be your best choice if you have limited office space. Working in a cramped office environment can negatively impact your productivity and increase stress levels.
2. What is the style and décor theme in my office or workspace?
You can add some color with a unique desk style. You can pick something to complement existing colors and materials.
3. What is my budget for a good desk?
You can't get away from the price of a brand new desk, so it is good to have a range you are willing to work with. A bamboo standing desk is a worthwhile investment. Most manufacturers also offer a generous warranty period. With an Autonomous standing desk bamboo desktop, you also get the added benefit of a 30-day trial period to see if the desk is a good addition to your work life and office or not.
Advantages of Using a Standing Desk
More and more people are switching out their traditional desks for standing desks. There are many benefits to having this option. An automatic standing desk with bamboo desktop or other standing desk works by allowing the user to move the desk height. You can use the desk in a normal sitting position, in a standing position, and possibly at a few other height levels as well. The movement between different heights is electronically and automatically controlled in more advanced variations, allowing for a seamless transition between various working positions. 
Why might you want to work in a standing position? If that is the question on your mind, you are not alone. You probably spend up to 7-8 hours in a seating position on an ordinary working day. If you spend a lot of time watching television, that's another few hours of sitting. A largely sedentary lifestyle is associated with not getting enough exercise and physical activity into your day, which contributes to a whole host of physical ailments that might only be seen in the long-term. 
The purpose of a standing desk is to force you out of the sitting routine. You might be surprised how much work you can get down when you stand at your desk rather than sit. It's also great for your posture and to help you avoid back and neck pain that often arises from sitting in the same position for too long or in a bad position. An automatic bamboo standing desk is easy to use and maneuver between different heights. 
Many people like to pair their electric standing desk with a standing mat for greater comfort. You can even get some footwork in there while you work, eat, or even watch some television in a standing position. There's a lot to be said about multitasking and its impact on productivity, but a standing desk goes against the grain. You can enjoy greater focus, better blood circulation, and an overall healthier mind and body when you switch up your work routine in this way. 
Why Should You Get a Bamboo Standing Desk?
If you are sold on the idea of a standing desk by now, you still have to think about the best material for the desktop surface. There are unlimited options, including wood, metal, glass, and various forms of polymers. The material matters because it affects the appearance and aesthetics, durability, fragility, heating and cooling, and porosity to water. An automatic bamboo standing desk makes a fantastic choice for your home or work office for these very reasons. 
Desktops made from solid and real bamboo are beautiful, strong, and highly durable. Something is refreshing about the look of bamboo to break up the black and white theme that characterizes many workspaces. Bamboo can also withstand everyday wear and tear very well.
20 Best Bamboo Standing Desk Options
1. SmartDesk Pro
Of all the Autonomous bamboo standing desk choices you have, the SmartDesk Pro is the latest and most advanced. This automatic standing desk has a wide top design; the classic model measures 53" x 29", while the XL classic top measures 70.5" x 30". Assembly is required for this desk, but this is easy to do in less than 30 mins. A variety of colors and materials can be selected for the desktop. SmartDesk Pro dark bamboo and natural bamboo are available. The frame has a dual motor with a lifting speed of 2.3"/sec and a lifting capacity of 300 lbs. For the SPCC steel frame color, white, black, and grey are the three options. You can explore the product during the 30-day trial, and if you decide to keep it, you are covered with a 7-year warranty period for the frame and 1 year for the top.
2. The SmartDesk Core
This Autonomous bamboo standing desk is among the best bamboo sit-stand desk choices you have. The SmartDesk Core comes in a range of top and frame options, including bamboo top and grey frame, or you can customize your bamboo top with other frame colors. The frame is made of heavy-duty steel. There are four programmable height settings facilitated by a dual-motor system that operates smoothly and silently at a button's press. The lifting capacity is 300 lbs., allowing you to carry more on your 53" x 29" or 70.5" x 30" desk, depending on whether you have the classic top or XL top, respectively. This Autonomous standing desk includes a 30-day trial and a 5-year warranty period. 
3. The Rise UP Dual Motor Electric Bamboo Standing Desk
The height of this desk can be adjusted to allow for sitting and standing positions at a frame height of 26" - 51.6" using a dual electric motor. This product's frame from the Uncaged Ergonomics brand is white, and the desktop measures 48" x 30". The best bamboo sit-stand desk options have solid and durable bamboo rather than veneer wood, which is the case with this desk. The weight capacity of the desk is 250 lbs. and there is a 5-year warranty. 
4. The Crank Adjustable Height Standing Desk
This bamboo standing desk has a white frame and bamboo top.  It comes in two width options—the 48" or the 60" wide variations. A crank mechanism controls this desk's height, so this is a manual adjustable desk rather than an electric standing desk, although the electrically adjustable versions are newly available. The height range is 32" - 48.5". 
5. The Stand Up Desk Store Electric Flat Top Desk
This bamboo standing desk comes in a black frame and bamboo top and measures a standard 48" x 30". The lifting capacity is 154 lbs. One of the key features is a programmable keypad that recalls your top two height settings. A wide range of users and user preferences can be accommodated thanks to the three-stage telescoping legs. These allow the desk to go much lower or higher as required. 
6. The ZHU CHUANG Electric Standing Desk
This 100% natural and renewable solid bamboo standing desk is perfect for a home or work office. A dual motor powers the lift mechanism. The desk comes in a few variations of rectangle or contour shape for more comfortable work. There are 60" length contours and rectangular 42", 48", and 72" options. The frame is made of steel painted white. The frame adjustable height is 27.6"- 47.2". Four preset memory options are available. The warranty period is 7 years. If you are looking for the best bamboo sit-stand desk, consider this option with a contour desktop. 
7. The FEZIBO Electric Height Adjustable Standing Desk
This electric standing desk with bamboo desktop comes with a drawer. The desk measures 48" x 24". The electrical lift system is fully motorized and can take the desk from 28" to 46".  Adjusting the desk is easy, thanks to four preset memory options. The frame is black and made from heavy-duty steel capable of lifting 176 lbs. Other features of the product include desk hooks for your headset and a cable management tray to key cables from tangling and getting in the way. There is a 30-day risk-free trial option available.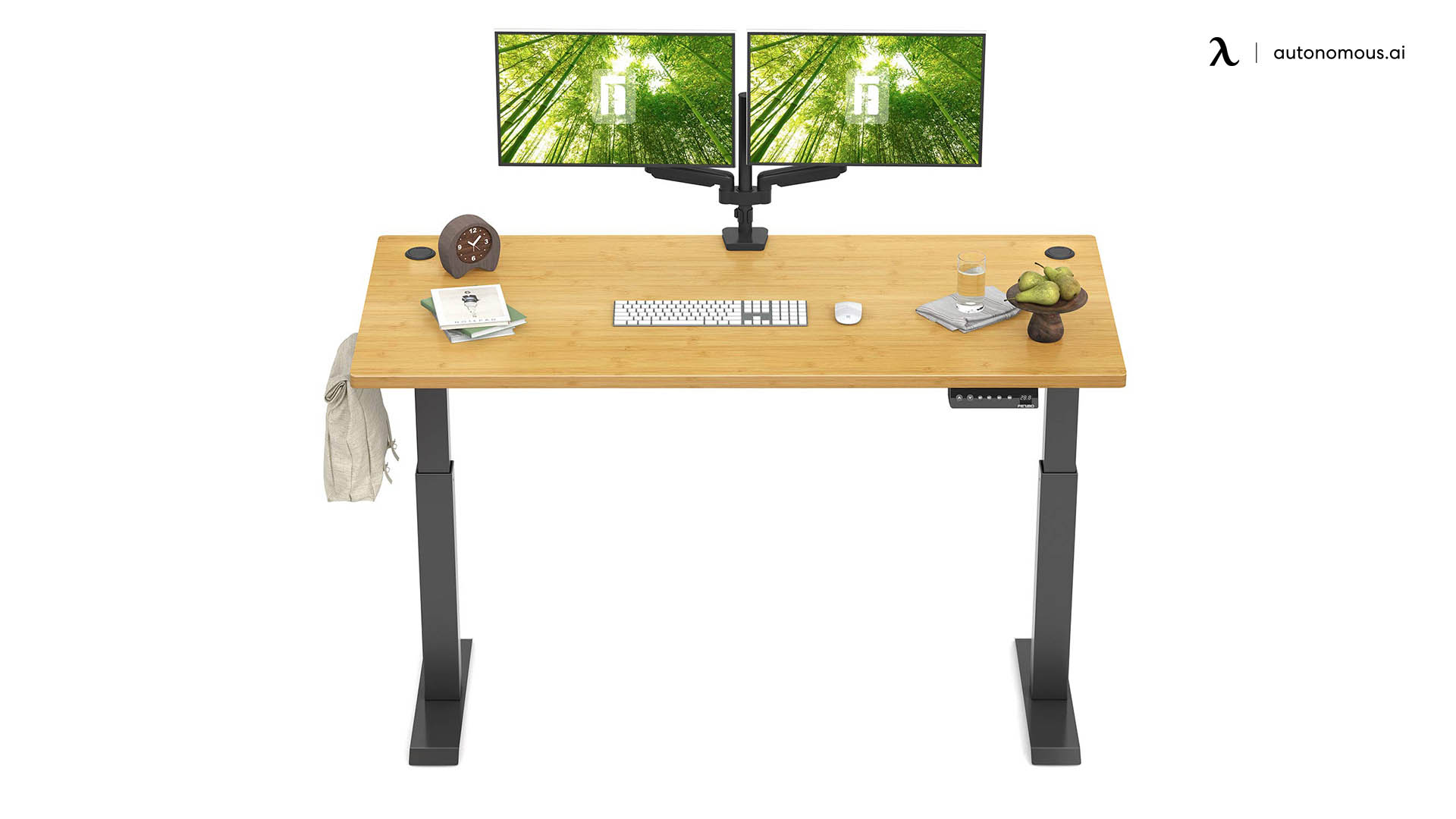 8. The Jarvis Standing Desk Bamboo Top
This is an electric bamboo standing desk with three stages of adjustable height from 24.5" to 50", so you can sit or stand as desired. There is also a memory preset handset controller made by Fully, making your automatic standing desk easy to adjust to your desired height level. This occurs with a quiet motorized at 1.5" per second. The desktop measures 48" x 30".  The desk's frame is black painted steel, and it supports a lifting capacity of 350 lbs. This bamboo standing desk comes with a 7-year warranty. 
9. The Split Top Electric Stand Up Desk
This electric standing desk from S Stand Up Desk Store has a black frame and a bamboo top and measures a standard 48" x 30". This might be one of the best bamboo sit-stand desk choices because of the split top for more space and better ergonomics. At the push of a button, the bamboo standing desk can be moved between the heights of 28" - 53". Thanks to the split top, there is also an additional 5" - 7" of height for your accessories and monitor. Moving the desk is easy to do, and there are 2" caster wheels and locking brakes to facilitate this movement of the desk between spots or rooms. The steel frame has a powder finish. 
10. The UPLIFT Bamboo Standing Desk
This electric stand up desk comes in two models—the V2 and the V2-Commercial. As one of the most advanced and best bamboo sit-stand desk options, you can expect superior style and features. The bamboo standing desk comes in a range of desktop sizes, including lengths of 42", 48", 60", 72", 80". These options are all 30" wide. The desktop is made from carbonized bamboo, and a rectangular or curved option is available. There is a 30-day trial and a 10-year warranty on this desk. 
11. Standing Desk by Fräsch
Fräsch is renowned for producing some of the most elegant and high-quality furniture out there. This bamboo standing desk is no exception. With an ultra-quiet motor and a lift capacity of 275 lbs, this is a fantastic choice if you're looking for an electric bamboo standing desk. If you really appreciate wood grain, then the Fräsch might be the best option for you. Each desktop has been treated with UV coding which accentuates the grain and natural details within the wood.
12. Electric Height Adjustable Standing Desk by FlexiSpot
This is a more affordable option, but it still offers great functionality. The FlexiSpot comes with a black, white, or grey frame, and its height can be adjusted for the perfect working experience. With a warranty of three years and a guarantee that FlexiSpot manufactures as cleanly as possible, what's not to like?
13. Height Adjustable Standing Desk by OFM
Perhaps one of the most minimalistic options on this list, the OFM automatic bamboo standing desk allows for pre-programming. This means you can find the perfect height for you and program it into the desk, so you can return to the same setting later with the click of a button.
14. Belpre Dual Motor Adjustable Solid Wood Standing Desk by Symple Stuff
Belpre's dual-motor desk comes with two separate motors for a faster and quieter setup and adjustment. The desktop has been treated for easy cleaning and scratch prevention, and the bamboo finish is also available in black. In addition, the Belpre has an in-built anti-collision feature, meaning you don't have to worry about accidentally adjusting it too low.
15. Rise Up Height Adjustable Standing Gaming Desk
Who's to say that gaming has to be bad for your posture? With this elegant bamboo standing desk from Rise Up, you can make your gaming sessions ergonomic and healthier for your body.
16. Juliet Rise Up Standing Desk
With a warranty of five years and a solid wood desktop, the Juliet Rise Up is a minimalistic and elegant standing desk solution. The highly customizable control panel gives you all the freedom you need to program and set your favorite desk height and return to it whenever you like.
17. Ascent Hi-lo Height Adjustable Standing Desk by Inbox Zero
This is probably one of the highest bamboo standing desks on this list. The Ascent can be operated with a single hand and can easily accommodate users of all kinds of heights. Despite being crafted from bamboo, the desktop is said to be even harder than red oak, one of the most durable and hardy woods out there. If you appreciate a natural wood finish, you're almost certain to love the Ascent, too. It's been designed to accentuate the natural grain and details of bamboo wood.
18. Automatic Height Adjustable Standing Desk by StandDesk
Offering one of the larger desktops of all of the models on this list, the Standing Desk by StandDesk is a fantastic standard option for new standard desk users. If you're looking for the best bamboo sit-stand desk with a range of features, then this might be the one for you. Coming in a range of different sizes and with several choices of frame color, the StandDesk allows you to program your favorite height settings into the desk to return to later.
19. Electric Portable Presentation Standing Desk by Fräsch
In addition to being a great electric bamboo standing desk, this offering by Fräsch comes in a presentation desk format and has a highly versatile design. This would be an excellent choice for anybody who needs a smaller standing desk that is highly portable. If you work in the medical field, for example, a desk like this could be incredibly practical. Not only can you move it with ease, but you can quickly convert it from standing to sitting height. In addition, this desk offers the option to add or support accessories like a desktop arm mount or extra cables.
20. Sit Stand Electric Portable Presentation Standing Desk by Fräsch
As mentioned above, Fräsch is one of the leading brands for smart and truly functional furniture. This standing presentation desk is best-suited for giving talks, but it can also be adjusted to sit behind if necessary. As with the other presentation desk by Fräsch, this is a great choice if you work in a field where you need portability and flexibility in a small and elegant package.
Try Autonomous Office Furniture
Looking for the best bamboo sit-stand desk is probably going to mean reading through a lot of specifications and browsing through many desk images. Some of the top bamboo standing desk alternatives are the Autonomous standing desk. Standing desks from Autonomous are made with high-quality materials and classy, ergonomic designs. There is a wide selection of Autonomous standing desk variations, and other materials are also available. These are also available if you want a special style such as an L-shaped Desk or an Art Desk. Desks that are made specifically for the type of work you do help you organize your space better and get more work done. You can also think about a double standing desk for even more working space. 
Conclusion
As you can see, the options for bamboo-based standing desks or bamboo desktops are almost endless. If you're looking for a standing desk with a wooden desktop, you have so many brands and models to choose from. Bamboo is a subtle and refined choice and works very well for most home and office environments. One of these desks should make for a fantastic addition to your workspace.
Purchasing an automatic bamboo standing desk can radically change how you approach office work. This one change can boost your productivity, improve your posture, and make office work less mundane. There are many great options, including an Autonomous standing desk. This review of 20 of the best picks for a bamboo standing desk gave you a good place to start.
Subcribe newsletter and get $100 OFF.
Receive product updates, special offers, ergo tips, and inspiration form our team.
WRITTEN BYAutonomous
We build office products to help you work smarter.