Smart Products
Top 10 Best Mini Desk Humidifiers for Winter Workplace

Autonomous
|
Sep 26, 2022
840 Views
Dry air throughout the winter is a given if you reside in a cold climate. Although the optimal range for indoor moisture is between 40% and 50%, following the season's first frost, this figure can eventually drop below 30%. Hence, humidifiers can assist raise humidity levels to the optimal range, preventing dry skin, skin conditions, and dry hands. The secret is to place them where you devote most of your time carefully.
A mini desk humidifier that can sit at your desktop could be a wise choice for people with desk jobs. Utilizing desk humidifiers throughout the workweek could help avoid dryness and nosebleeds, in addition to more aesthetic advantages like hydrating skin, hair, and lips. Desk humidifiers can also aid in preventing symptoms of asthma as well as pulmonary congestion. Numerous humidifiers might function on a desk. We have a handful of small humidifiers for the office mentioned below for you to pick from, depending on your configuration.
You might wish to enhance your office using a desk humidifier if you frequently feel congested. Do not worry if you believe that your workstation does not have enough space for a humidifier. These small desk humidifiers are easier to transport to and from work because they're smaller than you might imagine. They will occupy roughly the same space as a potted plant. And therefore, we've compiled a list of the top desk humidifiers.
1. Portable Mini Humidifier by Smart Devil
Your workstation may easily accommodate the humidifier. Unlike the Airthereal SG100 Portable Mini Dehumidifier, it has two operating modes that allow it to run continuously for 12 hours or intermittently for 18 hours. Because the humidifier includes a USB connector, you may plug it in close to where you operate. It has a 500 mL optimum moisture content and will turn off instantly if the water evaporates below the recommended level.
2. Evapolar evaCHILL Portable Evaporative Air Cooler & Humidifier
The Evapolar evaCHILL Portable Humidifier is the most popular direct evaporative cooler from this manufacturer that cools, cleanses, as well as humidifies the atmosphere. A strong cooling impact, superior functioning, and a stylish minimalist style. This mini desk humidifier was designed to chill the intimate space directly in front of you. Chilling the entire room does not require a lot of energy. It is ideal for napping, taking a break, traveling, and working.
3. Evapolar evaLIGHT plus Portable Evaporative Air Cooler & Humidifier
This Evapolar evaLIGHT Humidifier has a full-spectrum Illumination, a clever control wheel, a changeable water storage tank, as well as a sleep timer. It was designed as more than just a 3-in-1 cooling unit that humidifies, cleanses, and refreezes the air. The strong cooling impact, intellectual functioning, and simple svelte form of the humidifier are exceptional. Besides an Air - conditioning unit, this humidifier doesn't require installation fees.
4. Evapolar evaSMART Personal Evaporative Air Cooler & Humidifier
The Evapolar evaSMART Personal Humidifier with full-spectrum LED illumination is a functional humidifier option with a detachable water tank, as well as controlled via smartphones. It is ideal for looking after your dogs and children while traveling because it is compatible with Alexa and Google Home and can also be operated remotely via a smartphone app.
5. Lamp Depot Anti-Gravity Humidifier
Would you wish to experience more pleasure while also not struggling with the dry air? You may bring this chill mist humidifier inside your house or bedroom. The utmost fun for your vision and ears will indeed be given by the Lamp Depot Anti-Gravity Humidifier, which uses optical techniques to let water droplets appear to flow steadily upwards and also generates the ambient radiance and calming sounds of flowing water.
6. Stadler Form Ben Humidifier & Aroma Diffuser
You can now relax by taking a big breath and reclining. With the 3-piece capabilities of the Stadler Form Ben Humidifier, spending a lovely evening by the campfire will be a breeze. The airflow in the space is humidified and scented while being bathed in the caramel light of the bonfire effect by this equipment. This mini desk humidifier combines a scent diffuser, humidifier, and fireplace ambiance.
7. Stadler Form Eva Ultrasonic Humidifier with WiFi
The Stadler Form Eva Ultrasonic Humidifier with WiFi may be used to stop coughs, nosebleeds, allergens, colds, as well as snoring. There is a scent dispenser for relaxing essential oils on this humidifier. It has a moisture sensor in the controller for better accuracy. This is the best office desk humidifier, producing a very thin water mist and therefore is virtually quiet. Additionally, the device's functioning lights may be muted or turned off for peaceful slumber.
8. Stadler Form Oskar Humidifier
Oskar is an evaporating humidifier with excellent power (2.4 gallons/day) that moisturizes your environment organically. It combines aesthetics, function, as well as ease of use. The Stadler Form Oskar Humidifier won't introduce white dust, a byproduct of mineral reserves from distilled water, into your house as several ultrasonic humidifiers do. Unlike most humidifiers, this one has a very quiet fan and no "guzzling sound" from the water storage tank.
9. TREBLAB Original Water Filter for Humidifier Purifier PH950
The Treblab TREBLAB Original Water Filter for Humidifier is intended for air purifiers with humidification features. It circulates clean, humid air throughout your house. The filter system reduces dust while removing contaminants from water used in your humidifier and the air purifier. Before putting the filtration system in the cleaner, you can take it out of the Tupperware box. To maintain clean water and air, it is advised that the water filter be changed every twelve months.
10. Pure Humidify+Cool by Dyson
Whenever it comes to home appliances powered by technology, Dyson is at the forefront of the pack. All that this brand produces is cutting edge, from cutting-edge hair dryers to game-changing vacuums as well as the greatest mini desk humidifiers, and its humidifier isn't any different. A HEPA filtration process on the Dyson humidifier removes allergens, contaminants, gasses, and germs. It also serves as a humidifier, air cleaner, or blower. The device includes a built-in profound cleaning cycle to prevent mineral and bacterial accumulation.
Video ads for product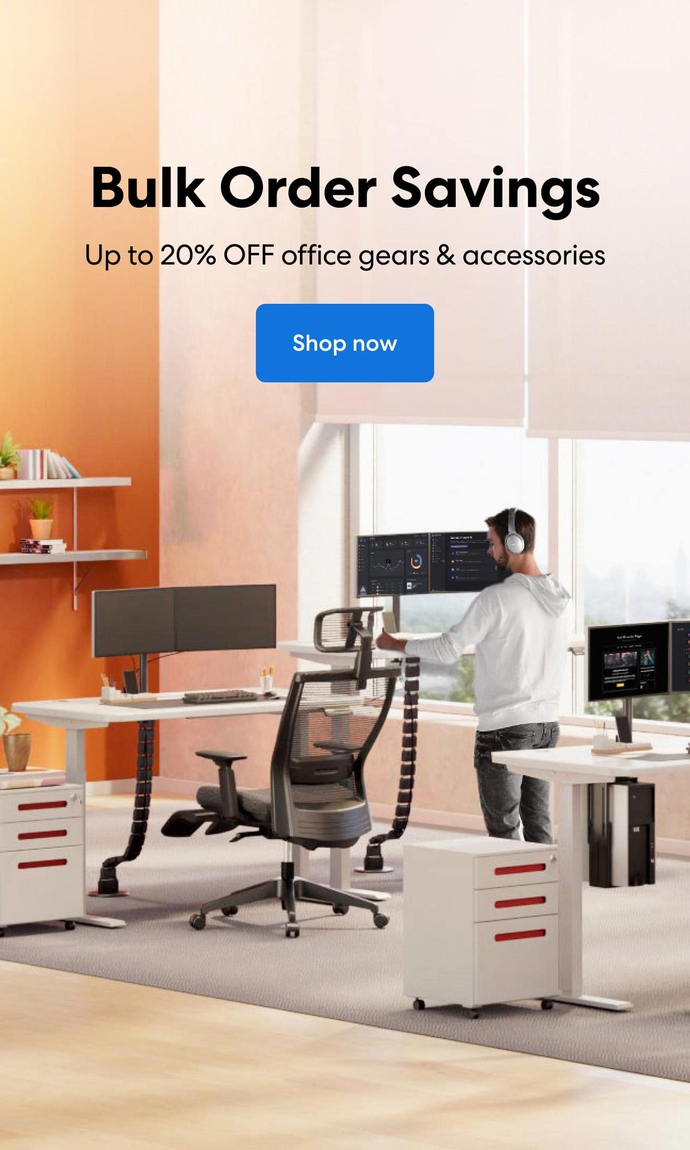 Subcribe newsletter and get $100 OFF.
Receive product updates, special offers, ergo tips, and inspiration form our team.