Motorized desk legs are found in office standing desks and are responsible for raising and lowering the workstation. This article has compiled a list of the top standing motorized desks on the market to assist you in making the switch to a healthier work environment. 
Standing workstations can help to counteract and prevent sedentary behavior. According to the American Journal of Public Health, sitting for too long - more than 8 hours a day – might increase the risk of chronic diseases by 10% to 20%, as well as premature death. 
This emphasizes the importance of electric vs manual standing desks as many features are built in to promote healthy working conditions. 
What Is a Motorized Desk Leg?
The motorized desk legs are designed in such a manner that they may be moved up and down by a small electronic motor to place the motorized desk frame and work surface at the required height. 
The height-adjustable electric table leg rises and retracts at the worker's preferred level with the touch of a button. 
An office worker may have a totally customized standing desk with a DIY kit, which can be assembled fast and easily. It's ready to use in a matter of minutes. 
Office workers can personalize their standing desk frame by selecting from black, white, or grey colors. To top it off, there are a variety of custom-made solid tabletop surface alternatives available to get the desired look, feel, width, and material. 
Those who work in offices can make their own standing desk with motorized desk legs by using office furniture such as the DIY Desk Frame. 
An office worker can construct their own unique workspace with customizable height thanks to the electronic height adjustable desk legs. Workers can choose a variety of options from a DIY standing desk to a DIY corner desk. 
Standing Desks with Motorized Legs
1. Autonomous SmartDesk Corner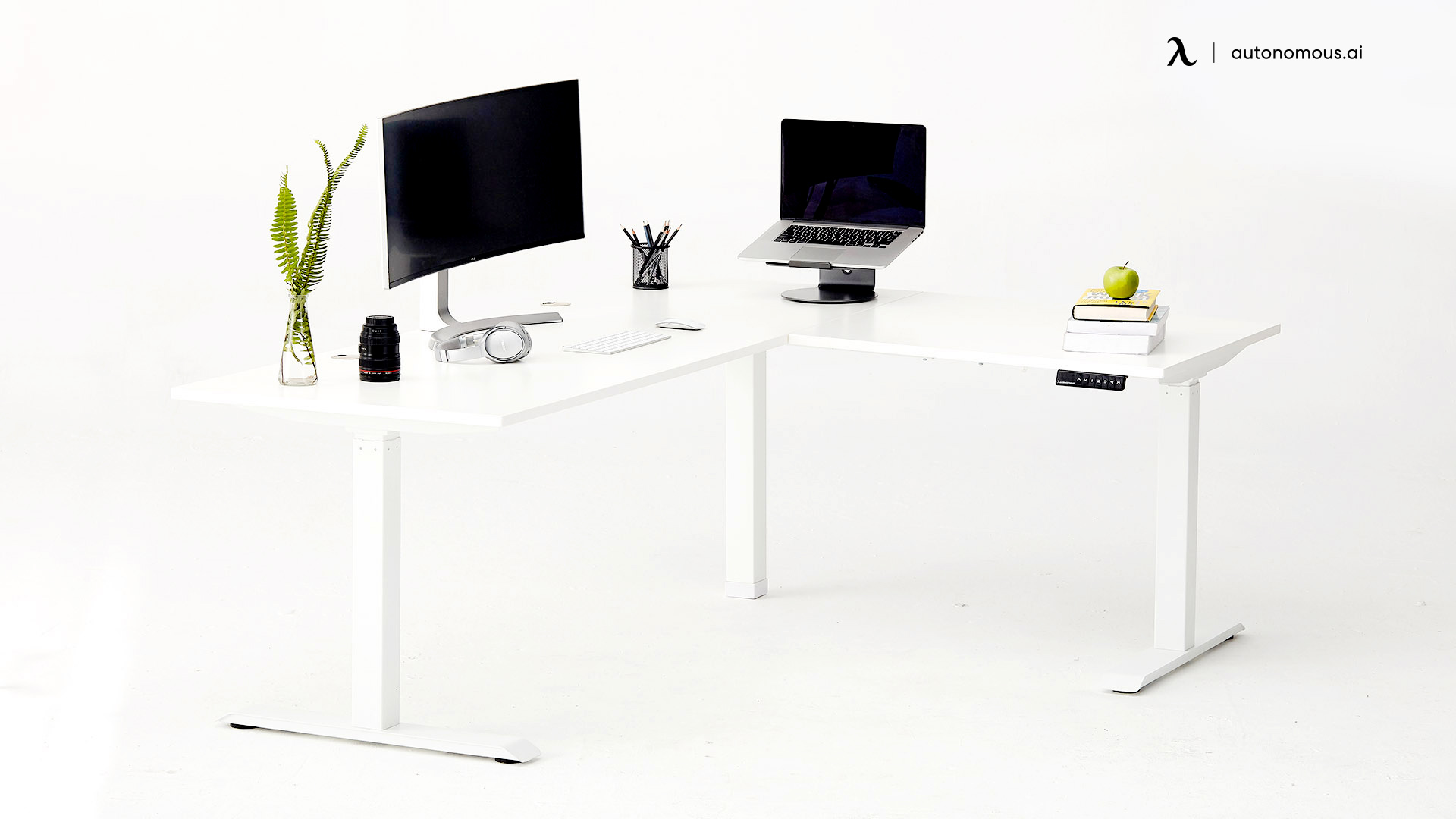 The Autonomous SmartDesk Corner boasts a contemporary style with clean lines that complement any setting, and the L part of the desk is great for students who demand additional workspace. 
The SmartDesk Corner stretches from 29.5 to 48.5 inches, making it suitable for even tall people. It also moves quickly, climbing at a rate of about 1.5 inches per second. 
Even at maximum extension, the crossbeam structure prevents monitor wobble during typing or gaming. The desktop is also 1-inch thick MDF wood, which prevents it from bowing over time. 
These L-shaped motorized desk legs expand quickly and effortlessly, so nothing on your desk gets in the way. 
Pros and Cons of SmartDesk Corner
The motors are silent and fast, and four height options may be programmed.
The desk is strong, and even when fully extended, it does not wobble.
The frame has a five-year warranty, and the top surface has a one-year warranty.
You have a 30-day return window with a full refund.
There is no automatic stop protection.
2. Autonomous SmartDesk Core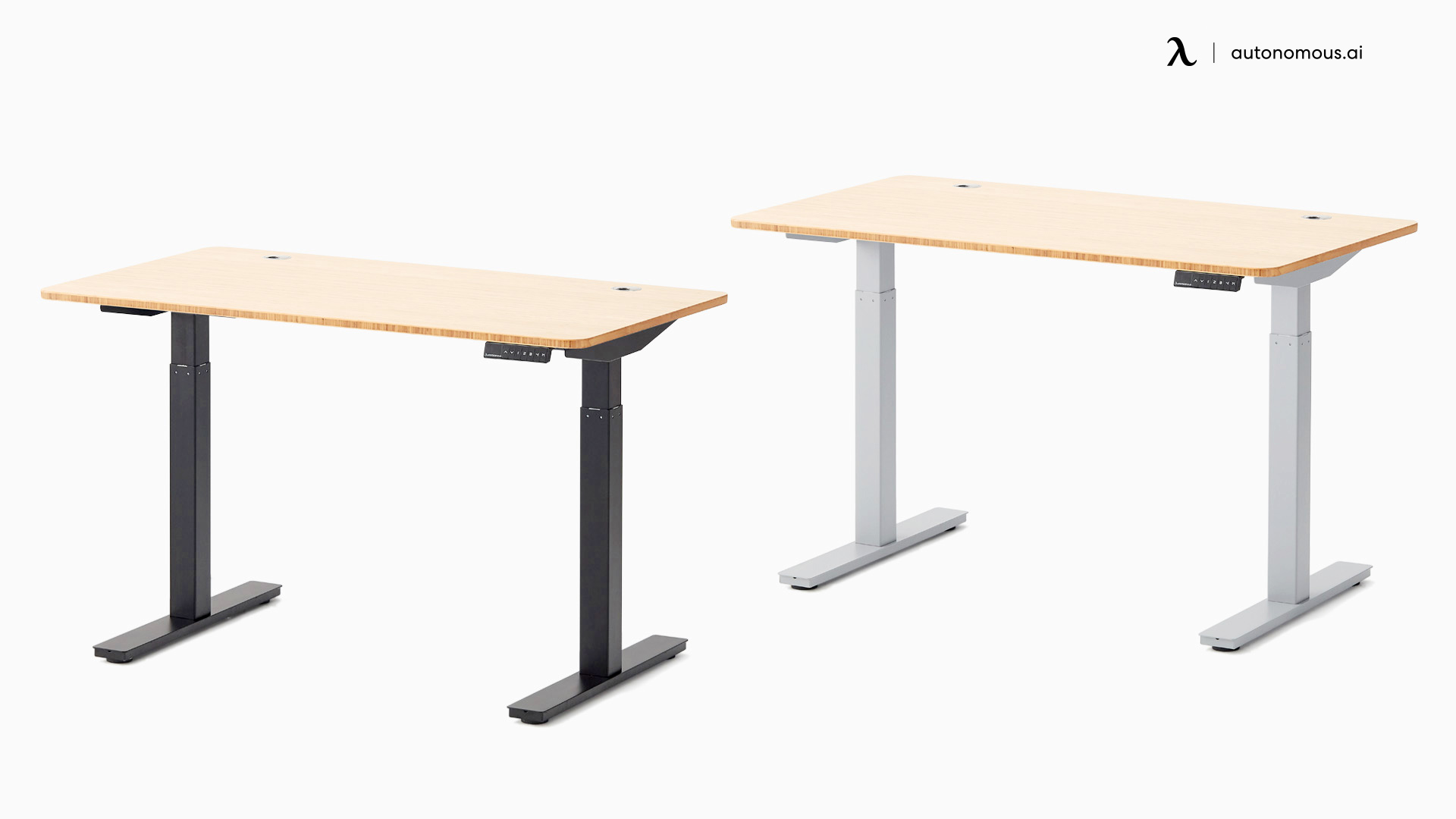 The SmartDesk Core's height can be adjusted from 29.4 to 48 inches, making it suitable for a wide range of people. You may adjust the desk to your preferred sit-to-stand position. This desk comes in a variety of heights, allowing it to be used by a wide spectrum of people.  
It has a customizable keyboard for ease of use and straightforward controls, as well as the ability to save up to four different heights and switch between them quickly. 
A two-stage lifting column is included with the desk, emphasizing its sturdy core. It moves quietly at barely 50 dB and can lift 265 pounds. The motorized desk legs move 1.1 inches per second while bearing its greatest load. 
It has an energy-efficient twin-engine powering the electric table legs and is supported by a sturdy steel electric standing desk frame. The SmartDesk has received the strength and safety seals of approval from UL, BIFMA, and EMC.
Pros and Cons of SmartDesk Core
Easy to assemble.
Design that is both sleek and durable.
Tabletop with plenty of space.
Exceptional load capacity.
The engine that runs quietly.
Low-cost.
The top may wobble a little.
3. Uplift V2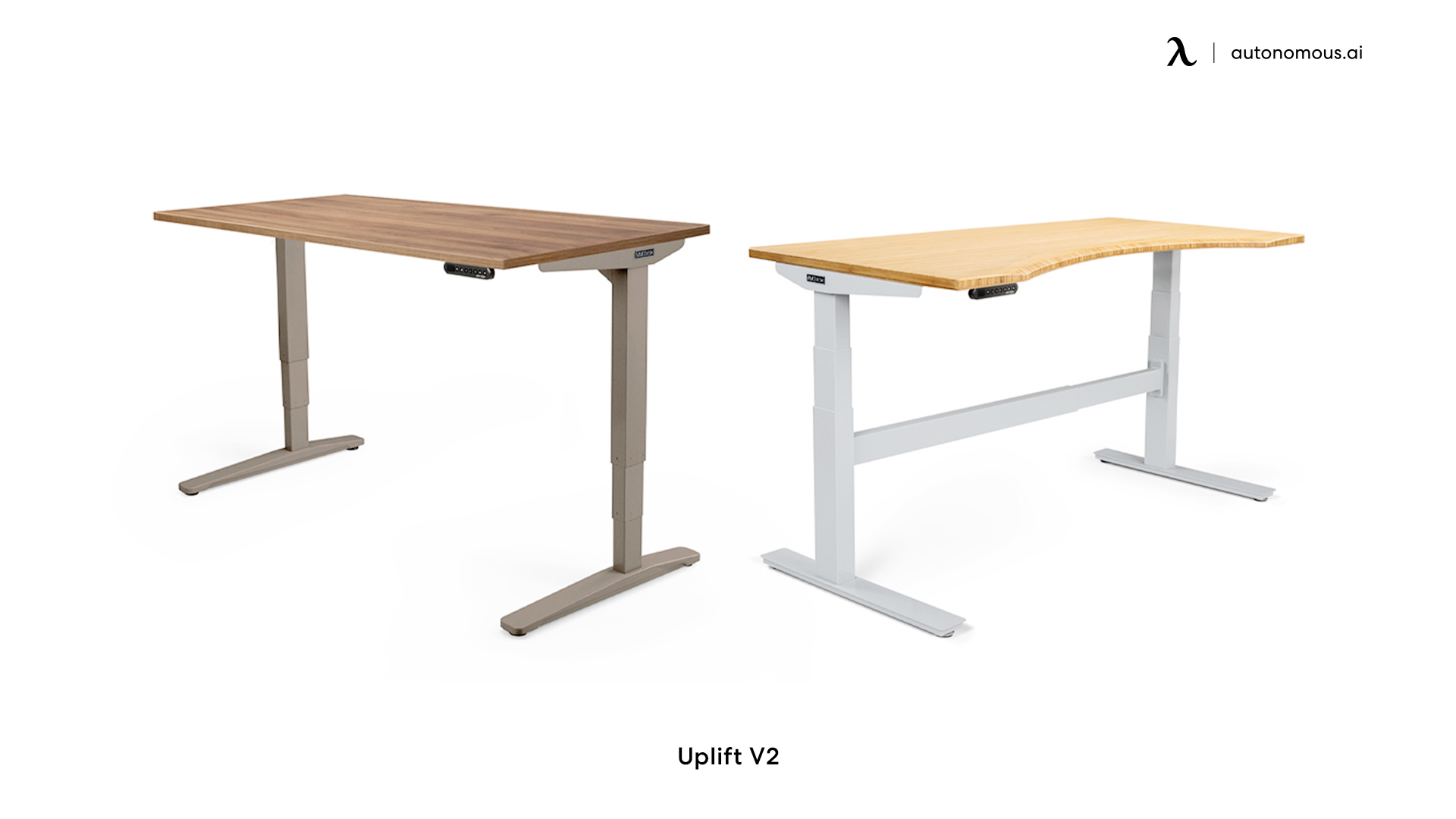 The Uplift V2 is one of the best standing desks on the market, with the excellent build quality in motorized desk legs and a focus on stability. Some standing desks have the potential to be unsteady, especially when extended to higher elevations. However, because of built-in stability braces, uplift is very steady. 
Dual motors allow the desk to adjust its height fast and quietly, and anti-collision technology prevents the desk from lowering if it collides with something. The desk also has a lot of accessory mounting points. 
There are numerous desktop sizes and colors (as well as frame colors) to choose from, as well as built-in cable management and curved or corner desk variants. A seven-year guarantee is also included with the devices. 
The Uplift is available in basic and commercial standing desk variants (the latter having considerably more stability thanks to a crossbar), and people living outside the United States can order a unit to be transported.
Pros and Cons of Uplift V2
Excellent construction quality.
Motors that are smooth and quiet.
There are numerous sizes and color options available.
Many mounting points for accessories.
High international shipping costs.
4. Vari Electric Standing Desk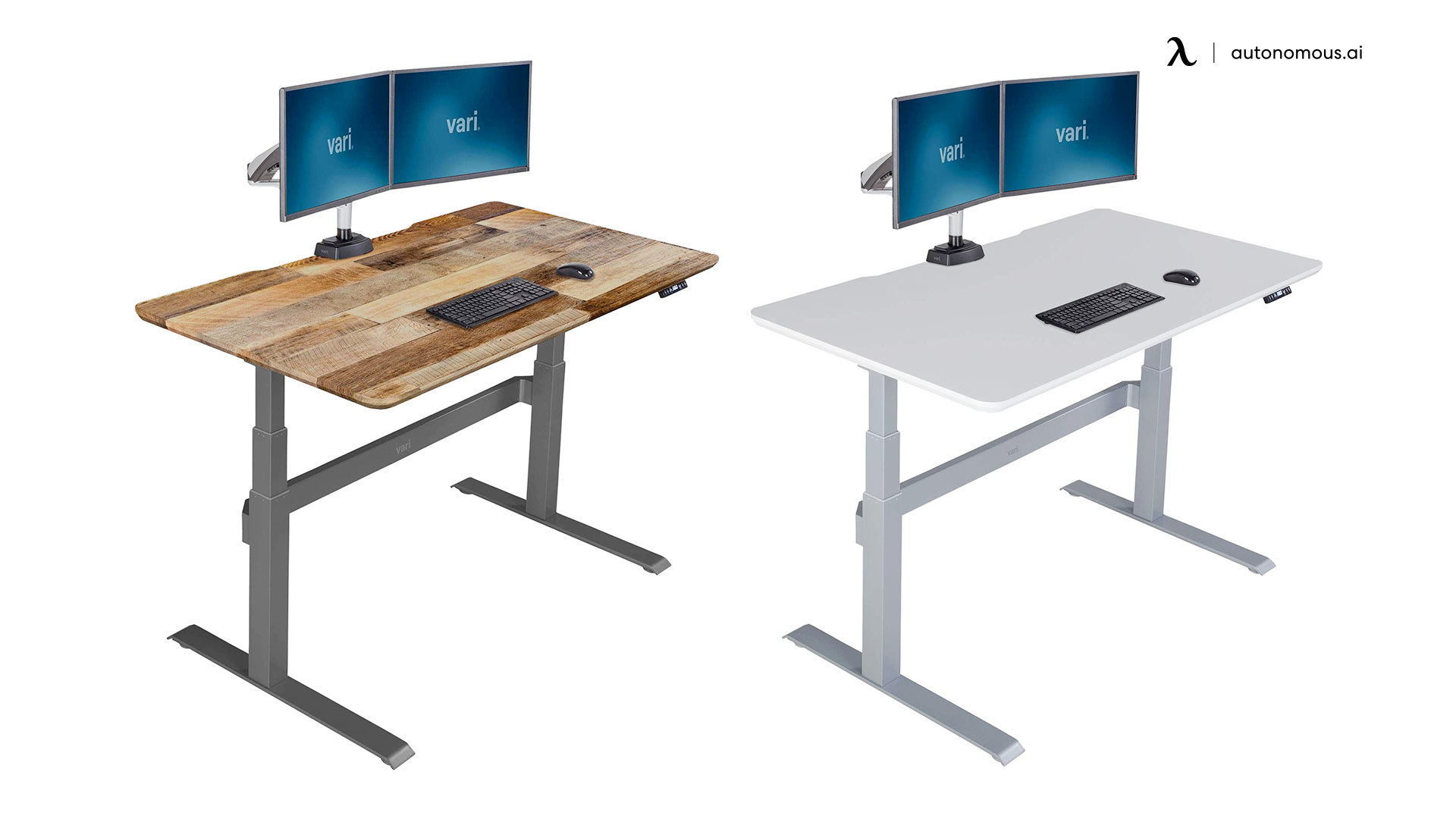 Vari's Electric Standing Desk comes in three different widths (48-in, 60-in, and 72-in) to meet your home office demands and can be put up in minutes. The desk has two t-style legs, each with a motor that allows it to be raised or lowered to a maximum height of 50.5 inches. 
This model is available in five various finishes in addition to three different widths (black, white, dark wood, butcher block, and reclaimed wood). 
The desk with the strong height adjustable desk legs can hold up to 200 pounds (90.7 kilograms), making it perfect for heavy users with numerous monitors and bigger workstation PCs. 
Its structure is pre-assembled, and buyers simply need to put the legs together. The wires for both motors, as well as the keypad at the front of the desk, plug into a control panel in the middle of the frame. 
Vari also offers a cable management tray that mounts to the rear of the desk. It has enough space to hold a power strip and even a large power adaptor for a business monitor. 
The desk height can be adjusted easily and fast with the keypad, and there are four memory presets for saving your preferred sitting and standing heights. 
When changing heights, the motorized desk legs are relatively quiet, and we were even able to lower and raise it without spilling a full cup of coffee. Vari also provides free shipping within the United States and 30-day risk-free returns.
Pros and Cons of Vari Electric Standing Desk
The assembly method is simple and intuitive.
There are a variety of finishes and sizes available.
Features for excellent cable management.
Supports up to 200 pounds (90.7 kg).
The cable management tray is an add-on item.
5. ApexDesk Elite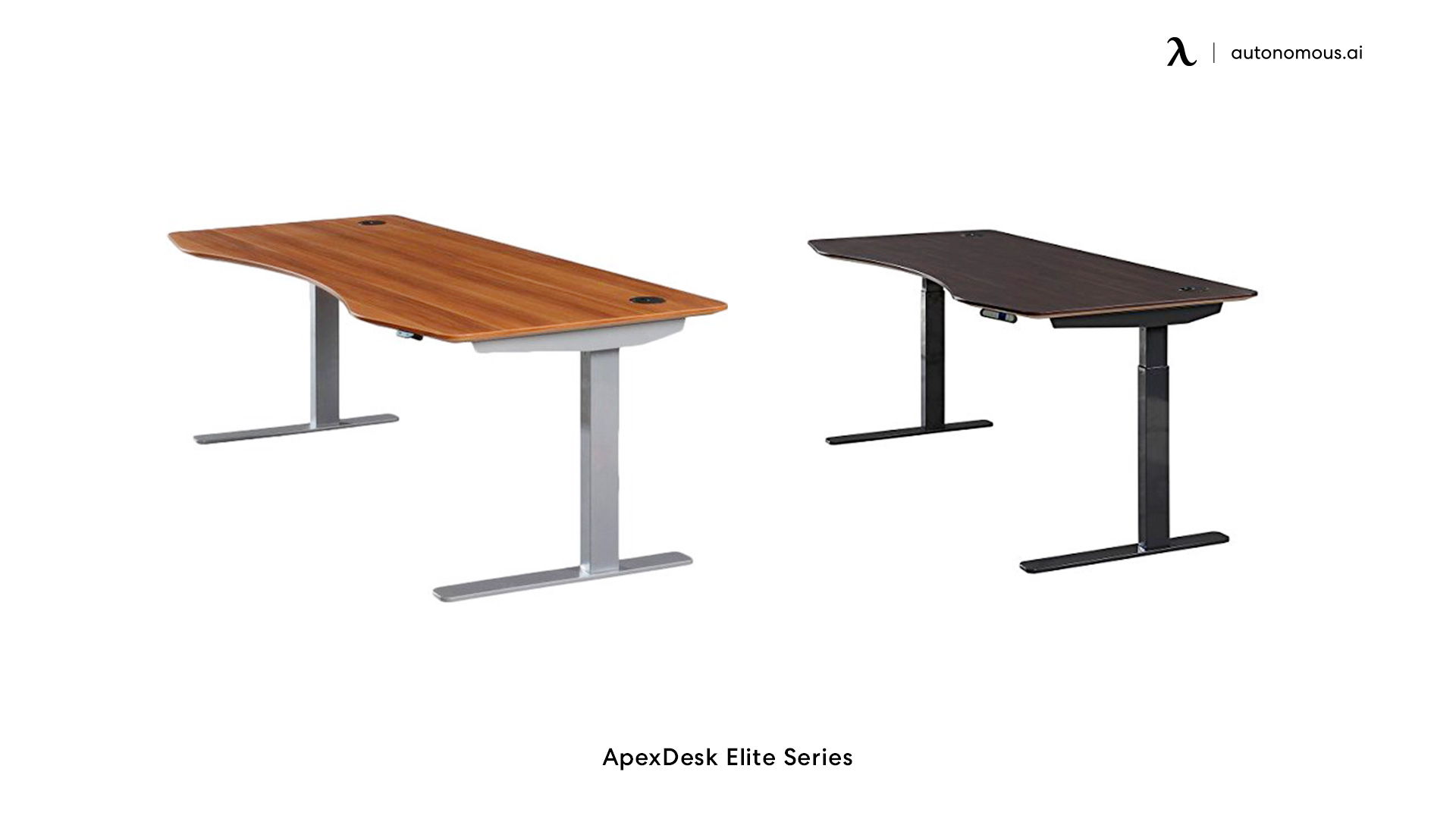 The ApexDesk Elite is a good place to start if you're looking for a high-quality desk with a lot of walnut real estate (other woods are available) and a great price for what you are receiving. 
This motorized desk legs model comes in two sizes: 60-inch and 71-inch. If you want the greatest desk space, go with the latter, which also has a 33-inch depth, which is greater than most.  
Its lifting capability is a little over 100kg, ensuring that you can fit a lot of heavy equipment on top of these height adjustable desk legs. The Elite is constructed to last, featuring a center beam for added stability. 
Pros and Cons of ApexDesk Elite
High-quality construction.
The surface area for a large desktop.
Competitive pricing.
100kg lifting capacity.
The lifting mechanism is slow.
6. Fully Jarvis Bamboo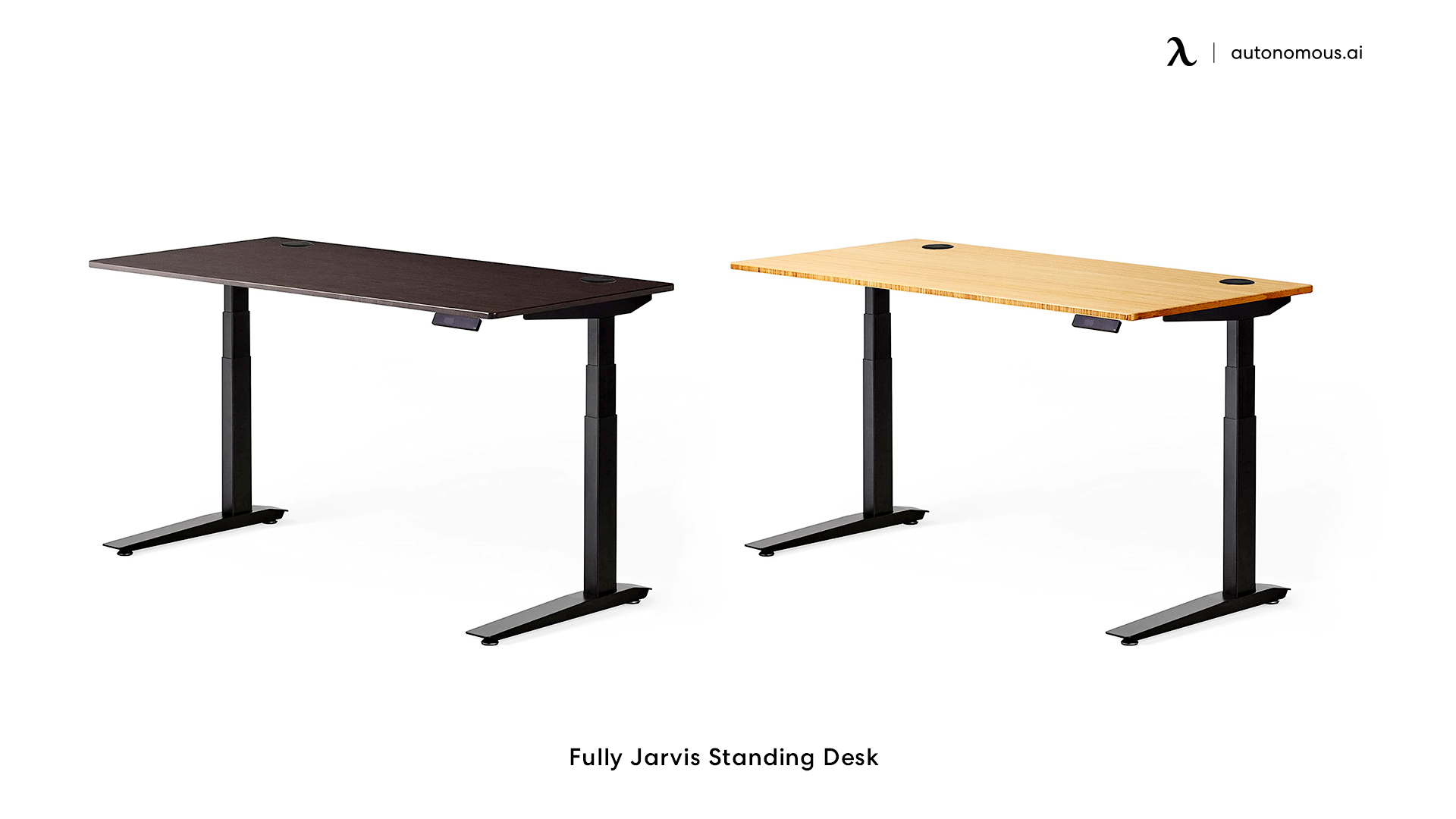 Another of the best standing desks is the Jarvis Bamboo with excellent motorized desk legs, which is made of bamboo as the name suggests. It's environmentally friendly because the bamboo is farmed sustainably (without pesticides) and has a strong polyurethane covering. 
Underneath that is a frame capable of sustaining more than 150kg and with a full extension ideal for people up to 6-foot 7-inches tall
The Jarvis is available in a variety of shapes, including the regular rectangular desk, contoured (with a concave curve at the front), and even an L-shaped form for use in a corner. 
This bamboo standing desk also comes with several useful features, such as desk lighting, drawers, and a monitor shelf with perfect electric table legs – or, if you want to go fancy, a gas-activated monitor arm.
Pros and Cons of Fully Jarvis Bamboo
Bamboo is a renewable resource that was used to create this piece.
Full extension for users up to 6'7".
The programmable handset that can support up to 150kg of weight.
Higher price points.
7. FlexiSpot EF
If you want your best standing desk with motorized desk legs but don't want to spend a lot of money, the FlexiSpot EF is a great option. 
It has a quiet motor lift, as well as a keypad with three height settings that may be modified. There's also a customizable alarm that alerts you when it's time to switch from sitting to standing (or vice versa). 
When compared to competing for motorized items, this FlexiSpot standing desk is a steal, offering several outstanding features like modern electric table legs at a low price. Plus, the firm backs the desk with a five-year warranty (and the motor gets a slightly shorter three-year guarantee).
Pros and Cons of FlexiSpot EF
An affordable option.
Motor lift with minimal noise.
There are three different height settings available.
At full height, it's not as stable.
8. Branch Standing Desk
The Branch Standing Desk is a versatile piece of modern office furniture with modern adjustable desk base that may be used in a variety of ways. It is the tallest of the desks in this collection, and it provides a sturdy work area for folks up to 6-foot 8-inches tall. 
When the desk is lifted using two motors, the lifting movement is very smooth, and a three-stage column system assures stability even at the highest altitudes that this desk can reach (adjustable feet help achieve this goal as well). 
There are four memory presets for the most regularly used heights, as well as cable management features. The Branch Standing Desk has some useful optional features, such as in-desk power outlets (and USB connections), and it's very simple to assemble. 
There are two motorized desk frame models available: a Team Plus model and an Executive Desk with the same depth but a bigger width (60-inches rather than 48-inches). You could be tempted by this piece of office furniture, which has a reasonable asking price and a 10-year warranty.
Pros and Cons of Branch Standing Desk
The highest level of extension.
The surface is stain and impact resistant.
Simple to put together.
Four – six days delivery.
9. Evodesk Gaming Desk
Evodesk manufactures several excellent ergonomic standing workstations, including one designed exclusively for gamers. The desktop can be rather enormous, with possibilities ranging from a 48-inch desktop to a 72-inch behemoth. 
This desktop has an Evoguard finish, which is a beautifully textured surface that looks like a high-end mouse pad and is ideal for using your gaming mouse. 
The Evodesk Gaming Desk also features a curved (concave) edge for improved ergonomics and an integrated Harman Kardon sound system as an option. 
It is well-made and solid, which is obviously important when the action heats up and you are frantically mousing over that Evoguard finish. It has a good motorized desk frame.
With a smooth raising/lowering movement, the Gaming Desk adjustable desk base can be adjusted to over 250 different height configurations (and comes with the usual memory settings).
Pros and Cons of Evodesk Gaming Desk
Specifically created for gamers.
Large work surface.
Surface with a fine texture.
Design with ergonomics in mind.
Speakers built-in.
All functionalities aren't required.
10. Steelcase Solo
The Steelcase Solo standing desk is clearly designed with remote workers in mind, with a low-price tag, elegant electric standing desk frame, simple construction, and single-button operation. 
This motorized desk frame model has a wide range of motion, allowing persons of diverse heights and ergonomic preferences to extend their legs while working. The desk is also robust enough to lift almost any piece of office equipment you would require. 
It may satisfy anyone looking for a straightforward standing desk for their home office. Steelcase has emphasized simplicity in all elements of the design; the single lever control and lack of drawers and other moving parts mean there is nothing that can go wrong.
Pros and Cons of Steelcase Solo
A robust and generous desktop.
Extremely simple to assemble.
Overly formal design.
It lacks 'intelligent' features.
Final Thoughts
Standing workstations can aid in the prevention and reduction of sedentary behavior. Whether you want a desk with motorized desk frame for gaming, an economical alternative, or something with a more refined style and feel, there's something to suit your demands.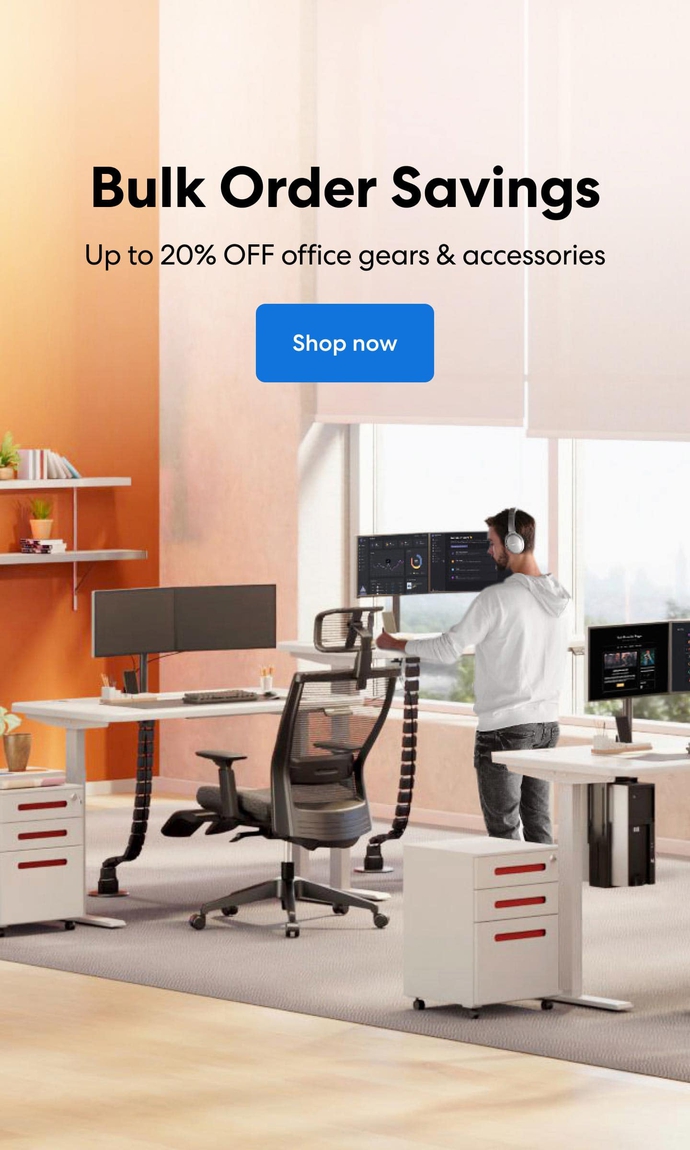 Subcribe newsletter and get $100 OFF.
Receive product updates, special offers, ergo tips, and inspiration form our team.