Workplace Inspiration
Top 10 Trends in New Home Construction in 2023

Autonomous
|
Nov 19, 2022
1,658 Views
Home construction trends are continuously changing from new technology to better materials and methods. A new age in architecture has begun. We continually move at light speed through all of these new home construction trends. We see so many new home construction trends nowadays, and businesses are supplying them. 
Are you currently constructing a new house and unsure of what to add to your custom home construction with different home-building industry trends? We have the ideal manual for you! We've created a list of the most well-liked features and home-building industry trends based on the data we've acquired throughout time along with different new home construction tips for you. 
Top New Home Construction Trends
1. Online purchasing
Additionally, to assist customers in selecting features and designs, internet information is readily available. Technology has aided in the development of a new landscape of applications, picture galleries, design tools, and communication platforms in every aspect of house construction and renovation. You will thus have a variety of options on your phone or tablet the next time you decide to construct or rebuild. 
2. Smart Home
Technology for smart homes is always improving. One of the most intriguing findings from our recent study is that two-thirds of people looking to construct a new house are interested in smart home technologies, which they placed higher than outside amenities such as parks and pools. This interior design for new home construction is your solution to many problems. 
Some of the most popular smart home features are programmable thermostats, intelligent appliances, and built-in charging points for electric vehicles and smartphones. This trend will help you build your own privacy pod with high tech. 
3. Going Green
Energy efficiency is one of the top 3 characteristics, according to data from our newly built buyer survey. Builders are using a lot more sustainable building materials in their houses, such as salvaged and recycled wood, steel, and other materials, in addition to items such as solar panels and lighting. It is surely one of the top new home construction trends. 
Builders have adopted three energy tests to give buyers a scientific study of their home's energy rankings as building energy requirements become more stringent. Prior to move-in, independent raters use the Home Energy Rating System to inspect homes while they are being built and offer a final rating. 
4. Two-Story Layout
A two-story family room may be added to your house to give it a touch of elegance and the appearance of an expansive area. Your visitors will undoubtedly appreciate your home for this interior design for new home construction. Even on a layout that isn't that vast, the two-story living area is one of the best new home construction trends that provides the sense of being enormous when paired with an open-concept layout. 
5. Personal Touch
Home construction trends mirror the general tendency toward individualism and personal flair, much as fashion trends do. Through textures, a variety of materials, and color, your house may express who you are. Personal touch is an essential part of any top new home construction trends. 
This contemporary style makes a conscious effort to avoid having too many excessive details. Clearly, crisp moldings and very squared edges are really fashionable right now. Square columns are replacing round ones, detail is being removed rather than added, and plain arches are in demand for radius components. 
6. Outdoor Living
Although this trend is not new, the fact that people have been spending more time inside over the last several years has reignited interest in making outdoor areas just as habitable as interior ones. A lot of people are interested in outdoor kitchens, water features, eating alternatives, and automation, including retractable insect screens and drop-down TVs. You can also build your office in the garden to work from home. 
7. Adopting New Tech
As said before, the adoption of construction technology in the business is anticipated to be strong in 2022. The most notable technological advancements for construction sites include noise-reducing devices, 3D printing for more reasonably priced building materials, and sensor data that can detect wind, temperature, and loud sounds to provide warnings before such a catastrophic event or emergency occurs. These innovations also include robots that can handle a large number of construction-related tasks, you can include all of them in your home office shed. 
8. Bio Construction Material Use
Despite the fact that this technology is still relatively new and has not yet been extensively used, in 2022 the construction industry is expected to see a rise in the usage of living building materials. Self-mending bio cement or self-replicating concrete are two examples of building materials that have the ability to act like living creatures. From now on, this will be at the top of the new home construction tips. 
9. Connected Construction
Such projects as smart cities, environmental transformation initiatives, and urban air transportation may all be supported by connected buildings. Additionally, it may boost internal operational effectiveness, raise margins, and lower overall building costs. With the help of these technologies, people, work locations, processes, and assets may all be connected to one network, resulting in reduced downtime and improved operator visibility. 
10. Islands
The popularity of the kitchen island has already been growing for years, but now it has almost completely disappeared. The island might be thought of as the hub of a home if the kitchen is the center of the house. 
Choose StudioPod from Autonomous
StudioPod may be set up in the backyard with minimal intrusion on your time or the usual headaches associated with home improvements. It's one of the finest backyard office kits since it includes a desk, bookshelf, TV stands, fold-down side table, and converted sofa bed, all of which can be set up in a matter of minutes. 
It has several uses and is adaptable. When not in use, you may utilize this office garden shed as an additional living space, your home office, or an Airbnb. Your backyard is a private area that belongs to you. The StudioPod has all the electrical and HVAC connections you could possibly need, as well as mood lighting with three different color settings. Simply plug it in and use it for anything you like—playing, working, exercising, etc.
Dimension
106" W - 155"L x 106.3"H
Material
Exterior: Aluminum layer
Interior: Eco-friendly honeycomb paper
Frame: Steel
Include
A closet, desk, bookshelf, TV stand, a foldable coffee table and convertible sofa bed
Minimum wattage
150W
Lighting
3 color modes
Warranty
1 year
Video ads for product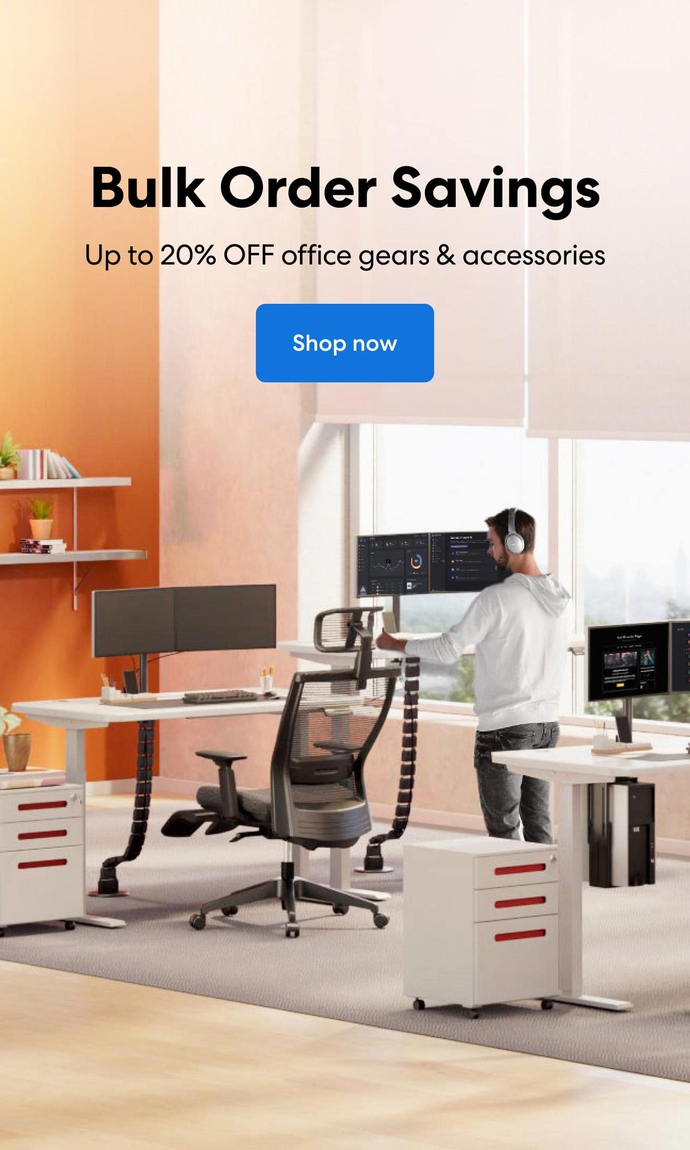 Subcribe newsletter and get $100 OFF.
Receive product updates, special offers, ergo tips, and inspiration form our team.