Smart Products
Top 15 Glass Top Desks For Every Ergonomic Workspace

Autonomous
|
Jun 21, 2022
1,928 Views
A world without desks would be filled with frustrated workers who have nowhere to put their items. No doubt, the productivity, and efficiency of the workforce would dampen. A glass top desk, for example, helps to make a statement while providing functional benefits. 
Fortunately, desks of different types are constructed by furniture companies to meet every available need. 
A glass office desk specifically adds elegance and formality to professional office spaces or meeting rooms. They are easy to maintain while creating a more serious appearance for businesses by oozing styles that appeal to executives. 
Contrary to the popular perception of glass-top desks, they are solid and don't shatter easily. They are made of modern tempered glass that has undergone rigid and controlled thermal manufacturing processes. 
What to Consider When Shopping for a Glass Top Desk
Glass top desks are gorgeous and classy pieces of furniture, but they are vulnerable. So, there are a few things to consider before buying to get value for money. The first thing to consider is to ensure the purchase of a glass top desk is what is needed. 
Additionally, ensure the level of thickness, size, shape, and length fulfill that need. The size of the glass desk should meet the specifications required to set up the proposed professional or home office space. 
When choosing a glass-top desk, the material used is another factor to look out for. Buyers should go for glass office desks that have gone through industry standard manufacturing processes. 
The quality of the glass is another important consideration before buying a glass office table. This stems from the quality of the material mentioned above. Furthermore, look for a reputable and reliable glass desk manufacturer. 
An indication of a reputable manufacturer is that its products come with a warranty, which is also essential when buying a glass-top desk.
A glass-top desk is only one of many furniture pieces needed for a home office. The other component of a home office is the chairs. Hence, buying chairs (and other office accessories such as drawers) is essential to compliment the glass desks. 
Top 15 Glass Top Desk in 2022
There are many glass top desks on the market, making it difficult for buyers to decide. Below are the top 15 glass top desks in 2022. 
1. Compact Desk by Wistopht: Wireless Charge Pad
There's no better manifestation of the improvement in technology than the Wistopht wireless charge pad standing desk. This display of modern technology combines a smart glass with a digital display, equipped with touch screen keys and a wireless charger for an encompassing workstation. 
Users of this office standing desk can directly control the desk's height from the integrated touchscreen. Users never have to worry about clutter and tabletop distractions with hidden drawers for easy storage. 
The compact desk is perfect for small spaces, whether a home or professional office environment. It is equipped with four ports and its wireless charging capability that charges up to five devices.
2. Vista 48 "W Glass Computer Desk
The Vista 48 from Realspace is known for its strength, stability, and durability due to its powder-coated metal frame. Additionally, its tempered glass surface is big enough to accommodate everyday work essentials such as laptops and notepads.
This Realspace Vista Glass is equipped with a pullout tray to accommodate other work essentials such as a keyboard and mouse.
3. Ameriwood Home Odin Glass L-Shaped Computer Desk
This contemporary and stylish glass office table is designed to maximize office space while maintaining maximum functionality. Like the Vista 48 from Realspace, it is made of powder-coated metal.
It is suitable for a home office, as its tempered and smooth glass combine to create a beautiful work surface. 
4. Compact Desk: Glass Top with Drawer
Another glass-top desk with modern technology is the aesthetic glass top desk with a drawer from Autonomous. This adjustable desk can surely improve your working habits with an integrated touch screen, LED display, and three-height memory presets. Moreover, it is easily convertible to a standing desk for a better healthy lifestyle. 
It meets all needs with adjustable settings and a curved edge table top design for comfortable armrests. With the hidden desktop wireless charger, one USB, one USC, and two AC power ports, your devices can never run out of power while working. Additionally, the integrated pullout drawer ensures a clutter-free workspace. 
5. Walker Edison Modern L-Shaped Tempered Glass Computer Desk
The Walker Edison Computer Desk makes working with multiple screens a pleasant experience. Its L-shaped design creates enough room for various screens and other office tools without your worrying about clutter. 
Its sturdiness doesn't take away from the fingerprint-proof tempered glass's modern look. This easily assembled glass desk has a keyboard tray and a CPU stand, creating a compact workspace. 
6. Neos Modern Furniture Bent Glass Computer Desk
When it comes to desk class and elegance, the heavy and oversized Neos Bent Glass Computer Desk is one of the best. The glass office table accommodates all work essentials with a minimalist, modern, and spacious design. 
Its premium quality and durability are espoused in its 12mm thick and transparent tempered glass design. While this desk is suitable for a professional office setup, users who are not shy of space can beautify their home office. 
7. bonVIVO Massimo Glass Writing Desk
The bonVIVO glass desk for home office is all you need when affordability and being lightweight take priority. Unlike other products that sacrifice affordability for quality, this tempered glass desk is shatter-resistant, with a white colored shelf underneath it. 
The bamboo legs of the desk conform to minimalistic and modern architectural design standards. As a result, it is compact, easy to install, and suitable for the perfect home office. 
8. Home Fiske Glass Office Computer Desk
If you want a manufacturer with an excellent reputation for delivering modern, stylish and durable design, Christopher Knight is one of those names instinctively. The Home Fiske Glass Office Computer Desk combines a touch of luxury and affordability without compromising on quality. 
This 10mm tempered glass top desk can occupy any space in a room and instinctively light it up. Its lack of accessories around it brings out its minimalistic design, making it easily adaptable to numerous locations. Additionally, its lightweight makes it movable around the home. 
9. Jefferson Glass Top Standing Desk with Drawer
A work desk with a black glass top and height-adjustable functionality, the Jefferson Glass Desk is fashionable and modern. Its unique design is combined with the industry standard powder coat to create a scratch and moisture-resistant product. 
It also boasts modern integrations such as an electric motor for height control, three USB charging slots, and a five-button controller underneath the glass surface. With a weight capacity of 110 lbs., this glass office desk is strong enough to carry a typical office hardware and accessory setup. 
Additionally, this glass office desk is equipped with a cable management system, a child lock button, and a storage drawer. 
10. EG8 Glass Desk with Drawers
Another glass office table with a modern and minimalist design, the Flexispot EG8, is suitable for people who enjoy working with two or more monitors. Like the Jefferson Glass Desk mentioned above, this glass top desk is equipped with a child lock and other modern technological capabilities such as charging ports with USB type-C compatibility. 
Flexispot is confident in its anti-collision technology-fitted glass office table, as it offers a five-year manufacturer's warranty. 
11. Seville Classics Tempered Glass Electric Standing Desk
This Seville Classics glass office table has a touchscreen, LED display, and three memory height presets, with a stylish tempered glass combined beautifully with a wood worktop front. The worktop can serve as a notepad when written on with unique markers that are easily wiped off. 
With a two-year manufacturer's warranty, buyers are safe knowing that its industrial-grade steel and the maximum capacity of 176 lbs. can meet all their hardware needs without breaking a sweat. 
12. Tempered Glass Hand-Crank Glass Top Desk by WWS
One word to describe this glass top desk is compact. Additionally, this desk accurately represents a stylish modern design with its beautifully combined black glass top and white worktop. 
This black-colored tempered glass office desk has a pullout drawer to store office essentials and keep the surface tidy. A maximum capacity of 200 lbs. makes it suitable for people who use numerous hardware elements. This easy-to-maintain glass office table has a thick metal frame but lacks electric power adjustable features. 
13. Mid-Century Art Display Mini Desk
The Mid-Century Art Display Mini Desk is ideal for those who enjoy little but satisfying work desks in their homes. Its blend of wood, modern glass, and sleek metal makes for a modern and stylish design. Additionally, this glass desk for the home office setup is equipped with tempered glass and an engineered wood shelf for book lovers. 
14. Home Camila Mid-Century Tempered Glass Desk
Another Christopher Knight masterpiece, this glass desk top elegantly combines glass, wood, and curved angles to recreate a desk from the mid-century. This desk is as simple as it gets, but it is solid and easy to maintain. 
15. Cortesi Home Trixie Glass Top Desk with Stainless Steel Frame
This lightweight glass desk is spacious and suitable for heavy home office work. It boasts a rectangular glass top with slim legs. Of course, it's also easy to move 
What Are the Benefits of a Glass Top Desks?
Glass top desks provide aesthetic benefits to buyers due to their elegant and stylish designs. Unlike other desks, a glass desk for home office can instantly add class and elegance to an average store, workspace, or office. Additionally, the transparency of many glass desks helps create the illusion of a more open and lighter space. 
Another benefit of glass desks is their durability. The materials used to produce them don't age or wear and tear, unlike wooden desks. Furthermore, they're easy to maintain and polish, and they also provide a smoother surface for writing. 
Are Glass Desks Heavy?
Glass desks are sometimes heavier than other types of office desks, such as plastic or metal, due to the increased density of the materials used. 
How Easy Do Glass Top Desks Scratch?
Glass desks don't scratch easily due to the hardness of the materials used in making them. After all, they are known for their durability. In addition, the hardness of glass desks is why some people overlay their wooden desks with glass tops. Minor scratches that may occur sometimes are not visible, as you'd have to take a closer look to see them. 
The designs help prevent the negative impression (of carelessness and clumsiness) from scratches that are easily visible on wooden desks.
Are Glass Top Desks Safe?
Glass top desks are made with tempered glass, making them very safe. Tempered glass, which is stronger than standard glass, doesn't break easily. Instead, they shatter into tiny pieces after extreme pressure, but they hardly cause personal injury. 
Depending on the product, glass top desks are designed to handle a range of weights. The maximum weight is often contained in the product description.

Are there Disadvantages to Glass Top Desks?
Like everything in life, there's always some measure of disadvantage. The stylish and elegant look of glass top desks doesn't exempt them from this life fact. 
The first disadvantage to glass office desks, as expected, is the price. They are made with materials and manufacturing processes that aren't the most cost effective. A glass work desk that is priced affordably is still expensive compared to non-glass desks of similar sizes. 
Another disadvantage, which some may not consider, is the heavy nature of most glass top desks. Extra care and human resources are often needed to move them around. Therefore, they are not suitable for office operations that involve frequent movement. Only compact models are exempted. 
Conclusion
A glass desk for a home office is clearly a touch of class that can revolutionize any office aesthetic. Now, you're more familiar with 15 of the best models available. If you want to take advantage of cost savings, consider using an employee purchase program. 
Using the Autonomous EPP means cost savings for the company and state of the art office equipment for the employees.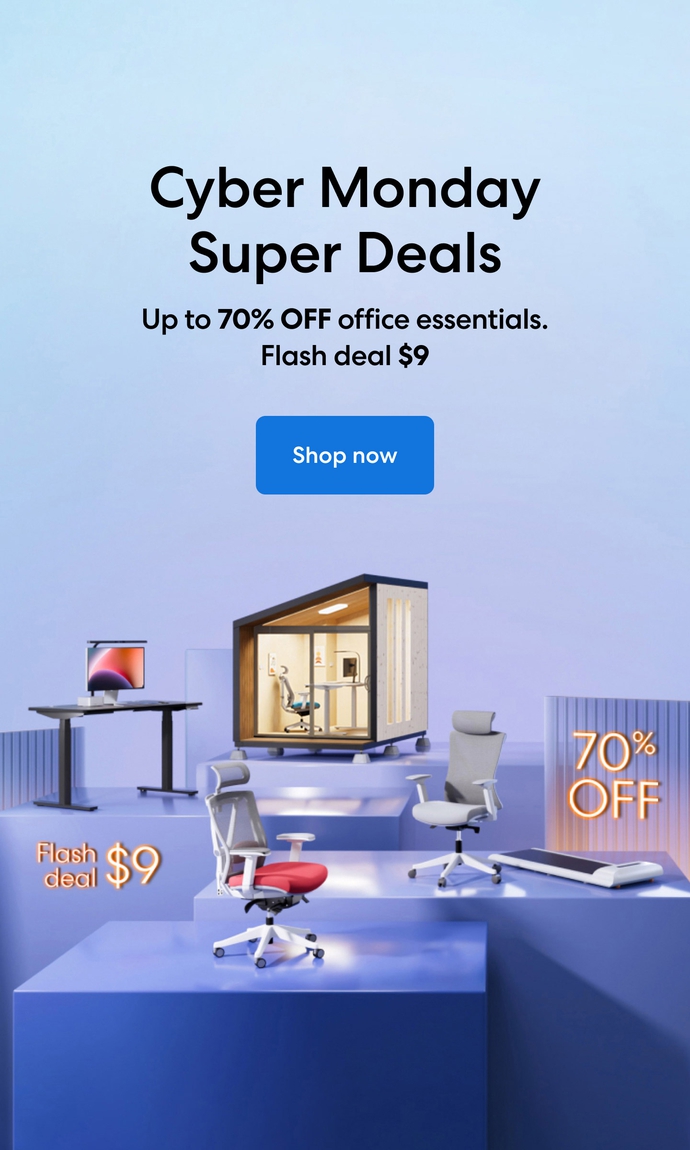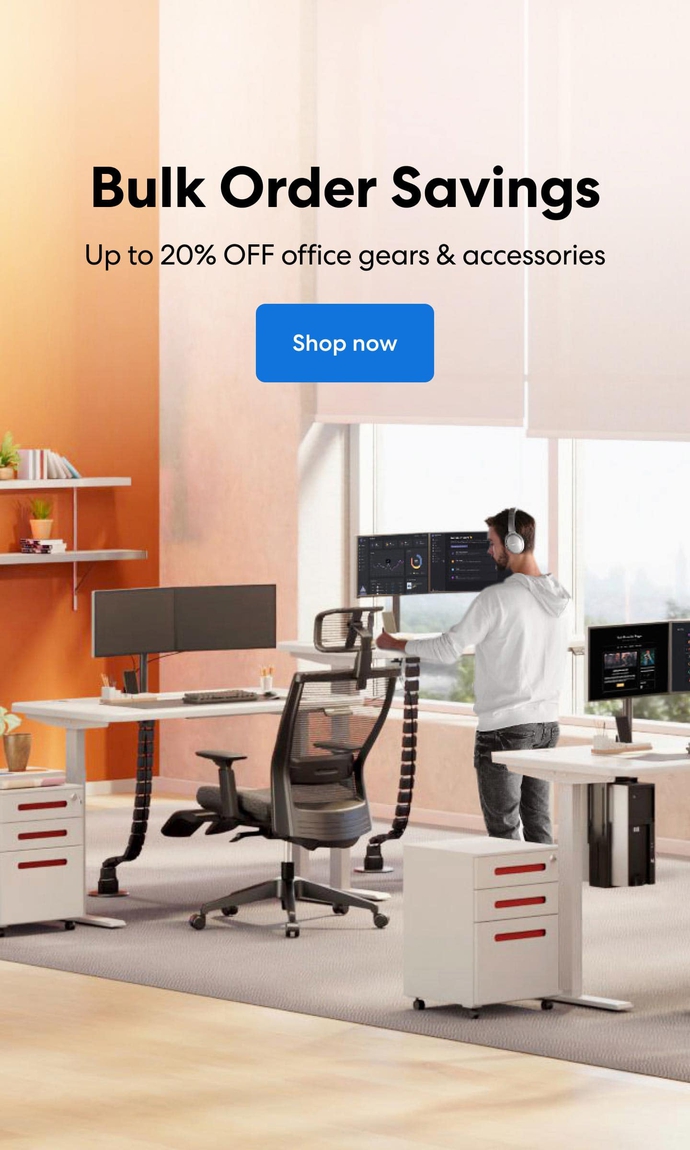 Subcribe newsletter and get $100 OFF.
Receive product updates, special offers, ergo tips, and inspiration form our team.