Everyone needs a proper office desk for their home. They are the centerpiece of every home office setting, and they keep everything much more organized. However, desks come in all shapes and sizes, and there are several things to consider when choosing a modern wood desk. 
One of those aspects is the desk's materials. We are huge fans of wooden desks because of their durability and aesthetically pleasing finish. Moreover, there are hundreds of types of woods to choose from when deciding on a desk, and this gives us a wide variety of options to fit any desired aesthetic. 
On the following list, we're going to review the best modern wood desks of 2022, so you can check them out and hopefully find your next favorite piece of furniture with the best wood for desktop.
Top 15 Modern Wood Desks for Your Choice
1. Autonomous Walnut Top Standing Desk
The Autonomous Walnut Standing Desk is one of our best height adjustable desks with customizable settings. It is designed to fit several heights and body types so that you can share it with anyone in your house. 
This modern wood computer desk can withstand up to 265 pounds of weight, and it is incredibly silent due to its powerful dual motor that's sure to last for years before getting damaged. It is made of a chunky walnut oak top and strong mechanical legs that are internationally certified to deliver peak performance and durability. 
2. Autonomous Bamboo Top Standing Desk
The Autonomous Bamboo Desk is a fundamental piece for your setup if you wish to increase your productivity and take care of your body. It features several ergonomic settings, which were created to ensure home office workers don't get hurt or strained throughout their working sessions. 
Moreover, this modern wood computer desk can endure up to 270 pounds of weight, and its height can be adjusted to fit all types of people. It has simple programmable controllers that allow users to switch from one setting to another with ease. In addition, its solid steel frame holds the bamboo tabletop in place and ensures high durability. 
3. Topsky Computer Desk
The Topsky Computer Desk is a fantastic mix of a beautiful design, exceptional durability, and an incredibly low price. Its aesthetically pleasing wooden top can easily blend into any room in your house, and it is sturdy enough to hold all the office elements you can think of. Moreover, the frame is made of reinforced steel, and it is entirely adjustable to be suitable for all floors and heights. 
This modern standing desk also features a shelf to provide extra storage and several cable management settings. It is one of the best-rated desks on several websites, and its users claim it is spacious enough to hold an entire computer setting and still have some space left. 
In addition, it can be assembled in less than a heartbeat, and you don't need any intricate instructions or tools to do it properly. 
4. Coavas Industrial Folding Desk
The Coavas Industrial Folding Desk is one of the most affordable modern wood desks on this list, as you can buy it for less than $200. It is effortless to assemble. All you have to do is put the tabletop on the frame and make sure it is stable enough to use. Then, you're free to carry it around and place it wherever you see fit.
Moreover, it has fantastic reviews that praise its versatility and durability, as well as the beautiful sleek finish of its wood. 
5. IKEA Pahl Desk
The IKEA Pahl was originally designed for kids, but any adult can use its highest setting. It has a sleek and classic design suitable for any workplace you place it in and several cable management tools, such as cable holders and hangers. 
You can buy other IKEA furniture to use with your Pahl Desks, such as a shelf or cabinet to add space to your setup. Moreover, several customers praise its high durability and the quality of the materials. 
6. Red Barrel Studio Desk
If you're looking to maximize your space and create a fantastic home office experience, this Hillsdale modern wood desk with drawers is perfect for you. It is 5 feet long on each side, and it features a computer tower cabinet and two drawers to ensure you have enough space to fit the entirety of your setup. 
Moreover, its users can enjoy four USB ports and several shelves that give extra storage and help to keep their workplace nice and tidy. You can fit as many files, folders, and binders in its drawers, and you're sure to not run out of space. 
However, be aware that the assembly process can be rather tricky, but you have a video tutorial to guide you through it. 
7. Phoenix Work Table
The Phoenix Work Table is one of the best sit-stand desks made of vintage Brazilian telephone poles and manually created by artisans in Mexico. It consists of sturdy steel legs with several holes that give it a rather interesting aesthetic while also being helpful for cable management. If you have enough money to spend on a modern home office desk that could be exhibited in an art gallery, this is the perfect contemporary wood desk for you. 
It is sure to give character and an aesthetically pleasing look to any room you place it in. Moreover, you don't need to worry about it being sturdy enough, as it can endure several pounds without taking damage. 
8. Elle Décor Desk
If you're working with limited space, you can also enjoy one of the great desks on this list, and the Elle Decor Desk is suitable for any small corner you can think of. It has a beautiful design inspired by a modern midcentury style. Moreover, it features a handy set of drawers where you can place all kinds of office accessories and tools. 
This desk is relatively easy to put together, and it is the stylish solution you've been looking for to suit your small apartment. 
9. Latitude Run Floating Desk
If the previous modern wood desk is too big for your space, getting a floating desk may be the right solution, as you can fold it up and hide it after using it. The Latitude Run Floating Desk is a great and versatile option. You can use its floating tabletop for several activities, such as using a computer, reading, or even having meals. Once you're done, put it away and enjoy all the extra space you're left with.
However, some reviews claim the assembly process can be tricky, as the instructions aren't clear enough. Therefore, you may need to spend some time figuring things out. 
10. Andover Mills L-shaped Desk
Another fantastic small desk is the Andover Mills L-shaped Desk, which is designed to fit in those small and hard to decorate corners. Its smooth wood is painted in a neutral white color, which makes it perfectly suit any classical or modern decoration. Moreover, it features several extra spaces, such as a drawer and bottom shelf, in which you can keep all your belongings safe while eliminating all clutter from plain sight. 
In addition, this modern wood desk can either be used as a desk or as a decorative item. Its users claim that it is incredibly straightforward to assemble, and all pieces are as durable as possible. 
11. HOMFA Bamboo Portable Desk
We know that not all days are as productive as others, and sometimes we want to lay down on our bed for a while. However, we still have responsibilities to take care of, and that's when the HOMFA Bamboo Portable Desk comes into the picture. Its eco-friendly wooden structure and adjustable legs allow you to use your laptop while laying down. You can even choose to eliminate its legs and use it as a tray. 
This portable standing desk features five tilt levels to ensure each user can properly see their screen. Moreover, it also has a small drawer to store all the office accessories you may need for your daily work activities. 
It is a fantastic acquisition for its price, as it allows you to take some pressure off your legs, and it features vents that help cool out your laptop and prevent it from getting damaged. 
12. Office Hippo Professional Cantilever Desk
Suppose you're looking for a desk that meets all the desired criteria. In that case, the Office Hippo Professional Cantilever Desk is going to give you a pleasant surprise due to its huge variety of features. It is incredibly durable and sturdy due to its professional-grade wood, and it can be found in several sizes to fit all types of rooms. Moreover, it is sold at a reasonable price, making it a great option if you're on a budget. 
After testing it, we could determine that the assembly process is pretty straightforward. The largest model of this modern wood desk is 70 inches wide, which gives enough space for two people to comfortably work together simultaneously. It can also hold several monitors and other office devices such as a printer. 
However, you can also find this modern wood office desk in smaller versions of 47 and 31 inches long, which are perfect for personal use. These versions also have enough room to place all kinds of office desk accessories on top. In addition, you don't have to worry about your cables cluttering the space, as this desk features handy cable management holes. 
13. Uplift V2
This desk is a much more modern version of office desks, as its entirely motorized structure allows you to adjust its height to suit you when you're sitting and standing up. This allows you to remain active throughout the day and avoid cramping and joint pain. 
The Uplift V2 doesn't have any of the problems that most standing desks have, such as wobbling legs and loud motors. It is incredibly sturdy and stable, and its dual motor legs allow you to change the height without making any noise. 
In addition, you can find this modern wood desk in several different sizes, and you can customize its appearance however you see fit to blend in perfectly with the aesthetic of your room. The best part of this modern wood office desk is that you also receive a seven-year warranty, which gives you the peace of mind you need to commit to an investment like this. 
However, this desk isn't cheap, and you may find more accessible models on this list, but considering all the technology behind this piece, we can agree that it is definitely worth its price. 
14. Furinno Computer Desk
The Furinno Computer Desk made it into this list for being an affordable and reliable option for all workers who need a quick solution for setting up their modern home office. However, this modern wood office desk isn't the most durable on this list, but it is great if you're on a budget and you really need a desk. 
On the bright side, it is super easy to assemble, and it allows you to save a lot of space in your home. Moreover, it has enough space to fit all your setup accessories, as well as a slide-out tray and a shelf to keep everything as tidy as possible. 
15. Kirun Oak Console
We finish this list with a classic wooden table. The Kirun Oak Console is narrow enough to fit all spaces, even if you live in a small studio apartment in a big city. You can use it for several activities, such as working, studying, eating meals, or even as a simple decoration. Its low price and beautiful wooden finish make it a fantastic choice for anyone looking for a reliable modern wood desk. 
Bottom Line
Finding the right desk for your home office setup can be quite challenging. There are way too many things to consider when searching for one, and all the options can become overwhelming. 
However, after reading this list, you're more than ready to find the right wooden office desk. Don't forget to check out the rest of our catalog and learn about our fantastic deals.
Video ads for product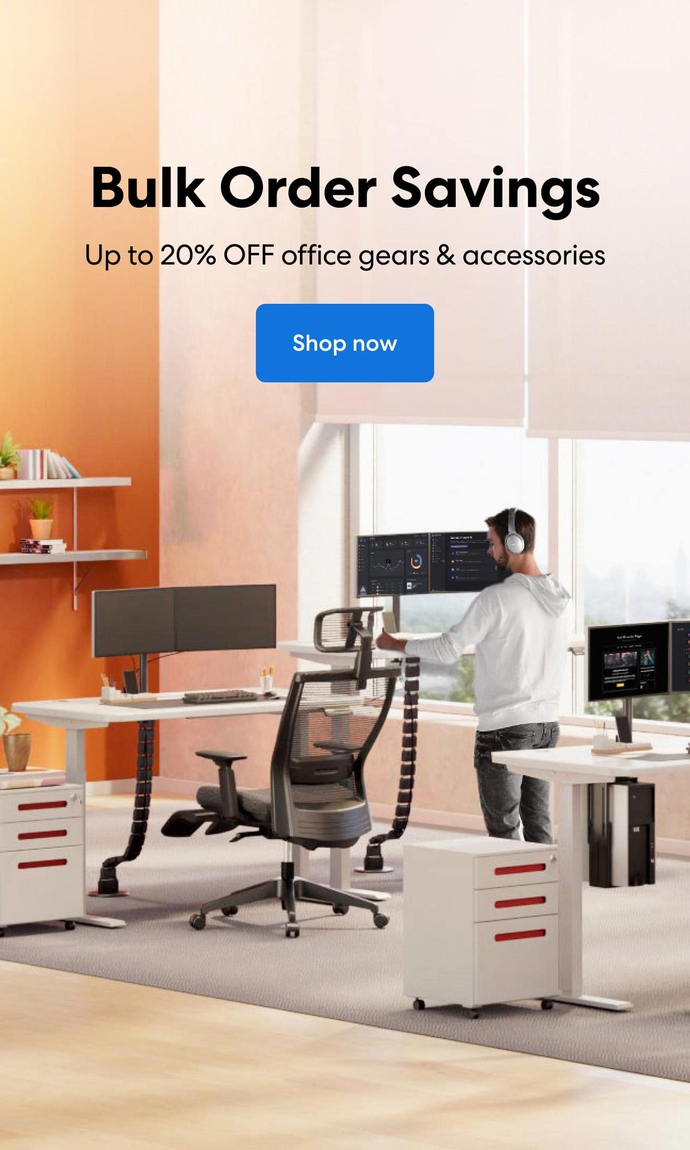 Subcribe newsletter and get $100 OFF.
Receive product updates, special offers, ergo tips, and inspiration form our team.