Smart Products
The Top 20 Air Purifiers for Office & Home Use in 2023

Autonomous
|
Nov 18, 2021
1,341 Views
Pollen, smoke, and dust particles are successfully removed from the air by the best air purifiers. Furthermore, a decent home or office air purifier improves the quality of the air you breathe as well as deodorizes your space. 
Furthermore, the design you choose for your home or office needs to be quiet, user-friendly, and space-efficient. However, with all the work-from-home equipment to choose from, it can be challenging to decide which one is right for you. 
Its capacity to rapidly filter out pet dander in the air appeals to numerous pet owners, and for people with allergies, the best air purifier can assist to alleviate symptoms and make you feel more at peace. An air purifier, when used with one of the best dehumidifiers, can significantly enhance the air quality in your house. 
We've done the legwork and compiled a list of the top air purifiers for office and home use. 
The Top 20 Air Purifiers for Office & Home Use in 2022
Are you looking for an air purifier for office or home use? Here are our top 20 options for 2022: 
1. X8 Purifier by Airdog
The Airdog X8 is a more powerful and faster air purifier for the office than the famous X5. It passes unclean air through its filter rapidly, with up to 470 CFMs, making it appropriate for large spaces up to 860 square feet.
It is designed for big rooms with moderate to high levels of allergens, smells, microorganisms, and volatile organic compounds (VOCs).
The Airdog X8 air purifier for offices has a reusable and washable main filter, unlike conventional air purifier filters. Its innovative filtration technology purifies the air to remove 99.99 percent of influenza, bacteria, formaldehyde, and other dangerous contaminants.
2. X3 Purifier by Airdog
The AirDog X3 is a well-designed air purifier with a fair price tag. It's a little, portable device that can be utilized in almost any place in your home or office. It's appealing to the eye, and it's simple to maintain.
This air purifier for offices is difficult to beat if you want a simple, efficient filter. The removable, washable filter is its most notable feature. Furthermore, the importance of having a filter that can be cleaned in your dishwasher cannot be overstated. This distinguishes the X3 from typical HEPA filters, which are pricey to replace. 
3. X5 Purifier by Airdog
The Airdog X5 air purifier for offices employs ionic filtration to remove common contaminants from your air, and it's washable plates save maintenance costs, but it comes at a high price. 
Its five-stage ionic filtration system "destroys and eliminates" germs, viruses, smoke, pollen, pollutants, pet dander, odor, dust, and formaldehyde from the air. In 20 minutes, this piece of office-work equipment can purify a 400-square-foot space. 
4. Coway AP-1512 HH Mighty
With good reason, the Coway AP-1512 HH Mighty is frequently listed among the top air purifiers on the market. It's also one of the fastest-selling items in both online and physical retailers.
This home and office air cleaner is reasonably priced for the kind of benefits it provides, and it includes most of the features we expect to see in an air purifier, such as a programmed timer, four fan settings, and a filter indicator light.
The Coway is one of the least expensive air purifiers of its grade to maintain year after year because replacement filters are reasonably inexpensive and energy expenses are modest.
5. Blueair Blue Pure 211+
The Blue Pure 211+ is praised for its ability to effectively remove particles from the air in any room. It ensures the indoor air quality for every office.
However, the filters are not true HEPA-certified, but they're still effective. They work by applying an electric charge to particles, causing them to adhere to filter fibers. 
The Blue 211+ pre-filter is available in five distinct hues, ranging from bright yellow to muted gray, allowing you to personalize the look for your area. A filter indicator light on the machine also indicates when it's time to replace the primary filter. 
When compared to similar smart office accessories, the Blue Pure 211+ has higher noise at lower speeds, as well as comparatively high cost and maintenance prices. 
6. Coway Airmega 400
The Airmega 400 is a high-performing air purifier for offices at a hefty price, but reviews agree that the cost is worth it. Additionally, it includes a dual carbon + true HEPA filter, which enables it to clean the air in a big room more effectively than other devices in a short amount of time. 
Coway's Airmega 400 air filtration system for office is capable of filtering spaces up to 1,560 square feet. The purifier makes two or fewer air changes per hour if you place it in a space that is up to the max recommended size. 
7. Blueair Blue Pure 411
The Blue Pure 411 air purifier for offices is a smaller version of the 211+. It comes in a range of colors and uses comparable filtering technology and functions. 
It distinguishes itself in terms of affordability and efficiency. The purifier is affordable to buy and operate, and it consumes far less electricity than most other air purifiers. This air filtration system for office and home use is also compact, quiet, and small. 
One thing to keep in mind is that it is not very functional in larger spaces. 
8. Honeywell HPA300
Honeywell air purifier for offices has generally positive ratings, and the HPA300 is a solid product at a reasonable price. 
It has one of the highest CADR ratings among the devices and it can filter slightly bigger rooms effectively. It also includes four speeds (compared to three on typical machines), a configurable timer, and a control panel light that may be adjusted. 
The HPA300 air purifier for offices is also portable, allowing you to move it between areas with ease. At higher speeds, it is also quieter than other devices. 
The Honeywell HPA300 may fall short when it comes to filter replacement and maintenance. Its pre-filter and genuine HEPA filter are disposable and need to be replaced every six to twelve months.  
9. Austin Air HealthMate HM-400
The high-performance and long-lasting filters on the Austin Air Healthmate HM-400 tackle anything from mold and pet hair to gas and chemical pollutants. 
It hasn't been CADR-certified, but reviewers say it filters volatile organic compounds (VOCs) from home items like paints, insecticides, and air fresheners better than many other devices on the market. 
The Healthmate HM-400 filters are not only effective, but they also last for up to five years. During that time, you can clean or vacuum the pre-filter as well. 
This home and office air purifier has been criticized for its lengthy filter change process as well as its noisy high and medium fan speeds.  
10. Levoit LV-H132
The Levoit LV-H132 is the most affordable air purifier for offices on this list. It does a respectable job for the price, according to reviewers, especially when it comes to pet scents. It's a stylish device that's compact, light, and portable, allowing you to move it around your home or office with ease. 
You can't expect all the bells and whistles for the price, and it doesn't have any. There isn't a programmable timer, and the filter indicator light on the unit advises you to monitor the filters but does not indicate when they need to be replaced. 
11. IQAir HealthPro Plus
This air purifier for offices is certainly worth your attention if you're serious about air filtration. It has HyperHEPA filters, which are said to hold particles 100 times better than normal HEPA filters, and a secondary odor and gas filter. 
The IQAir HealthPro Plus also has a large coverage area and can make six air changes per hour in a smaller space. There are six speeds, programming choices, filter indications, and a remote control, among other features. 
12. PureZone 3-in-1 True HEPA Air Purifier
Another popular choice is the PureZone 3-in-1 True HEPA air filtration system for office. It's compact, sleek, and inconspicuous, making it a terrific choice for individuals who value aesthetics as well as functionality. 
The PureZone 3-in-1 is distinguished by its silent operation. On lesser levels, it's gentle, and it includes an automatic timer that can turn it off while you sleep. 
It has one of the lowest CADR ratings of the purifiers on this list, as well as a modest fan that confines it to compact rooms, but reviews indicate it filters most common air pollutants effectively. 
13. Levoit Core 400S
The Levoit Core 400S is one of the most appealing air filters for office we've seen, and its extensive feature set and affordable pricing make it a strong candidate among devices in the 400-square-foot category.  
Air travels through a black vent on top of the white cylindrical machine, which is surrounded by a round control panel. 
It can instantly alter the fan speed to meet your air quality since it tests it. The Wi-Fi-enabled unit may be managed remotely or at home using a smartphone app that allows you to alter fan speeds, set a timer, and set a schedule.  
14. Winix AM90
The AM90 utilizes a HEPA air filter for office use. It features a more modern look that many people are likely to enjoy (assuming you favor white, which is the only color option). The Winix AM80, which is nearly identical to the AM90 but lacks Wi-Fi, is only available in dark gray. 
15. Winix 5500-2
The Winix 5500-2 excels at capturing particles. In all circumstances, this is slightly better than the Coway AP-1512HH Mighty findings, albeit the changes are minor in practice: When operated continually, as most homes and offices do, both devices reduce particles to near zero within an hour. 
16. Levoit Core 300
The Levoit Core 300 is a good and affordable air purifier for offices if you need to clean the air in a space of roughly 200 square feet. It's elegant and compact, with a height of 14.5 inches and a diameter of 8.5 inches, and its display-shutoff feature ensures that bright lights don't disturb your sleep. 
However, it is not particularly energy-efficient: Over the course of five years, running it on medium consumes around $300 in electricity, and seven replacement filters cost $180. 
17. Bissell 27668A Air320
It has the appearance of a vintage HiFi speaker while being ultra-modern. This workplace gadget looks great everywhere. It may seem insignificant, but Bissell deserves credit for developing an air purifier that does not resemble a small refrigerator. 
The Bissell Air320 has a three-stage filter system that includes a True HEPA filter, pre-filter, and activated carbon filter. It cleans the air in a 1,000 square foot space with minimal effort and those three filters, which is good for the price point. 
18. Dyson Pure Cool
You know you're rising in the world when you get to the Dyson devices. The Dyson Pure Cool TP04 is a huge bladeless office air purifier. It's small, but it's about 42 inches tall, thanks to its design. It does, however, appear to be quite attractive. 
The TP01 is the original Dyson office air cleaner, which has been out since 2017. It has the reputation of a Dyson device without the cost of a second mortgage. Due to the model's age, it is now available for around $300, which is 25% cheaper than its initial price. 
19. Medify MA-112 H13
The Medify office air purifier has a four-stage filtration system that includes a true HEPA filter, pre-filter, activated carbon filter, and an ionizer. It is one of the best types of air purifier in the markets.
It cleans the air in a room up to 5,000 square feet, which is very astounding for the price, thanks to its four-stage filtering method. However, there is only one air exchange every hour in this size room. If the space is 2,500 square feet, that equates to two swaps each hour. 
20. Molekule MH1-BBB-1
Molekule's PECO technology is their main selling point for their air purifier for offices. While a HEPA filter absorbs airborne particles, PECO filtration captures gasses as well. It then decomposes the gases into harmless molecules. 
PECO filters are expensive and must be updated every six months at a price of $65 per box. Two pre-filters of this office air cleaner are included in the package, which must be updated every three months. 
Conclusion
Since the Coronavirus outbreak, air purifiers have become extremely popular essential desk accessories. Which air filter for office and home use stood out to you?
Video ads for product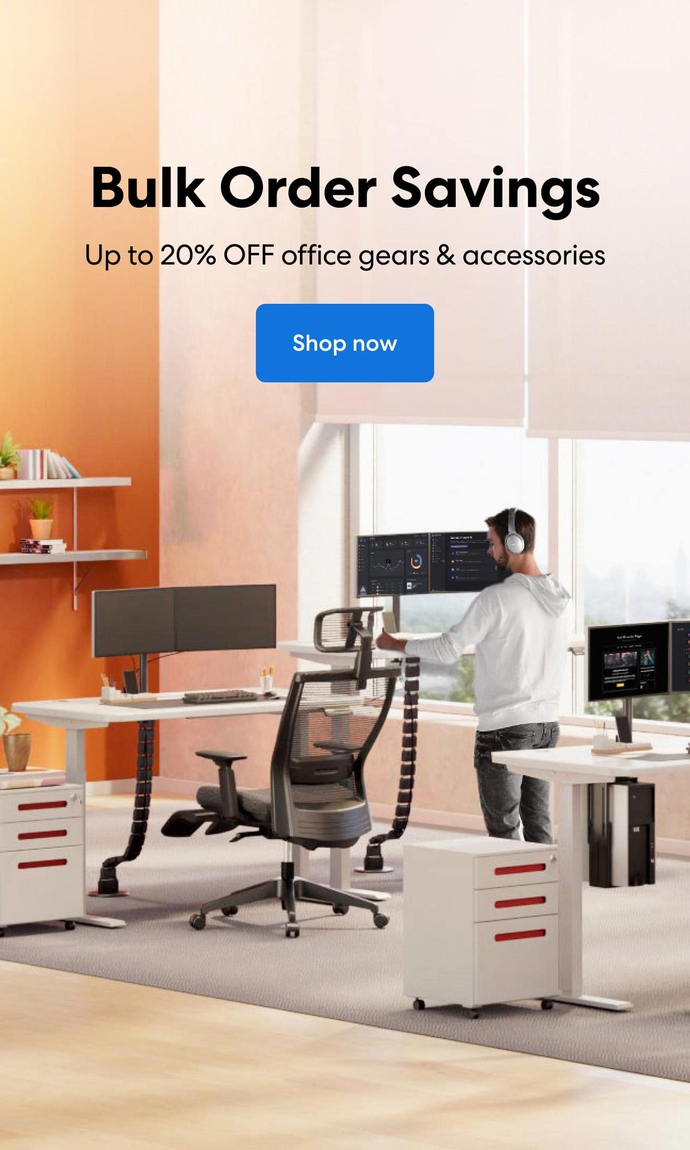 Subcribe newsletter and get $100 OFF.
Receive product updates, special offers, ergo tips, and inspiration form our team.