Smart Products
Top 20 MacBook Docking Stations for 2023: A Complete Guide

Autonomous
|
Oct 13, 2022
4,705 Views
It can be frustrating if you are a MacBook user relying on dongles, USB adapters, multiple computer accessories, or desk accessories. Companies have developed MacBook docking stations to ease this. This can help transform the laptop into a fully equipped workstation, especially when you do not know how to connect your MacBook to a monitor, keyboard, mouse, etc., simultaneously. 
If you are looking for a Mac docking station, here is a complete guide to help you through. 
What Is a Docking Station?
A docking station is a device developed to act as an equipment to fix portable gadgets like laptops, tablets, etc. As laptops are infused with modern technology, they can then be used to trade between ports and portability. This revolution has probably been introduced with docking stations. Docking stations are also referred to as port replicators, like cable extension systems, and are used to reduce clusters over desktops.  
Key Benefits of Using a Docking Station
The docking station has multiple benefits owing to the ease it has brought in the usage of laptops and in reducing the workforce. Here are a few benefits of docking stations: 
It has reduced the workload by allowing people an easy transition between home and office and has resulted in a gain in productivity. You can easily link the configuration of the devices present in the office with that in the house.

The laptops are generally equipped with two ports, restricting the usage of multiple devices simultaneously. Using docking stations can increase your productivity and digital usage by allowing easy multiple connectivities of devices, such as a mouse, printer, keyboard, etc., simultaneously.

Docking stations also allow usage and connectivity to generally incompatible devices like cameras, monitors, etc.

You will surely get an enhanced gaming experience and compatibility with laptops by allowing multiple connectivities to various

gaming accessories.

Perhaps the most significant factor that adds to the usage of docking stations is that it has reduced the dependence on bulky personal computers by shifting the dependency on laptops. 
20 Best MacBook Docking Stations
People dependent heavily on technology often look for devices they can invest in for maximum benefits and higher productivity in their work. Here is a list of the 20 best MacBook docking stations compiled to help you find the one that suits you best. 
1. Moshi Symbus Q Compact USB-C Dock with Wireless Charging
This Moshi Symbus Q USB-C Dock is here to challenge the limitedness of the docking station to a mere MacBook; instead, it gives you the privilege of hosting all Apple products at a go. Furthermore, it is not only equipped with a Gigabit Ethernet port and two USB-A third-gen ports but also supports a 4K HDR monitor and certified wireless charging facility. 
The Moshi store has brought a revolutionary handy docking station into the market, which can undoubtedly make a good choice.
2. Humancentric Docbook for MacBook Pro Touch Bar: Vertical Dock and Stand
This is a unique docking station with a vertical MacBook stand dock that can be a great choice. With this MacBook Pro docking station, you will get a complete desktop experience with an innovative vertical monitor setup. This dock is designed in such a way that it can help you with precise connection. 
It is equipped with an adaptive fit that allows easy gliding and transition of your laptop. However, it needs a power adapter to function. There are other ports for connecting other MacBook accessories. The uniqueness lies in its style and look, making it the best dock for MacBook in the lot.
3. Satechi Thunderbolt 4 Mac Docking Station
Satechi Thunderbolt 4 is the best docking station you can look for. It is equipped with four Thunderbolt 4 ports. Other ports, each of varying dimensions, include four host ports with 96-watt power delivery followed by three ports of USB-A 3.2 for PC peripherals expansions, a USB2.0 slot for mobile phones, and an additional SD card reader. This station also has an adequate port placement and does not create clusters of wires and cables. 
Additionally, it also possesses ports for connecting two 4K monitor displays and multiple other Apple MacBook accessories.
4. Elecife MacBook Pro Docking Station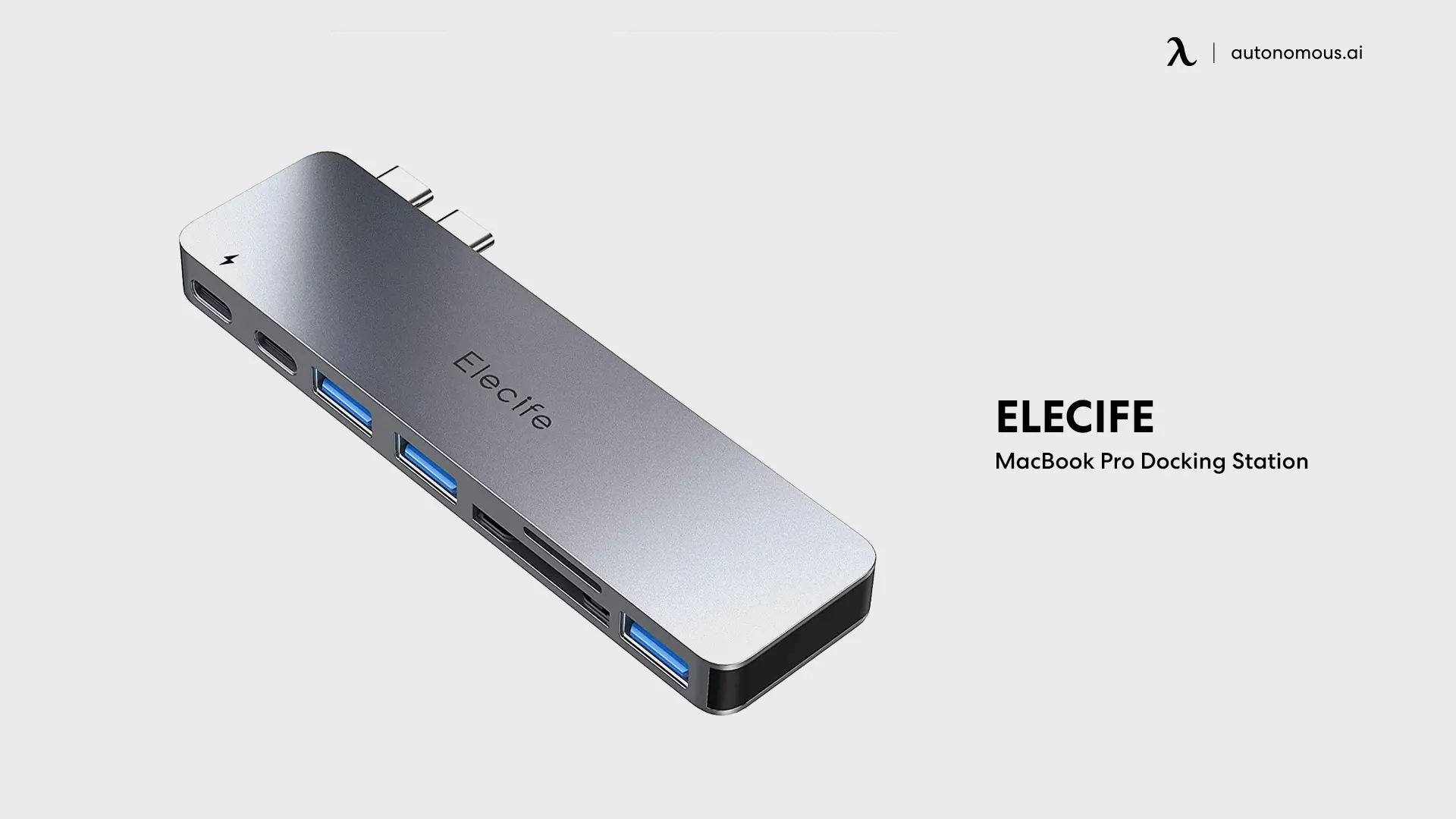 This is a specially designed dock and one of the best for the MacBook Pro. It has eight USB ports, an audio jack, an ethernet port, and an SSD enclosure to give you unlimited capacity, multiple connectivity options, and immense power delivery. Elecife can be connected to three 4K monitor displays simultaneously. 
The dock can also be connected to Thunderbolt 3 or 4, Windows 10 or 11, and MacOS 11+. It makes it an all in all 16-in-1 hub dock. 
5. Belkin Thunderbolt 3 Dock Core
It is a squarely designed ultraportable Mac docking station with ports available on all sides. Equipped with multiple ports, including an HDMI 2.0 port and two USB-A ports with different specifications, this docking station also has a combination of input and output audio jack and a USB-C port. The feature that makes it stand out is its compactness. 
6. Brydge Vertical Docking Station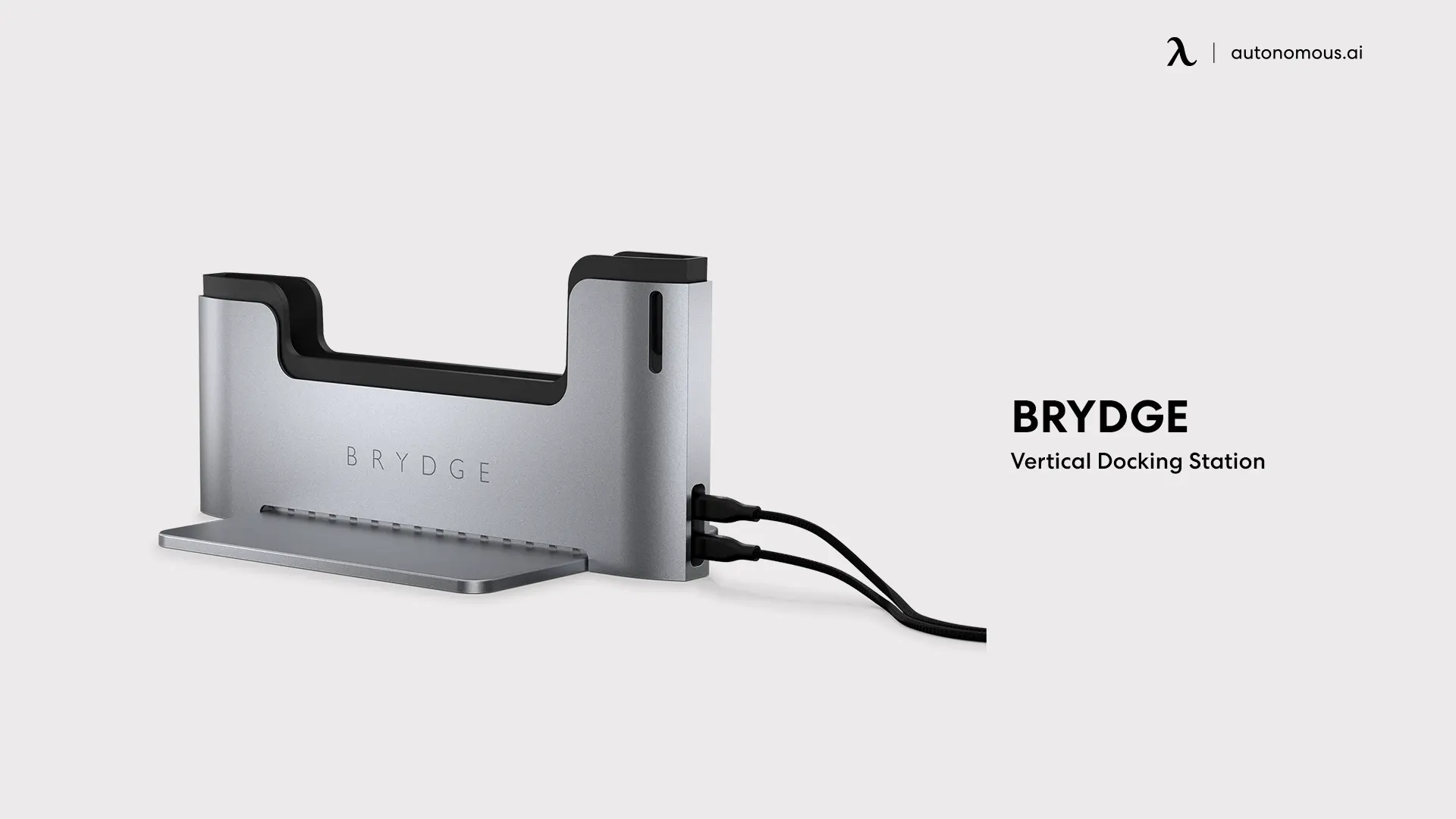 This docking station is also known as the henge dock. It is a vertical MacBook Pro and MacBook Air docking station, which is ideal for office use. The laptop stands on the end side allowing air intake and proper functioning of exhaust vents. No additional ports can function without the installation of a USB hub. 
7. IOGear Dock Pro 100 USB-C 4k Ultra Slim Station
The IOGear Dock Mac docking station has three USB 3.0 ports followed by three video output ports, including display ports, HDMI ports, and 1080p VGA ports, besides SD and micro-SD card reader ports, ethernet ports, and a pass-through USB port. In addition, there is also a 100 W power delivery system, out of which the docking station uses 15 watts; MacBook gets the rest. 
8. Corsair TBT100 Thunderbolt 3 Dock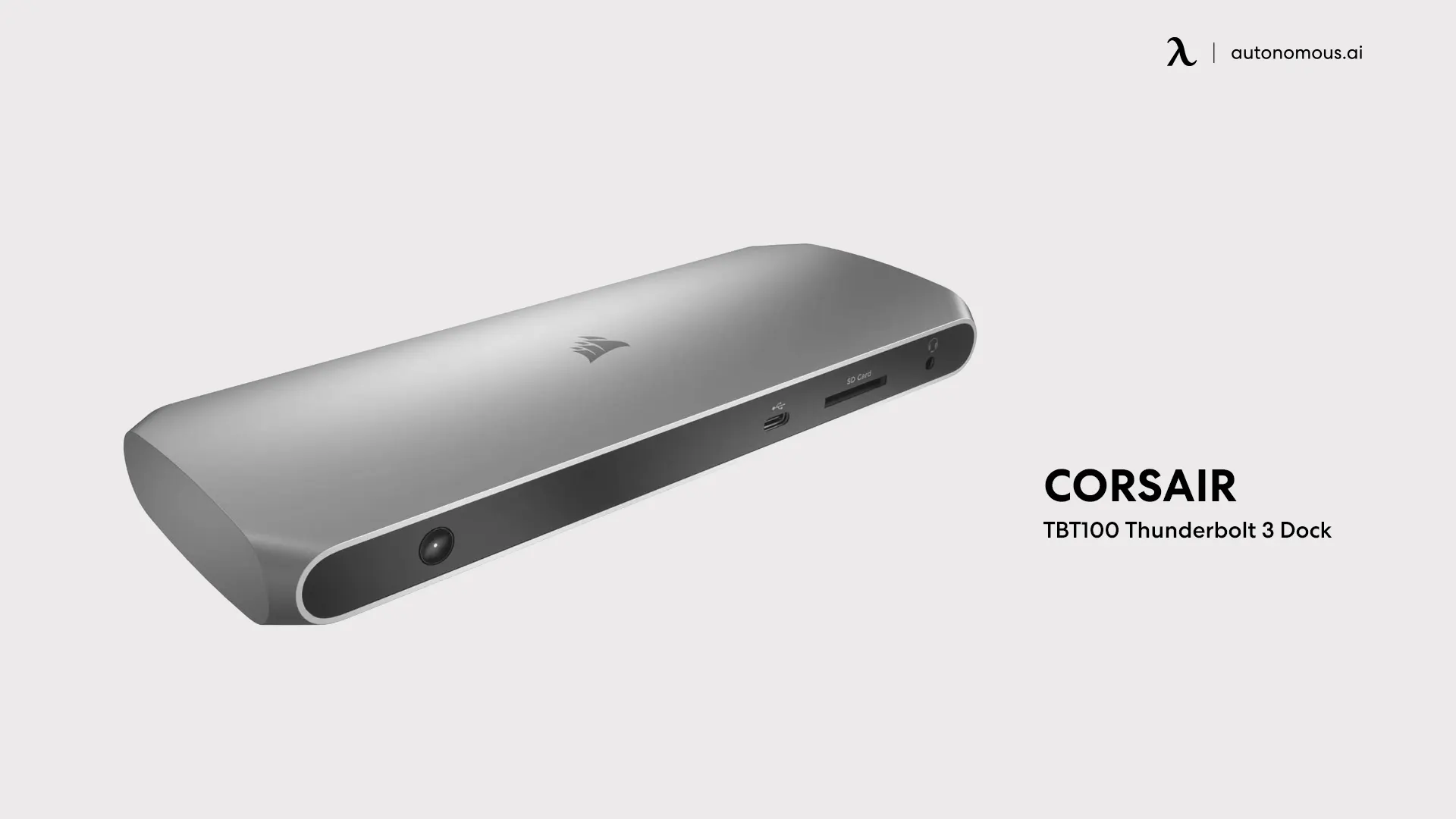 It is another good choice in the range of MacBook docking stations with a 100-watt power supplier supporting fast charging at 85 watts. The dock is in-built with the thunderbolt three port convertible to a nine-port system that includes a gigabit ethernet port, SD reader card port, headset audio jack, two 4K display ports, and two USB-A and two USB-C ports. 
9. Tobenone USB-C Docking Station Dual Monitor
This MacBook docking station has a dual 4K monitor display port that allows the use of three screens and is also equipped with US3.0 ports, USB-C ports, an SD, and TF memory card reader, and a USB2.0 port to connect a MacBook adapter that allows more accessible wireless keyboard and mouse linkage. Its uniqueness lies in the stable and reliable ethernet wired connection that helps support up to 1 Gbps for easy streaming of videos. 
10. Hiearcool 4k Triple Display Docking Station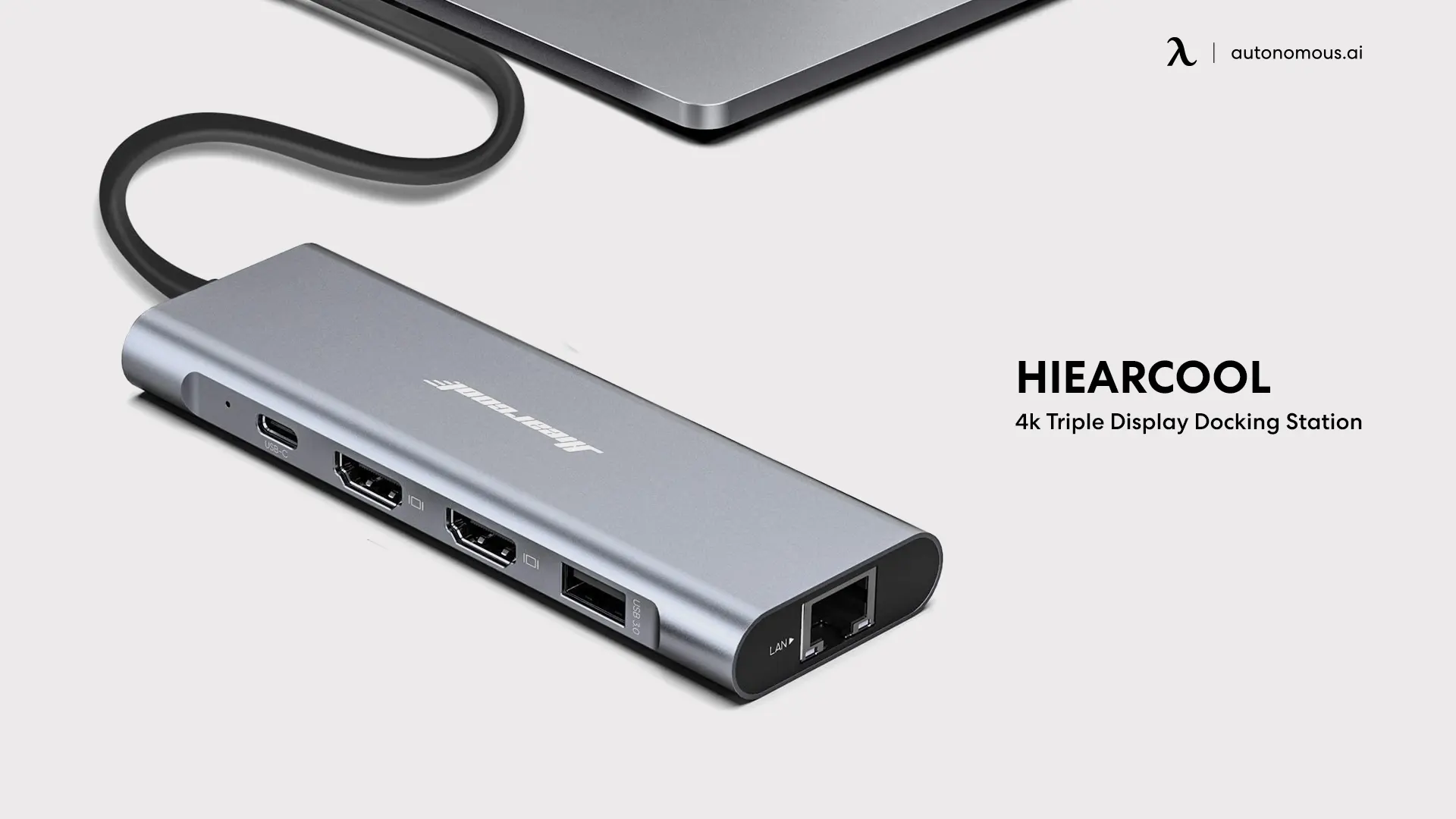 Next in line is the Hiearcool 4K triple display MacBook Pro and MacBook Air docking station. It has an aluminum shell body and long cord isolation, which prevents overload, overheating, overvoltage, overcurrent, and other issues like short-circuit.
As a result, it is one of the safest Mac docking stations that provides voltage and thermal regulation facilities. In addition, it is equipped with an exclusive smart chip that quickens the charging time.  
11. Anker 577 MacBook Docking Station
It is a great docking station for MacBook, as it is known for its versatility and can result in an excellent investment. Equipped with a broader expansion option, it also includes Thunderbolt 3 ports, multiple USB-A and USB-C ports, a single ethernet port, an AUX port, and SD as well as a micro SD port. In addition, it provides an 85-watt power supply for laptops and supports a 5K resolution display. 
12. Kensington SD2500T Thunderbolt 3 Dual 4k Hybrid Nano Docking Station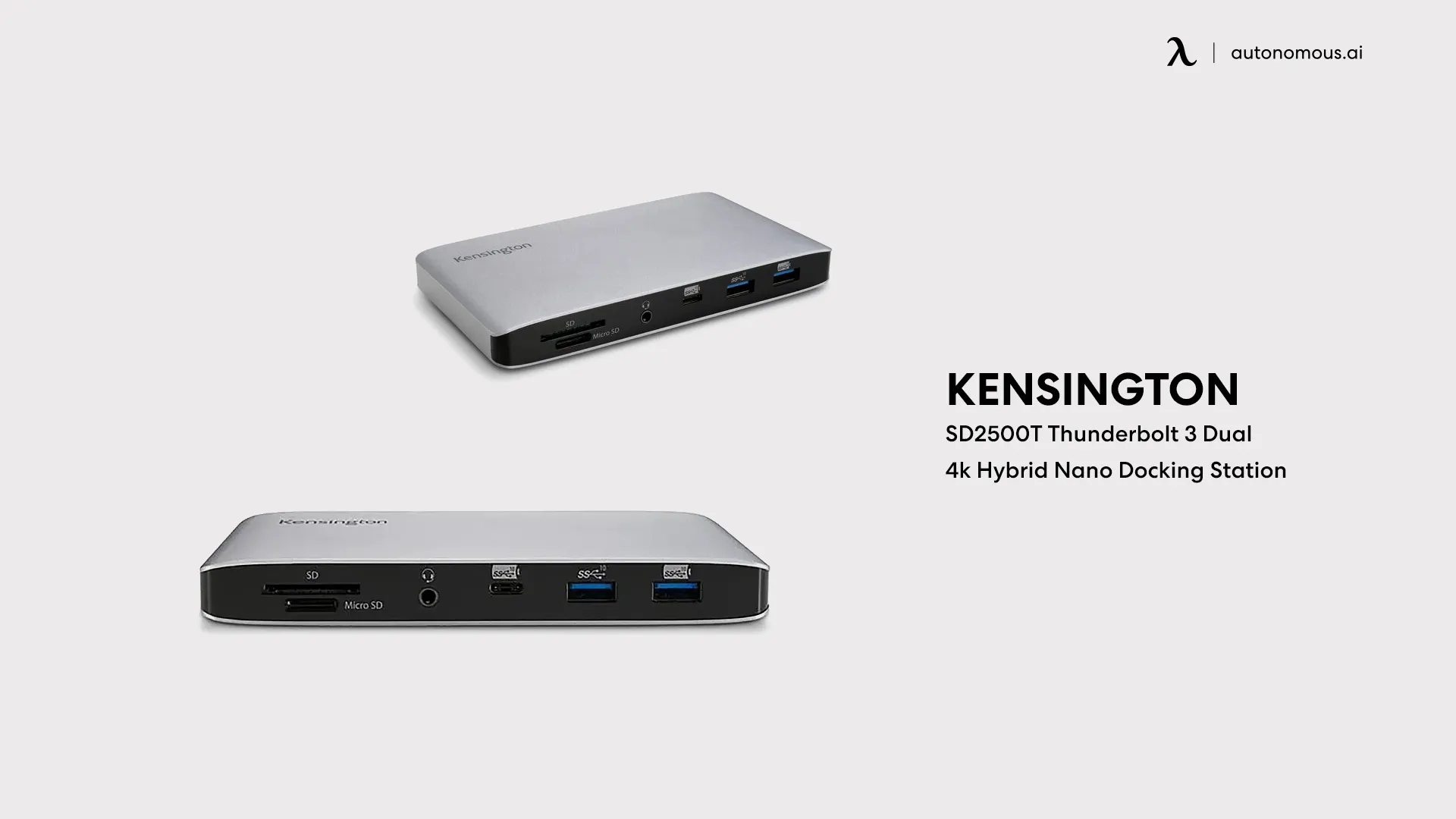 The general docking station occupies substantial space over the desktop. Hence, this vertical docking station MacBook can be an excellent choice. It is highly preferred for MacBooks equipped with multiple USB-A ports. You need to use MacBook adapters to use USB-C ports. It also has an inbuilt power supply that can deliver power to all accessories and peripherals connected to it.  
13. LandingZone
Next is the LandingZone docking station, which is an ideal choice for those users who want easier and faster connectivity. It has two mini display ports, four USB-C ports, an HDMI port, a headset audio jack port, and an ethernet port. Additionally, it also has one USB-C port that supports Thunderbolt 3 and can also support three monitor displays with different content simultaneously.  
14. Startech Docking Station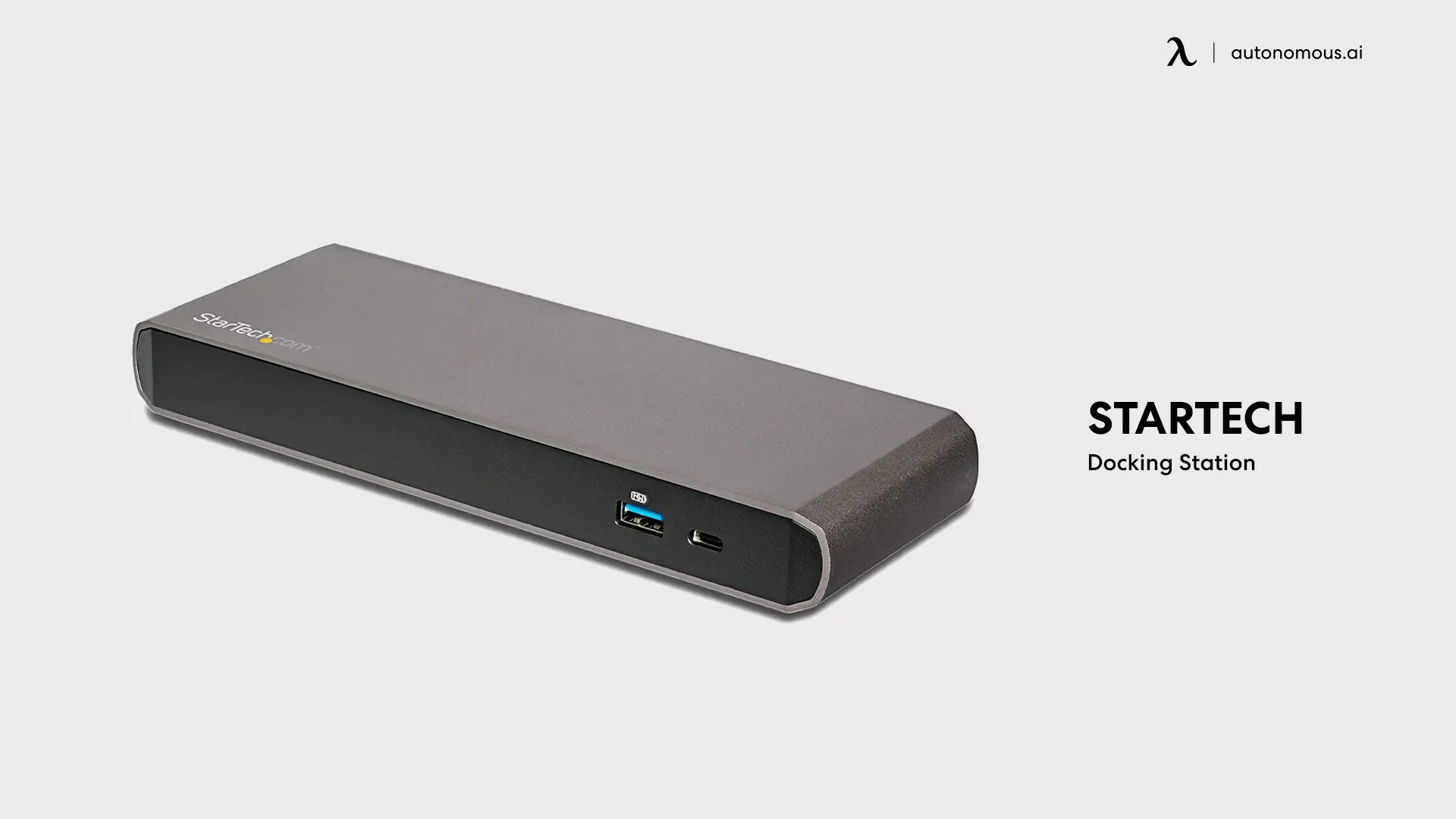 This docking station is designed to simplify management and security enhancement. It is one of the most superior models supporting every operating system, from Intel to MacOS. Startech also has USB-A and USB-C ports. The dock provides a power supply of up to 100 watts. Moreover, it has an HDMI port or display port connectivity for better video streaming. 
15. Plugable Thunderbolt 3 and USB-C Dual Display Dock
Overall, this Mac docking station can support only one display, therefore, it has one 4K display port. Other ports on the rear side of this dock include one gigabit ethernet, four 5Gbps USB 3.0 type A, and two Thunderbolt three ports that provide up to 60 watts of power to your laptop. It also has a vertical stand to help you clear the mess and organize your desk.  
16. Lention USB-C Docking Station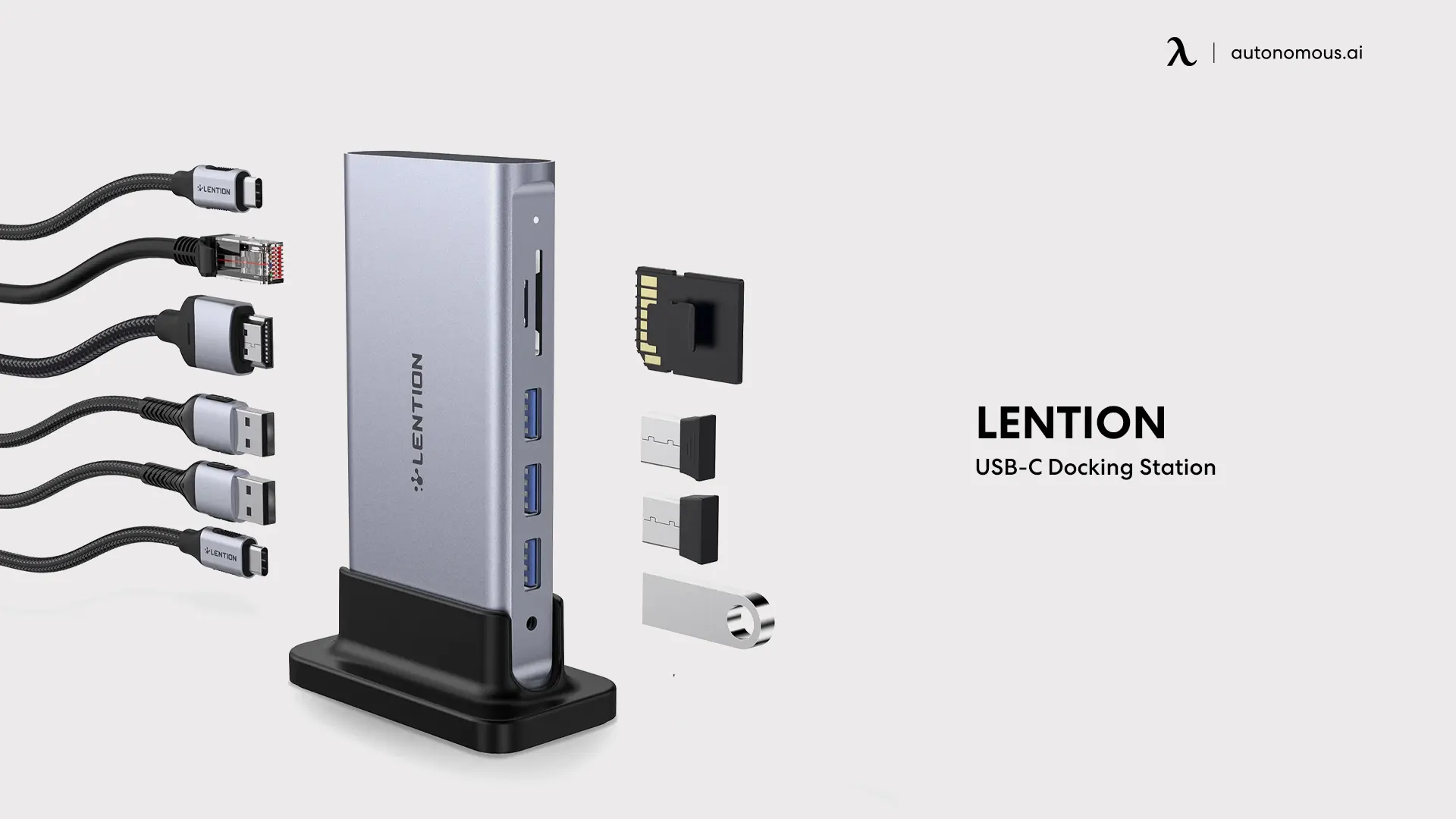 Lention makes a perfect solution for home, office, and traveling as it is installed with a driver or software that is compatible with every different operating system existing. The dock has multiple ports, including an HDMI port, USB-A, USB-C, and a gigabit ethernet port. 
It has an aluminum body that has a Mac-finish and a vertical stand dock. Lention works as an impressive alternative to other MacBook docking stations, as it avoids overheating and provides a sufficient power supply. 
17. Ivanky Docking Station
Next on the list is the Ivanky MacBook docking station which is compact and portable. It also feasts the user with a 4K dual display, power-packed with intense power supply and delivery. Ivanky includes multiple ports - two HDMI ports, two USB-A 3.0 ports, an SD card reader slot, 3.5 mm audio jack port. With these multiple ports installed, it becomes a highly productive device. 
18. Dell WD19TB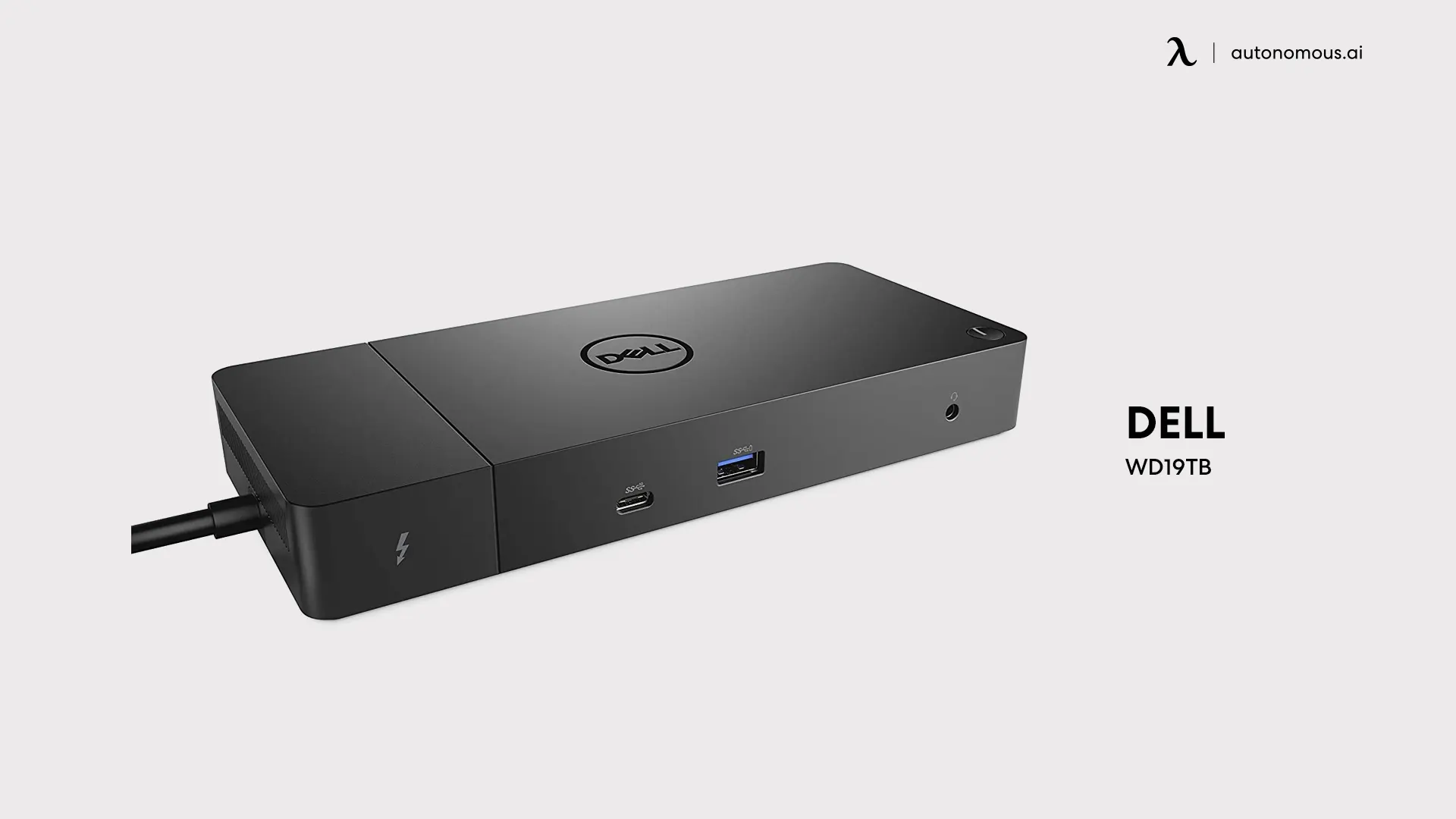 It is one of the most potent docking stations, delivering a maximum power of 180 watts. Unfortunately, it is not the most versatile option for a MacBook. However, it is available at the most appropriate pricing and can support device connectivity that requires a heavy power supply. Like other Mac docking stations, it also has an ethernet port, USB-A, USB-C, and other general ports. 
19. Mokin MacBook Docking Station USB-C with Dual Adapter and Monitor
This Mokin MacBook docking station has a wonderful build quality and design. It is an energy-efficient and easy-to-use portable device. With all regular ports available, it has three-video display support. This can make a great choice at an affordable price. 
20. J5Create USB-C Dual HD Mini Dock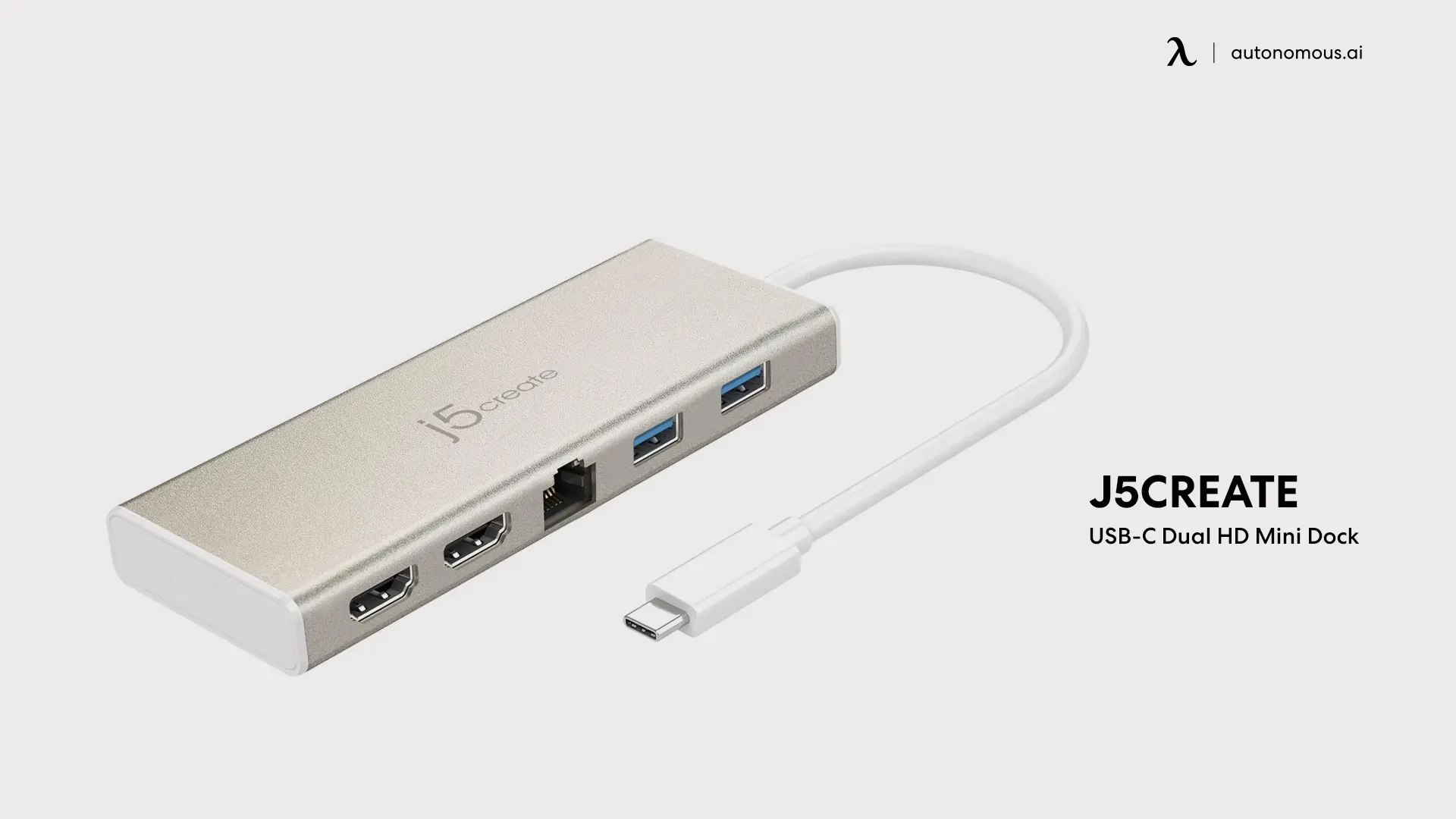 The JSCreate MacBook docking station is available in space gray and black color with an aluminum body. It does not have an express connection but can expand memory storage. The J5Create also includes a 4K display port and all common ports installed in a general docking station. In addition, it has a security cable lock slot that keeps one on the desk.  
Conclusion
If you are looking for the best MacBook docking station, you must keep certain factors in mind that will undoubtedly help in making the best choice. A few essential factors that need to be mentioned include pricing, product availability, the durability of the product, its efficiency, and the extent of environmental friendliness. 
Additionally, it is necessary to review and analyze the options available carefully because hard-earned money needs to be spent logically on efficient products or the ones that best fit the needs and demands of an individual. 
The above-compiled list of the top 20 best Mac docking stations is made based on reviews and analysis of specifications to help you explore every alternative for a worthy purchase.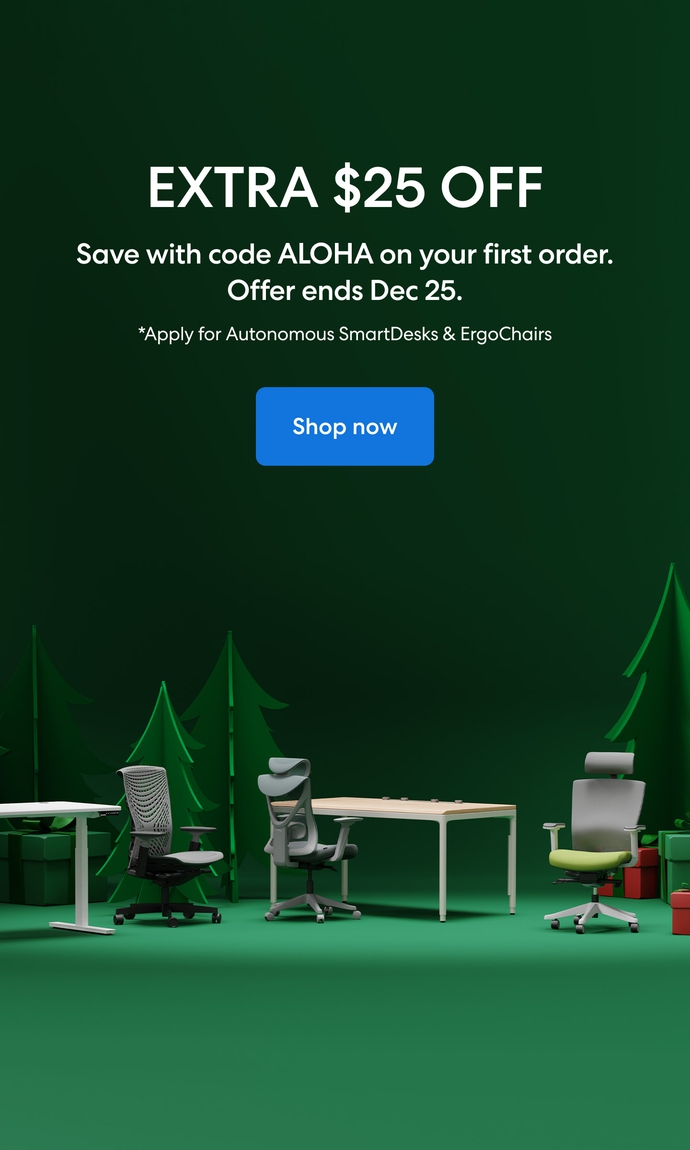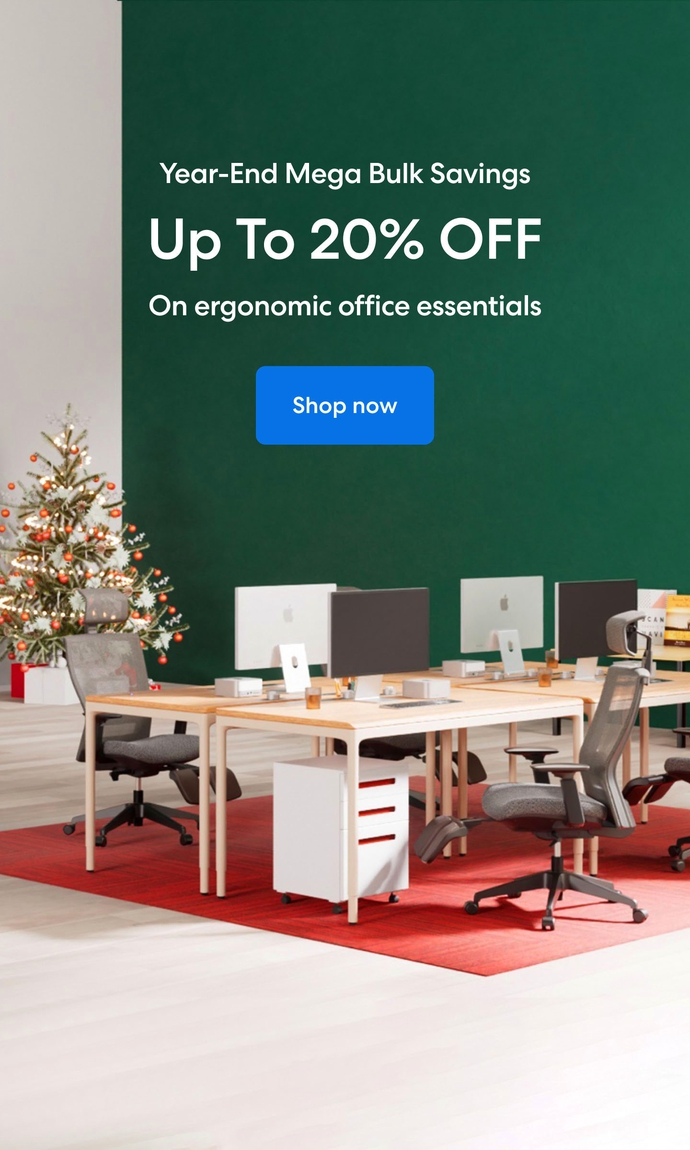 Subcribe newsletter and get $100 OFF.
Receive product updates, special offers, ergo tips, and inspiration form our team.