With passing days desks are becoming an integral part of our work life. But setting up a desk is tougher than it looks. Once you've brought the desk, you should set it up wisely. It can be confusing to set up the desk without turning it into boring household furniture. So here are 20 corner desk ideas that you can choose from. 
1. Floating window desk
How would you like to sit on the desk that looks out of the window? Nice, isn't it. If your room is too small or has a tight space, you can always utilize the window niche. The oddly angled corners can work best if you go for a floating desk. This is such a common corner desk design for any small working space. Not only will it save you space but also look nice. 
2. Night light
Almost everyone has to work late at night some time or the other. But if you are working in dim light or the dark, it might be harmful to your eyes. So it's better that you keep a bright-lighted table lamp that will help you from dozing off during work!
3. Mid-century modern style
Setting and working on a wooden desk can be boring. But if a tall high-quality wooden bookcase accompanies the desk for storage, it'll give a mid-century vibe. You can use the bookcase to keep all your essential files/folders. With this design, your little room will not look crowded. 
4. DIY Desk Riser
Wouldn't it be great if you could make your DIY corner desk? You could adjust it according to your convenience. You can try to make a copper desk; all you need would be copper, screwdriver, and copper cutter. If you are not quite sure, you can ask your carpenter to do so. You can put this on the bed/sofa and word with ease. 
5. Vintage Upcycled desk
Vintage desks are a great fit for any corner place since it serves its purpose and doesn't even need much space. The best place to find these upcycled desks is at antique shops, online stores, or auctions. It suits any kind of interior too.
6. Floating drawer
How would you feel about a drawer that not only gives you a place to store things but also helps you do your work? Well, floating drawers are the easy way to do it. You can easily set it up at any corner of the room and use it both as a drawer and working station. The only problem with this corner desk idea is that you can set your entire work setup. With a floating drawer, you can either stand and do your last-minute work or take an ergonomic chair to do so. 
7. Multi-use desk
This is one of the most interesting home office corner desk ideas for you. The corner of your room is a tricky place. If not used wisely, one might end up wasting space. You can easily set up a multi-use desk where you can work and keep other things. The space of the multi-desk is more than any other corner gaming desk. The only drawback of this desk is it can be tricky to set the entire thing up.
8. Closet desk
Another corner desk setup could be setting your desk in the closet. The empty shelves of the closet act as a desk, and it's enough for one to sit and do their office work. It doesn't need much expense to set up.
9. Simplified standing desk
As the name suggests, the adjustable standing desk is easy to install and use. With the help of the control panel, you can bring down the desk once you have finished working. You can fit this desk at any of the corners of your house. 
10. Lucite desk
Sometimes looks create an impression that a thing is small/big. The same is the case with the Lucite desk setup. The desk's material is a transparent material, which creates an illusion that it's small and takes less space. Lucite desks work best if you have small/tight places. 
11. Flea market desk
If you don't want to spend excess money on a desk and yet want it to be useful, then flea market desks are best.  You can also find a vintage desk to fit your interiors and also be perfect for your work. 
12. 60-second desk
This is one of the best corner computer desk ideas you have to try out now. You can make a desk just by placing a wooden/ceramic/glass slab across your nearest two cabinets. You can take off the desk slab when you are not using them to save space. With this desk, you can get the space to store a lot of things. 
13. Live edge wooden desk
With this type of corner desk idea, you don't have to use the convention desk. One can customize or cut it according to their wish. This desk gives you space to place your desktop and adds a rustic touch too.
14. Kitchen office workspace
One of the best corner desk ideas is setting up your office in the kitchen. The best corner standing desk will not only serve as your workstation but also a dining table when you're not working. You can also stand and work, which in turn improves your posture. 
15. Wireframe desk and shelving
One of the most reasonable setups is a framed desk. With this particular desk, you can choose your storage capacity. The desk will have wire shelves, a workstation, and brackets. With the customizable storage, you can save space too. 
16. L-shaped counter wrap
With an L-shaped standing desk, you can fit them in the small and furthest corner of your room. It uses the entire space and gives you the best working space. With the L – shaped desk, you can give your room a new look. 
17. Wall desk
If you have just a wall to work with, you can easily opt for a wall desk. All you will need is wall mounted /wood /brackets to hold the desk. This is one of the cheapest ways to build a personal workspace. 
18. Dual height desk
This's a setup that comes with two desks at a different level. One can place their desktop on the low leveled desk, and on the upper portion, one can operate the laptop while standing. It's a tad expensive but worth it. 
19. Open structure furniture
This corner desk idea doesn't take much space and doesn't make it look crowded. The sleek design makes it look thinner. Adding some desk accessories to make it more elegant. You can easily sit/stand while working on it.
20. Floating bar height desk
All you need are wooden planks to make this desk. Just arrange them like those of the bar and work by not compromising with your posture. This corner desk idea is best for tall people.
Video ads for product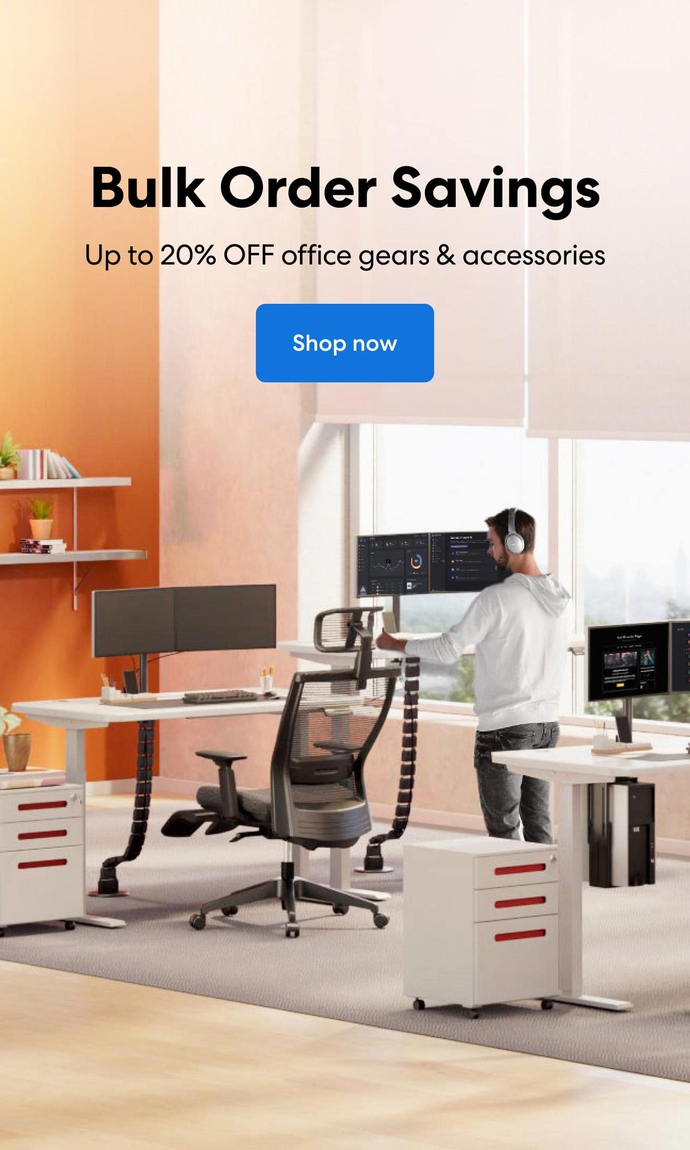 Subcribe newsletter and get $100 OFF.
Receive product updates, special offers, ergo tips, and inspiration form our team.