Smart Products
Top 20 Ergonomic Work Chair to Upgrade Your Office
1,412 Views
Recent times have brought us new office equipment to work more efficiently. The new "ergonomic" lifestyle has allowed many office workers to improve their physical and mental health while they work for long hours. 
Among all the sophisticated office supplies that have come recently to make our lives better, the most remarkable one has been the ergonomic work chair. These chairs were a revolutionary addition to modern office environments, and they've come to stay. 
Whether you're planning to upgrade your office or want to make a small change to work more comfortably, an ergonomic computer chair can be the most efficient solution for you. However, it may be difficult to choose a reliable product considering there are hundreds of different chairs on the market today. 
On this page, we're going to take a look at the top 20 ergonomic work chairs to upgrade your office. Keep in mind the products you're going to see below were reviewed based on reliability, efficiency, and price. 
What Is an Ergonomic Chair?
To put it simply, an ergonomic office work chair is a product designed to support the human body to its fullest capacity. In essence, these chairs include special features to promote better sitting posture, back/neck support, and others. 
An ergonomic work chair is easy to identify. These products look much more complex than regular chairs, and they're typically bigger. Overall, an ergonomic chair may come with one or more of the following features: 
Lumbar support

Adjustable height/seat/headrest/armrest

Tilt lock 
The more features the office work chair has, the more likely it's going to help you achieve a correct sitting posture, and therefore, better productivity while working.  
What Are the Benefits of Ergonomic Chairs?
According to many studies, ergonomic office equipment is great for ensuring an optimal body position while working. Overall, an office desk chair ensures your body doesn't have any unnecessary stress on your spine, hips, or neck. 
It's important to note that working for prolonged hours can cause serious damage to your neck and back. Most back problems in office workers come from sitting for too long in traditional chairs. 
While an ergonomic work desk chair doesn't necessarily prevent your body from feeling stressed entirely, it can reduce the amount of stress your muscles receive throughout the day. Regardless of the chair type you use, you must ensure you're moving your body every once in a while to prevent injuries. 
Generally speaking, here are some of the benefits you may expect from purchasing an ergonomic work chair:
Reduced neck/back pain

Relieved hip pressure

Improved blood circulation

Improved productivity

Boosted energy levels

Better posture 
While it may not seem like it, being uncomfortable while sitting can cause several problems to your physical and mental health in the long run. On the other hand, if you purchase the right office desk chair, you're going to relieve some of the stress your body may feel while sitting. 
Should You Purchase an Ergonomic Chair?
Ergonomic chairs are an excellent investment for anyone who's looking to improve their posture or working experience. However, depending on the brand, these chairs can involve significant investment from the user. 
Some people have tight budgets, leaving them wondering whether purchasing an ergonomic work chair is truly worth it or not. We're going to provide you with an overview of reasons why it might be a good idea for you to make an investment in an ergonomic chair so that you can decide for yourself. 
You continually feel

back or neck pain while working.

You work for too many hours a day.

You never find a comfortable position to work in while sitting.

Your current chair no longer fits your needs. 
Ergonomic Work Chair – Pros and Cons
Ergonomic Work Chair – Pros and Cons
Reduced back/neck pain.
Better working posture.
Improved productivity.
They tend to be expensive.
Top 20 Ergonomic Work Chairs to Upgrade Your Office
Now that you know everything about the ergonomic work chair, it's time for us to show you our top picks for the best ergonomic chair in 2022. Keep in mind there are 20 different options you can choose from, and we made sure to cover products in any budget range so that everyone can have access to one of these products. 
1. Autonomous ErgoChair Pro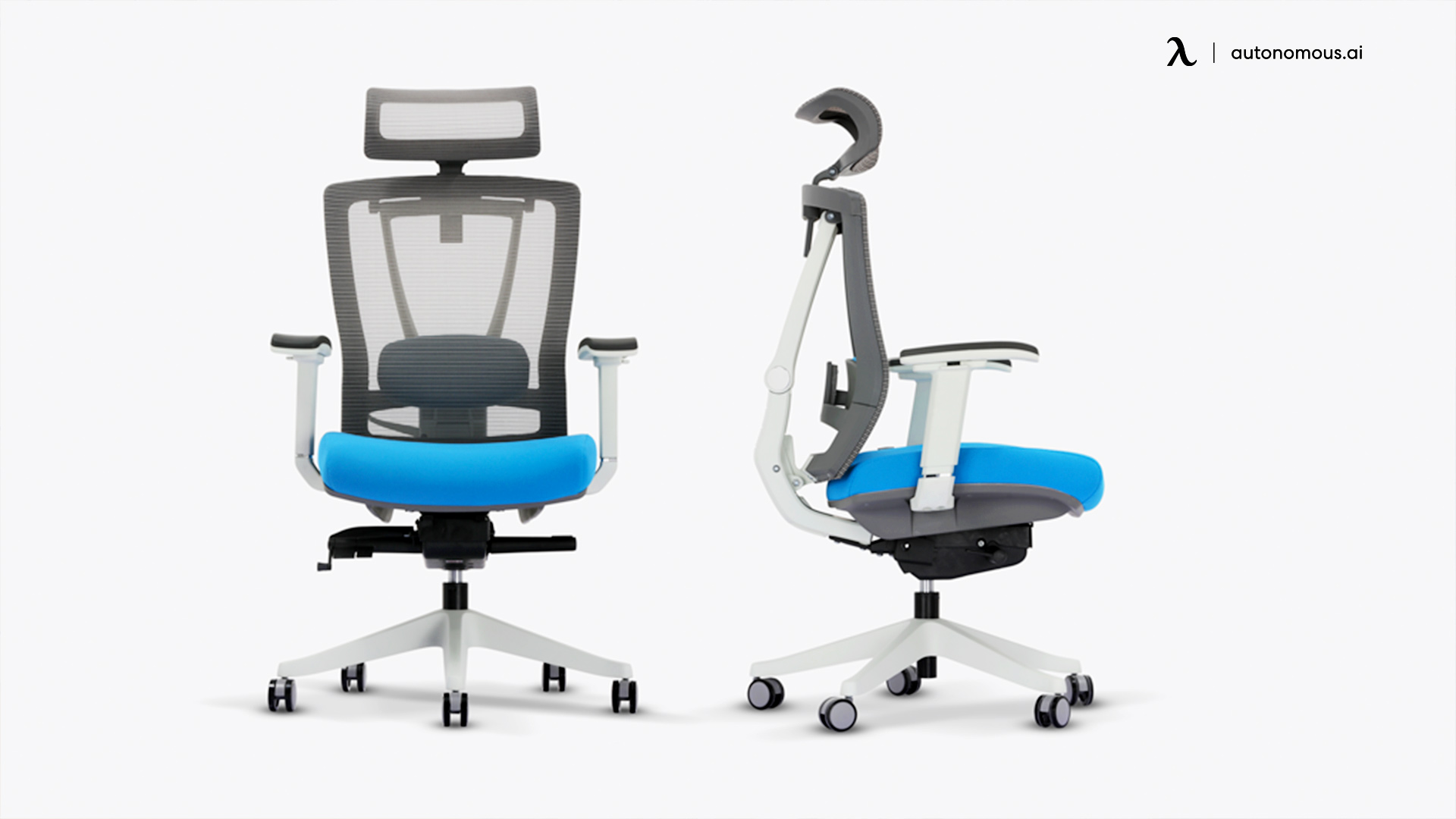 Our first pick for people who want to buy an ergonomic chair is the Autonomous ErgoChair Pro. This ergonomic computer chair takes the sitting experience to the next level thanks to its adjustable height, headrest, backrest, seat tilt, and armrest. 
Additionally, its mesh back allows for optimum airflow while working, allowing your back to breathe much more efficiently. Overall, this is one of the best ergonomic chairs on this list based on price/quality ratio. 
2. Autonomous ErgoChair Plus
The Autonomous ErgoChair Plus takes the working experience a bit further with its frameless construction; its earth-friendly TPE allows for better breathability while working. Additionally, its adaptive spinal support allows the user to sit in any way they want without feeling discomfort. 
If you're looking for the best computer chair for back pain, the ErgoChair Plus is the best option you can purchase today. 
3. Autonomous ErgoChair Recline
You don't need to spend too much money to get a truly comfortable sitting experience. The ErgoChair Recline is one of Autonomous' most affordable products, and it still keeps all the features you need to sit more comfortably. 
This reclining ergonomic chair features an adjustable headrest, height, lumbar support, recline, and much more! If you're not looking to spend that much money, this may be your pick. 
4. Autonomous AvoChair
Here is another best ergonomic chair from Autonomous. The AvoChair may not be the most complex office chair from Autonomous's catalog, but it still does the job correctly to help you achieve a better sitting posture. Aside from having a generous price, it features an adjustable armrest, height, tension, and back tilt. 
Moreover, this office chair comes with an elastomeric mesh back and seat, allowing your body to adjust and breathe correctly. Consider going for the AvoChair if you're looking for something affordable and effective. 
5. Herman Miller Aeron Chair
In case you're looking for a premium work desk chair experience, the Herman Miller Aeron Chair may be what you're looking for. While this product comes with an outstanding price tag, it features everything you need to keep your body feeling relaxed throughout your entire working session. 
The Herman Miller Aeron Chair has one of the best designs on this list, so consider going for it if you have the budget. 
6. Modway Ergonomic Chair
Modway's ergonomic computer chair is one of the most affordable options on this list. Still, it features many adjustable features for a better sitting experience, such as adjustable armrests and seat height. 
If you feel you don't want to spend that much on an ergonomic chair, the Modway ergonomic chair can be a good alternative to your traditional office chair. 
7. Herman Miller Mirra 2 Chair
The Mirra 2 ergonomic work chair is a good alternative to the Aeron model. While it's not necessarily an affordable product, it's as dynamic as you may possibly need to achieve all your seating needs.  
Overall, the Mirra 2 chair comes with an adjustable seat angle, height, armrests, and even lumbar support. This office work chair is for those who still want a premium experience but don't want to spend all their savings on a single chair. 
8. Ticova Ergonomic Chair
Ticova's office desk chair offers a completely customizable headrest, which is great considering that not all chairs offer this feature. Additionally, it has excellent lumbar support for the user, meaning you're going to feel much more comfortable while working. 
The best thing about Ticova's office work chair is that it's not as expensive as other products from this list, so you can easily fit it into your budget. 
9. Office Star Deluxe Chair
In case your office is too small to fit a complete ergonomic computer chair, the Office Star Deluxe chair can be a great alternative. This is a folding chair that still features some important settings, such as excellent lumbar support. 
However, keep in mind that this chair doesn't have adjustable height or armrests, which can be a disadvantage for some workers.  
10. Branch Ergonomic Chair
Branch's work desk chair comes with a truly stylish design that fits most office environments. Additionally, most of its features are adjustable, meaning you can customize your seating experience to anything you need. 
This best ergonomic chair can support up to 300 pounds, making it one of the most accessible chairs on the market today. 
11. Humanscale Freedom Chair
The Humanscale Freedom chair falls into the "expensive" category, but it makes up for it with its premium feeling for any worker. One of the most remarkable features of this chair is that it offers self-adjusting reclining, meaning you can change the angle by leaning back. 
Consider this ergonomic computer chair if you have the budget for it and feel you want a premium experience. 
12. Neo Chair Essential Office Chair
Considering this chair is less than $100, we can say it offers most of the features you need to sit more comfortably. While it doesn't have all the features we would have wanted, we still think it's a decent chair for the price the company is charging for it. 
13. Gabrylly Ergonomic Chair
The Gabrylly ergonomic work chair comes with adjustable height, lumbar support, headrest, and armrest, which is what most people need to fully customize their sitting experience. It is rated as one of the best ergonomic chairs in the market.
Overall, if you're one of those who sit on their office chair for long hours, the Gabrylly office work chair may be a great option for you. 
14. Steelcase Leap Chair
The Steelcase Leap chair comes with four adjustable positions for the armrests, allowing for much deeper customization of your sitting. Additionally, it features a seat lever for height and some rollers to move around your office. 
Overall, this is an excellent product considering all the features it has for its users. 
15. X-Chair 3 Chair
In case you're looking for the most customization possible for your work desk chair, the X-Chair 3 chair is a good option. It provides the user with various widths for the seat, adjustable armrest, headrest, and backrest, and more. 
Additionally, the chair is water, stain, and spill-resistant, meaning you don't have to worry about making any mess while having your lunch while sitting. 
16. Herman Miller Sayl
Herman Miller's Sayl chair is one of the company's most affordable options (although it's still not affordable enough for all users). This office work chair comes with a plastic-webbed back, a comfortable cushion, and excellent lumbar support. 
17. HON Ignition 2.0
This is another best ergonomic chair for your consideration. The HON Ignition 2.0 is both affordable and comfortable. This work desk chair comes with a modern design and several features for enhanced comfort, such as adjustable tilt tension, tilt lock, seat height, and armrests. 
18. ALL33 BackStrong C1 Chair
This is a rather interesting chair since its design isn't like anything we've seen before. Made from vegan leather, this work desk chair was designed to promote good posture, better blood flow, improved oxygen to your muscles, and muscle relief while working.
19. SteelCase Series 2 Chair
Aside from having all the adjustable features you can think of for an ergonomic chair, this chair has amazing lumbar support, a stylish design, and it's considerably easy to install by anyone. 
20. Inbox Zero Ergonomic Chair
If you're looking for a more "executive" feel for your chair, the Inbox Zero ergonomic chair may be what you're looking for. This office work chair was created with cushions with velvet fabric upholstery and a high-density sponge. 
Additionally, this ergonomic chair features adjustable armrests and desk chair height, which is more than enough for most office workers who want to enhance their sitting experience. 
Bottom Line
If you're planning on using your office chair for long hours, going ergonomic may be your best choice. Remember there are dozens of different ergonomic work chairs you can choose from; the most important thing is that you feel comfortable with them.
Subcribe newsletter and get $100 OFF.
Receive product updates, special offers, ergo tips, and inspiration form our team.
WRITTEN BYAutonomous
We build office products to help you work smarter.