Smart Products
Top 20 Motorized Height Adjustable Desk (Updated 2023)

Autonomous
|
Sep 1, 2021
2,756 Views
A motorized height adjustable desk has more benefits than one might initially think. The main one would be that it helps prevent a sedentary lifestyle. Most people spend a considerable portion of their work-life sitting at a desk, which can bring about some health risks. 
Some studies show that using an electric standing desk can improve discomfort and pain from sitting for prolonged periods. Although it's not as effective as taking frequent breaks to get a little active, the capacity to alternate between sitting and standing is a step in the right direction. 
That's why this article lists the best motorized standing desks available. It also explains some considerations taken before selecting the top options. Whether you're looking for an electric standing desk for your workspace or gaming setup, this list has something that suits you. 
Things to Consider When Purchasing a Motorized Standing Desk
There are a couple of things you should consider if you're thinking of buying a motorized standing desk. If you fail to take some of these into account, you might end up with a flawed product or one that can't entirely handle your setup. 
An essential aspect of any standing desk is its stability from an upright position. It's almost impossible to fix a wobbly choice by yourself. The only way to avoid it is by getting a motorized stand-up desk that's reliable from the beginning. 
The weight capacity is a simple thing to consider. However, even if a manufacturer labels a specific limit, it doesn't mean that the desk can hold it consistently. That's why every listed option here is from trustworthy manufacturers with thorough reviews confirming the desk's capacity and more. 
Furthermore, it's important to note that high weight capacities don't make an electric standing desk more stable. There's no link whatsoever. In fact, several desks with a ludicrous weight capacity were pretty unstable in an upright position when fully loaded. 
A desk's adjustment range can be crucial as well. Most options have a range that goes from 18 to 27 inches. While that difference might appear low at a glance, it may be the reason why you're able to set up your workstation correctly. Lastly, get a tabletop that can fit all of your things, including desk decor. 
Other characteristics such as lifting speed, assembly speed, noise levels aren't particularly essential. Like the rest, they differ from desk to desk, so it might be worthwhile to at least look over them briefly. Nevertheless, it would be best to focus on getting a stable, motorized stand-up desk with enough adjustability and weight capacity. 
Top Motorized Height Adjustable Desks
1. Autonomous SmartDesk Core
The SmartDesk Core is the best motorized stand-up desk you can get to improve productivity and enhance your well-being. It offers a generous 29.4" to 48" height range, making it ideal for any body type. Moreover, it has simple controls with four configurable presets that let you switch positions effortlessly. It has an elegant motorized standing desk frame.
This desk's 70.5" length and 30" width XL tabletop can accommodate all of your belongings with ease, but it has a smaller option for those who don't need it. Also, its advanced two-stage lifting columns and industrial-grade frame let it lift 300 lbs comfortably. If you want an excellent, accessible desk that can even withstand harsh treatment, buy the SmartDesk Core. 
2. Autonomous SmartDesk Pro
This versatile smart desk has an impressive 26" to 52" height range with a nice motorized standing desk frame, giving it an edge in flexibility over any other motorized height adjustable desk. Furthermore, its minimalistic design makes it an excellent addition to any office, just like the SmartDesk Core. 
Thanks to its reliable lifting columns, this desk has a high 350 lbs weight capacity and moves almost entirely silent. It has four customizable buttons as well that allow you to stand up quickly. 
People looking for a reliable option can't go wrong with the SmartDesk Pro. This electric standing desk lasts for over 50,000 cycles, and you can get the classic 53" length and 29" width tabletop or the XL 70.5" and 30" one. 
3. Autonomous SmartDesk Corner
As expected from an L-shaped standing desk, the Autonomous SmartDesk Corner has a tremendous lifting capacity and double the space available compared to most other desks. Its larger segment is 77" in length and 29" in width, while the smaller one is 29" and 35". Additionally, it has modular capabilities that allow it to fit any nook comfortably. 
This L-shaped motorized standing desk has three engines with a 440 lbs lifting capacity and a 29.4" to 48" vertical height range. Like other Autonomous desks, it has a configurable keypad that lets you save up to four positions. It's probably the best corner computer desk you can get at its price and the quietest one too. 
4. UPLIFT V2 Standing Desk
Thanks to its excellent design with a good motorized standing desk frame and available accessories, the UPLIFT V2 desk allows you to maximize productivity and comfort in any workspace. It has a vertical height range of 25.3" to 50.9" that can accommodate people anywhere between 4'4" and 6'7". 
Its three-stage legs give it a 355 lbs lifting capacity, and the frame can expand to fit any tabletop between 41.3" and 72.2" in length. The desk moves incredibly quiet, is energy-efficient, and includes under-desk wire management options. 
It doesn't come with an advanced keypad by default, but it does have the option to outfit one at a small expense. Overall, this motorized height adjustable desk is an excellent addition to any workspace. If you prioritize stability, you can pay a little extra to get the Commercial model that includes a crossbar. 
5. Fully Jarvis Bamboo Standing Desk
The bamboo desk from Fully is the most popular among its customers. It has a 350 lbs lifting capacity and various frames with varying height ranges. The three-stage frame has an exceptionally high one that goes from 24.5" to 50". 
This electric standing desk has a lifting capacity of 350 lbs and a LED programmable handset that lets you adjust positions quickly. The desk from Fully is available in two shapes and seven sizes. Moreover, it has a staggering selection of accessories.
6. NewHeights Elegante XT
If you want a desk with superb stability, the NewHeights Elegante XT is your best bet, albeit a costly one. It has an exceptional height range that goes from 24" and 51", a four-button programmable switch with a one-touch memory, and an optional crossbar that further improves stability. 
Its two-leg option has a lifting capacity of 300 lbs, while its L-shaped motorized standing desk options can handle 450. The desk has premium-grade materials and comes with some useful standing desk accessories, such as a six-outlet power strip and standard wire management options. 
7. ApexDesk Elite 60" Series
The ApexDesk offers an ample work surface that's 60" in length and 29.5" in width. It has an MDF laminated tabletop with multiple colors available as well. This motorized computer desk can move between 29" and 49" with a simple button press while holding a max capacity of 235 lbs. Additionally, the programmable keypad has four configurable presets available. 
8. iMovR Lander Desk
The Lander desk by iMovR boasts some ease-of-use characteristics that are hard to find in any conventional electric standing desk. Also, it comes almost entirely assembled, so this desk might be a good option if you have a hard time putting this together by yourself. 
It's quiet motors have a 360 lbs lifting capacity and a height range of 24.5" to 50.5". The desk comes with a Bluetooth-enabled touch paddle and anti-collision tech as well. 
9. Vari 60x30 Electric Standing Desk
This electric standing desk features heavy-duty T-frame legs and a powerful motor that operates quietly. It includes every tool you need to assemble it, and the process itself is significantly quick compared to other desks. The Vari desk has a 25" to 50.5" height range and a controller with four programmable settings. 
10.  iMovR Lander L-Desk
The Lander L-shaped motorized standing desk has features similar to the previously mentioned Lander desk, if not entirely the same. It comes almost completely assembled and has a helpful controller with four customizable presets. The main differences are its significantly high 540 lbs lift capacity and the extra space from the tabletop's return section. 
11.  Steelcase Ology
Steelcase designed the Ology standing desk to support the employee's well-being properly, making it an excellent option in many situations. 
This motorized height adjustable desk has a maximum weight capacity of 314 pounds and a 22.6" to 48.7" height range. In addition, it has many features. You can decide on the tabletop's size and numerous additional accessories. It is suitable for a multi-monitor desk setup. Some examples are integrated storage, modesty panel, advanced controller, and antimicrobial coat. 
12.  Flexispot Electric Standing Desk Pro Series
This desk's enhanced structure and advanced dual-motor lifting system has a maximum capacity of 275 lbs and ensures excellent stability at its highest point. 
It has an advanced control panel with an efficient LED display that has three programmable height presets. You can even set alerts to notify you when to stand up. You can adjust the width of the tabletop, and the frame itself can rise between 24.4 and 50". 
13.  Branch Adjustable Standing Desk
The Branch desk has excellent built quality, so it's ideal for those looking for a trustworthy motorized height adjustable desk option. Its three-stage columns and leveling feet have a significantly high and stable 25" to 52" vertical travel range and a 275 lbs weight capacity. Moreover, it's impact and stain resistant and features brush grommets for cable routing.                               
14.  iMovR Cascade Standing Desk
The Cascade desk is a highly configurable desk with several useful features that offer excellent ergonomics. An example is the SteadyType keyboard tray that lets you set your arm in a neutral position while standing. Additionally, it has a revolutionary glide system with anti-collision detection that can handle 265 lbs and a height range that sits between 24.7" and 42.8". 
15.  Eureka Ergonomic EHD-4801
This motorized height adjustable desk has a simple design that's significantly comfortable. Moreover, its one-button folding tech with several programmable memory presets can quickly satisfy any sitting and standing habit. The desk has an excellent lift range that goes from 29.53" to 49.61" and a max bearing load of 260 lbs with a strong motorized standing desk frame. 
16.  Thermaltake Level 20 Standing Gaming Desk
This motorized computer desk with software-controllable RGB effects and a full-surface desk pad is ideal for gamers. Moreover, it has exceptional functionality. The desk has a six-button controller with a display board showing precise height adjustments. You can program up to four height memory settings, allowing you to quickly switch to your desired height. 
The Level 20 RGB desk can support hefty cases with its 330 lbs weight capacity, and you can adjust the height anywhere between 27.5" and 43.3" smoothly and quietly. If you want to change the desk's lighting, all you have to do is download the proprietary iTAKE software. 
17.  SHW Electric Standing Desk
If you're pinching pennies, this motorized stand-up desk might interest you. The industrial-grade SHW desk has a vertical travel range of 18", reaching a maximum height of 46". Furthermore, it has a handy display handset with four configurable options for quick adjustment and grommets to organize cords. Unfortunately, its lift capacity is pretty low at 110 lbs. 
18.  Evodesk Gaming Desk
Evodesk makes excellent desks, but one of its best products caters explicitly to gamers. You can change the desktop of this motorized computer desk from 48" to 72". Additionally, it has a full-surface mat. 
The desk itself is highly stable even when moving your mouse around in heated sessions. It has a couple of gimmicky features, such as built-in speakers and a 23.75" to 49.5" travel range.
19.  GeekDesk Model 4
The GeekDesk motorized height adjustable desk offers excellent features and quality craftsmanship. It's stable even without the addition of a crossbar. However, if you add one, it could be almost unflinching. This desk has a 275 lbs lift capacity that operates considerably quietly and a great height range that goes from 25.2" to 50.8".
20.  IKEA Idåsen
The IKEA Idåsen is a promising, accessible motorized stand-up desk. Many consider it the best budget-friendly option on the list. This desk can last for many years even if you constantly subject it to coffee and impacts. Unfortunately, it also has the lowest height range on the list, with a meager 24" to 30".
The Bottom Line
There's no such thing as a perfect motorized height adjustable desk, but it doesn't change that some excellent options are available. This list has many of these, and each has its appeal. Some are more stable, and others have several features that make it easy to organize your entire ergonomic standing workstation. Think about what you need the most before selecting an option.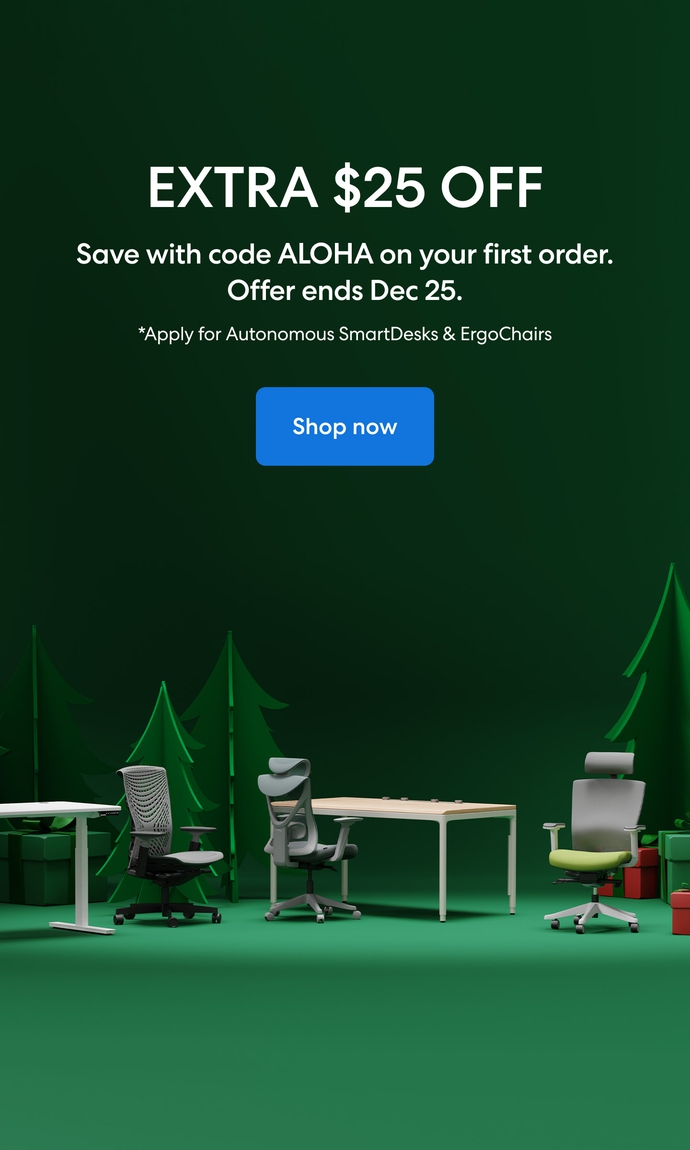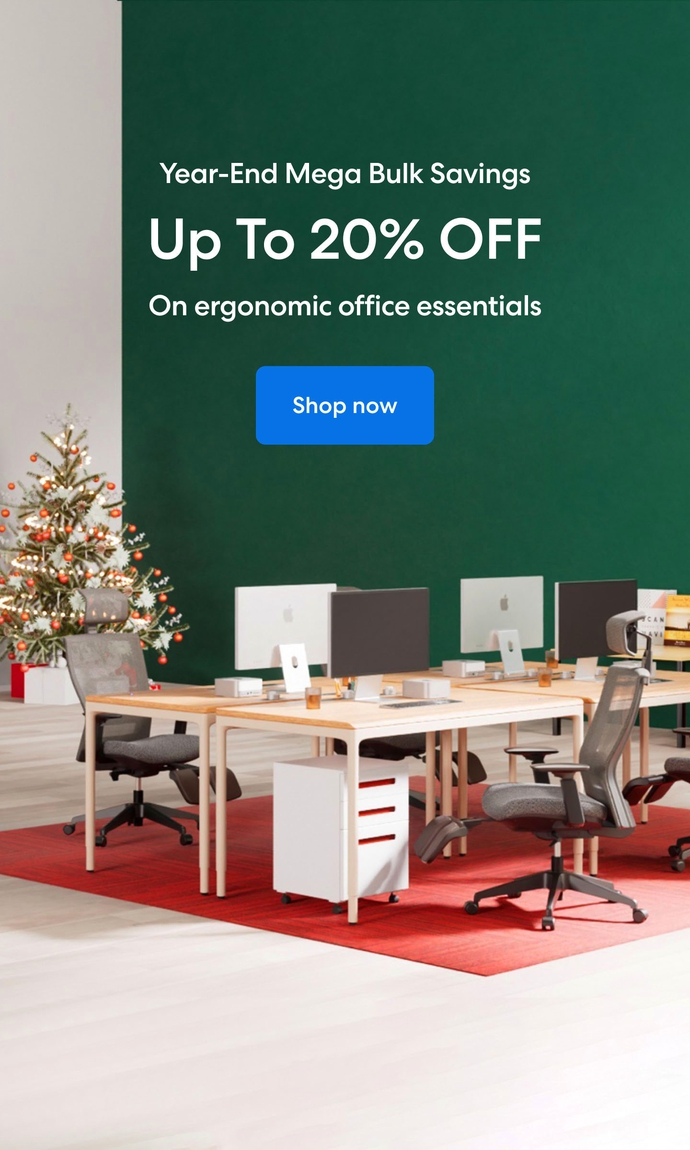 Subcribe newsletter and get $100 OFF.
Receive product updates, special offers, ergo tips, and inspiration form our team.