Smart Products
Top 20 Portable Power Stations for 2023 Outages and Outings

Autonomous
|
Aug 8, 2022
1,210 Views
Emergency power supply has moved from simple power banks to power stations that can charge massive electronic devices such as refrigerators and televisions. With time, these have evolved to include USB ports, solar charging, an office charging station, and several other features.  
Though portable power stations today are rated with the number of features they provide, you cannot ignore how long they last and how quickly they recharge. 
This article will look at the top 20 portable power stations in 2022. These are the best products to use during power outages or to take along for your outdoor activities. 
20 of the Best Portable Power Stations on the Market
1. EcoFlow DELTA Max 2000 Portable Power Station
Use this portable device as your emergency power supply unit during outages. EcoFlow DELTA Max 2000 Portable Power Station is also excellent as a generator to charge your devices when camping. It has a capacity of up to 6kWh and supports dual charging.
The product uses the EcoFLow X-boost technology to enable power supply for heavy-duty equipment such as fridges and dryers. You can recharge it with solar panels that deliver 800W. 
2. EcoFlow RIVER mini Portable Power Station
The EcoFlow RIVER mini Portable Power Station can power heavy-duty equipment with a 300W output. It is ideal for laptops, TVs, phones, tablets, and many other devices.
It is lightweight, making it easy to carry around. You can connect multiple devices to the portable power station through outlets of all types. 
3. EcoFlow DELTA 1000 Portable Power Station
Always keep your power supply running with the EcoFlow DELTA 1000 Portable Power Station. This product can charge your devices during power outages or when you are outdoors.
It is the world's fastest charging power generator, reaching 80% in under an hour. The boost is excellent even in the worst situations. You can recharge via solar panels or using your car. Six outlets allow you to connect your devices to the power station. 
4. EcoFlow DELTA Portable Power Station
Power 13 devices simultaneously using the EcoFlow DELTA Portable Power Station when you are outdoors or during outages. It has a massive 1260 Wh capacity which can reach 80% under an hour when recharging.
The battery management system provides over-voltage and overload protection, regulates temperature, and prevents short-circuiting. 
5. EcoFlow DELTA mini Portable Power Station
Get the EcoFlow DELTA mini Portable Power Station to generate electricity when you are outdoors or during an emergency. You can recharge it fully in six hours using a solar panel. It takes 96 minutes when you charge it from the wall.
Users can power about 12 connected devices simultaneously. The product has an app that shows you how much power it is generating and how much the connected devices are pulling.  
6. Togo Power 346 Wh
Two main features set this portable power pack apart from the others on sale: the USB-C connection and wireless charger for Android. This adds to the AC plug, USB-A connection, and the 12-volt socket.  
Its highest capacity percentage measures 98.95% at 346 watt-hours and takes about four hours to charge fully. The charging time is not fast compared to other portable power stations. 
7. Bluetti 50S
Bluetti is known for the affordable portable power stations it manufactures. The 50S is a feature-rich product that offers all input-output charging options. You also have the option of charging it with the attached solar panels. 
Its seven-hour charging time is the only noticeable downside of the device. 
8. Anker 757 PowerHouse
The 44-pound Anker 757 PowerHouse is one of the heaviest portable power stations. It is one of the best choices for over 1,000Wh devices. The battery is a more recent version of LiFePO4 and lasts five times longer than the Li-ion versions. 
You can use the UPS mode to offer backup power to your equipment during a power outage. As a dedicated UPS, it has a transfer time of 20ms which might not be the most efficient for protecting your tech or medical devices. 
9. Energizer PPS700
Energizer's PPS700 is a great portable power station for camping and sudden power failure. Its battery has an in-built BMS that protects your connected equipment from short circuits and over-currents. 
There are three USB-A outputs, an AC output, a Type-C output, and three DC outputs that allow you to connect up to eight devices. You can charge it anywhere using the AC adapter, solar panels, or car cigarette lighter socket.  
10.  Anker PowerHouse II 400
The Anker PowerHouse device is portable. You can move it anywhere you want to use it as an emergency backup for your power. It uses Maximum Power Point Tracking (MPPT) for efficiency while solar charging.  
An LED display helps you to easily track vital information about the device. The corners have extra strengthening to protect them during impact. You can simultaneously charge up to eight devices connected to this power generator. 
11.  RockSolar NOMAD RS650
RockSolar NOMAD RS650 uses a Lithium-ion Battery to provide more power for longer. It is an impressive device for trips outdoors and power emergencies. You can recharge it in three ways: using the solar panels, the AC wall outlet, or your carport if you are mobile. 
The advanced battery management system (BMS) protects your connected equipment against over-current, overvoltage, and power surges. This is like a generator that doesn't need fuel or gasoline to work. 
12.  SpeedWatt Neon Orange Portable Power Station
SpeedWatt is an excellent power generator for summer weekends, camping, trips, or during emergency power outages. The 320 W battery can charge many electronic devices with outputs for every type of connection. 
It is portable and uses a 100 W solar panel for recharging. It takes six to eight hours to fully recharge using MPPT technology. You can also charge it with the AC wall socket or your car's cigarette lighter. 
13.  GoSun PowerBank 1100
There is a way to keep your appliances running even when you are off the grid. The GoSun Power 1100 has a high-capacity battery you can use during a power outage or camping trip. It is portable and makes no noise when in use. 
You can recharge the device with the attached solar panels and connect more than four devices simultaneously.  
14.  Fanttik EVO 300
One of the most noticeable features of the Fanttik EVO 300 is the large SmartScreen that displays information about the portable power station while you use it. You can see the battery level and remaining runtimes for the different outputs. 
It takes about two and a half hours to fully charge, making it one of the best fast-charging devices available. The Fanttik EVO 300 can be recharged with solar panels and uses an MPPT to enable efficient management. 
15.  BigBlue Cellpowa
If you want a great portable power generator for camping trips and sudden power failures, look no further than the BigBlue Cellpowa. It uses a LiFePO4 battery for a 2000+ cycle life that can recharge to 80% within two hours.  
Simultaneously connect four pieces of equipment through the USB outputs with no current loss. It uses an advanced battery management system to prevent over-charge, over-current, and short-circuiting. 
16.  Jackery Explorer 240
This product has a 240 Wh lithium-ion battery and features one AC outlet, two USB-A ports, and one DC carport. You can charge any mobile device, from phones to laptops, fans, etc. It is excellent for outdoor occasions or when there are power outages. 
The Jackery Explorer 240 uses a built-in MPPT to efficiently control solar recharging and make it as efficient as possible. You can also recharge it using an AC wall outlet, a carport, or a generator. 
17.  Generark HomePower ONE
Generark HomePower ONE is one of the most versatile and reliable portable power stations you can buy. It can power your electronic devices for seven days while you are outdoors or during power outages.  
You can connect to it through two USB-C ports, two USB-A ports, and one car outlet. Recharge this device from an AC outlet, your car, or a portable solar panel. 
18.  Oupes 600W
You can get this device for when you want to go camping, hiking, or as an emergency power supply unit. It uses a LiFePO4 battery which gives six times more life than lithium batteries. 
Eight ports support simultaneous connection and pass-through charging. Recharging the device takes five hours when you use the USB-C outlet but about seven hours when you use an AC wall outlet or carport. 
Many customer reviews wished the device had a white or black wireless charger or port in addition to its features. 
19.  OUKITEL Portable Power Station 614Wh
OUKITEL's portable power generator is excellent for camping and sudden power outages. You can use it to power appliances such as a rice cooker, television, car refrigerator, fan, laptops, phones, etc. 
It has 10 outlets that enable almost all connection types. It uses a battery management system to help improve the battery life cycle while you use it. 
20.  MARBERO 88Wh
This portable power station is very compact and easy to handle. It works well as an emergency power supply unit or generator when you are outdoors. You can use it to charge your phone, camera, radio, fan, tablet, and other mobile devices. 
The MARBERO 88Wh has an in-built LED flashlight that can also be set to SOS mode during an emergency.
What to Consider When Buying a Portable Power Station
To ensure you get the best portable power bank, consider the following attributes to help you compare them. 
Battery Capacity
Portable power stations are batteries that store power and give it out later to charge your connected devices. The manufacturer usually states the capacity to give users a fair idea of how much juice to expect from the device. Always check this information before making your selection. It is measured in watt-hours. 
A high battery capacity means the power station will provide more power and last longer than those that have lower. 
Power Rating
The power rating describes the maximum output you can get from the product and is measured in watts. A smart device with a high power rating can supply electricity to heavy-duty electronics such as heaters, toasters, and sometimes fridges. 
This feature is directly proportional to the cost, so you should also ensure you go for what you need. You don't want to pay more for the power supply you don't need. 
Portability
Size can make a power station portable or not. Since they are used outdoors or as backup during power outages, they should be easy to carry around wherever you go. If the portable power station is too bulky, it will be inconvenient to take along when traveling. 
Check for the compact nature and weight before you buy it.

Recharging Speed
During an emergency power outage, you might be able to use your portable power station for a while before the battery dies down. The time it takes to recharge your device becomes critical in this situation when you find a temporary power source. 
If it takes too long to recharge, then you won't be able to have enough energy stored during the period. The faster the portable power station charges, the better it is. 
Recharging Options
You should also consider the recharging options for your power station. There are those that allow multiple ways to generate and store power using solar panels or through connections to your car. 
These are more convenient in an emergency situation and should be chosen over those that can only recharge using a direct AC wall outlet. 
Frequently Asked Questions - FAQs
How Many Years Do Portable Power Stations Last?
The answer to this depends on how often you use your device, how well you maintain it, and the battery type. Your battery life cycle determines how frequently you can use it before it starts failing. Using it less often will make it last longer.  
What Can I Power with a Portable Power Station?
Initially, these devices were made to charge small electronic gadgets like phones and laptops. Newer models can power more electric-intensive machines according to their power rating. This information will give you a fair idea of what you can run with your device.
Should I Use My Portable Power Station as an Uninterruptible Power Supply (UPS) Unit?
As discussed earlier, this depends on the type of equipment you are using it for. Transfer time may not be enough for some computers and medical gadgets. You can use your portable power station as a UPS, but it is better to get a dedicated one instead.
Conclusion
We can't predict emergencies, justifying why we always prepare for the worst.  
One way to be ready today is to have a backup power supply to run your devices in case of an outage. 
If you just want a way to stay connected outdoors, you also require such a device. 
Our review should give you a great start to finding one of the best, if not the best portable power station for your needs.
Video ads for product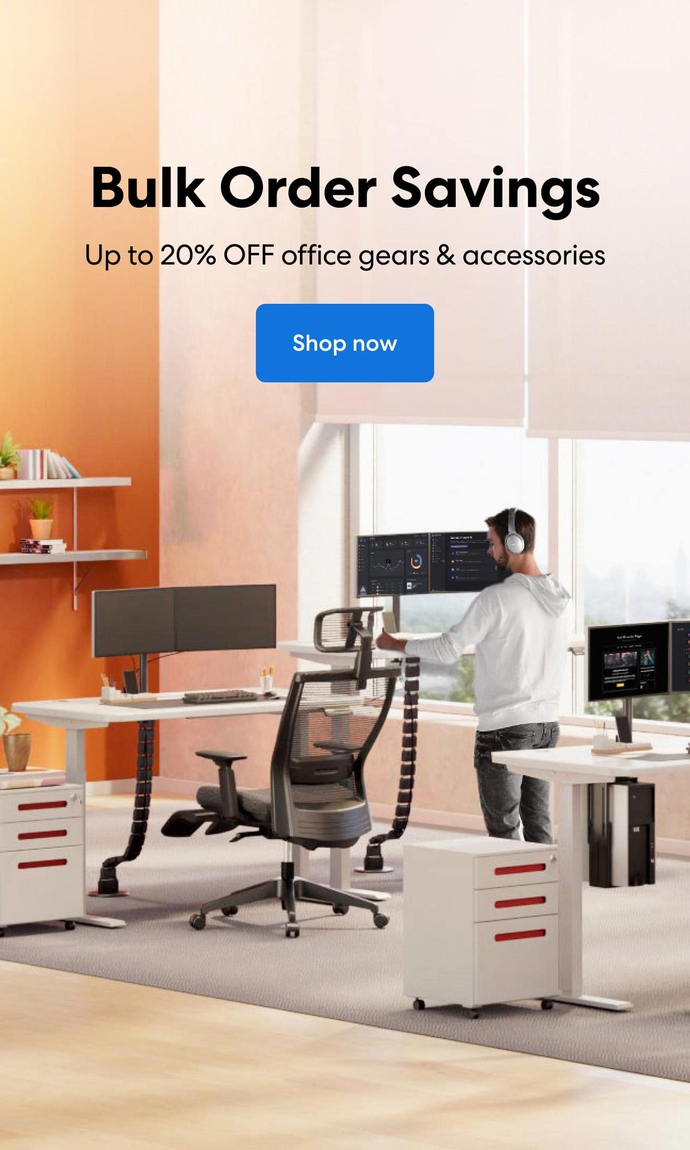 Subcribe newsletter and get $100 OFF.
Receive product updates, special offers, ergo tips, and inspiration form our team.