A white contemporary desk can change your surroundings completely. Regardless of the aesthetics you're going for, it can enhance the look of your workstation.  
This guide offers a list of the best 20 alternatives you can find on the market – you get everything from small desks to wide, spacious ones with multiple drawers, so evaluate each option and choose your favorite. 
Top 20 White Contemporary Desks for Your Workspace
1. SmartDesk Core by Autonomous
Finding the best white modern desk requires you to evaluate different alternatives. However, once you take a look at Autonomous' SmartDesk Core, you might quickly notice that it's one of the most fantastic options out there. 
This white standing desk is an essential piece of furniture you need to ensure you're productive all day. It offers no less than four programmable settings, its frame is made of solid steel, and it has an electric dual motor for you to change its height! 
2. SmartDesk Corner White by Autonomous
If you prefer a corner desk, then Autonomous has an alternative option for you. The SmartDesk Corner can be the ideal alternative you're looking for since it also gives you incredible features. 
It's a white L-shaped standing desk, and although it has a triple motor, it's immensely quiet, so you never get distracted while you're working. You can adjust the height of this model, and since it's L-shaped, you get twice the space! 
 3. White Corner Desk by Monarch Specialties
Made of veneer and wood, Monarch Specialties offers you a modern white office desk that's incredibly durable, sturdy, trustworthy, and also quite appealing. 
This contemporary white computer desk has two storage drawers, and that's convenient If you have many documents you'd like to keep around during your work hours. Since it has a beautiful and modern design, it goes well with any décor. 
4. L-shaped Computer Desk by HOMCOM
With spacious bookshelves and a lot of storage space, HOMCOM's option is also one of the most convenient ones you could find.  
If you're looking for extended storage space, then this L-shaped alternative might be for you. Furthermore, it's reversible and you can rotate it however you want, which is why it's so useful for workers – you get to personalize your workstation to fit your needs! 
5. Tangkula's White Corner Desk
Small office spaces can be hard to set up, especially if you can't find a desk that perfectly fits your surroundings. 
Tangkula's white contemporary desk might be many people's favorite alternative if their workstation is not very big – this tiny corner desk has the perfect size for you to organize your documents and electronics! 
It's made of solid wood, which makes the white modern desk immensely durable, trustworthy, and resistant to corrosion. 
6. Modern L-shaped Computer Desk by Tribesigns
Tribesigns gives you a fantastic modern white office desk as well with E1 grade particle board covering its work surface. 
The desk is immensely sturdy, and it's mainly because of its solid steel frame. Furthermore, it's a very large piece of modern office furniture, and it can withstand up to 450 pounds. 
7. Rotating White Desk by Little Tree
Practicality, ergonomics, and a stellar design are the three main features of the model by Little Tree. Workers who look for a perfect balance between those three aspects might love this alternative! 
To help you keep a correct posture while you're working, the desk's top board is raised, so your spine never gets tense. Additionally, it's an adjustable, L-shaped contemporary white office desk, so if you don't like the way you set it up, you simply need to adjust its settings and choose a different way! 
8. Clifton White Computer Desk by Flash Furniture
Finding a white desk that fits your needs might be a straightforward process. However, that's not the only thing you should keep in mind before buying it – what about the desk's features, ergonomics, and price? 
Flash Furniture has an option that helps with all of that – the Clifton contemporary white computer desk has a raised worktop surface, it's sturdy, it looks appealing and modern, and it's available at a budget-friendly price! 
9. White Desk with Keyboard Tray by South Shore Access
This desk is manufactured on US soil, and it's a pure-white piece of furniture made of the best materials. Its construction only uses environmentally friendly and non-toxic elements, so it's a great option if you want to go green. 
Featuring a sliding drawer for you to store different items, South Shore Access' alternative includes a hole in its back to facilitate your cable management. Moreover, you can adjust the desk and reduce or widen the storage spaces. 
10. Ameriwood Home's White Parsons Desk with Drawer
Ameriwood Home is a famous brand for offering some fantastic alternatives, especially when it comes to desks. However, the Parsons model is one of the company's top options – it's affordable, sturdy, and beautiful. 
The Parsons is a durable and high-quality white contemporary desk, and it uses laminated particleboard materials and MDF to provide you with strong and trustworthy surfaces.  
To store your office supplies and small-sized essentials, you get a drawer just below the surface. Furthermore, since it's completely white, it can go with any décor you have in mind for your office. 
11. Furinno's White Computer Desk with Shelves
A white modern desk can enhance your space, make your workstation look completely different, and even boost your mood and productivity. Fortunately, Furinno's option is perfect for that! 
This contemporary white modern desk is one of the best examples of a beautiful design. It looks sleek, elegant, and simple, but it's still functional. Since it has several shelves, you get extra storage space for your office supplies and important documents. 
12. White Computer Desk by Topeakmart
Unlike other modern white office desk options, Topeakmart's alternative is a fantastic option if you have a desktop instead of a laptop since its cubby is perfect for you to fit the CPU. 
With this white contemporary desk, you get enough storage space to organize your books, documents, and other office supplies. It also has a frame made of P2 particle board, which makes it immensely sturdy and durable. 
13. Kalos Home Office Computer Desk by Nathan James
Many people choose functionality over appearance, and that makes a lot of sense. If you're buying furniture for your office, you want it to be useful while you're working. Otherwise, you may need to buy something different anyway. 
However, others prefer appearance over ergonomics, or they simply want to balance both aspects. If you belong to this group, Nathan James' Kalos desk might be the ideal alternative for your workspace. 
The modern white office desk has an immensely sturdy surface made of thick wood, it's suitable for small spaces, and its sleek design makes it perfect for any décor. 
You get two wide storage drawers below the surface, which are ideal for you to organize your office supplies and documents. Moreover, this modern office desk also has strong legs, and they make it a durable furniture piece. 
14. White Computer Desk by Monarch
Getting a metal white contemporary desk can be the perfect way to make a statement with your workstation's appearance. Monarch's option is beautiful and sleek, and its glossy finish makes it look as if it's from the future. 
Monarch's modern home office desk is incredibly durable, mostly because of its metal composition. At the same time, it has a criss-crossed leg design, which makes it sturdy while you're working – you never need to worry about wobbly legs! 
When you're organizing your white desk setup, you might want something with the ideal size to fit your workspace, but you also want a piece of furniture that looks good. This option by Monarch has a laminated surface, so it protects it from scratches and it guarantees that its aesthetic appeal lasts a long time. 
15. Office by Kathy Ireland's White Table Desk
A simple white modern desk can go a long way, especially if you don't want anything extravagant in your workstation. This white contemporary desk by Office by Kathy Ireland's has a special design, which makes it easier for you to save space. 
It doesn't have any drawers or storage options, but its long worktop surface gives you enough space for you to organize your computer and some office supplies. Since it's made of a thermally-infused laminated material, this contemporary white office desk can last years and still look incredible. 
16. Modern White Student Desk by Convenience Concepts
While some workers prefer a simple adjustable desk, others want a lot of storage space. Fortunately, Convenience Concepts' desk has numerous shelves and a large spot underneath its top for you to store books, documents, office supplies, etc. 
This home office furniture piece has steel legs, which means it can last for years and still look incredible while being strong enough to support some weight. 
Additionally, this white contemporary desk is immensely easy to assemble because you don't need any tools. Once you get it, you only need to follow the instructions and set it up yourself! 
Although it doesn't give you adjustable features like other options on this list, it's still a fantastic alternative to keep in mind, especially if you like having different drawers to store your office supplies. 
17. Kings Brand Furniture's Home Office Computer Desk
With an X design and a sturdy base, King Brand Furniture's option definitely adds to the modern aesthetic of any workspace while still providing enough strength to support the weight of your items. 
This modern white office desk has metal legs with a chrome finish, adding to the executive look of your workspace. Since its desktop looks glossy as well, this piece of furniture can perfectly complement any style or décor. 
18. Need's White Computer Desk
Some workers need small white contemporary desks for their petite workstation, but not everyone is like that. If you have more space to work with, you may want a bigger piece of furniture, not only to fill up your surroundings but also to have more options to organize your office supplies. 
Need's contemporary white office desk cannot disappoint you in this – it's one of the biggest pieces of furniture this review has mentioned so far. Its construction uses wood, which is why it's durable and firm.  
At the same time, this desk is made with environmentally friendly materials only, and its top is easy to clean and waterproof. 
19. White Credenza Desk by Bush Business Furniture
Finding the ideal simple executive contemporary white office desk can be a challenge sometimes, particularly because some alternatives might just be too flashy or extravagant for your taste.  
The White Credenza Desk is the ideal option for workers who want to give their workstations an executive look. It has no drawers or additional storage space, but it's so sleek and elegant that you might not be able to take your eyes off it. 
With a thermally-fused finish, this desk is durable and sturdy, and its worktop is wide enough for you to organize your computer and some office equipment, for example, a lamp. 
This white contemporary desk stands out from the competition because it has clean lines and an executive-looking worktop. Therefore, if you want to go for something sleek and elegant, it might be the ideal option for you.
20. Auxley's Modern Computer Desk
The Modern Computer Desk by Auxley is also clean and simple, but it looks more fun than the previous option. It's the last alternative on this list, but it's by no means a low-quality product – it has fantastic features, such as a waterproof and anti-scratch top! 
In this case, the frame of the white contemporary desk is made of steel with a white epoxy-coated finish. Thus, it's immensely durable and strong, and it can also look amazing in your workspace. 
Keynote Takeaways
Contemporary white computer desks can make your surroundings look more elegant, professional, and clean. At the same time, they might boost your mood once you see how good your workspace looks. Now, you have 20 options to choose from, so pick the desk you want as soon as possible!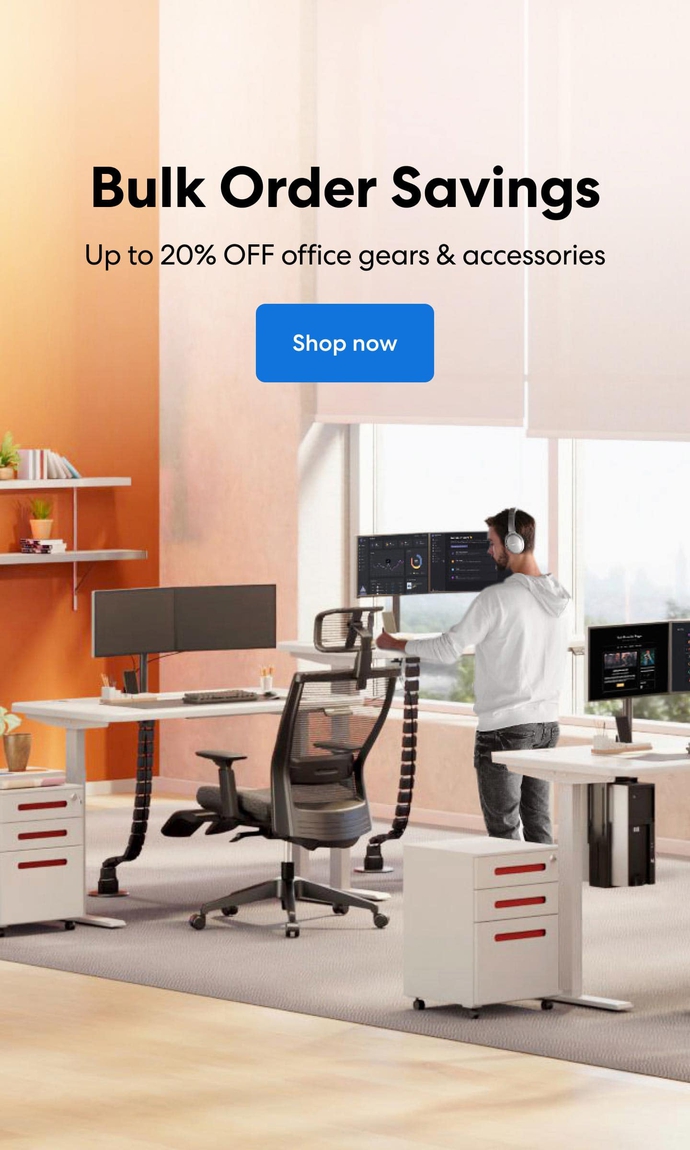 Subcribe newsletter and get $100 OFF.
Receive product updates, special offers, ergo tips, and inspiration form our team.