There is ample evidence that sitting on a chair for an extended period increases the risk of cardiovascular disease and worsens back discomfort. In fact, excessive sitting has been compared to smoking. Office workers experience numbness, spinal misalignment, joint discomfort, neck pain, and herniated discs because of sitting for lengthy periods of time in a poor-quality chair with little support. Consider some of the following office chair brands and office chair stores when shopping for an ergonomic office chair to reduce back pain:
Autonomous

Steelcase

Herman Miller

Serta
Lower Back Pain: The Best Ergonomic Office Chairs
An ergonomic office chair might help relieve lower back pain that can linger long after you've left the office. If you already have back pain, you should know that sitting for lengthy periods of time compresses the discs in your lower back, causing them to wear down and create sharp or chronic discomfort.
This type of pain can be so severe that it limits your mobility for the rest of your life. What's the good news? It's never too late to address the issue and provide the assistance you're aching back need.
The following chairs are the best desk chair solutions from the best chair brands for any budget, allowing you to avoid long days of back pain and allowing you to focus on your work.
While you may not want to spend a lot of money on a chair, investing in your health, comfort, and productivity with the best ergonomic chair is a good idea. Here are some of the popular chairs from 4 office chair brands:
1. Autonomous ErgoChair Pro
The ErgoChair Pro by Autonomous office chair brand appears to be a standard office chair. The outside mesh design is remarkable. If you're in a well-lit environment, you can notice its magnificent TPE skeleton, which is specifically engineered to maintain your posture and enhance back wellness via magnetic fields. The frameless design and pliable upper back allow you to move freely to the right and left, while the pliable headrest protects your neck and shoulders.
The best ergonomic chair has a unique spring seat that allows you to target problem areas like the lower back while also allowing the chair to contour to your body and straighten your posture. This chair from the Autonomous office chair manufacturer is praised for its excellent posture support and correct sitting posture.
This best desk chair is praised for its posture support, which aids in the maintenance of proper spinal alignment. BIFMA – the Business and Institutional Furniture Manufacturers' Association – has certified it.
While the chair's ergonomic posture support and frameless design are its key selling points, it also comes with normal chair adjustments. This includes changing the back tilt and tension, as well as the armrest and seat height.
Pros and Cons of ErgoChair Pro
The pattern of the higher back stretches all the way up to your shoulders.
The chair's arms and seat height can be adjusted to meet your specific needs.
The lower back and gluteus muscles are relieved by using a spring seat.
Mostly made of plastic.
2. Autonomous ErgoChair Core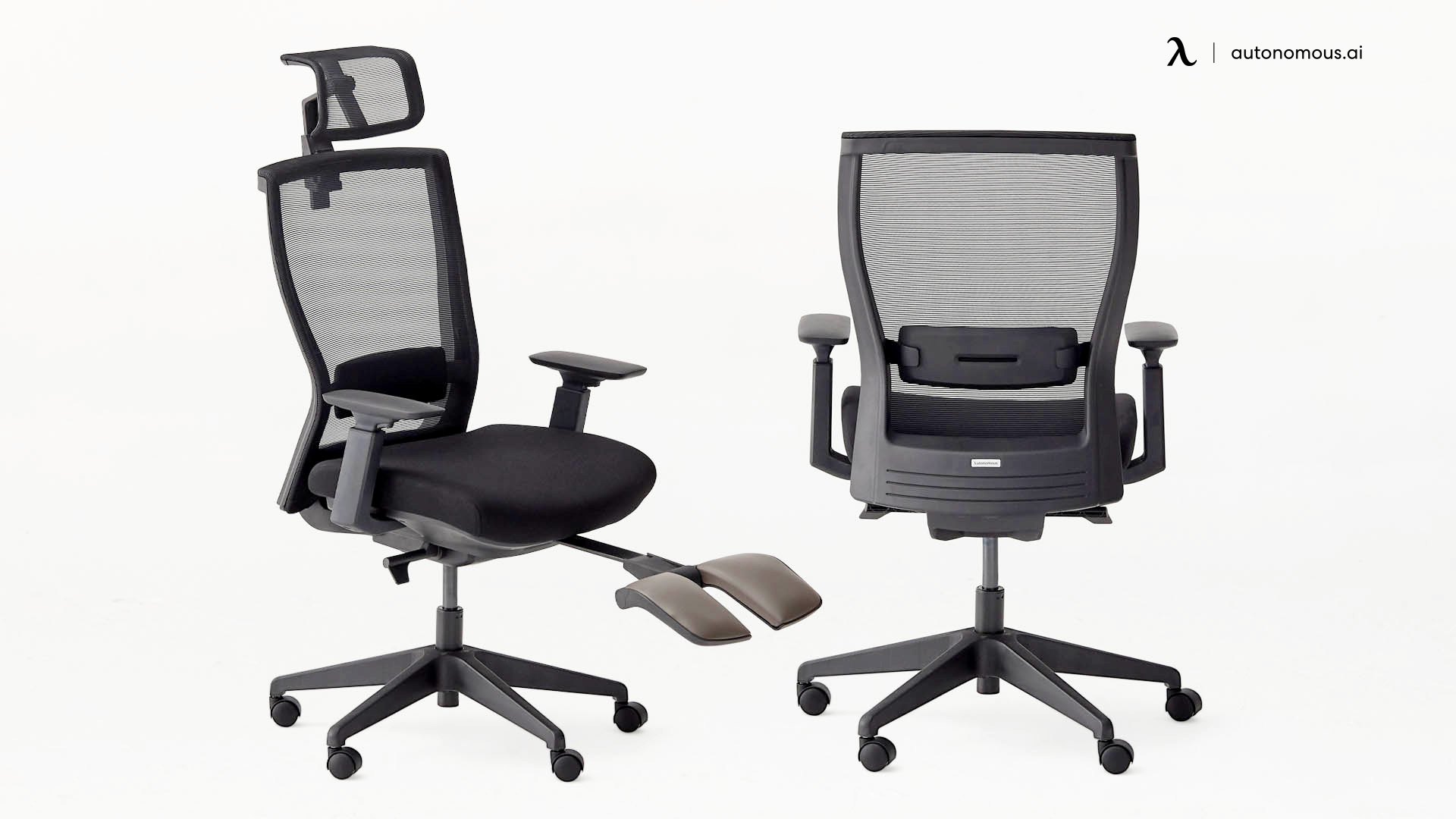 Another product from Autonomous, a famous office chair brand is ErgoChair Core. The ErgoChair Core welcomes you to the realm of comfort. This is the most popular chair in this price category, thanks to its ergonomic chair design and breathable mesh back, which keeps you cool and comfortable all day. The ErgoChair Core, unlike many other chairs at this price, has a contoured seat with superior upholstery and an adjustable footrest that relieves pressure on your legs, while the supporting back encourages perfect posture and relieves lower back pain.
Although the ErgoChair Core lacks many of the features found in more expensive chairs, you may adjust the tilt and tension, as well as the armrest, headrest, and seat height, to suit your needs.
Pros and Cons of ErgoChair Core
A low-cost office chair.
The mesh backing provides for better airflow, which is beneficial for anyone who suffers from back perspiration during work.
Seat and armrest heights are easily adjustable.
Headrest and footrest that may be adjusted.
The arms do not extend out like other chairs, and this chair may not be suitable for those of larger stature (although they can be moved up and down).
3. Autonomous ErgoChair Pro+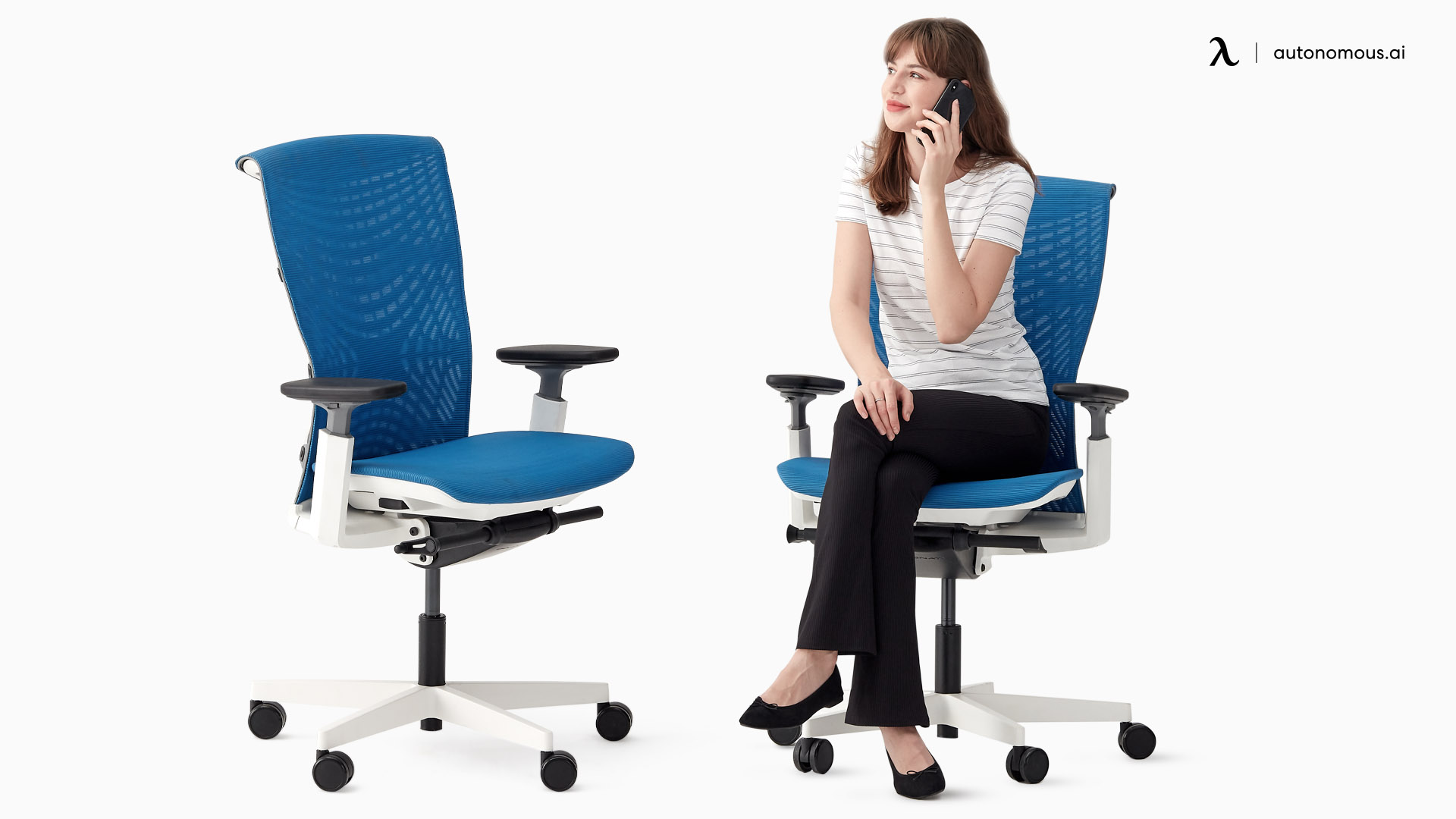 The last one in the product list of this office chair brand is ErgoChair Pro+. If you've been put off by the high pricing of the high-end brands, the ErgoChair Pro+ can be a better fit for your body and your wallet. Autonomous is considered by many to be the best chair brand.
Autonomous is noted for manufacturing high-quality standing desks at affordable prices by selling directly through its website, eliminating the need for a middleman. With the ErgoChair Pro+, they've used the same approach, providing a pleasant, supporting chair at a fair price.
They provide a complete breakdown of the cost of components and other costs to show customers what goes into the chairs.
This best ergonomic chair from the Autonomous office chair manufacturer is incredibly durable, and it can support people weighing up to 350 pounds, which is quite surprising considering its price. It also has a wealth of tuning options.
Overall, the ErgoChair Pro+ is a fantastic piece of office equipment that won't break the budget. It is one of the best desk chairs in the industry. Look at the ErgoChair Pro+ if you're seeking a low-cost, all-day ergonomic office chair.
Autonomous also creates a variety of other chairs including desk chairs with a footrest and sit stand chairs aimed to promote back support.
Pros and Cons of ErgoChair Pro+
Excellent airflow thanks to the mesh back.
Neck/headrest that is dedicated.
30-day money-back guarantee and a two-year warranty.
Excellent value for money.
It can hold up to 350 pounds.
It's backed by a complete money-back guarantee.
Plastic is used in packaging.
Do not recline completely.
4. Ergonomic Mesh Task Chair by Steelcase Series 1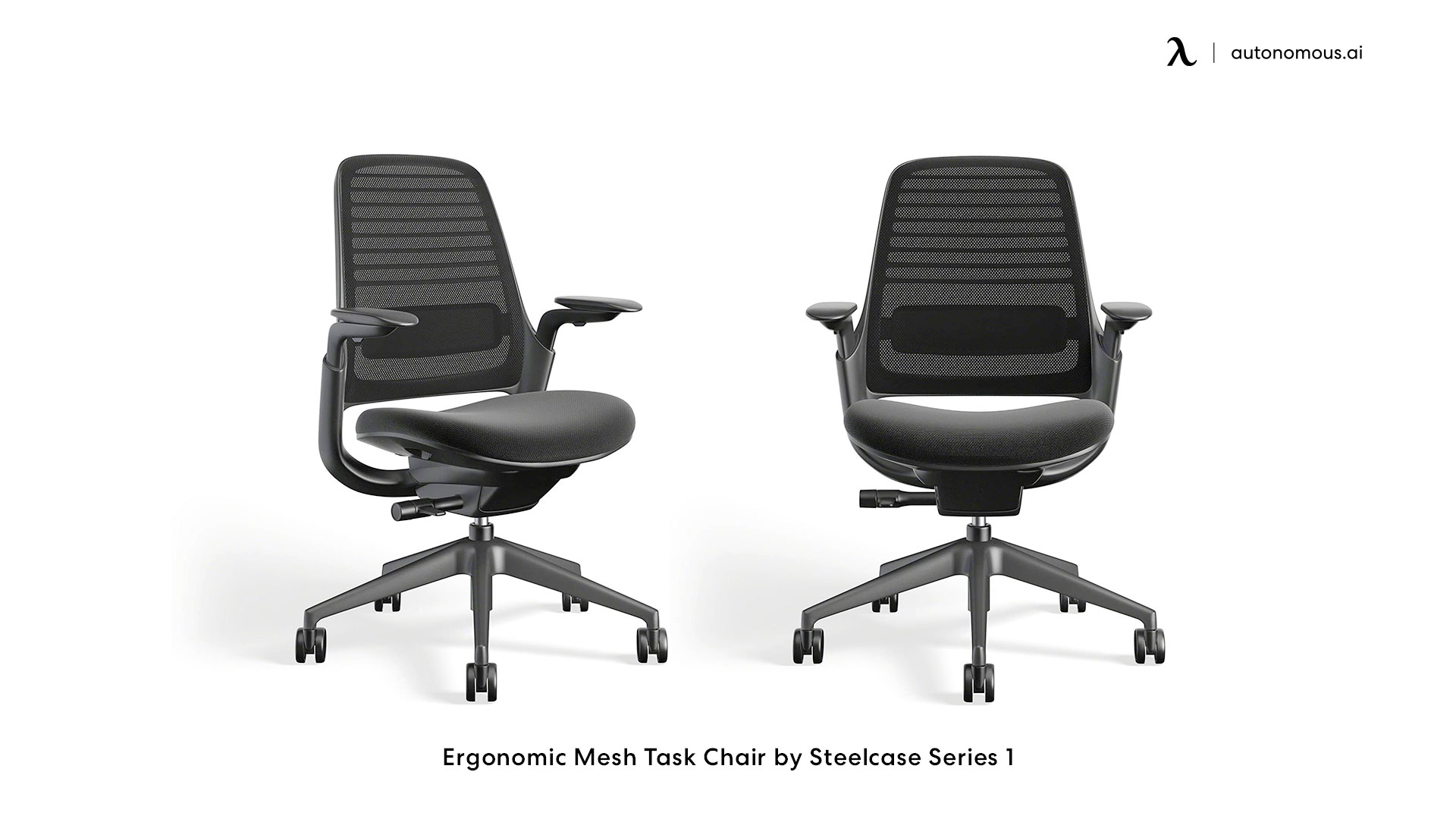 Now, we come to another office chair brand, Steelcase. The Series 1, Steelcase's entry-level office chair, blends style, comfort, and ergo-friendly characteristics not typically found in a chair under $500 into one extremely good value proposition.
The best desk chair from Steelcase office chair manufacturer is basic and compact, which is remarkable given how many intuitive adjustment controls are incorporated into it. The Series 1 features a 3D Micro Knit breathable mesh backing that is both flexible and supportive. Then there are several adjustments: arm height, lumbar height, seat depth, tilt control, and, of course, seat height. The key feature of The Series 1 is its 4D adjustable arms. The arm height can be adjusted, exactly like most office chairs.
Pros and Cons of Steelcase Series 1
You can stay cool thanks to the airy mesh back.
The construction quality is excellent.
Supported by a reputable company with a dedicated customer service line.
It may feel claustrophobic, for taller individuals.
5. Gesture Chair by Steelcase
Here is the next product of this office chair brand. Steelcase's award-winning Gesture chair is one of the best office chair manufacturers.
This ground-breaking new office chair is designed to support and protect the back and neck while allowing for a variety of natural body positions and sizes. As one of the best ergonomic chairs, it may amaze you with high quality.
The chair's armrests have been carefully engineered to accommodate a variety of poses. One of the issues with many office chairs is that they do not allow for much movement.
The human body, on the other hand, changes positions on a frequent basis to be comfortable. This natural restlessness is accommodated by moving the armrests further back, giving you more options for where you can be supported.
Not only can you modify the chair's height, but you can also change the amount of strain it provides to your back. This can make the chair firmer or softer, ensuring that you are supported regardless of how your body is feeling on any given day.
Pros and Cons of Gesture Chair
This chair is exceptionally robust due to its steel composition.
Steelcase offers a lifetime warranty.
Arms may be stretched in and out as well as up and down, allowing for improved arm placement regardless of torso breadth.
The lumbar support provided by the core equalizer is amazing.
People may have difficulty raising it and moving it to different rooms.
The higher price point may be prohibitively pricey.
6. Herman Miller's Embody Chair
We move to the third well-known office chair brand in the list, Herman Miller. Herman Miller's Embody Chair is the first chair with a health-conscious design. It was conceived by Bill Stumpf and Jeff Weber, the creators of the original Aeron chair, with the purpose of promoting good circulation and making sitting for long periods of time easier on the back and spine.
Physicians and engineers were also involved in developing the Embody's specifications, which include an exposed exoskeleton that mimics the human spine.
The back of this best desk chair moves with you throughout the day, aligning your spine and supporting your lower back without requiring any modifications on your part.
This best ergonomic chair is so good that it has won multiple honors, including NeoCon's renowned silver award and a Best of Tech award.
Pros and Cons of Embody Chair
It has an aluminum foundation that is both lightweight and incredibly sturdy.
Arms that can be adjusted.
There are almost a dozen different hues to choose from.
Easy to adjust pixelated support to better match the contours of your back and spine.
The chair is quite expensive, it reflects a significant financial investment.
There is no support for the head or neck on an individual basis.
7. Herman Miller's Sayl Chair
The first ergonomic chair was created by this office chair brand, and this high-end office chair brand is known for making some of the greatest chairs in the world.
The Herman Miller Sayl Chair is the brand's most economical office chair, putting it ahead of the competition in this price category. The Sayl chair, designed by Yves Behar, is available in a variety of colors and is constructed in the United States using recyclable materials.
With two unique innovations: the Y-Tower and ArcSpan, this stunning "life unframed" chair combines ergonomics, design, and superb engineering. The Golden Gate Bridge and its ability to carry large weights inspired Behar. The design reflects this inspiration.
The Y-Tower is the chair's backbone, stretching the fabric while providing stability. The ArcSpan gives the back form while also securing the suspension fabric in place.
Because it is the most affordable Herman Miller chair available, it lacks many of the adjustable abilities and other amenities found in most models from this office chair store, yet it nevertheless impresses.
Pros and Cons of Sayl Chair
The chair has a distinct appearance and is both eye-catching and comfortable for the price.
It's available in a variety of colors, allowing you to personalize the style of your office.
Excellent design for hotter areas or for people who sweat out of their backs when sitting for lengthy periods of time.
The seat adjusts between 15.5 and 20 inches in height, and the chair is made almost entirely of recycled materials.
There is no separate head/neck rest included (although a secondary neck rest can be purchased).
8. Mid-Back Office Chair by Serta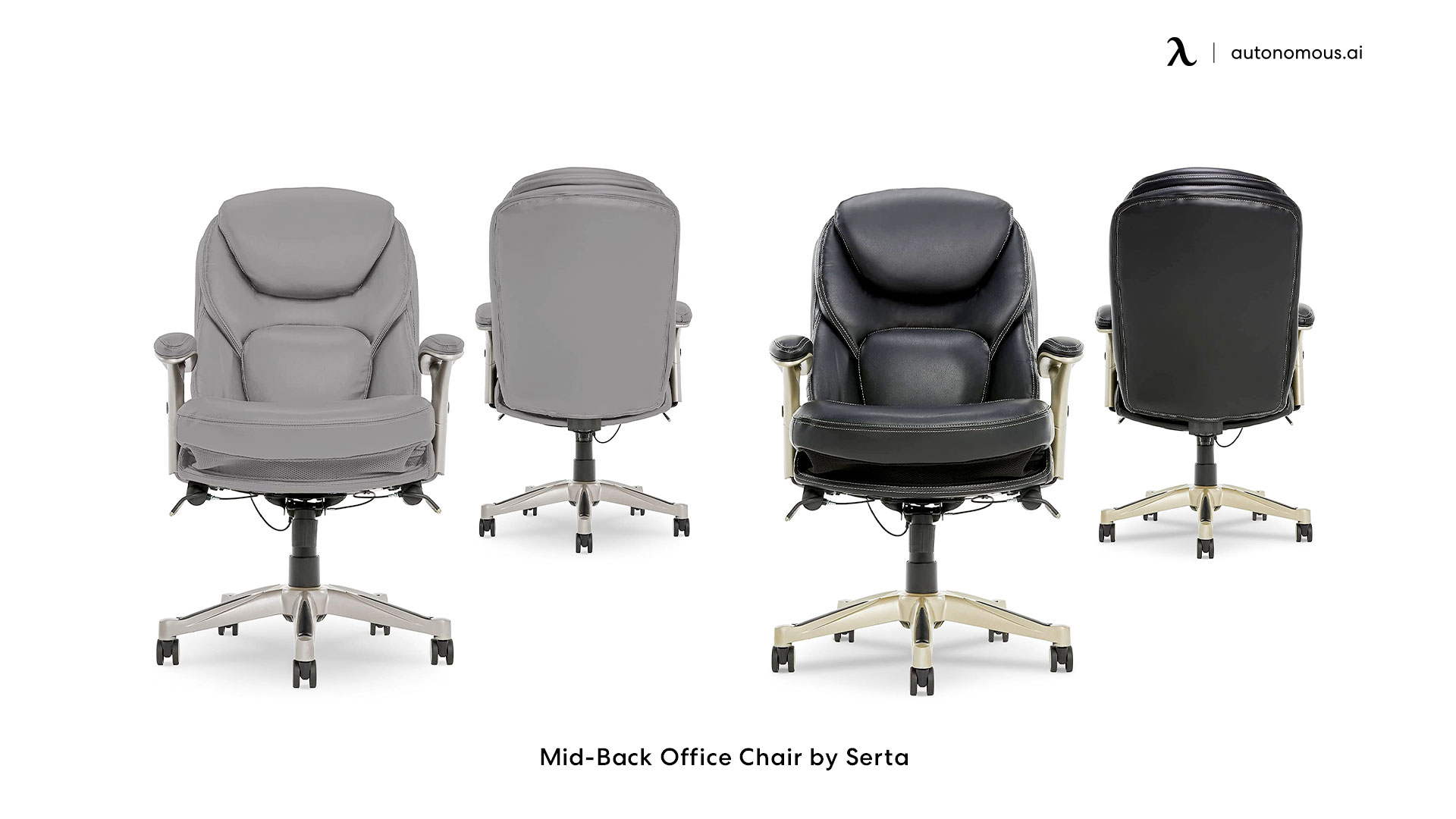 Serta, the last one in the office chair brands list, is best known for its beds, but with the Serta Back in Motion Health and Wellness office chair, it has ventured into ergonomics. With deep, ergo-layered body pillows that provide the optimum balance of comfort and support, this moderately priced chair has the look and feel of a high-end brand.
The best desk chair is constructed of environmentally friendly bonded leather and features a BIM Active lumbar that pivots as you walk for continuous lumbar support in office chairs. Use the simple cable-driven levers to manage the lift and lock-out features and adjust the height of the padded armrests with the push of a button.
Serta is considered as one of the best chair brands because of its quality. The Serta Back in Motion chair also has a posture-correcting tilt system that tilts your pelvis forward as you lean. This best desk chair keeps your back in a healthy neutral position, preventing disc pressure and promoting spinal movement. After a few days, you can notice the advantages of having a comfy and supportive seat to help you get through your long work week. It is one of the best ergonomic chairs in the market.
Pros and Cons of Mid-Back Office Chair
Excellent-looking office chair with plenty of padding.
To better match the design of your office, it comes in a variety of leather color options.
Body pillows and a headrest that is both cushioned.
Made by the same company responsible for the design of pillows and mattresses.
It is not the greatest chair model for someone who sweats.
The leather cushioning can wear off and strip off the chair after lengthy usage.
Final Thoughts
If you spend most of your time at a computer, you should invest in a nice ergonomic chair and best desk chairs from credible office chair brands. The above mentioned are the best chair brands or office chair stores, as they are backed by years of study and testing, but if they are beyond your price range, we've covered a lot of other options, so keep that in mind when shopping.
Get exclusive rewards
for your first Autonomous blog subscription.

WRITTEN BYAutonomous
We build office products to help you work smarter.
Coming at You Live from Autonomous' Social Media!
Please fill the information below.
Thank you!