Workplace Inspiration
TOP 5 New Technology in Business Which Define 2023

Autonomous
|
May 1, 2021
2,166 Views
In recent years, the world has seen a high increase in technologies. Humans are being surrounded by various technologies that have brought a lot of benefits for humans. This rapid pace of technological improvement has enabled humans to work more efficiently and quickly. These techs have eased human life and encourage work-life balance. Living life without these technologies has become almost impossible; humans even do not want to dream of a life without technologies.
The ongoing global pandemic has boosted the use of these technologies and promote small business technology. It has just made few additions to the already-long list of technologies. COVID'19 has pushed the scientists and engineers to increase the efficiency of these technologies and form some contactless techs to reduce the spread of the virus.
A major chunk of these new technologies in businesses. In this article, we have listed down the top new technologies in businesses that define 2022. These are discussed below.
Proprietary Technology
Proprietary technologies are developed for specific businesses. These are business-specific tools, technical processes, and systems. Proprietary technologies can also be built for businesses with a hybrid remote work model. These contain digital platforms for Artificial Intelligence-led business transformation, digital products and services, and critical workflows. These platforms are some of the tops and recently emerged areas for enterprise proprietary technology.
Moreover, companies also develop proprietary technologies to sell to customers. These are closely monitored and guarded. The access of these techs is only with the company officials responsible for developing the technology and running its process. Additionally, businesses also file for patents, copyrights, and few other legal registrations of these technologies. This discourages other businesses from using these techs without the permission of the owner company and protects small business technology.
A major example of companies holding proprietary technologies is pharmaceutical companies. The medicines developed by the specific firms are the prime example of proprietary technology. Companies around the world are largely using this new technology in business.
The Amalgamation of Tech & Operations
The majority of the technologies are made for easing the business processes. These technologies are used in various business operations. The amalgamation of these technologies and operations is becoming a new technology trend in businesses. No matter if you have a hybrid work model or the traditional one, these technologies will always be required for your business.
Besides, the extreme use of these technologies makes the separation of tech and operations extremely hard for businesses. This combination creates a flywheel effect because it is largely helping enterprises in dramatical reducing costs, elevating the customer experience, and making business more resilient. Moreover, the internet plays a vital role in the amalgamation of tech and operations. Without the presence of the internet, this combination would have been much more difficult.
Digital Workplace Model
Organizations worldwide are largely using digital platforms for improving their communication, improving employees' productivity, and making work done more efficiently. Companies are hardly using traditional workplace models and are transforming into much better models such as the digital workplace model with new technology in business.
A digital workplace combines various applications, data, information, and tools based on the specific employee's tasks, roles, and location. In a digital workplace, employees tend to be more productive while the organization's environment is more flexible.
Some major forms of technologies in a digital workplace includes Spatial Computing, AR/VR, IoT, Cloud, and much more. Analysts are expecting a huge increase in the use of these technologies as offices around the world are shifting towards a digital workplace model for frontline workers in 2022 and the future. For transforming the office into a digital workplace, employers must bring employees together and connect them with the processes and technologies. This helps them deliver a very consistent, efficient, effective, and highly secure experience.
Virtual Selling
Virtual selling is not a new concept in the business world and it is no longer a new technology in business. However, in recent years, this process of selling goods has shown significant growth. Especially after the world has moved towards remote working, virtual selling has become more important in the business world. Businesses are mastering this technology to boost their sales and improve profitability. It is becoming more popular technology trends in business since people suffer from social distancing and shop online.
Due to the pandemic, employees are scattered, and each of them is located in different locations. The less in-person contact of employees has made running businesses a real challenge. However, through these virtual selling platforms, the employees can easily get their jobs done. It allows them to attend live events, communicate with each other, take training, and stay connected.
Businesses also use various Customer Experience at the Core
The success of any business is completely dependent on its customers because a happy customer means a profitable business. That's why the top entrepreneurs always emphasize a customer-friendly environment. So, businesses need to prioritize customer experience at the core. Customer Experience (CX) is also considered the biggest KPI that B2B enterprises can track going forward.
Companies should maximize customer experience by providing them easy access to different features, rebates, and much more. They should focus on the quality of products and services that they provide. Moreover, using digital platforms in this regard can improve the effectiveness of this cause to a great extent. Some examples of digital trends include implementing a habit loop, using mobile devices and videos for highlighting what customers care the most about, providing omnichannel customer service, and much more.
Nonetheless, for maximizing customer experience, business efficiency, and employee productivity, managers must adopt different technologies and new technology in business because in a digitally equipped world, disconnecting yourself from the digital platforms can only harm your business.
Video ads for product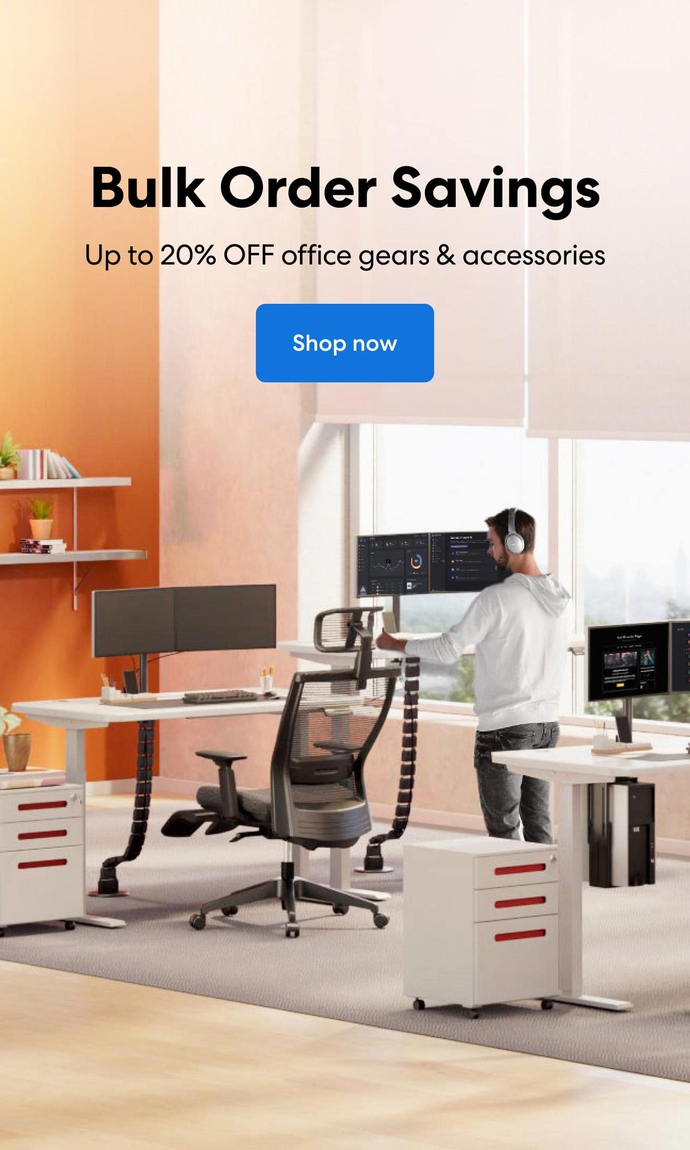 Subcribe newsletter and get $100 OFF.
Receive product updates, special offers, ergo tips, and inspiration form our team.