Workplace Inspiration
Top 5 Photo Challenges For Those Stuck Working From Home

Autonomous
|
Sep 27, 2020
5,542 Views
How long have we lived with COVID restrictions now? We've lost count of the days and months spent at home flicking endlessly through Netflix. We devote way too much time scrolling through our social feeds only to make our mad travel cravings even worse. And we spend endless hours everyday working remotely from home. Alone. The harsh reality is that lockdown restrictions and working from home has seen an unfortunate rise in cases of depression. Remote work and the new norm of quarantined living can get hella lonely, so it's important to seek out opportunities that make us feel like we're still part of a supportive community. Opportunities to inject some much-needed fun into our everyday routine.
Photo challenges have been trending lately. All in the name of fun, these visual challenges add something different and fresh to the everyday mundane. They give us (and the whole family) something to do whilst stuck at home and makes us feel like we're part of something big. Partaking in these challenges instantly makes us feel like we're part of a family. A family of like-minded individuals who want to show off their creative flair and enter into a bit of healthy competition.
Here are the top five photo challenges at home ideas for those of us stuck working remotely. 
1. Self-portrait challenge
We're all guilty of using that front-facing camera on our smart devices to define our best angles. Now it's time to take the humble selfie to the next level. Grab your tripod - Set your timer - And challenge yourself to think outside the box to create self-portraits that show a different side to your creative personality. Add some interesting lighting like a simple ring light for your best Kardashian beauty shot, or some multicolored LED beam lights for something more space-age and futuristic. Think about shooting your reflection, whether it be a mirror, a window, or even a puddle. And try composing your shot in ways that are unconventional.
In post-shoot editing adjust the tilt of your layout to give your shot a new dimension, and crop your photo in less conventional ways so that you're not always perfectly centered and in full view. Positioning yourself left of center or partially cropped out of the final shot can instantly elevate the artful nature of your self-portrait.
2. Tik Tok, Reels, and all the rest
If you've never heard of Tik Tok, where exactly have you been? The latest social trend has become a global phenomenon and is here to stay. Instagram has even introduced its own in-app version known as "Reels" to ride the tails of Tik Tok's mega popularity. Yes, we're aware that this genre of content creation doesn't strictly classify as photography, but filmmaking and photography go hand in hand right? And it's all in the name of fun at the end of the day. Simply open the app, start an account and you'll instantly be able to scroll through an endless stream of short dance routines, comedic sketches, mimed verse, crazy life hacks, and so much more.
Pool your favorite clips as inspiration, learn some sharp in-app editing techniques, select some catchy tunes, and you're well on your way to starting the world's next Tik Tok wave. We admit, editing in the app can be a little tricky to figure out at first, but what else are you going to do with all of this time stuck at home?
3. What I eat in a day
Even for the laziest of cooks, quarantine has forced most of us to get creative and spend more time in the kitchen than we're used to. And hey, that's not a bad thing at all. It's about time we started taking better care of ourselves with healthy home meals made with love. Spend a few minutes on YouTube and you'll find thousands of "What I Eat in a Day" and "What I Eat in a Week" videos racking up millions of views.
It only makes sense to echo this trend in a photo challenge. The term "food porn" exists for a reason. So put on your chef apron, fine-tune your plating skills, and salt-bae the hell out of your social feed!
4. Landscape challenge
Due to the current social climate, the Landscape Challenge may be limited to your backyard, balcony, or local park. Any outdoor space where you can still safely keep at least 6 feet away from others will work perfectly. This challenge provides the perfect excuse to get outside and feel less cooped up at home, without putting yourself or anybody else in danger of course.
Take the time to appreciate your local area and the many beautiful landscapes and architectural wonders that you may not have had the chance to really take in until now. For a more magical photoshoot experience, time your Landscape Photo Challenge shoot to coincide with the quiet crack of dawn, the warm energy of golden hour, or the moody romance of sunset.
5. Autonomous Setup Photo Challenge
What does your desk setup say about your unique personality? Are you an OCD neat freak? Do you consider yourself the ultimate day trader? Maybe you spend most of your time snacking at your desk rather than work.
Show the world what you're made of and join the #AutonomousSetupPhotoChallenge! It's super easy to enter. 
Get your creative juices flowing and take the best photo of your own unique desk setup. Make sure your desk setup features either an Autonomous standing desk or one of our ergonomic office chairs.

Submit your quality photo to the #AutonomousSetupPhotoChallenge page. 

Share your photo contest entry with your friends, family, and colleagues. The photo that gets the most VOTES, LIKES, and SHARES will take home the big prize! Those that vote for your photo also go in the running to win 1 of 3 Dual Monitor Arms from Autonomous.

Remember. The sooner you join the challenge, the sooner you can start accumulating votes! So clean up that workspace and take your best shot. Good luck!
And the prize? We hope you're sitting down for this. $2000 COLD HARD CASH! No. We're not kidding. What would you do with $2000?
Check out more about the #AutonomousSetupPhotoChallenge.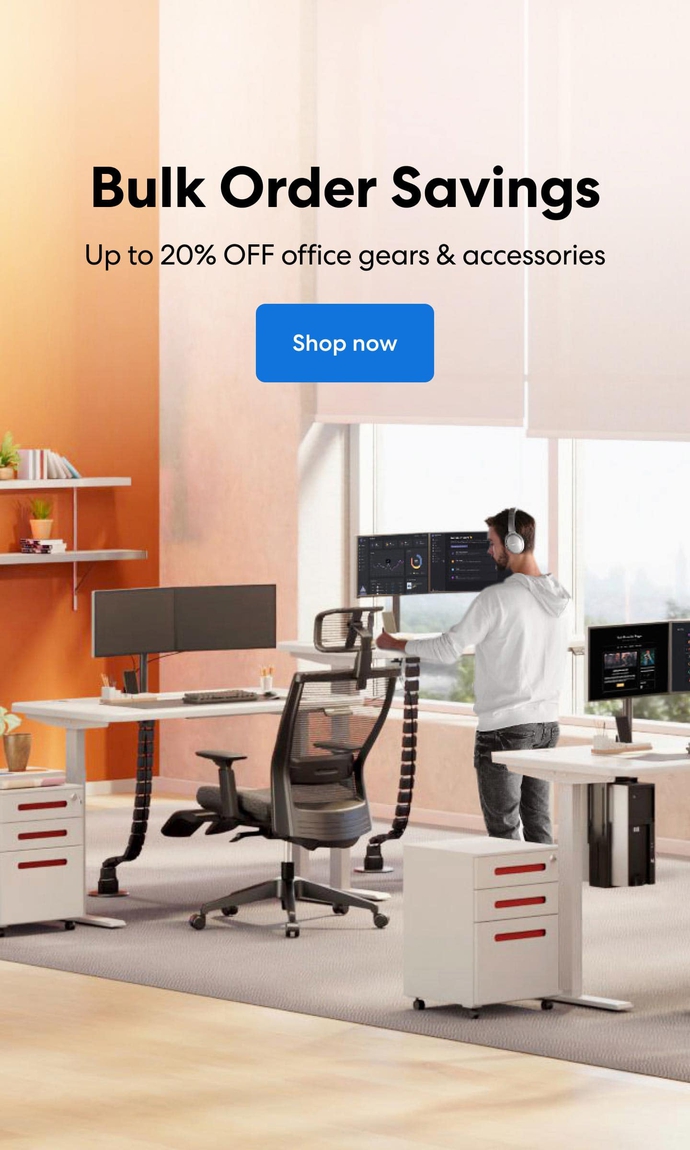 Subcribe newsletter and get $100 OFF.
Receive product updates, special offers, ergo tips, and inspiration form our team.