Gaming chairs are a staple of any station used to enjoy various fictional titles. The problem with finding one though, is not too far removed from trying to do so for an ergonomic office chair design. For example, where do you look to find a gaming chair with a 300 lbs capacity? 
The reality is that most chairs are designed to go up to about 250 lbs. While this is sufficient for many people, it still excludes some on the larger side of the fence who would like to sit, unwind, and play some video games as well. 
So, instead of repeating another set of the same standard PC game furniture with a list of done-to-death gaming desk and chair combo options, this is all about finding a suitable unit for those who require something a bit bigger to derive an optimal comfort level. 
Of course, you still need to learn how to sit in a gaming chair for it to have its intended effect, but it's probably a good idea to at least identify something worth giving a second look at before getting that far. 
Whether you want a standard chair without too many frills or an LED gaming chair, you can get either of those even as someone within and even above the 300 lb weight range. 
The list below was highly researched by reviewing a series of incredible 300 lbs gaming chair capacity options. Once that was over, then the process required narrowing down the list to a smaller one that consists of the cream of the crop. 
That's what you are going to be reading below. By the time you're finished, you should be well on your way to selecting a heavy duty gaming chair with a 300 lbs capacity. 
1. Vertagear SL400
Kicking things off is the Vertagear SL400 gaming chair. First, it's only available in a black and white pattern style, so it's best suited to spaces that can take advantage of that kind of neutral color. 
The good news is that there are few and far between colors that would not work with a black and white gaming chair, so you don't necessarily have to give too much thought to get it to fit into your existing space. 
As is the case with some of the best gaming chairs with 300 lbs capacity out there, this one has a motorsport-inspired design. However, it is also meant to support your neck and back health, thanks to the ergonomic engineering that it boasts. 
The first point to mention is its solid framework, as the backrest features a steel frame internally, while the base features aluminum alloy. This translates to incredible durability, so expect to have this chair for a while. 
Its weight capacity is 330 lbs, so there's no need for you to worry about its being able to handle those who may be a bit larger. 
As far as comfort through ergonomics goes, there are removable lumbar and neck support pads, as well as an adjustable tilt tension system with a locking mechanism. Vertically adjustable armrests are also present, which should allow you to relax easily. 
Of course, the chair is also height-adjustable and can recline anywhere between 80 and 140 degrees. The icing on the cake is the 10-year warranty agreement. 
2. Vertagear Special Edition
RGB designs are highly sought after in the gaming community, especially where system units and peripherals are concerned. Some people jump at the chance to accessorize just about anything with these beautiful lighting patterns, so why not bring it to your chair too? 
This is what the special edition Vertagear RGB chair brings to the table. A critical note is that this RGB LED upgrade kit is purely optional, so if you like the rest of the features and want to skip on that part for a more traditional experience, then that is up to you. 
It's a black gaming chair with a highlighted stitched pattern that brings the whole look together. Like the previous option, this one is fully adjustable and motorsport-inspired. Again, expect to see ergonomic features here that are meant to make your gaming experience that much more comfortable every time you sit down to enjoy your favorite titles. 
If you do opt for the RGB LED upgrade kit with NXZT CAM, you can take advantage of different color patterns, audio interactions, gaming modes, and mood settings, to give you total control over what the lights on your chair are doing at any time. 
On the less visual side of the spectrum, the HygennX Coffee Fiber Padding and Silver Lining Embroidery provide odor control and high breathability. 
The build quality is very sturdy, consisting of durable PVC and faux leather. Sliding technology is used for the hardware, which lends itself to super-easy assembly and a host of adjustability from the onset. 
As far as supporting your posture is concerned, the chair caters to your neck, your lumbar curve, your arms, etc, with padding, adjustable armrests, height adjustment, and tilt angle and tension adjustments. 
You're getting a two-year warranty here, which allows you to get support and even a new chair if required in the time frame, provided that you are not responsible for whatever undesirable occurrence has happened. 
3. Karnox Leather Gaming Chair
Well, the name already gave it away that this gaming chair with a 300 lbs weight capacity is leather-based. More specifically, this is rich PU leather, which is going to give you a sharp look to go along with peak performance. 
The Karnox leather gaming chair features the manufacturer's special 2.0 PU leather, which is incredibly smooth and very plump for those who like that kind of feel to go with the visuals. While the unit is always going to be a black chair, there are leather strips along the sides that you can either have remain black or be blue to highlight the chair magnificently. 
The seat is very wide, meaning that apart from supporting a heavy weight, it is also compatible with those who may have a wider frame than usual. There are back and side lumbar support provisions and even a padded headrest to keep you comfortable. 
You are dealing with a design that is made to go through endurance sessions easily, allowing you to sit and game for as long as you may want to without needing to have any concerns about your comfort. There's a steel skeleton frame under the leather, and a five-star high-quality base, so you are getting an exceptional level of durability with your purchase. 
Minimal maintenance is required, particularly because the water-resistant PU leather does not necessarily require much to keep it clean. Additionally, the assembly process is so simple, that all you need is an Allen key, which is provided, to put it all together. 
On the more ergonomic side, you have a 4D adjustable pair of armrests, 155-degree backrest recline, seat height adjustment, as well as the aforementioned lumbar support and headrest. 
4. Karnox Slate Gray Chair
Karnox isn't done at the previous option, as it has another model to wow you with. Here, you are getting a luxurious look and feel, which is surprisingly on the affordable side of the spectrum. As far as your color choices go, you can opt for either a light gray or dark gray aesthetic, which are both neutral enough to fit into a variety of gaming room layouts. 
The Karnox Slate Gray chair features Livorno luxe gray fabric spliced with PU leather, which is all wrapped around high-density, contoured foam. Of course, the idea here is to have a big gaming chair with a 300 lbs capacity that brings an amazing look together with top-tier performance.
While you may not get that impression visually, the chair is incredibly breathable, which reduces the buildup of heat and potential odors during those long gaming sessions. Like the previous option, you are getting a wide seat and tall back, with even side lumbar support. The padded headrest also makes a return. 
Internally, this is another model with a strong steel skeleton frame and a five-star rated base, which means that you should have it with you for a very long time to come. Assembly is just as easy as the previous Karnox option, requiring nothing more than the provided Allen key to fit everything together. The best way to describe the fit is much like a Lego set. 
The recline angle here is 155 degrees for the backrest, and there are also 4D armrests present. Beyond that, you have tremendous lumbar support and inclusive seat height adjustments for a series of gamers that may have different bills. 
5. Secretlab Titan Evo 2022 Series
Unless you are very new to the world of gaming chairs for over 300 pounds, you've likely heard of the Secretlab brand, which has designed some of the best in the industry over the years. More specifically, the Secretlab Titan has always gotten a lot of press in its various forms. 
Here, the focus is on the incredibly designed Secretlab Titan Evo 2022 series. From a visual standpoint, you are getting that standout black Secretlab design, highlighted by its gold logo and lettering. 
You'd be hard-pressed to find a better and more well-rounded seating design that is so highly suited to gamers on the bigger side of the spectrum. With a weight capacity of up to 395 lbs, it can take on heavier jobs. 
The seat is very wide, and the bolsters on both sides simply add to the kind of width that you get. Additionally, should you happen to be on the much taller side of things, this chair can accommodate those up to 6 foot 9 inches tall.
From the ergonomic and comfort standpoint, you're getting an adjustable magnetic neck pillow, adjustable seat height, integrated lumbar support, 4D armrest adjustment, as well as recline and tilt tension adjustments. It's also essential to mention the memory foam with cooling gel that is also a part of this wonderful chair design. 
6. Homall Racing Chair
Homall is also another household name in the gaming chair market, so it's no surprise that it has one that is specifically suited for those who may be looking for a gaming chair with a 300 lbs weight capacity. Its maximum weight load is exactly that! 
What stands out about this unit is its affordability more than anything else. You may be inclined to think that the performance is not necessarily going to be up to par, which is a stigma often associated with designs that appear "cheap." 
However, this gaming chair for 300 lbs. would very much surprise you if that is your belief. You're getting a nice black and white visual here, which extends beyond the chair to its lumbar and neck cushions provided. 
The only challenge you may find is that the backrest is slightly narrower than other units highlighted. Even so, it can still support quite a variety of body types. There is a steel frame holding everything together for durability, and a five-star base is even present too! 
From the ergonomic side of things, you're getting seat height and tilt adjustments, as well as lumbar support, and adjustable armrests. Also, don't forget the mention of the lumbar support pillows and neck pillows above. 
Final Remarks
It can be a bit scary when looking for a gaming chair for over 300 pounds of weight. Why? While they are available, whenever these special design requirements are put out there, manufacturers often decide to not prioritize some of the features that you would find in the standard options with a lower weight capacity. 
For example, people who are on the bigger side often need adjustable armrests in a gaming chair too. Making gaming chairs for someone who is a bit bigger does not mean that they shouldn't get the same kind of attention that others do. 
That is what this list is all about. It goes beyond finding you a big gaming chair with a 300 lbs capacity. There is also the matter of ensuring that the one that you get is highly functional and able to meet your needs, so it keeps you comfortable while you are indulging in your favorite games.
Video ads for product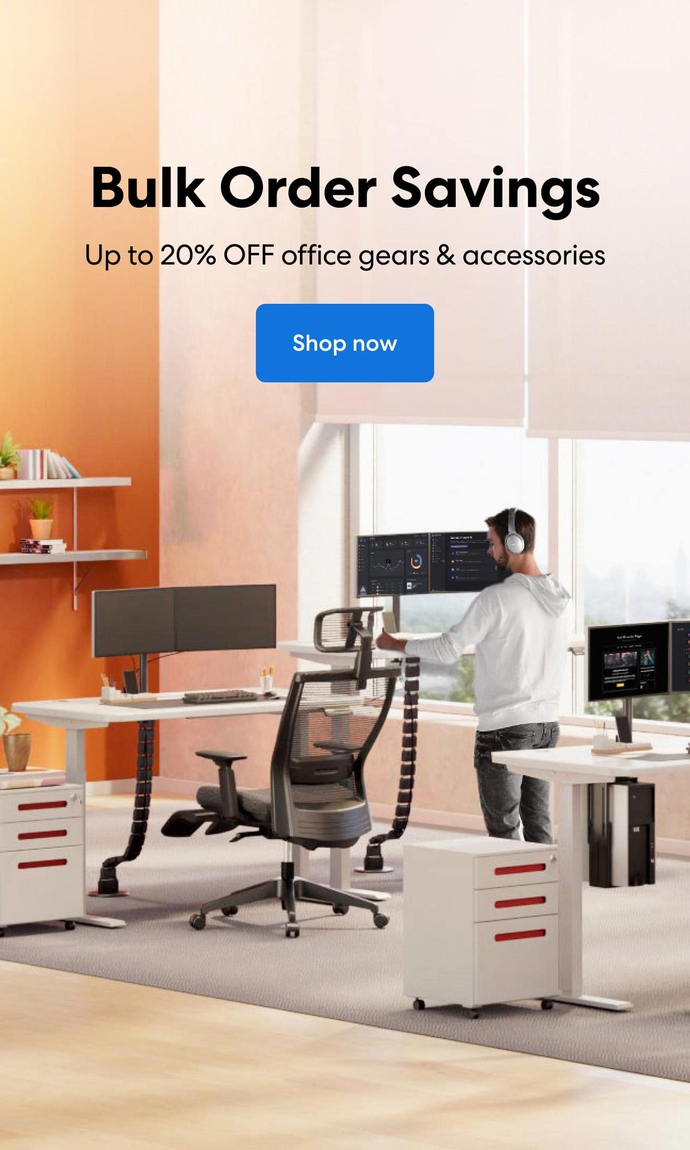 Subcribe newsletter and get $100 OFF.
Receive product updates, special offers, ergo tips, and inspiration form our team.