Workplace Inspiration
Top 6 Corner Desk Setup Ideas For Your Home Office

Autonomous
|
Oct 6, 2020
16,887 Views
Working remotely from home may sound like the ultimate dream for many of us. The reality is, our homes don't always provide us with the ideal space to set up the home office of our dreams. Most of the time we're stuck with the challenge of how to convert that spare dead corner of the lounge room or bedroom into the ultimate corner desk setup. Whether you're trying to figure out a corner desk for small spaces or building a tech-heavy beast of a home studio, here are some simple tips on how to build your own corner desk setup.   
1. Monochrome magic
A monochromatic color scheme is a simple and effective way to instantly lift any corner computer desk setup. Mark Tucka's slick PC gaming corner utilizes a monochromatic scheme in its most basic form - black and white. Starting off with Mark's absolute beast of a corner desk, the SmartDesk Corner (L-Shaped Ddesk) standing desk from Autonomous has got to be one of the best ways to utilize any awkward corner space. The generously sized tabletop, with a total surface area of 3,248 square inches, provides Mark with so much ample space he's able to effectively set up a corner desk layout that houses three stations on one unit! And with its powerful dual-motor system that is capable of supporting and lifting up to 330 lbs, all of Mark's fully loaded tech remains safe and secure during every rise and fall. With a height range of 28.5" - 47.5", Mark is able to adjust the height of his corner desk setup to his dream seated and standing position for ultimate performance and gameplay.
Sleek synchronicity is created with the all-black finish of Mark's mammoth desk through the addition of black tech and accessories. From his black bezel rotatable LG monitors, all-black circumaural headphones, office chair, laptop, and stream deck - echoing the color black makes Mark's corner desk setup look sharp and aesthetics AF. Of course, this is only one example of monochrome design. You're by no means restricted to only black and white. What's your favorite color? Go with it! Or maybe you're a lover of wood? Try fitting out your corner space with a luxe timber tabletop and wooden accessories and finishes to match. Monochromatic design is super easy and the possibilities are endless.
If you're wanting to create some monochromatic magic in your own corner desk setup, it's important to remember to keep things balanced. Imagine if Mike's corner was completely black. A little much right? Introduce a secondary accent color to break up any heaviness and think about textures to add dynamic visual interest to your space. The geometric white wall panels instantly elevate the space and create movement and energy. And the surprising pop of cobalt blue from the dual Logitech speakers and custom keys on the Razer Huntsman Mini Gaming Keyboard packs a surprising punch that adds a bit of fun to Mark's corner desk setup. After all, no one wants to work and play in a space that's too sterile.
Are you loving Mark's corner desk layout? Here's The Ultimate Guide to Setting Up a Corner Standing Desk.
2. Step into the teacher's office
With the global pandemic of Covid-19 showing no sign of letting up anytime soon, millions of students across the country are preparing for their first-ever remote classes. Whether you're a student learning from home, a teacher trying to teach your class virtually, or maybe it's your children that are having to navigate the totally unchartered waters of learning from home. How can you make your corner desk setup just as effective as attending lectures and tutorials in person?
Distance-learning teacher, Abby Wolf, makes the most of her corner home office by keeping herself organized and clean. If you have a crazy mountain of tools and materials that you use on the daily, keeping your corner desk setup in check can be challenging. The trick is to keep everything compartmentalized so as to free up as much workspace as possible. Reset and start off with a clean slate. Consider building your own corner desk and source your own customized tabletop to fit exactly within your designated corner space. And just as Abby has done with her setup, think outside of the box and use a couple of adequately sized drawers as table legs as a convenient storage and filing solution. After all, you can never have too much storage space! Abby has also cleverly positioned her desk to face out towards the natural light streaming through her window. If you're lucky enough to have windows as part of your corner desk setup, this is a great way to keep yourself well lit during all of those lessons, presentations, and meetings held via video correspondence. Not only that, windows help to open up an otherwise cramped and claustrophobic corner area. 
With your workspace completely cleared, it's time to categorize and compartmentalize your work tools. Abby has split up her impressive stationery stash into types and colorways and bought individual beakers to house each color. If you're someone who works with a substantial amount of materials, it's crucial that you only keep the necessities on your desktop to give you space to breathe. And just as Abby has done, invest in a couple of trays to house your other miscellaneous everyday items that can't be categorized so easily. Go the extra mile and categorize your drawers and filing cabinets as well, and label each drawer so that you can easily find what you're looking for without any headache.
Studying or teaching online from home? Here are some handy Desk Setup Ideas to Boost Remote Learning.
3. Vertical storage
Trying to figure out to create the best corner desk for small spaces? If your home office is a bit more of a tight squeeze like Faye Fajardo's corner desk setup and you're struggling to find enough storage space for all of your essential work tools and/or gaming accessories, then the only way to go is up! Dedicate one wall of your corner solely to storage and install some custom cabinetry if your budget allows for it. Or to keep things more affordable, some simple open shelving will instantly provide much-needed space for all of your tools and materials. As mentioned earlier in this article, compartmentalization is everything, so add some simple baskets and trays to your shelves and label them clearly so that everything has a home and can easily be found. 
If installing/drilling into the wall isn't really an option, then there are a couple of alternative storage solutions to help clear up that corner desk setup of yours. Some heavy-duty 3M hooks and a simple pegboard placed above your workspace makes for some very handy storage that (if kept in order) can add some decorative visual interest to your setup as well. Even with her small pegboard, Faye keeps things categorized and ordered to maintain her mental clarity all day long. Another useful storage option is a desktop monitor stand with drawers, which not only provides lots of extra storage space for your miscellaneous tech and stationery but also conveniently elevates your screen display/s to a much more ergonomic viewing height. Many desktop monitors stand on the market these days also come with USB ports so that all of your devices and portable batteries stay well juiced throughout the day.
These clever storage solutions are super easy and help Faye keep her corner desk setup totally clear of chaos. She also avoids feeling too claustrophobic with her choice of the desk itself. The SmartDesk Core (Home Office) from Autonomous comes in two different sizes to suit any small or larger sized space. The Classic Top size measures 53" x 29" and provides enough space for all of Faye's screen displays. The standing office desk like SmartDesk Core allows her to stand up and breathe whenever work gets overwhelming. For those days when your workload and corner workspace feels as if it's going to cave in on you, elevate your entire corner desk setup with a single push of a button. Get the body moving and clear the mind with a new perspective.
Are you stuck trying to make the most of a cramped home office space? Here are 21 DIY Corner Desk Ideas for Small Spaces.
4. Minimal to the max
A minimalist design approach will always be a popular method of bringing tranquility to any home office space. A superb example of tranquil minimalism can be found in the cool, calm, and collected corner desk setup of console gamer and tech lover, Chris (aka SpawnPoiint). The "Fifty Shades of Grey'' color scheme keeps Chris' corner desk setup looking sleek and fresh. From the choice of calm matte grey paint on the walls, and dark grey Merino Wool felt desk pad, to the grey/black colorway of his ergonomic office chair like ErgoChair Recline. Chris goes the extra mile and even makes sure that his felt drink coasters match his cool color palette. Talk about attention to detail!
But the real key to driving any minimal scheme home is to keep your desk setup as clear and wireless as possible. Take a quick scan of Chris' workspace and we can see that he keeps only the bare essentials within reach and his choice of daily peripherals is mostly wireless. His Logitech MX Keys Advanced Wireless Illuminated Keyboard in Graphite, and Logitech MX Master 3 Advanced Wireless Mouse also in Graphite, are pretty much all Chris needs to control his workspace. And both match perfectly with his felt-covered Wireless Charging Pad. 
To help warm up his minimal corner space and to make staring straight at a grey wall as enjoyable and soothing as humanly possible, Chris has cleverly sourced a solid oak wood top originally intended as a kitchen bench. For a much needed organic touch, Chris sanded, stained, and waxed his custom desktop to match perfectly with the rich walnut finish of his Dual Monitor Stand and Desk Shelf Riser. With the SmartDesk - DIY Kit from Autonomous, anything is possible. Custom design and build your own adjustable standing desk to suit whatever your interior space and personal design sense maybe. Whether your corner desk setup is clean and minimal like Chris, or if your work/gaming setup looks more like a freshly stocked tech store, the dual-motor metal leg frame is powerful enough to support and lift up to 300 lbs! 
Are you a minimalist to the core? Here are 5 Tips for the Best Minimalist Home Desk Setup.
5. Music to my ears
If you're a musician, composer, or music producer, chances are your production setup is fully loaded with some seriously top tier instruments and editing equipment. Creating a production space that is both functional and comfortable can be pretty challenging for those stuck with an awkward corner space. Try dividing your corner into two zones. Devote one wall to music creation and the other to post-editing. Just as Jake (aka jakebacondigital) has done, set up your musical instruments and sound recording equipment along one wall, and your digital editing desk setup against the other. Like Chris did with his minimalist corner desk setup earlier in this article, Jake also invests in the SmartDesk Frame (DIY Kit) as a sturdy base for his BARKABODA chevron tabletop from IKEA. Funnily enough, this tabletop was also originally intended as a kitchen workbench! 
For anyone with a lot of techs and not enough free workspace, another handy trick which Jake employs is to elevate your screen displays and other large scale peripherals to free up precious desk space. By floating his main monitor and mammoth dual speakers, Jake successfully keeps an otherwise cramped corner feeling spacious, giving him the mental space to breathe, and the clarity to create at his peak throughout the day. And to keep him inspired in the studio, the LIFX LED light strips also add some fun color and energy to Jake's corner desk setup. 
But with a corner production setup like the above, how do you smoothly transition between your recording and editing stations whenever you need? With the ErgoChair Recline from Autonomous, Jake is able to adjust his ergonomic office chair to best support his posture during every jam session and throughout every hour of post-editing. With its heavenly headrest and many other adjustable components, producers and content creators are able to customize the ErgoChair Recline (ErgoChair 2) to suit whatever body size and body type during any type of activity/task in the home office or studio.
Are you a producer or content creator? Here are some Essential Equipment and Desk Setup Ideas for you.
6. A different perspective
Mothers always know best, and superwoman Melissa Carrier gives us a completely fresh take on making the most of any corner desk setup. It sounds simple enough, but turning your desk 180 degrees will give you an entirely new perspective to working remotely from the home office. By changing your vantage point you can instantly open up a once cramped and claustrophobic work view and breathe new energy into the workspace. Remember, it's important to make any desk setup a real personal haven and a pleasure to work from.
We spend so much time at our work desks after all. Melissa keeps things bright and cheerful with her choice of SmartDesk. Despite its immense size, the all-white colorway keeps things light, bright, and open. And the beautifully aged, oversized vintage rug underneath adds warm personality and comfort to Melissa's corner desk setup. And of course, to complement Melissa's sleek standing desk, the ErgoChair Recline keeps her looking, and more importantly, FEELING like the ultimate BOSS every day of the week.
Struggling to make your home office your own? Here are 3 Unique Home Office Styles to Show Off Your Personality.
Now show me yours!
We hope we've helped you make a little more sense of that awkward corner space at home. Whether it's for work or play, and whether you're working with a tiny space or a larger than life wrap around corner desk - we'd love to see how you make your corner desk setup work for you! Join the Work Smarter Facebook group and share your corner desk setup with an uplifting and inspiring online community. Or post on your socials and tag us on Twitter and Instagram.
FAQs
Are corner desks good?
Corner desks are a perfect option for your small space as this will enable you to have ease of access to your papers, printer, computer and other things without moving around too much. This is a great advantage for workers who have numerable paper works and tasks.
Where should an L-shaped desk be placed?
The l-shaped office desk can fit easily in the corner of any room because they take up less space. You may also choose to place it towards the center of the room with one edge against the wall, or even get creative and arrange it in any place in your workspace.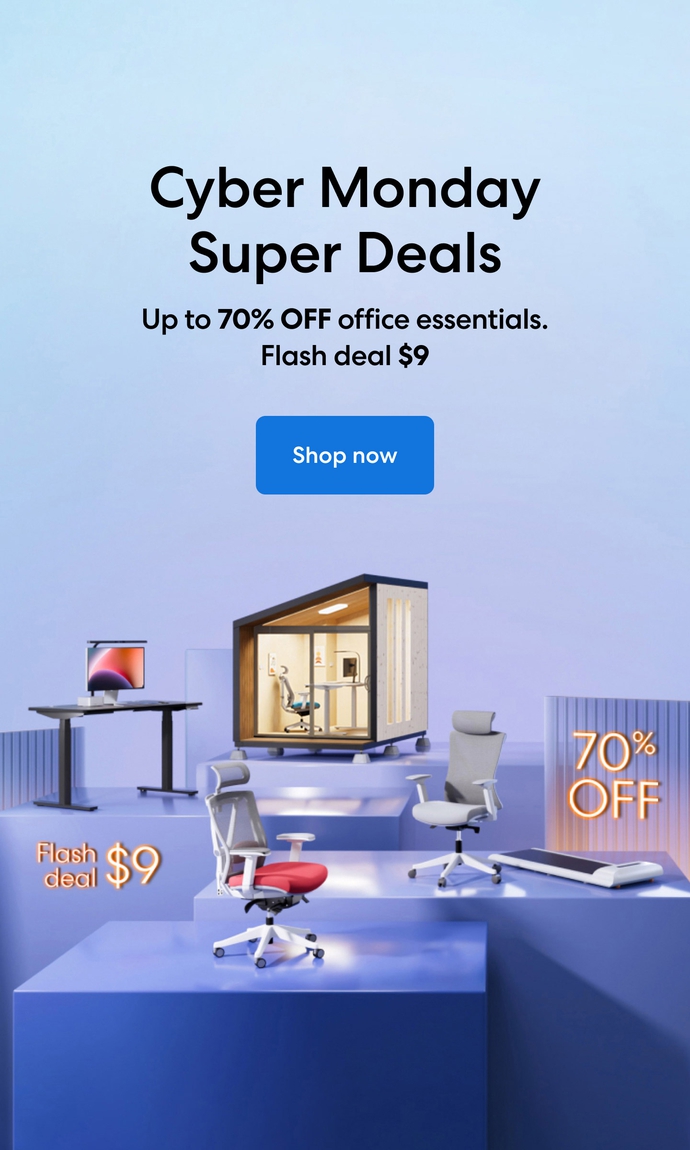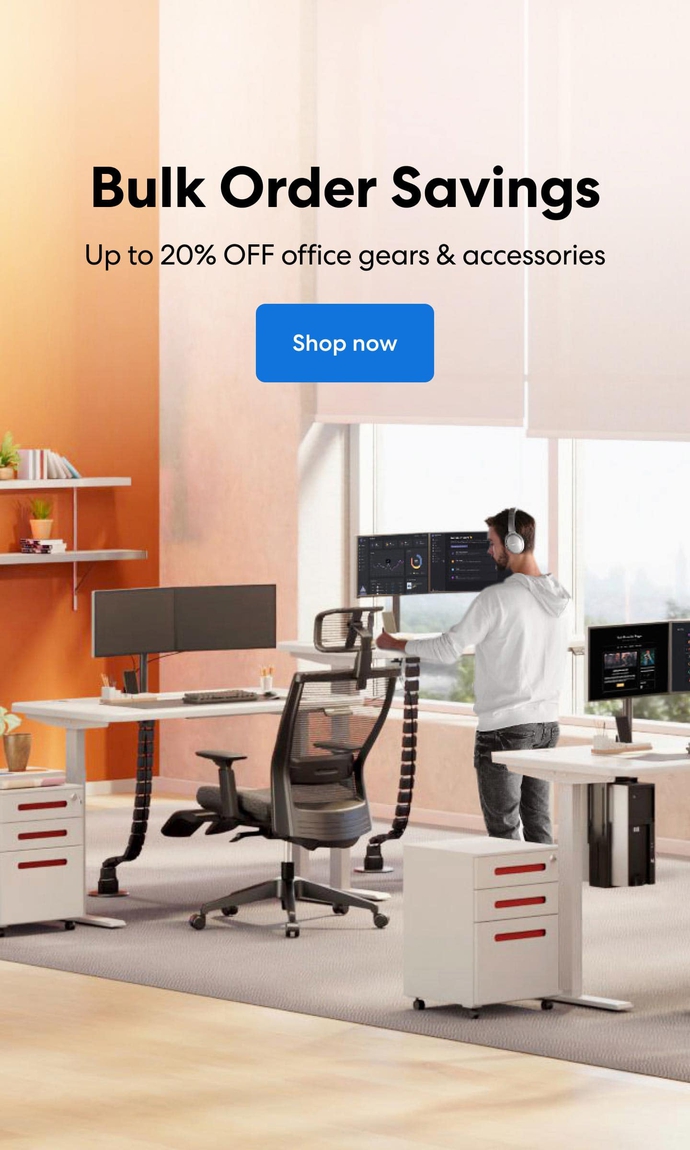 Subcribe newsletter and get $100 OFF.
Receive product updates, special offers, ergo tips, and inspiration form our team.