Ergonomic chair designs have been revolutionizing the way that people interact and work with their office tools and office equipment. Chairs demonstrate this concept in multiple ways once they are built with the features to do so. Unfortunately, there seems to be a height limit in the ergonomic chair space.
Traditional shares often fit average body types, meaning that very tall or large persons get left out of the equation. However, it doesn't need to be a chore to find a computer chair for heavy people. The options below are specifically designed for those on the larger end of the spectrum. Before getting there though, it's essential to understand the elements to look for in deciding which of these chairs is best for your needs. 
Selecting the Best Office Chair for a Heavy Person
What important elements should you bear in mind when selecting a computer chair for heavy people? While this list is not exhaustive, these stand among the most vital:
Comfort - No one is denying that it can be difficult to gauge the comfort of a computer chair by looking at it. However, you can consider the specs that the chair offers and that should help you make an informed decision. Remember that you are likely going to be sitting on this chair for a very long time. The static posture is detrimental to your health by definition, so your ergonomic office chair must mitigate that issue. 
Weight limit - This is the whole reason you are here, after all. A computer chair for fat people or extremely tall people must be designed to accommodate people who are heavier than normal. Many of the average office chairs have weight capacities of 250 lbs. or less. In this case, you want to ensure that the chair you are choosing has a maximum weight capacity of no less than 300 lbs. The sweet spot lies between 300 and 400, but if you can get a chair with an even higher capacity, it should still be a win. Perfectly, you should invest in a computer office chair 350 lbs capacity. 
Durability - Remember that these computer chairs for heavy people are not the norm. Therefore, they're usually a little harder to get your hands on than the standard designs. So, while no one is expected to go through a series of office chairs in a short time, persons on the larger side need to be extremely careful in ensuring that their ergonomic chairs last for a while. Who knows when you're going to be able to get another chair if the one you initially choose breaks down or stops feeling the way it used to? 
Adjustability features - Remember that the principle of ergonomics speaks to the appropriateness of the fit between an office worker, the comfortable work environment, and the tools and equipment to be used. This means you are the center of attention where your office space is concerned. If you can't get an individual fit that is suited to your comfort requirements in your office, the chances are that you may have some upcoming health issues to deal with.
Visual appeal - When you're choosing a big and tall office chair, functional features are the most important. So, you could argue that this one is not as important as the rest. While that may be true for many persons, others care about the visual appeal that an ergonomic chair brings to their office spaces.
7 Options for a Computer Chair for Heavy People
1. Autonomous ErgoChair 2
Not only is this a heavy duty computer chair with 350 lbs. capacity, but it also stands as one of the best designs under the Autonomous umbrella. It's hard to find many more suitable options when you're in the business of locating a computer chair for fat people. It's an aesthetic marvel, and it should look great in whether big or small office space you use it. Getting the best color to match the rest of your visual choices shouldn't be too difficult, as you get your choice of gray, white, black, evergreen, baby blue, and red apple. 
What stands out the most about this ergonomic chair design is the slew of customization features that you can take advantage of to make it uniquely yours as you work. These include headrest height, headrest tilt, back tilt, back tilt angle, back tilt tension, seat tilt, armrest height, armrest direction, and seat height. By the time you're finished adjusting, it should feel like this heavy duty reclining office chair was built with you in mind. 
There's an Italian design beneath the tilt mechanism and a Korean design beneath the mesh backrest. The two do an amazing job of keeping your back supported and ensuring that you don't have to worry about sweating, as you would have to with numerous stylish and modern office chairs on the market. 
The build composition is incredibly sturdy and includes a durable nylon plastic frame, foam interior, polyester fabric, and PU armrests. 
2. Autonomous Kinn Chair
Kinn Chair is hands down the best office chair for a heavy person available. The Kinn chair is Autonomous' greatest offering where seating options are concerned. It takes advantage of a uniquely designed fishbone composition with advanced TPE material. Not only does the Kinn Chair support your back with the appropriate mechanisms, but it also actively corrects your sitting posture. It's hard to sit on this chair in any way other than comfortably. 
The frame and mesh color choices vary, as there are six different combinations to choose from. Most of these take advantage of simple and neutral colors to ensure that this well-designed chair can easily settle in as a part of whatever office design concept you were working towards. Like the Autonomous ErgoChair 2, the Kinn chair can also support up to 350 lbs., which makes it suitable for those on the larger side.
It boasts a sleek and modern design, magnetically designed upholstery, toxin-free composition, a powerful fishbone spine, boundless back, full adjustability, and natural lumbar support. Why don't you choose this computer chair for heavy people now?
3. YAMASORO Ergonomic High-back Leather Chair
This heavy duty computer chair immediately gives you a plush vibe, and that goes beyond the look that you see. It features a luxurious feeling bonded leather with a premium finish. The cushions are thick and contoured, so not only do they provide comfort, but they are also practical from a support standpoint. Any ergonomic chair that takes a multi-layered approach in the cushioning department is going to lend itself to a very comfortable seating experience. 
Not many designs can walk the fine line between a soft feel and firm support, but this model from YAMASORO managed to do so in tremendous fashion. It has a 350-lb weight capacity, so you should have no trouble sitting on it as a bigger person. Additionally, it features a wide seating area, so there is no need for you to feel like the armrests are squeezing the life out of you. 
Pressure point relief and great neck support are also present, and both serve to sweeten an already incredible experience. Durability goes without saying here, thanks to a series of heavy-duty and commercial-grade components. If you were to imagine a big chair with a great look and tremendous functionality, this is what it would look like. It is such a perfect computer chair for heavy people you must have. 
4. Sadie Big and Tall Office Computer Chair
The idea behind the creation of this computer chair for heavy people was to ensure that extra-large people have a chair that they can not only use comfortably, but one that is also going to stick around with them for a long time to come. Even with its large and wide design, it manages to mostly maintain the look of a traditional office chair, making it suitable for almost any space you think of fitting it in. It's already comfortable in its initial phase, but with the adjustability features thrown in, the comfort level improves to an even greater degree.
These features include height adjustable arms, adjustable lumbar support, and a tremendous 360-degree swivel. If you are suffering from any back problems or you want to prevent them in the future, this office chair can be a fundamental ingredient in doing so. The fabric used in the chair's design is impressively cushioned, yet it manages to remain on the breathable side of the fence. 
A computer chair 350 lbs capacity is all the confirmation you need to have a seat and get working without worrying about if this office chair for heavy people is going to break down and throw you to the floor. You have ergonomic posture support in a durable chair that looks amazing. What more could you ask for as a big or tall person? 
5. Flash Furniture Big and Tall Swivel Executive Office Chair
This list is about people who need a heavy duty computer chair that goes beyond the norm in terms of size and weight capacity. So, as you go through, in the rare case you are over 350 lbs., you may be wondering "why are there still no options for me?" If that is the case, then this option from Flash Furniture should make you very happy. You may want to sit down before you hear this weight capacity. What if you were told that this office chair can accommodate people who are up to 500 lbs.? 
There's a reason that it's one of the most popular big and tall chairs on the market. The weight capacity is one thing, but the chair itself is unbelievably large. The lumbar support is superb, the back is high, and the design looks great. 
It relieves tension extremely well, and it's very effective at mitigating any long-term strain you may experience. Additionally, it features a waterfall front seat design, which not only reduces the potential of thigh pain, but it's also conducive to better blood circulation in the legs. A lack of proper circulation tends to plague office workers who need to be seated for a long time. So, it's always nice to see a chair that targets that problem efficiently.
It has an unmistakably luxurious feel and it's incredibly comfortable. These are just more reasons why many persons on the heavier side regard it as a top-tier office chair. Finally, there is a tilt lock mechanism and a height-adjustable ratchet headrest for your enjoyment. 
6. Flash Furniture Hercules Big and Tall Chair
Flash Furniture makes a return here with yet another big and tall design that can handle as much as 500 lbs. of weight. You could say that this is Flash Furniture's MO at this point. It's not as heavily padded as the previous option in the backrest area. The seat pad remains very effective and features the waterfront edge style to reduce thigh pain and promote better blood circulation in your legs. What makes this chair so attractive is it's unbelievably low price point.
You may be inclined to believe that is an indication of poor design quality, but you'd be wrong for making such a judgment. The armrests of this computer chair for heavy people are attached to the base of the seating pad, as opposed to being used as a chair structure mechanism. Therefore, they are completely optional. Since they are adjustable though, it makes sense to have them, as you're going to want somewhere to rest your arms when you're not typing away or doing something actively. 
The backrest features a mesh design, so you don't have to worry about profusely sweating as you work. Not only does that get very uncomfortable, but you also begin to feel self-conscious, which can hamper your productivity. 
7. Steelcase Leap Plus
The Steelcase leap Plus is another in the series of 500-lb capacity chairs. It's great to know that you have so many options of heavy duty computer chairs that can support such a high weight. It can feel very unfair to look at the number of choices you have as a larger person, when compared to those that traditional office chair manufacturers make available for people on the smaller side. Thankfully, manufacturers, such as Steelcase know that you need solid equipment too. 
The aesthetic of this one is incredibly futuristic, and you could imagine it as one of the seating options in a Star Wars ship. It's just as comfortable as you would expect, with a host of ergonomic and adjustability features for your usage pleasure. 
The major downside of choosing to purchase this computer chair for heavy people is the incredibly high price point. You may not be willing to pay that much for an office chair, but if you do, there is no doubt that you're going to be feeling the value when you start working.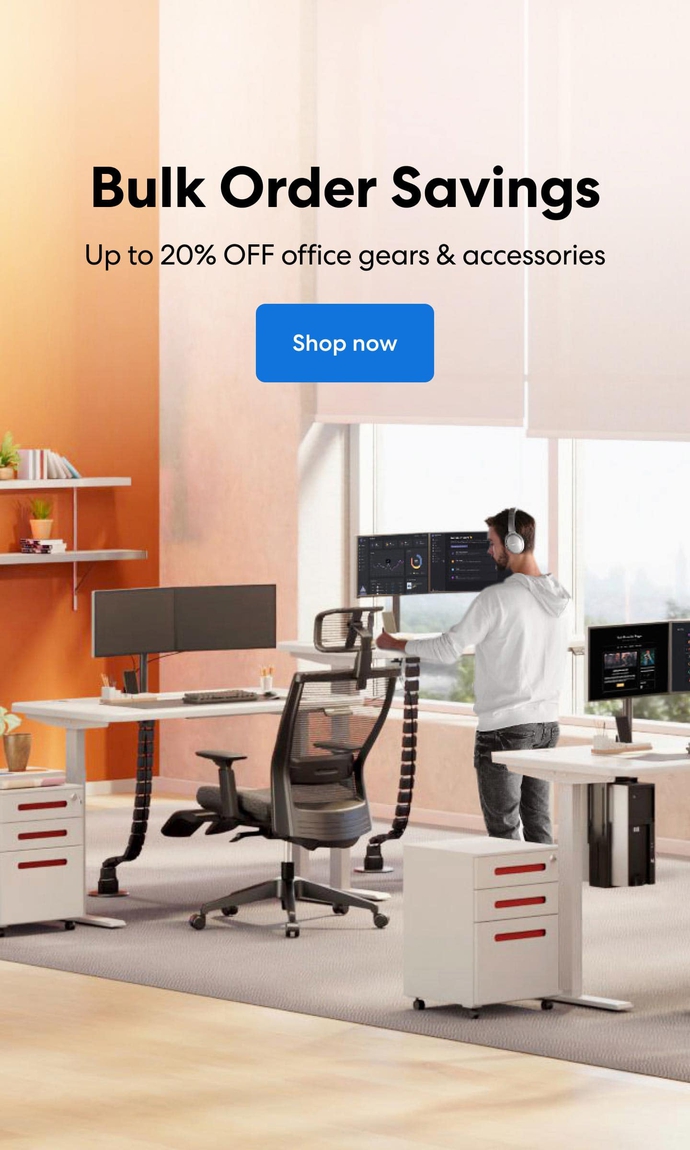 Subcribe newsletter and get $100 OFF.
Receive product updates, special offers, ergo tips, and inspiration form our team.