Remote working offers a unique sense of freedom since you can arrange and organize your own workstation however you want, but that also gives you the responsibility to find the items you need to work. We always recommend ergonomics since they help you increase your productivity, and when it comes to ergonomics, you should consider getting height adjustable desk legs.
You can go a step further and enjoy the process, though. If you are someone who loves DIY activities, this is for you! You can find items you need for your office made for DIY-ers to have fun organizing and assembling them, and this applies too to adjustable legs for standing desks.
Being comfortable is one of the most relevant things to contemplate when designing your workstation, so you should consider adding ergonomics to the whole thing. Look for objects you can adjust to your needs and personal characteristics, especially when buying ergonomic chairs and electric standing desks.
Adjustable desk legs electric are essential to your set-up, so you need to make sure you feel comfortable with them. Working in an uncomfortable environment and using equipment you don't like can originate a dramatic decrease in your work performance and quality.
Pros and Cons of Height Adjustable Desk Legs for DIY-ers
Before you decide if you want a height adjustable standing desk or items related to it, you should analyze its perks and disadvantages to see if there is a setback for you. However, it's very uncommon that someone finds a nuisance that impedes them from buying these products. We still want you to know the pros and cons of them, though, so here is a list of the main ones:
Pros and Cons of Height Adjustable Desk Legs for DIY-ers
It boosts your productivity.
It reduces back pain.
It allows you to work while standing, consequently improving your blood circulation and reducing blood sugar levels.
Making a DIY desk makes you feel more active and prouder of your workstation, improving your mental health and well-being.
It's inexpensive compared to other desks of the same category.
It can take more time to install.
You can have trouble assembling the desk legs by yourself if you don't like or are used to DIY activities.
Does Using Height Adjustable Desk Legs Bring Any Health Benefits?
The short answer is yes, it does bring you many health benefits. You could compare the advantages that height adjustable legs bring you to the ones provided by ergonomic chairs since they share many of them. However, we want to you fully understand the perks of acquiring these desk legs, so here is a list of the main benefits that these products can provide you:
Lowers Weight Gain
If we want to be healthy and avoid obesity issues, we have to burn more calories than we produce. There are many ways to do this, from doing home workouts to playing a sport that includes physical activity, but not everyone has enough time to do those things.
Working all day sitting in a chair doesn't burn as many calories as you need to, but with desk legs or adjustable standing desk frames, you can work while standing, burning 10 times more calories than the ones you burn when sitting.
Legs Blood-Flow Improvement
You can also jeopardize the blood circulation in your legs if you sit for a long time. You can fix this by standing instead of sitting, which is proven to improve your blood flow. Regardless of that, by adjusting your desk legs, you are putting yourself in a comfortable position that can help you correct your posture and reduce back pain.
Mental Health Boost
Working in the same position for hours is also detrimental to your mental health and productivity since your brain gets bored and needs to do different things to stay active and focused. The way to avoid that is by using adjustable desk frames that allow you to change your position any time you want.
What to Look for In Height Adjustable Desk Legs?
Now that you know what makes this product suitable for your workplace, it's time to pick the right one. There are many brands and types of height adjustable desk legs, but there are some characteristics that every one of them should have to give you all the advantages we mentioned before.
Read this list of the main features you should look for in height adjustable desk legs and adjustable standing desk frames to make sure to consider them while buying one:
Adjustability
It can seem obvious, but naturally, you need a high range of adjustability in height adjustable desk legs. That is the main feature of desk legs, so you need to make sure that they can be adjusted to a point where you can use the desk either standing or sitting without having any trouble with it.
Price
Height adjustment desk legs for DIY-ers are known for being inexpensive compared to other ergonomics, that's because you have to assemble it or build a DIY adjustable standing desk by yourself, but that can be something good if you like to do those kinds of activities. However, prices may vary depending on the advanced and individual features that different brands offer you.
Lift Capacity
You can adjust your desk base frame and its legs as much as you want, but if they are not strong enough to hold or lift the things you use to work, you can consider them useless. When designing and making your desk legs, make sure you choose a base frame that has lift capacity as strong as you need it to be.
What are the Top Seven Height Adjustable Desk Legs?
With numerous brands and companies offering their products on the market, it's common to be confused regarding which one to choose for you. Of course, there's always the doubt if the best one is the one that suits you best, so here is a top list of the best height adjustable desk legs and right standing desk frames and what makes them so good:
1. Autonomous SmartDesk DIY Kit
It's not unexpected that Autonomous leads this list with one of their products, considering that they are a renowned company regarding ergonomics and items for your office. With the SmartDesk DIY kit, Autonomous offers you a full height adjustable smart desk that allows you to decide if you want to work in a chair or standing. It is a good option for good adjustable legs for standing desk.
Autonomous wants you to be comfortable and satisfied with your purchase, so it offers you a five-year warranty if anything goes wrong. If you like to feel safe buying durable materials, this is the one for you since it's made of sturdy steel that makes it resistant and offers long-term longevity.
2. Autonomous SmartDesk Core Standing Desk Base-Only
This new version of the Autonomous SmartDesk DIY kit offers you the same quality as its predecessor and improved lift capacity, using dual motors to boost its functions. These adjustable legs for standing desk are also considerably affordable, so they are excellent if you are on a budget or don't want to spend a lot of money on them.
SmartDesk Core from Autonomous is easier to assemble than others, so installing it doesn't take much time from you. Top-tier manufacturers were the ones in charge of this project, and they made sure to use the best materials they could to provide you a strong, resistant, and durable item for your workplace.
3. IKEA Idasen DIY Adjustable Standing Desk Legs
Most of the time, IKEA products are not in top-tier lists regarding utility since they prefer to focus on aesthetics more than anything else. Regardless of that, with this adjustable desk legs electric, they decided to go a step further and designed premium adjustable desk legs that include a Bluetooth feature.
Naturally, this is a DIY product, so you still have the fun of assembling it. The Bluetooth feature allows you to adjust your desk height from your smartphone as long as the connection between your cell phone and the desk signal receiver is not disrupted.
4. StandDesk Pro Electric Base Frame
This design is not popular for its looks, since they aren't what the designers focused on while making it. However, what it lacks in aesthetic, it recovers in utility, offering an adjustable standing desk frame that provides many features that others don't. This minimalist electric base frame has a 10-year warranty for all its components, so don't worry about losing any money due to a malfunction.
5. iMovR Studio 470 Base
The Studio 470 Base is one of the best products of adjustable desk legs electric, if not the best, that iMovR has manufactured and designed. Offering all the features that every desk frame and adjustable desk legs should have, the Studio 470 Base places itself at the top of many lists regarding ergonomics and items for a workstation. This product is also light-weighted, making its installation more manageable.
This height adjustable desk frame is available in white, black, and silver, so color variety is not a problem. The Studio 470 also has excellent lift capacity, so if you buy this desk frame, you are free of any issue regarding the desk's strength.
6. Jiecang Electric Adjustable Standing Desk Frame Structure
There are many Chinese-made height adjustable desk frames on the market, each one having different advantages and characteristics. However, Chinese companies hadn't had any outstanding success until one of them made a difference with their Jiecan Electric Adjustable Standing Desk Frame Structure.
This product offers you a decent range of adjustability, making you able to adjust the height and accommodate the tabletops. This Jiecang's item is fairly affordable, having a reasonable price and cost-effectiveness.
7. iMovR Vigor Heavy Duty DIY Standing Desk Base Frame Kit
Another iMovR desk base comes into the scene, making a display of utility that not every company can offer. The Vigor Heavy Duty DIY Standing Desk Base Frame Kit provides a DIY choice of adjustable desk frames that is both strong and quiet, so forget about any noise disturbing your work.
This product also has a five-year warranty and is a premium choice for the ones looking for an item that can lift considerable amounts of weight. If the materials or equipment you work with are heavy, this is your must-go option without a doubt.
Buyers Guide
We know how much you can get to love DIY activities, and we want you to enjoy them as much as you can. However, if you are new to DIY products, especially DIY office desk, it can be more difficult for you to assemble those items since you don't have the experience that others may have. To assure your enjoyment, here are some tips to make your experience a fun and productive one:
Read the Instructions Carefully
This one could seem obvious, but more than a few decide to forget about the instructions and do everything by themselves. We understand the thrill of doing everything by yourself, but if you do something wrong, you could end up damaging the entire product, so try to pay attention to what the distributors tell you so you can get exactly what you paid for.
Ask If You Have Doubts About Any Component
You are assembling your new adjustable legs for a standing desk, and you suddenly notice that some pieces or components don't fit, so you spend hours thinking that maybe they are meant to be used in other ways and try to figure out how to use a piece that is broken or damaged by default!
That is a common situation since it's not easy to know which materials are good or not since you are not an expert, so don't hesitate to call the company you bought everything from to ask them anything.
Combine Your Desk with Other Ergonomics
A height adjustable desk frame can be really useful for you and can be a great fit for your workstation, but you can boost its functions if you combine it with other ergonomics that complement each other. Try looking for chairs with lumbar support and dual monitors for starters. These work great with an adjustable desk and can boost your productivity more than you could have ever imagined.
Keep Yourself Updated
Technology improvements are happening every day, and those improvements include ergonomics. If you plan to remote work from home for a long time, you should keep yourself updated on the new releases of these kinds of products to get a more modern and advanced desk frame when a company releases one.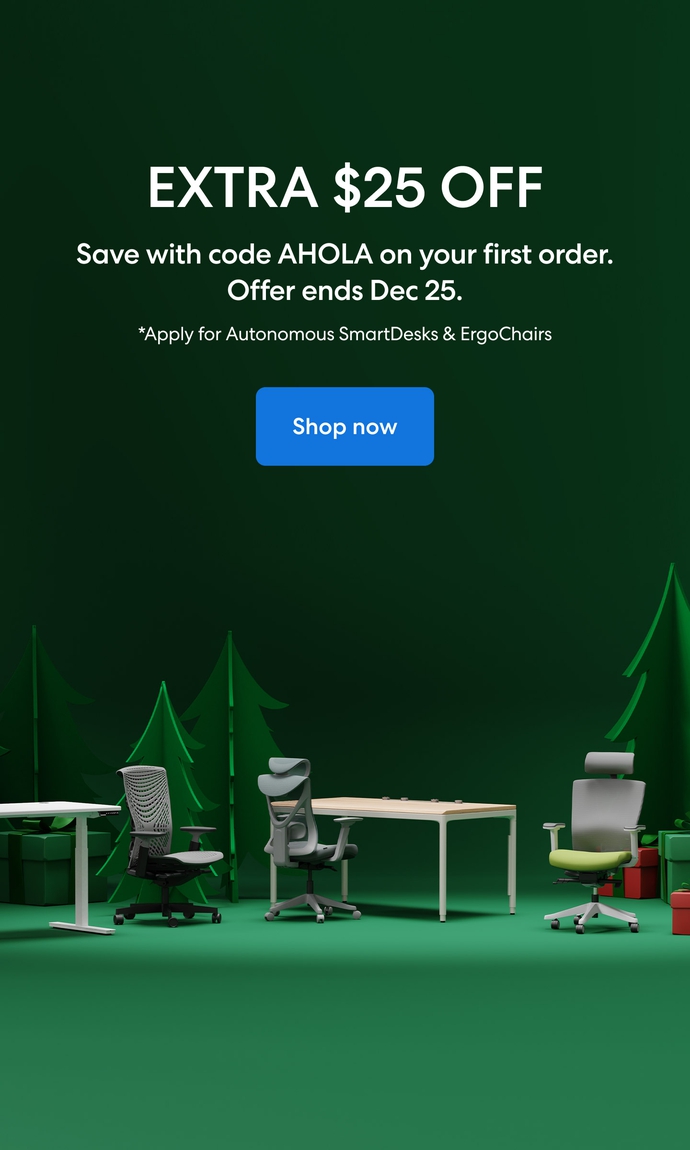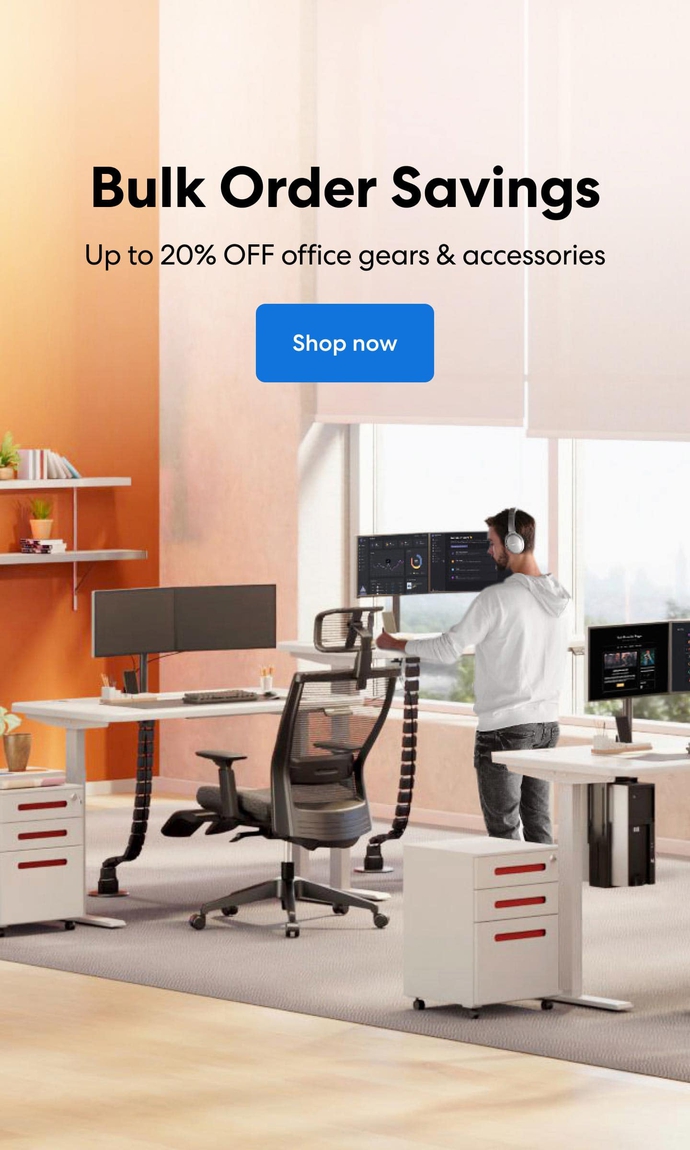 Subcribe newsletter and get $100 OFF.
Receive product updates, special offers, ergo tips, and inspiration form our team.