Smart Products
Top 8 Office Chair Casters & Wheels (Hard, Soft and Rollerblade)

Autonomous
|
Jun 7, 2022
4,408 Views
Office chair casters are on just about every typical seating option. You do not typically see companies or people purchase chairs without wheels for their home or traditional offices. Considering that the said office chair rollers tend to be bundled with the seats purchased, there's not much thought about optimizing them.
However, you would be surprised to know how much you can improve the performance of a chair with wheels when you have the right ones. For example, you may be in a situation where you have a hardwood floor that keeps on getting ruined from caster scraping.
In such a case, you may not have known that there are specific office chair wheels for a hardwood floor. If you are going to be using an ergonomic chair to promote your comfort and health, you may as well ensure that it is as efficient as possible. 
That is the reason you are here today. There's a lot about office chair wheels you are probably unaware of. For example, there are different types, and this may not have been something that you even realized. So, instead of focusing on well-documented topics such as the benefits of a chair with wheels, you are going to be learning about the different wheel types. 
Following this, there is a catalog of top casters that you can consider buying depending on what works best in your office space. Finally, you get an introduction to the Autonomous employee purchase program, which creates greater convenience for workers while helping businesses to save money on furniture purchases. 
Hard Caster Vs. Soft Caster Vs. Rollerblade
Most places that contrast office chair casters are going to clue you in on the existence of hard and soft variations. You don't find much talk about rollerblade casters because they are often put under one category or the other. However, when well built, they represent a very interesting midpoint. 
Hard casters have something of a plastic shell and are meant to be used on carpeted floors. You find that these are the cheapest of the bunch and are often standard on chair designs. Should you use them on hard floors, you create a couple of problems. First, they're liable to scrape floors that can be damaged. Next, they may slide uncontrollably and even land you on the floor. 
This is where soft casters come into the mix. The absence of the external layer makes them stable on harder floors and eliminates the hazard mentioned above. One of the major downsides here though is that soft casters tend to be on the more expensive side. 
Rollerblade casters are technically meant to be used on carpets, as well as hardwood floor types. That's because of the polyurethane wheel design that is akin to those of roller skates. 
Best Office Chair Casters
1. The Original Rollerblade Office Chair Wheels
You should note that "the original" here is more than just a name. What you're seeing is the first manufacturer to introduce rollerblade office chair casters. This would have happened back in 2016. Of course, this means that there have been consistent improvements to the product, creating the optimal version you see now. 
The composition consists of a universal size them, a smooth swivel with upper and lower bearings, a heavy-duty riveted steel axle, an electro-coated solid steel bracket, precision ball bearings for easy rolling, and polyurethane wheels to protect all floor types while maintaining a safe experience for the user. 
Thanks to the standard stem, there is no need for you to think about getting special tools to affix these to your current office chair. Instead, you can pull one out and fit the other in within a few minutes.  
Just about every major brand that uses casters can accommodate these office chair rollerblade wheels.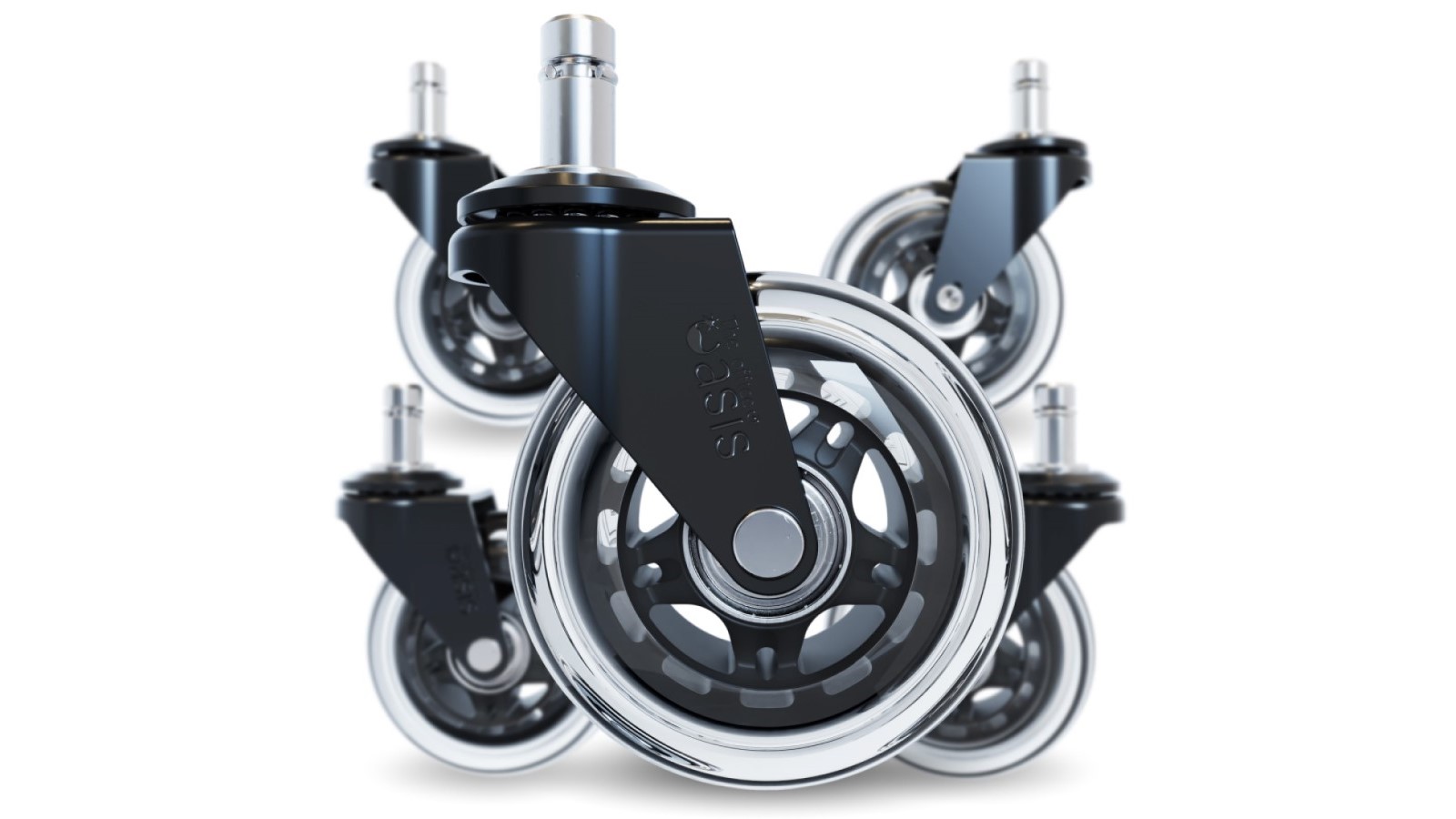 The Office Oasis Chair Wheels
| | |
| --- | --- |
| Stem size | 7/16" (11mm) x 7/8" (22mm) x 2.6 lbs |
| Wheel size | 2 7/8"H x 7/8"W |
| Wheel material | Polyurethane |
| Colors | Black |
| Supports | Up to 650 lbs |
| Warranty | 5 years |
2. Office Owl Chair Wheels
The Office Owl office chair casters bear several design similarities to the previous entry, which makes a lot of sense when you consider that these are also rollerblade wheels. They are incredibly durable, thanks to a top-grade steel composition. Up to 650 pounds can be safely supported.
Again, you don't need to think about having a host of special tools to complete the installation. Once you push these into the allotted slots, you're good to go. Whether you're using a carpet, or your chair is on the bare floor, the external wheel area offers maximum protection, so you never have to worry about potential injury hazards. 
A standard stem is used here too, meaning that you can get these office chair casters to fit on any mainstream, and even some obscure office seat designs. The price point happens to be quite reasonable too, so acquiring one should be barely an inconvenience. 
3. Ashgoob Caster Wheel Set
What you have here is a collection of soft caster wheels intended for harder surfaces. Polyurethane rubber is used in the design, but these are by no means rollerblade office chair wheels. You get a set of four here, as well as a box of iron washers, screws, and screwdrivers, as these are necessary for installation. 
You may be wondering why have all these required components when there are other wheels you could choose from that seem to require way less installation effort. Well, that's because these casters are more than office chair designs. They can be used for trolleys, shelves, workbenches, etc.  
They're not as universal as the others discussed so far, so you may want to ensure that you can indeed affix them to your chair before you purchase them. The inclusion of a braking system is quite interesting. 
It's a double brake system allowing you to break both the direction of the wheel and the direction of the bottom plate. Durability is no concern, thanks to a heavy-duty design including a double ball bearing. 
4. Lifelong Caster Wheels
It's back to the rollerblade composition with this design from Lifelong. The steel component is made from an industrial-grade version, which means it lives up to its name very well. Being a rollerblade design means that it's conducive to running on a carpet, but can also take on grass, concrete, and hardwood floors. 
While these have applications beyond being office chair rollers, they do include the universal stem that makes them highly likely to be compatible with your office chair. This is another unit that can accommodate a load of up to 650 pounds. Being noiseless is a huge plus too.  
If there's one downside that you certainly want to pay attention to, it's the fact that the caster swivels are not necessarily the strongest. 
5. Houseables Caster Wheels
This design from Houseables is a soft caster wheel composition, aimed at harder surfaces. While they are highly suited to executive office chairs, they are also compatible with utility carts, shelves, barbecue grills, etc. This is another one that you want to check to ensure that you have a compatible chair before you make the purchase. 
Four wheels are included in the set, with each being able to handle up to 150 pounds, granting you a 600-pound total capacity. 360-degree swivel potential is present across all the wheels, allowing for smooth movement on whatever surface you are using. 
Note that two of the four wheels have built-in brakes, which you are encouraged to position effectively for the kind of stability you want to achieve. It features the same kind of double lock that the Ashgoob set included. 
You are getting another design that is well-regarded for its level of quietness. 
6. Opttico Chair Wheels
The first thing that necessitates a mention here is the incredible 700-pound maximum weight capacity. There's a lot to like about these, including their polyurethane design that allows for utility across a series of different surface types. 
Durability is present in spades, and it's always good to find out that you don't need any special tools to install your wheels. Noiseless movement is another advantage, as is the luxurious look that can enhance just about every modern office chair, thanks to a transparent design.
They also happen to be affordable, which is great news for those who may be looking to upgrade on a budget. 
7. Seddon Professional Office Chair Caster Wheels
This Seddon design is another set of soft casters that are intended to tackle hardwood floors. They are highly durable, thanks to a soft polyurethane design. They glide around easily and can support up to 650 pounds. A standard stem is affixed to the design, meaning they integrate well with typical office chair bases. 
This also means you don't have to think about getting any additional tools to set your casters up. One of the challenges that you want to pay attention to is the increase in height of the seat cushion up to three inches. It's not much of a problem for those who have adjustable ergonomic chair models, but those who don't want to bear this in mind. 
8. KOAOYO Office Chair Caster
The final entry is a set of five casters that are specifically built for carpets, as they are hard wheel designs. They do happen to be universal though, meaning they can fit into any chair base. 
Of course, if you don't have a soft surface, you want to stay away from these, as you would be putting yourself in a hazardous situation. However, once you have carpets, expect smooth swivel action from them. 
They're very quiet, which makes them ideal in any office situation. Note that the maximum weight is a little on the lower end compared to some of the other listed options since only 330 pounds can be handled. Nevertheless, this is enough for the average user. 
Caster Buying Considerations
Here are some things to think about before you buy any office chair casters. 
Wheel Stem
You've heard the universal stem trope mentioned several times above, and it's for good reason. If your stem cannot fit your wheelbase, the casters cannot be installed. Ensure to find out what size you need before you proceed to buy anything. 
Material
Think about the material of the floor that you are going to be working on. Is it bare or is it carpeted? Effectively, you are simply ascertaining whether you have a hard or soft surface, so you can purchase your wheels accordingly. Of course, if you're going for a rollerblade design anyways, then you don't have too much to worry about. 
Design
If you are trying to maintain a special aesthetic, you don't want chairs with wheels that are so loud that the visual gets thrown off. Look at the products, and ensure they complement your intended style. 
Load Capacity
Consider the amount of weight that the wheels are going to be under. This is a little more easily manageable with office chairs than it is for other applications such as trolleys.
How To Replace Casters for Office Chair
Replacing an office chair caster is a fairly simple process that can be done with a few tools and some basic instructions. Here are the steps to replace an office chair caster:
First, turn your chair upside down so that you can access the caster that needs to be replaced.
Use a screwdriver to remove the old caster from the chair. Depending on the type of caster, you may need to remove a retaining clip or unscrew the caster from the base of the chair.
Take your new caster and insert it into the same hole where you removed the old caster. Make sure it is inserted all the way and snaps into place if necessary.
If the new caster does not fit properly, you may need to use a different size caster or adapter.
Once the new caster is securely in place, turn the chair back over and test the mobility of the chair on a hard surface.
With these simple steps, you can easily replace an office chair caster and get back to work with a chair that rolls smoothly and reliably.
Final Remarks
Undoubtedly, the information presented above was a lot to take in about hard, soft, and rollerblade chair wheels. Nevertheless, you would have satisfied the intended objectives if you managed to successfully ascertain two major takeaways. 
The first of these is understanding which office chair casters work best in which situation. Second, you would hopefully have seen a design that you may at least be considering.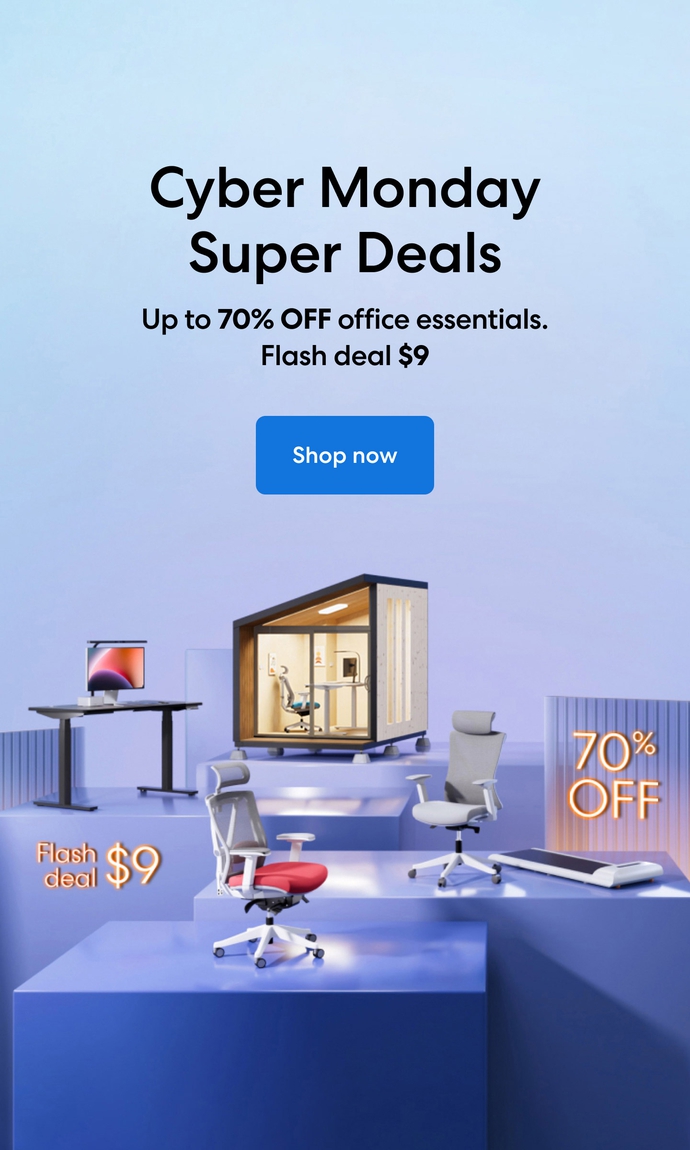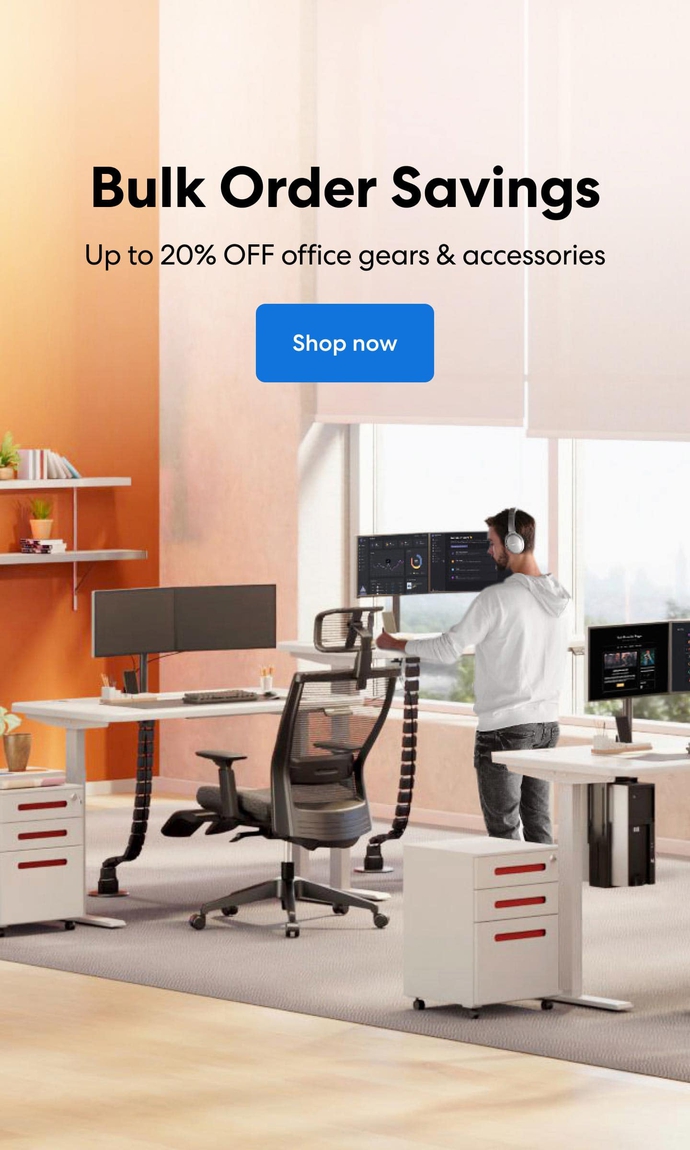 Subcribe newsletter and get $100 OFF.
Receive product updates, special offers, ergo tips, and inspiration form our team.