Whether you're away for several hours or maybe a week, you may discover yourself worrying about the security of your property. Even when you're at home, it's difficult not to worry about your children's safety as the rest. While you have an intelligent home security system in place, therefore, you can feel confident that what means the most to you will be adequately protected.
You'll have mental peace even if you're at home or in the workplace, thanks to integrating your surveillance system with your home automation system. Read on to learn more about the benefits of smart home security.
Several Home Security System Benefits
Proactive and Genuine Security Signals
Simple security solutions only notify you after a violation has occurred. It's usually too late to prevent a break-in, fire, or poisonous gas leak by the time you receive an alert. But instead of providing proactive, genuine notifications, these technologies react.
These devices come with smart security mechanisms, which have a wide range of features to secure your house further, can identify and warn these situations quickly, resulting in fewer injuries, thefts, and even tragedies. Notifications can be accessed from any smartphone and provide crucial information about recent activity everywhere in your house.
Remote Tracking & CCTV Surveillance
Integrating security cameras with surveillance footage allows you to see what's going on if you're at home or in the workplace. You may receive mobile device notifications when children, family and friends, and even family pets come back home. Indoor camera equipment allows you to "look in" at any time during the day to see that activities like coursework, preparing meals, and prescriptions are handled properly. It seems to be true about front-porch cameras, which include a motion sensor for security systems that can allow for instantaneous connection through two-way multimedia content even when you are unable to be there. The best option can be an outdoor pan-tilt camera.
Domestic Functions Can Be Controlled from Just about Anywhere
If you are thinking, are smart home devices worth it? Then here is your answer: Wireless home security kits aren't simply for security. You may also personalize many residential operations with this specialist automation. Never worry about switching off lights or machines after preparing a meal. You can arrange temperature changes based on the local meteorological conditions rather than setting your thermostats before leaving for the day and returning home that evening. Temperatures and flood sensors can also detect humidity or leaks, potentially causing harm.
Spend Less on Your Utility Bills
Using home appliances such as LED lamps and outlets can automate your house and save you money on energy while also lowering your environmental footprint. Consumers will save much on monthly energy costs, such as power, air - conditioning, and water, because you can take remote corrective measures, and the appliances themselves can regulate parameters.
Property Prices Have Raised & Insurance Reductions are Possible
By 2025, close to 19% of residences globally would have had at least one sort of smart equipment, thus according to industry research group Strategy Analytics. As youngsters buy for their first houses, it's critical to heed their demands, as many of them want mechanization and efficiency through mobile device apps. As advanced features become more popular, vendors should take this into account.
Some private insurers may offer up to a 10percent discount on customer coverage due to home security mechanisms providing enhanced safe and secure environments such as a wireless home security system. It's advisable to double-check the amounts and credentials with the company you've chosen.
Smart Gadgets Can Be Interesting and Fun
Smart surveillance cameras are not only safe and useful, but they are also enjoyable and amusing for relatives, acquaintances, and neighbors, especially around the holidays. Consider being able to switch on light bulbs and music immediately at nightfall during Halloween for creating a "haunted house" or using motion sensors to trigger exterior seasonal lawn décor and illumination.
You could use it to wake up, without using typical phone or clock alerts, by switching on music. Program your alarm app or voice - activate the tools to turn on any electronic system at specific times throughout the day. You can look up the internet for some amazing wireless home security systems for sale.
Safety & Protection for Smart Networks
This is one of the obvious benefits of smart home security. You wouldn't want your gadgets, such as Alexa, infringe on your privacy and hear about your daily activities. 
It is critical to understand that smart home security encompasses more than simply protecting the people in your homes and belongings; it also includes safeguarding your technology.
You will benefit first from the greatest privacy of your private information when you are using a centralized smart monitoring system. Your wireless home security equipment is a closed technology that you control completely. Even though it is dependent on your home's network, a networking site configuration or update is essential for a stable and secure connected home base.
New Device as well as Appliance Flexibility
When it concerns accommodating electronic features, utilities, and other technologies, smart home systems are remarkably adaptable. Even though your appliances appear to be cutting-edge today, newly developed, more stunning versions will be introduced as time passes. You'll undoubtedly add to your gadget collection as you find alternative ones or learn about new technologies to complement your indoor & outdoor environments. Being able to incorporate these immigrants effortlessly will make your work as a householder a lot easier, and it will help you stay updated with the latest lifestyle technologies.
Home Management Observations
The smart home technology benefits have more to it than just getting knowledge about how your house works. You can track how sometimes you watch TV (as well as what you view), what types of meals you prepare in the microwave, what goods you store in your fridge, and how much energy you use over time. You might well be able to assess your everyday patterns and behaviors using these observations provided in smart home devices and make changes to maintain the life you prefer.
Sum Up
Real-time notifications, movement detection, video monitoring and statistics, including fire and emergency preparedness, are just a few of the benefits of smart home security systems over older ones. These programs, which can be incorporated into your existing arrangement and accessed from any smartphone, are designed to cover commodities and power generation, wellness metrics, and more. Above are the benefits of having a smart home which tells us why a smart home is important. Let's consider one for your home.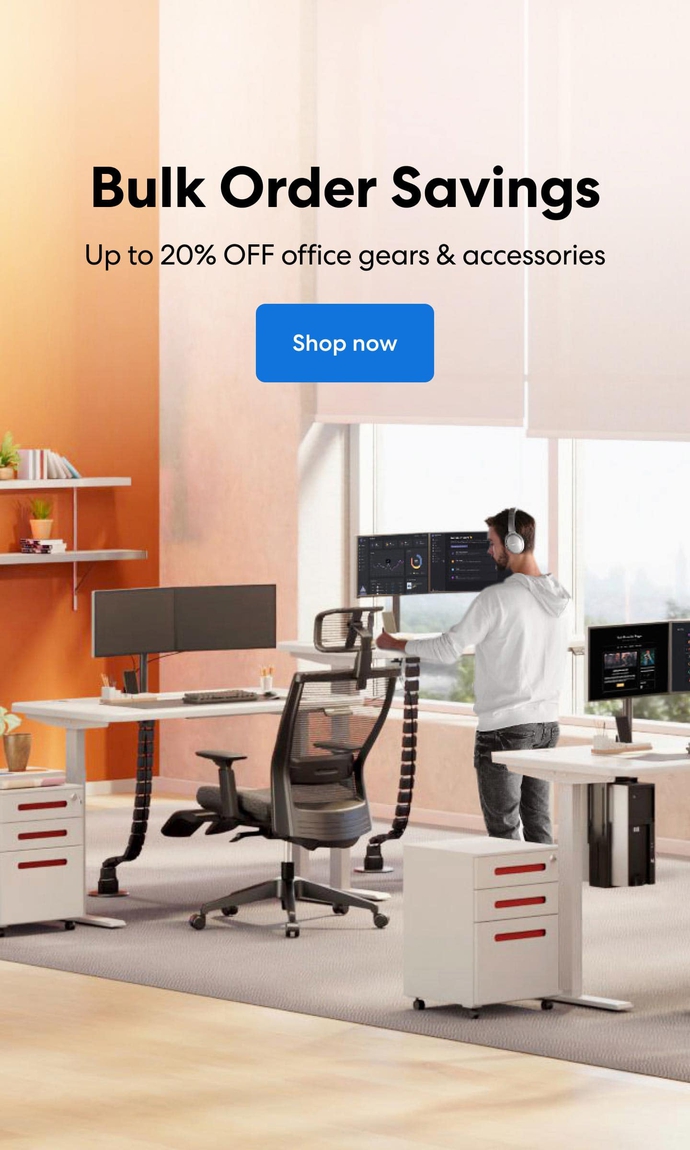 Subcribe newsletter and get $100 OFF.
Receive product updates, special offers, ergo tips, and inspiration form our team.