Having a well-lit workspace is a staple not only for having a productive work session but also reducing eye strain while working, creating an ambient atmosphere for a positive mindset, and promoting overall health and well-being in the office that will help you achieve your long-term goals more constructively. In addition, various studies show that working in a brightly lit area has many practical and psychological benefits. 
If you work from home, the importance of working in an optimized office space still holds, but you have the added luxury of being able to customize your workspace however you want! A sturdy, bright and stylish lamp should be at the top of your list of priorities for customizing the look of your home office, and we have a wide range of home office lighting ideas for you to explore. 
If you're confused about where to start, don't worry; these amazing Brightech floor lamps have got you covered.
6 Best Brightech Lamps For Your Home Office
There is a wide range of amazing Brightech solar string lights and floor lamps  to supplement your ideal home office, so you're sure to find something that goes with your aesthetic, whether you prefer a classical, traditional interior or a more contemporary look. (Alternatively, if you're looking for floor lamps for other regions in your space, make sure to take a look at our recommendations for corner floor lamps or floor lamps for reading).
1. Swoop Floor Lamp
The Swoop floor lamp incorporates an interesting contemporary twist to the classic sleek floor lamp with a lovely black and gold finish. With its subtle asymmetrical design and pivoting head, the lamp looks at home in a diverse range of interiors with different aesthetics. The simple design is what makes this lamp so versatile and beautiful for a variety of settings.
The lamp stands 68" tall, includes a 9.5-watt environmentally-friendly LED bulb, and has a convenient footswitch for easy operation.
| | |
| --- | --- |
| Assembled height | 68" |
| Lamp width | Φ 19.5" |
| Base width | Φ 10" x 1" H |
| Item weight | 10.5 lbs |
| Colors | Black base, Gold finish |
| Materials | Metal |
| Lumen | 800 lm |
| Bulb type | LED 3000K |
| Input voltage & wattage | 110-220V / 9.5W |
| Warranty | 3 years |
2. Luna LED Floor Lamp
This gorgeous standing lamp is a perfect cross between a traditional industrial aesthetic and modernity and is certain to add the most stunning touch to your contemporary workspace. The lamp measures 65" in height and has a beautiful black finish, with crackled glass shades to diffuse the light in your office space. 
Brightech makes no compromise between design and utility. This Brightech lamp lights up your area for optimum comfort at 800 lumens and is compatible with smart homes, including all your favorite apps from Alexa, Google, and Apple.
| | |
| --- | --- |
| Overall dimensions | 9.5"L x 9.5"W x 65"H |
| Base width | ø 9.5'' |
| Item weight | 12.27 lbs |
| Bulb | 9.5W 800 Lumen LED bulb |
| Materials | Glazed glass globe, Metal |
| Color temperature | 3000K |
| Smart home compatible | Alexa, Google, Apple |
| Warranty | 3 years |
3. Logan LED Floor Lamp
Like other Brightech string lights, this contemporary lamp is the perfect modern accessory for your modern office. Sleek, slim, and upright, this lamp makes a statement without drawing too much attention, giving your office space the perfect cohesive, practical, and stylish look. With clean white shades and a customizable Black or Antique Brass finish, this minimalist LED lamp can complement a range of modern interiors.
| | |
| --- | --- |
| Assembled height | 76" |
| Lamp width | Φ 17" x 10" H |
| Base dimensions | 14"L x 11"W x 1.5"H |
| Item weight | 128.2 lbs |
| Colors | Black, Brass |
| Materials | Metal & Marble & Fabric |
| Lumen | 800 lm |
| Bulb type | LED 3000K |
| Input voltage & wattage | 110-220V / 60W |
| Warranty | 3 years |
4. Saturn Floor Lamp
This stunning contemporary Brightech lamp is a certain conversation starter in any interior with a clean golden stem and three-ring lights that steal the show, just like Saturn's beautiful rings. Rather than the more practically-designed, subtle designs on this list, the Saturn lamp is a centerpiece in its own right and adds the perfect touch to artistic workspaces, so if you're a creative looking to build a home office that sparks the soul, this lamp from Brightech might be just what you need. 
The three rings on this piece are detachable, emitting soft natural light, and are made with durable plastics to ensure an accident-proof experience. A pedal switch at the base can adjust the dimming of the lights, so you can choose between three ambient moods to work in whatever brightness suits you best at any hour.
5. Jaxon Floor Lamp
This sleek modern lamp puts a twist on the classic tripod lamp with a beautiful criss-cross design and a gorgeous golden finish. Perfect and practical, beautiful without being too showy, this classic office lamp adds a quietly lovely accent to your dream home office. 
The lamp is 60" tall and smart home compatible, so you can pair it with any of your smart home applications like Alexa, Apple Home, or Google Home.
6. Olivia Floor Lamp
The Olivia floor lamp is a stunning and sophisticated accessory for your office space in the form of a floor lamp. With the classiest beautiful brass-gold finish on the arching stem, a polished marble base, and a bell-shaped metal shade, this lamp adds a perfect touch of grace and personality to your office and brings together your interior from corner to corner. 
This Brightech magnifying lamp matches interiors ranging from contemporary to mid-century and is constructed with only the finest, most long-lasting materials, so you don't have to worry about reckoning with a flimsy or low-quality product. The metal head is adjustable, so the lamp lends itself perfectly to practical office use and emits bright and warm natural-toned light.
What Are Some Other Ways I Can Optimize My Workspace?
You likely spend a lot of time in your workspace, so it is important to make sure to allow yourself the most comfortable and pleasant experience possible. Optimizing your office space can be done in various ways, for example, investing in more ambient yellow lighting, which helps balance your circadian rhythm, or a portable battery-powered lamp to ensure you don't strain your eyes while doing work. You can also invest in a gaming light for an immersive, ambient experience. 
Which Brightech Lamp Is The Best For My Office Space?
Brightech has such a large and versatile range of lamps that you will surely find something that suits your taste perfectly. Of course, finding the best lamp is a very personal process, as there is no one size fits all approach to interior design. However, we've compiled this list with the most beautiful, high-quality lamps from Brightech with the best specifications, so we hope you can find something that suits your fancy.
Video ads for product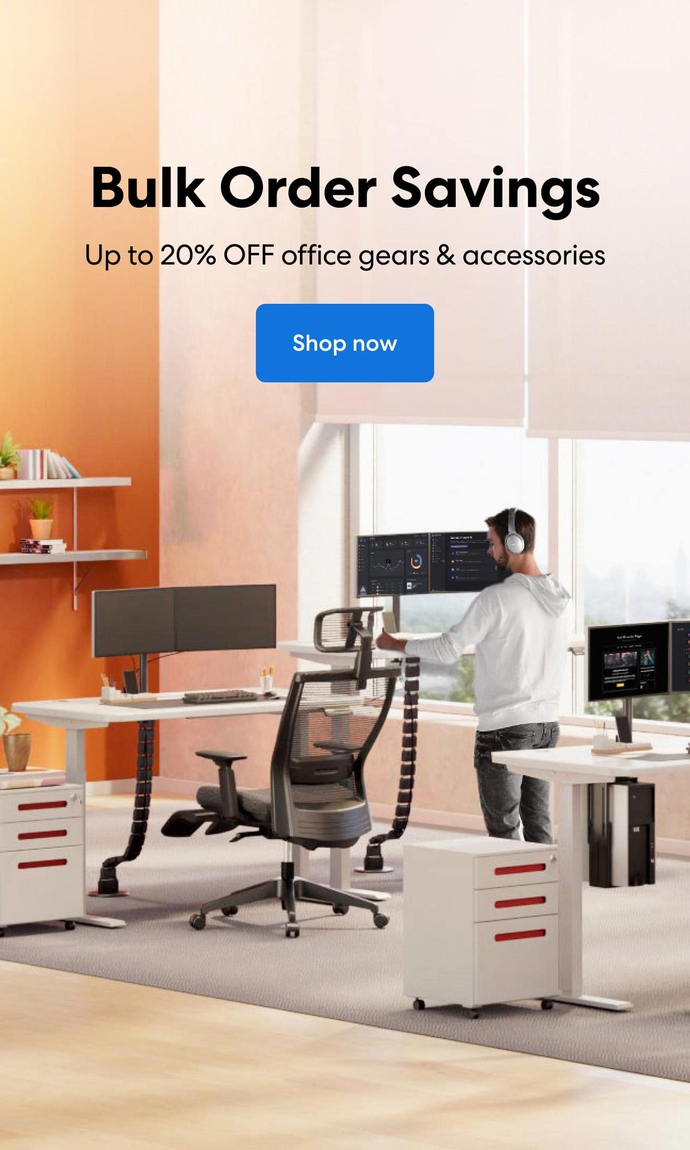 Subcribe newsletter and get $100 OFF.
Receive product updates, special offers, ergo tips, and inspiration form our team.