Smart Products
Top 7 Best Gaming Desk and Chair Combos 2023 for Comfort & Performance
3,498 Views
Are you looking for the best gaming desk and chair combo? Gamers know the importance of a gaming den to create a wonderful experience for them. However, gaming is a hobby not everyone understands. Even though gaming for long hours is extremely harmful to health, with the right ergonomics and suitable gaming chair and desk set, you sure can reduce the negative impacts of sitting and gaming for hours.
Many gamers complain about gaming chairs and complementary desks being expensive. This is true because gaming chairs are made to make long hours of sitting not harmful to the body. They are also designed to give better posture and alert energy.
Our gaming PCs and the graphics cards, processors, monitors, and cases that go with them often get so much attention that we completely forget the essential part of them all- our gaming desk and chair combo.
Studies show that spending a lot of time on the wrong gaming chair and desk set can result in back problems. That's why it's crucial to spend some time selecting the right computer chairs and desks increasingly important for avid gamers. Fortunately, there are a lot of gaming chairs and desks combined designed explicitly for gamers out there.
You can even find gaming desk and chair combo options that aren't too expensive. In this buyer's guide, we examine the best gaming chairs and desks available right now. It has been divided into price ranges so you can choose the right gaming desk and chair set up for you.
If you are running tight on a budget but don't want to compromise on health, here are some of the top ergonomic chairs and desks in 2023 which are suitable for work by day and gaming by night. And combining them with the right gaming desk accessories, you have a wonderful gaming setup in your hands.
Top 7 Gaming Desk and Chair Combo 2023
1. EUREKA ERGONOMIC L-shaped Desk and GE300 Gaming Chair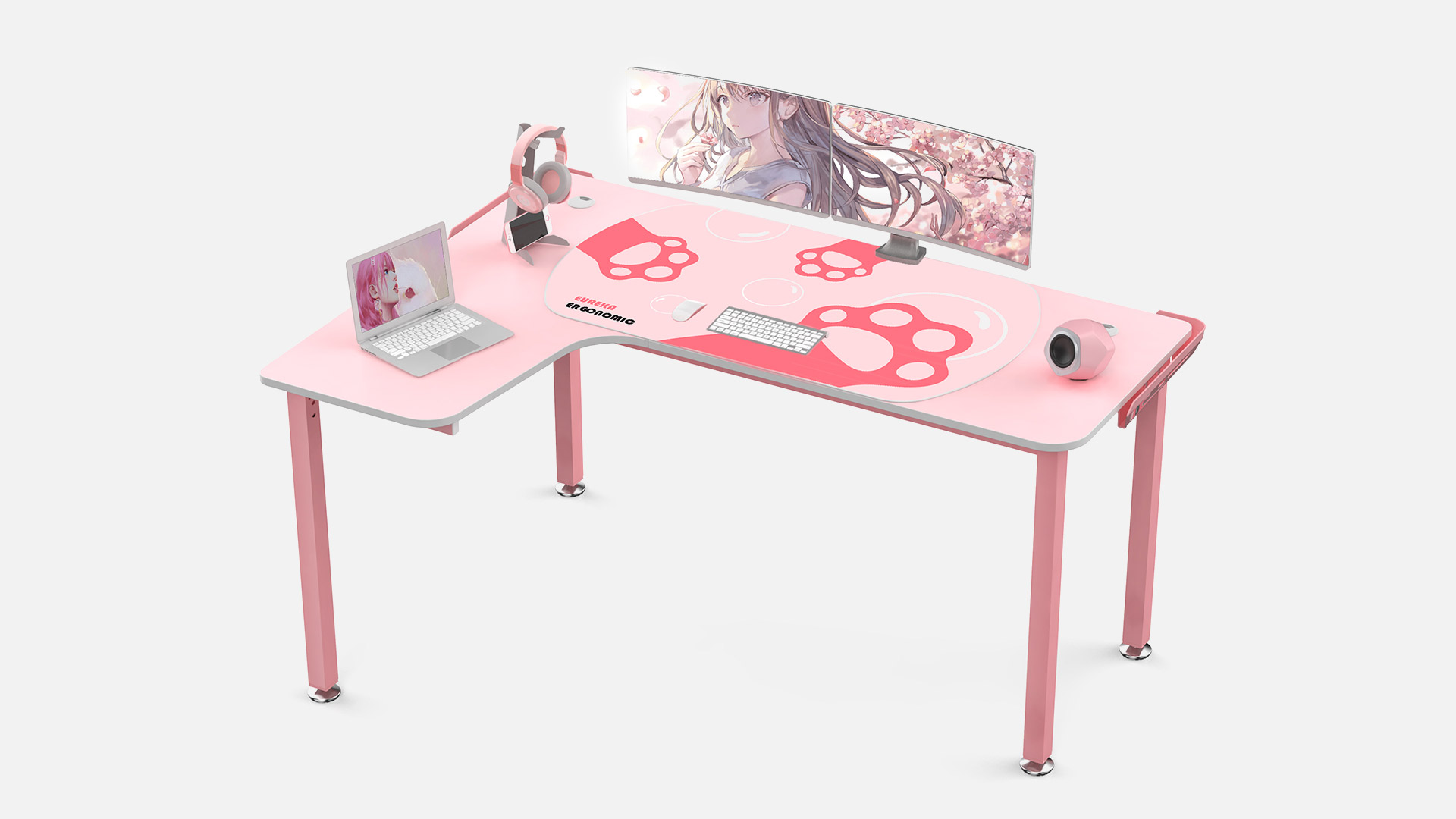 EUREKA ERGONOMIC L60 Computer Desk
| | |
| --- | --- |
| Dimension | 61.18"L x 43.3"W x 30"H |
| Materials | EPA TSCA Title VI and CARB Phrase Ⅱ certified eco-friendly material |
| Colors | Pink |
| Weight capacity | 550 lbs |
| Warranty | 5 years |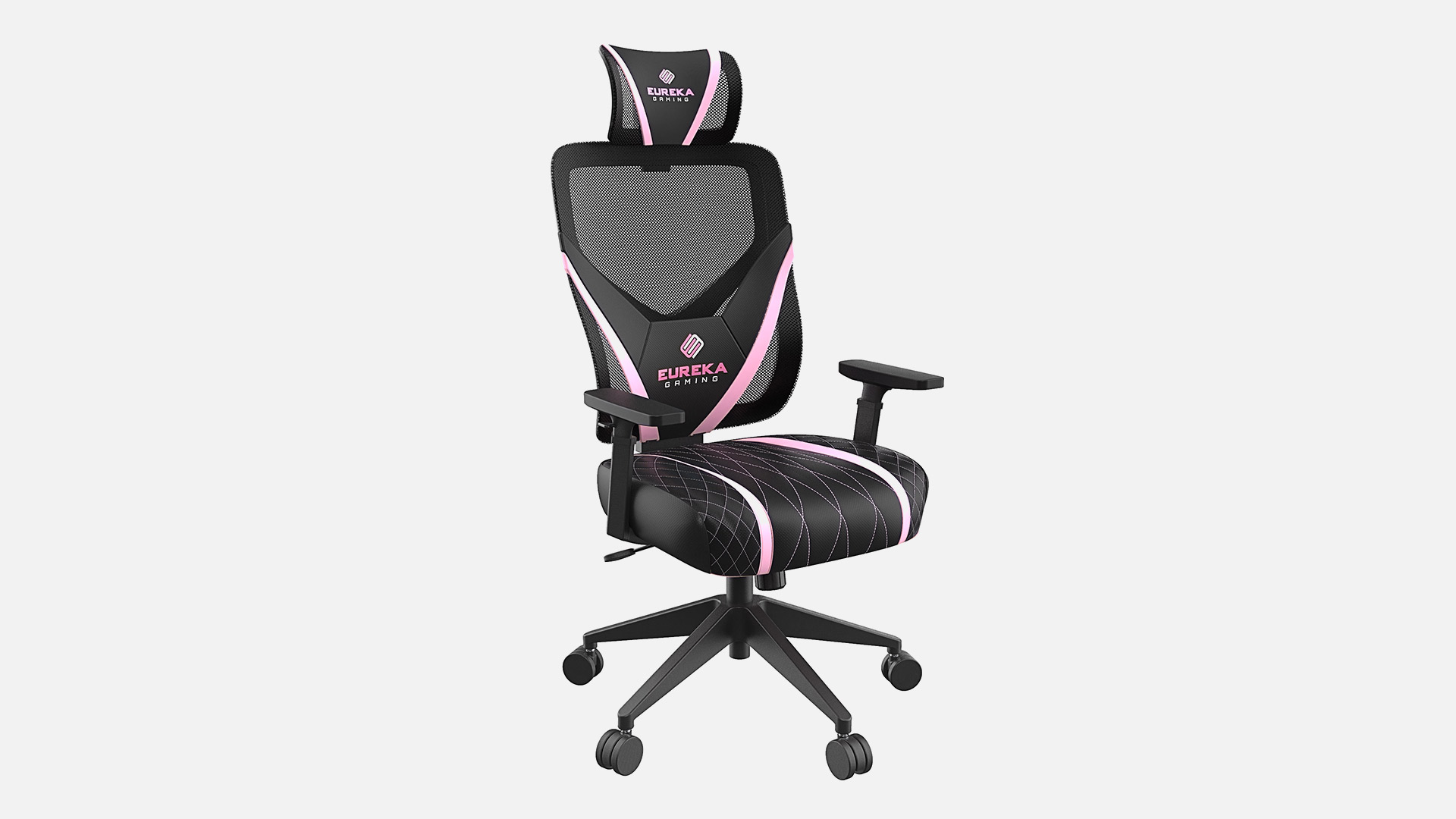 EUREKA ERGONOMIC GE300 Gaming Chair
| | |
| --- | --- |
| Dimensions | 26.0''W X 27.6''L x 46.5'' - 50.4''H |
| Materials | PU leather |
| Colors | Black & Pink |
| Weight capacity | 330 lbs |
| Warranty | 5 years |
2. EUREKA ERGONOMIC L-shaped RGB Desk and GX5 Gaming Chair
3. EUREKA ERGONOMIC Gaming Desk and Chair with Storage
4. EUREKA ERGONOMIC Gaming X1S Desk and Typhon Office Gaming Chair
5. Techni Mobili White Stryker Gaming Desk & TS 92 PC Gaming Chair
6. Techni Mobili TS-200 X-shaped Gaming Desk and Techni Sport TS-F44 Racing Gaming Chair
7. Techni Sport Warrior L-shaped Gaming Desk and Techni Sport TS-61 Chair
Best Gaming Chairs in 2023
Choosing the gaming chair for your gaming desk and chair combo and gaming den is a big decision because, frankly, they cost no less than a few hundred dollars. Gaming chairs are hard to pick, and part of the reason is hundreds of choices on the internet. You must, however, need to be smart while picking a gaming chair because a wrong purchase can hurt you a lot more in the longer run.
Don't worry; before we list the best chairs for your gaming desk and chair combo, we will highlight why and how a gaming chair becomes the best. It should have a suitable height adjustment system that will affect the lowest and tallest height the chair can achieve, for starters. Moreover, the backseat, back tilt, armrest adjustment, and armrest height are all very important factors.
Then you must also focus on the chair's material so it doesn't hurt your skin and the seat height and depth. Finally, the seat should be cushioned properly to have no extra load on your lower back or spine.
1. ErgoChair Pro
Ergochair Pro is a fully adjustable desk chair that is great for gaming and long hours of working. This chair is fully adjustable with active cushioning for smooth sitting. The lumbar support, curved spine, meshed back, and wide back all add to the versatility of this product.
The ErgoChair Pro has a woven mesh back for maximum airflow, and the user will enjoy seamless movement. This chair also offers a smooth recline that can be locked in up to five different positions.
2. ErgoChair Recline
ErgoChair Recline is a modern chair that is great for your gaming adventures. With a modern design and look, this chair will give you comfortable hours of sitting without putting any pressure on the back. The ErgoChair Recline has an adjustable height, armrest, and seat tilt. The chair also comes with comfortable leg support.
3. ErgoChair Plus
ErgoChair Plus is a frameless chair with solid construction. The chair offers ten times more durability and also has natural mobility. The cooling naked TPE is modern and both good for a breathable back. This chair is very comfortable and stylish for your gaming adventures and the best option for your gaming desk and chair combo.
4. Slate Gray Gaming Chair by Karnox
This is a good option for your gaming chair and table collection. Gamers can sit in comfort and style with this Karnox Livorno Fabric backed by high-density foam upholstered with rich PU leather. A high level of breathability reduces the buildup of heat. Karnox LIVORNO Fabric incorporates two-tone fiber sand and a long fiber dyeing process with its elegant texture and soft touch.
Seat width is wide, back height is tall, and lumbar support is side-mounted. This chair provides comfort and endurance for extended gaming sessions. A 5-star base and high-quality castors make Karnox furniture move easily on any floor surface. It comes with a lifetime warranty on the steel frame. The dark gray version comes with a back and side panel made of Karnox 2.0 PU leather for gamers who prefer the plump glossiness of rich hide.
5. Gaming Chair SL4000 by Vertagear
This is rated as one of the best options for any gaming desk and chair combo. SL4000 is a fully adjustable, ergonomic gaming chair inspired by motorsports. Enjoy gaming in ultimate comfort with the Vertagear Gaming Chair SL4000. The integrated steel skeleton frame and aluminum alloy 5-star base ensure solid stability and long-lasting durability.
The chair has dual layers of Ultra-Premium High Resilience Foam for extended comfort. Maintaining a healthy gaming posture is easier with removable neck and lumbar support pads.
Your body takes a beating after hours of gaming. The back recline has an adjustment spectrum of 140°, and you can adjust the tilt tension at four key points. Easy and fast assembly is made possible by patented 'slide-in' hardware. The backrest slides into the seat in a matter of seconds. The process is painless and hassle-free.
Forearms remain comfortable and steady with ergonomically designed armrests. This relieves shoulder pressure and supports spine stability while playing. Enjoy steadier gameplay at your preferred eye-to-screen level with a height range of 47.25" to 51.27" and a Class-4 gas lift.
6. Gaming Chair Special Edition by Vertagear
Featuring full adjustment and motorsports-inspired styling, this special edition RGB gaming chair is ergonomically designed to support the neck and back health, giving you a more comfortable gaming experience.
You can customize your gaming chair and table setup using different colors, audio interactions, gaming modes, and mood settings with the RGB LED upgrade kit with NXZT CAM. Embroidered with Silver Lining Fabric and HygennX Padding to eliminate bacteria, absorb moisture, and increase breathability and hygiene.
PU faux leather combines with durable PVC to provide long-lasting performance. A patented 'slide-in' hardware system makes easy assembly and adjustment.
7. Karnox Legend Bluish Gray Edition
This gaming chair is built from high-quality 2.0 PU leather or breathable LIVORNO fabric from novice to professional gamers. With LIVORNO Fabric and 2.0 PU Leather, 4-D Armrests, 4-class piston, 3.0-inch PU casters, head pillow, and lumbar pillow, the Karnox Legend gaming chair provides comfort and durability. It is not to be missed in any gaming desk and chair combo collection. 
The Karnox LEGEND offers a wide seat, tall back, lumbar support on one side, and a padded headrest for long sessions. Karnox LIVORNO Fabric is highly breathable to reduce heat buildup by combining two-tone fiber sand and dyeing technology.
The surface of Karnox 2.0 PU leather is smooth, glossy, and plump. It is also water-resistant, so cleaning is simple. The aluminum wheelbase of the chair provides strong base support and enhances stability. Caster wheels allow the chair to slide easily.
8. Suede Gaming Chair by Karnox
A more luxurious gaming experience is what you get with the Karnox PU Leather paired with a suede-feel fabric. For serious gaming, comfort and endurance are essential. Included are a wide seat and upright backrest, side lumbar supports, and additional headrest and lumbar pillows.
PU leather combined with premium suede fabric provides a soft and luxurious appearance and maximum breathability. The 2.5" casters glide smoothly across all surfaces, providing stability and easy mobility. They are coated in polyurethane to reduce their impact on floors.
Best Gaming Desks in 2023
The problems of your desk while gaming can make you lose a lot of tough battles and let your opponents emerge as a winner every time. The right gaming desk is focused on taking your mind off the desk and helps you focus on the virtual world.
Though the gaming world is all about adjustable standing desks now to make gaming much more fun and real-life experience, there are certainly other factors you must consider before putting down your money. And if you learn about these factors, you can easily make a DIY gaming desk before the next big battle.
The desk you choose for your gaming desk and chair combo must have a large desk surface. Your hand shouldn't be hitting the monitor each time you are trying to make a move, or your mouse must not combat the keyboard instead of killing the enemies. If you are struggling with space, then having a monitor arm to mount the monitor while you have the whole surface to yourself is a good idea.
Secondly, the gaming desk must contain cable grommets to make all the mess behind the desk disappear. This is an important part of a desk and helps in having a mess-free place. The third important factor is the storage option on a desk. Desks with storage are much more versatile than desks with zero storage. Especially if your desk's surface area isn't large enough to stack all the games and Cds beside, you need a desk with drawers and cabinets.
1. SmartDesk Pro
SmartDesk Pro is an electric motor-controlled smart desk. This desk is modern and offers a quiet height adjustment system. The load capacity of 300 pounds makes it suitable for your heavy gaming setup, and the dual-motor system will operate with just a single push of a button. The solid steel frame guarantees strength, and the natural wood finish surface acts as a great mousepad for your gaming adventures.
2. SmartDesk Core
SmartDesk Core is a height-adjustable standing desk that has over four programmable settings. This desk makes work or gaming a pleasure because of its simple control height adjustment system. In addition, the SmartDesk Core has a weight capacity of 256 pounds, making it suitable for dual or triple monitor setups.
3. SmartDesk Corner
The SmartDesk Corner is L-shaped and offers twice the surface area. It is ideal for dual to triple monitor setups and has a weight capacity of 400 pounds. The smart desk operates with a triple motor system, and the solid steel frame is ideal for due strength. In addition, the smart desk corner comes with four easy programmable settings.
4. Compact Gaming Desk by Benzara
You get one cup holder and one headphone holder on this gaming desk, an elevated monitor shelf, and an open bottom shelf. The shelves and K-shaped PVC-coated carbon fiber legs have a 3D texture. This gaming desk is 27" x 54" and can fit almost anywhere.
With integrated upper and lower storage, it's perfect for fans of small, minimalist designs. This carbon fiber 3D texture PVC-coated shelf with K-shaped legs is made from sturdy MDF wood and has a 3D texture and PVC coating. It weighs over 62 lbs but provides an enchanting and durable look.  
Things to Consider When Buying Gaming Desks or Chairs
Gaming Chair
Ergonomic features: Your back, neck, and spine will feel less strained with this support.
Type: There are many gaming chairs, including racing gaming chairs, rocker gaming chairs, pedestal gaming chairs, and PC gaming chairs.
Size: Experts recommend chairs of this size and portability.
Materials: Fabrics, PU leather, PVC, leather, and other materials.
Adjustability: Think about a chair that has adjustable height, headrest, and armrests.
Gaming Desk
Space: If you want to hold your PC screen, consoles, and other accessories, you should consider how much space you need.
Extra storage: Additional storage options include shelves, drawers, cabinets, attachments, etc.
Load capacity: Desktop strength refers to how much equipment it can support.
Adjustable surface angle: Your desktop must ensure maximum flexibility and usability to place your chair next to it.
Easy maintenance: Quality MDF, tempered glass, and process wood are the easiest finishes to clean on computer desks.
Conclusion
If you love matching and want to have a PC gaming desk and chair combo, there are many options for you. You can buy separate desks and chairs and combine them to work together, or you could also purchase a complete set from the market. Make sure to put ergonomics as your topmost priority, even if you purchase a gaming desk and chair combo.
Subcribe newsletter and get $100 OFF.
Receive product updates, special offers, ergo tips, and inspiration form our team.
WRITTEN BYAutonomous
We build office products to help you work smarter.