Are you looking for the best gaming chair and desk combo? Gamers know the importance of a gaming den to create a wonderful experience for them. However, gaming is a hobby not everyone understands. Even though gaming for long hours is extremely harmful to health, with the right ergonomics and suitable gaming computer desk and chair combo, you sure can reduce the negative impacts of sitting and gaming for hours.
Many gamers complain about gaming chairs and complementary desks being expensive. This is true because gaming chairs are made to make long hours of sitting not harmful to the body. They are also designed to give better posture and alert energy.
If you are running tight on a budget but don't want to compromise on health, here are some of the top ergonomic chairs and desks in 2021 which are suitable for work by day and gaming by night. And combining them with the right gaming desk accessories, you have a wonderful gaming setup in your hands.
Best Gaming Chairs in 2021
Choosing the gaming chair for your gaming chair and desk combo and gaming den is a big decision because, frankly, they cost no less than a few hundred dollars. Gaming chairs are hard to pick, and part of the reason is hundreds of choices on the internet. You must, however, need to be smart while picking a gaming chair because a wrong purchase can hurt you a lot more in the longer run.
Don't worry; before we list the best chairs for your gaming chair and desk combo, we will highlight why and how a gaming chair becomes the best. It should have a suitable height adjustment system that will affect the lowest and tallest height the chair can achieve, for starters. Moreover, the backseat, back tilt, armrest adjustment, and armrest height are all very important factors.
Then you must also focus on the chair's material so it doesn't hurt your skin and the seat height and depth. Finally, the seat should be cushioned properly to have no extra load on your lower back or spine.
ErgoChair Pro
Ergochair Pro is a fully adjustable desk chair that is great for gaming and long hours of working. This chair is fully adjustable with active cushioning for smooth sitting. The lumbar support, curved spine, meshed back, and wide back all add to the versatility of this product.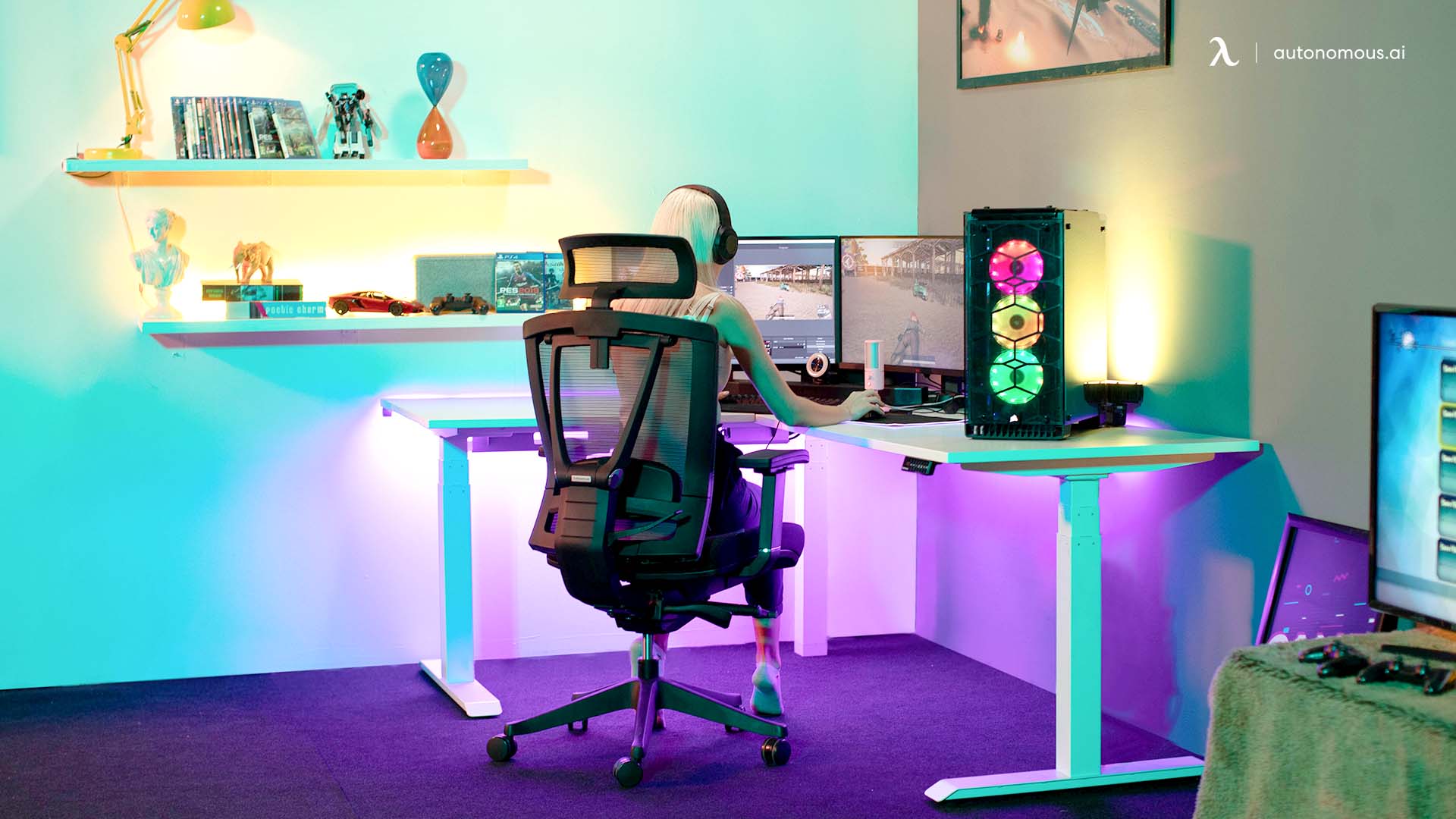 The ErgoChair Pro has a woven mesh back for maximum airflow, and the user will enjoy seamless movement. This chair also offers a smooth recline that can be locked in up to five different positions.
ErgoChair Core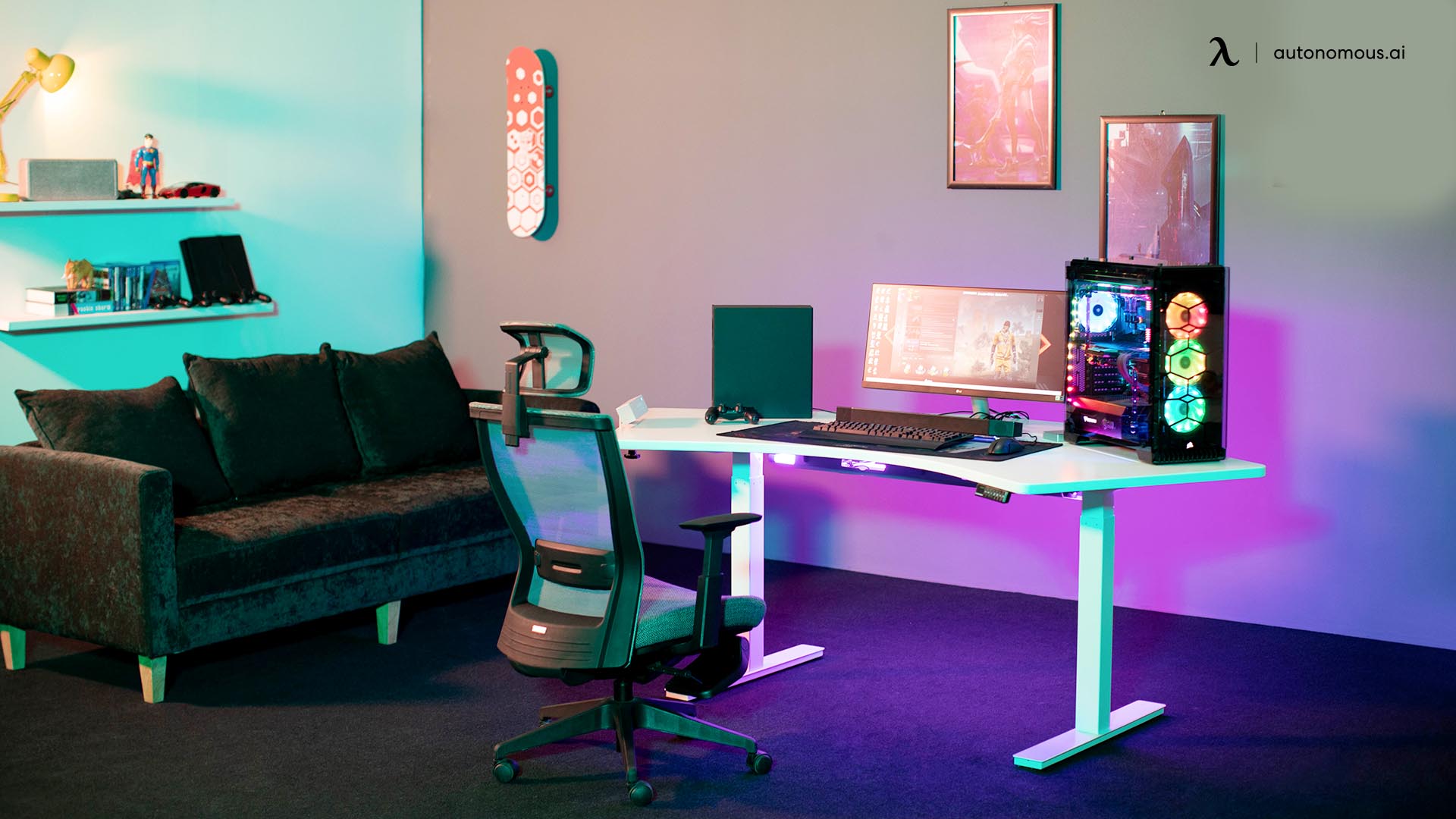 ErgoChair Core is a modern chair that is great for your gaming adventures. With a modern design and look, this chair will give you comfortable hours of sitting without putting any pressure on the back. The Ergochair Core has an adjustable height, armrest, and seat tilt. The chair also comes with comfortable leg support.
ErgoChair Pro+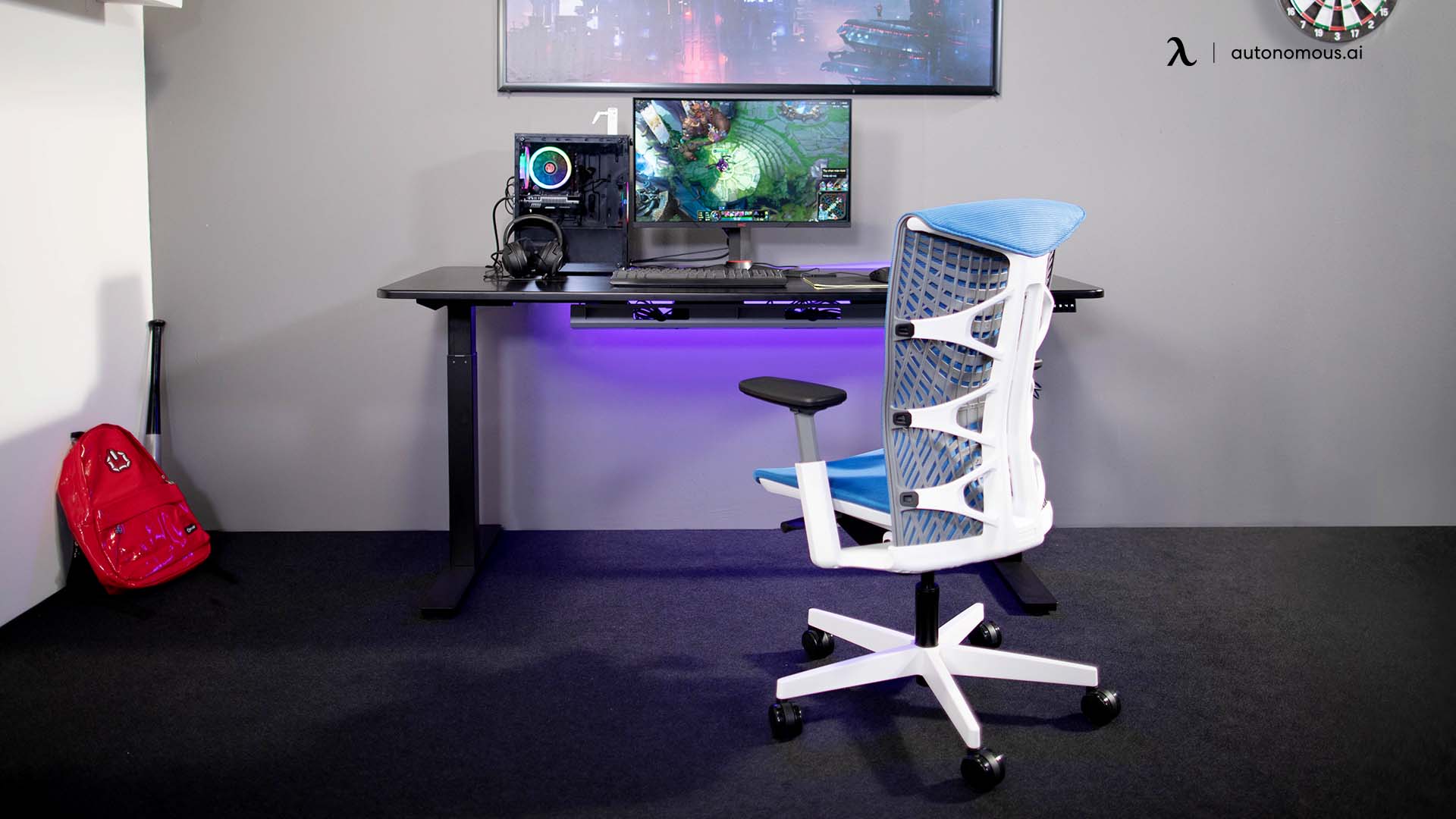 ErgoChair Pro+ is a frameless chair with solid construction. The chair offers ten times more durability and also has natural mobility. The cooling naked TPE is modern and both good for a breathable back. This chair is very comfortable and stylish for your gaming adventures and the best option for your gaming chair and desk combo.
Best Gaming Desks in 2021
The problems of your desk while gaming can make you lose a lot of tough battles and let your opponents emerge as a winner every time. The right gaming desk is focused on taking your mind off the desk and helps you focus on the virtual world.
Though the gaming world is all about adjustable standing desks now to make gaming much more fun and real-life experience, there are certainly other factors you must consider before putting down your money. And if you learn about these factors, you can easily make a DIY gaming desk before the next big battle.
The desk you choose for your gaming chair and desk combo must have a large desk surface. Your hand shouldn't be hitting the monitor each time you are trying to make a move, or your mouse must not combat the keyboard instead of killing the enemies. If you are struggling with space, then having a monitor arm to mount the monitor while you have the whole surface to yourself is a good idea.
Secondly, the gaming desk must contain cable grommets to make all the mess behind the desk disappear. This is an important part of a desk and helps in having a mess-free place. The third important factor is the storage option on a desk. Desks with storage are much more versatile than desks with zero storage. Especially if your desk's surface area isn't large enough to stack all the games and Cds beside, you need a desk with drawers and cabinets.
SmartDesk Pro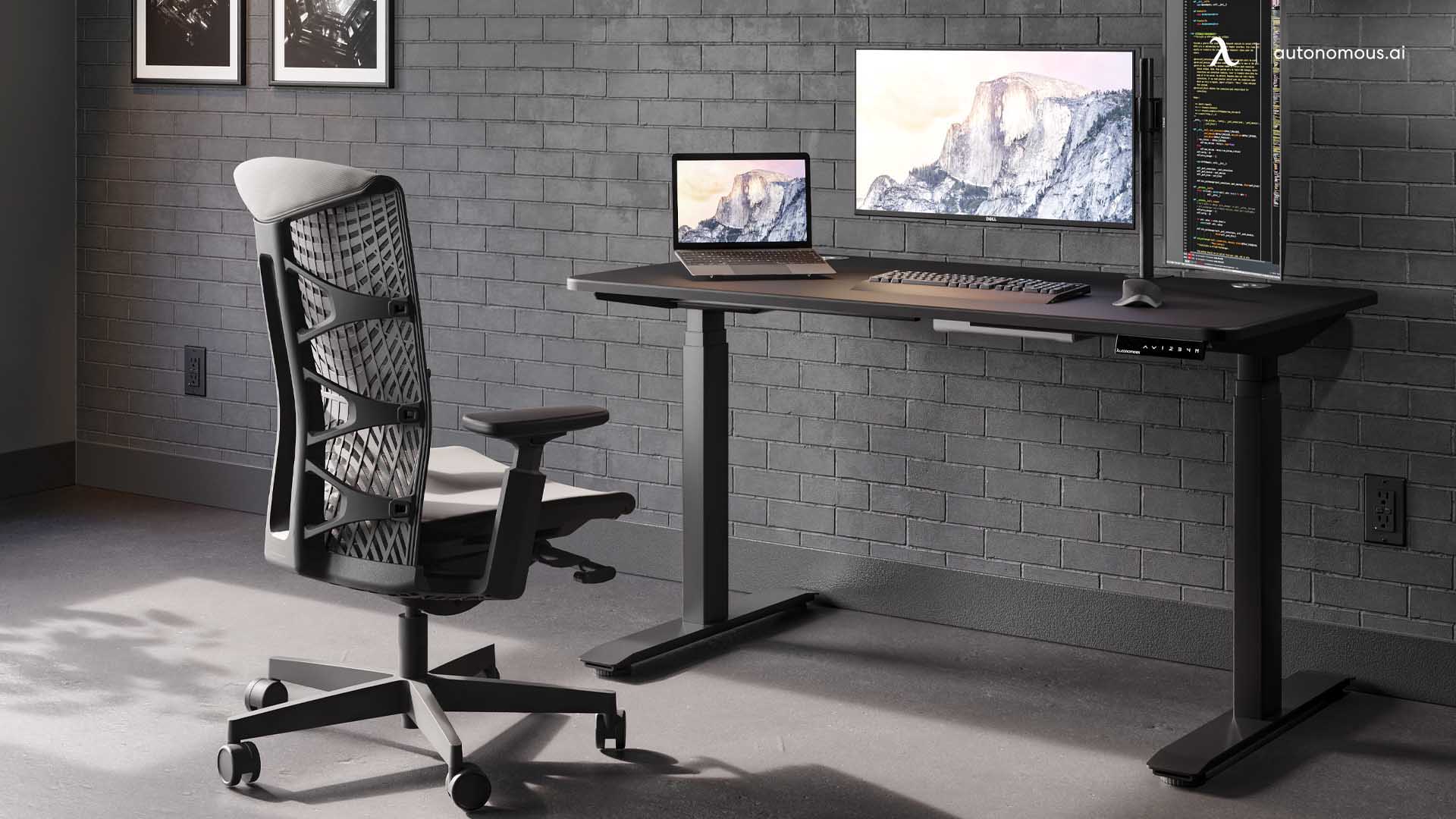 SmartDesk Pro is an electric motor-controlled smart desk. This desk is modern and offers a quiet height adjustment system. The load capacity of 300 pounds makes it suitable for your heavy gaming setup, and the dual-motor system will operate with just a single push of a button. The solid steel frame guarantees strength, and the natural wood finish surface acts as a great mousepad for your gaming adventures.
SmartDesk Core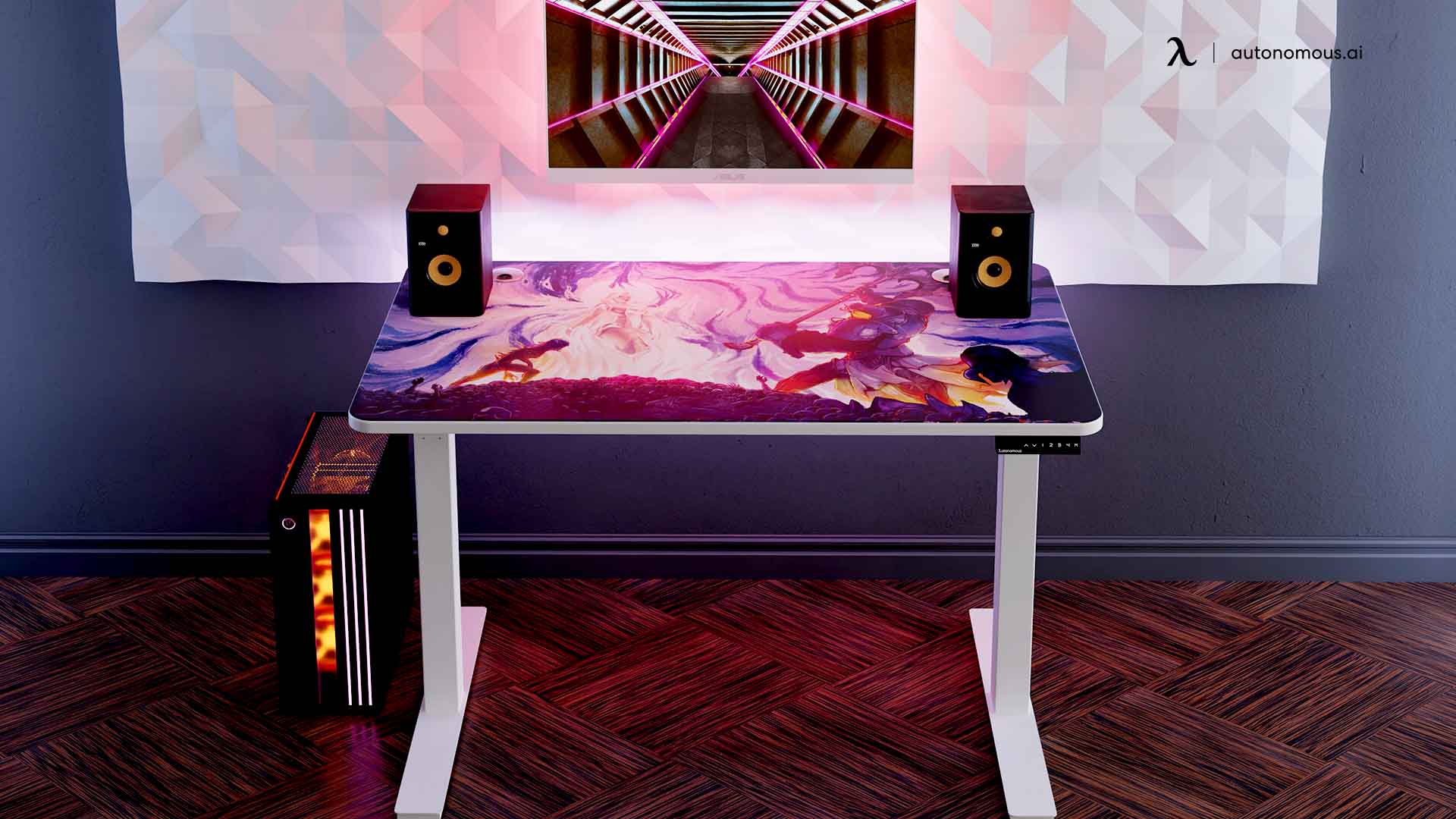 SmartDesk Core is a height-adjustable standing desk that has over four programmable settings. This desk makes work or gaming a pleasure because of its simple control height adjustment system. In addition, the SmartDesk Core has a weight capacity of 256 pounds, making it suitable for dual or triple monitor setups.
SmartDesk Corner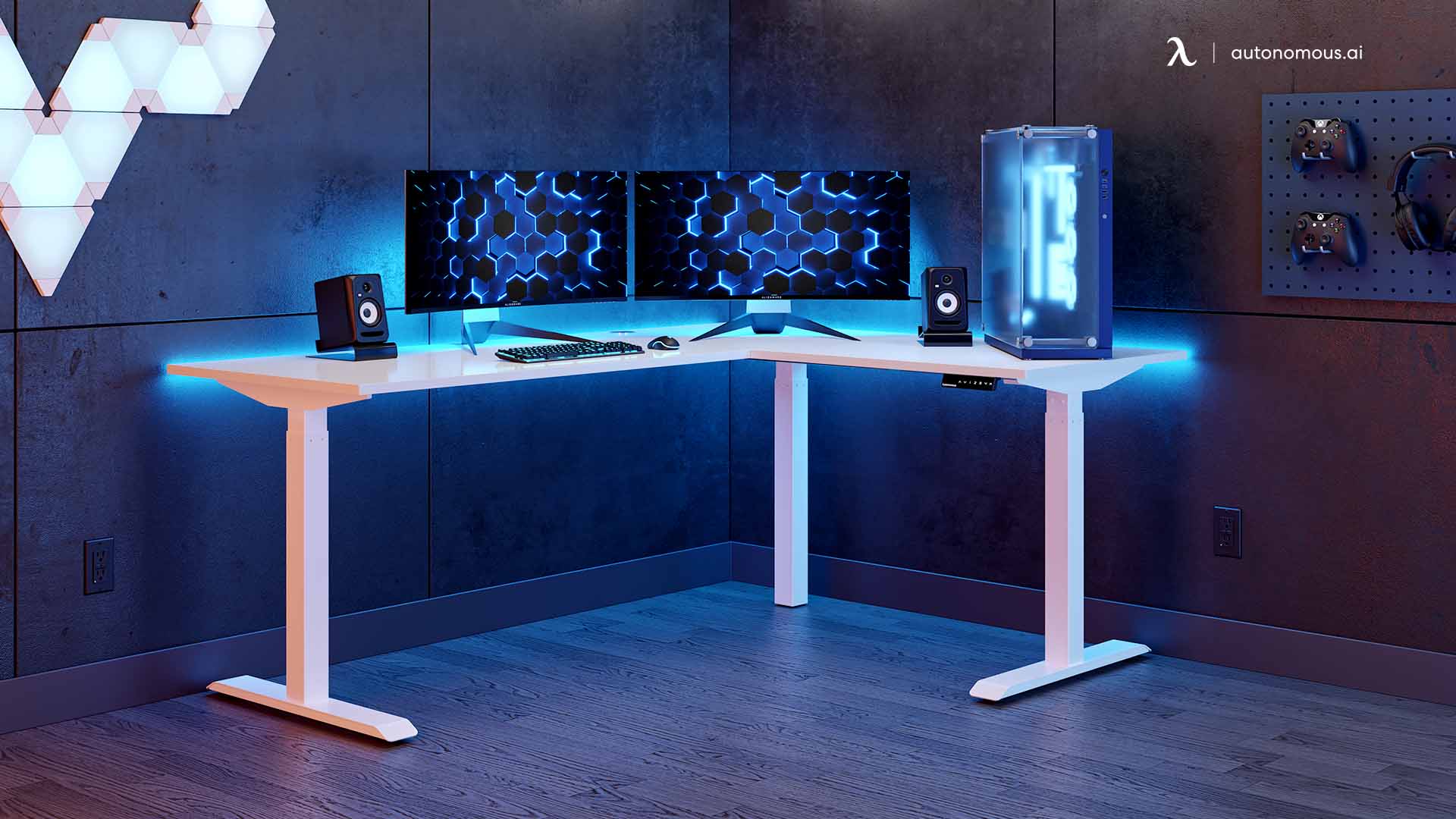 The SmartDesk Corner is L-shaped and offers twice the surface area. It is ideal for dual to triple monitor setups and has a weight capacity of 400 pounds. The smart desk operates with a triple motor system, and the solid steel frame is ideal for due strength. In addition, the smart desk corner comes with four easy programmable settings.
Best Gaming Chair and Desk Combo
If you love matching and want to have a pc gaming chair and desk combo, there are many options for you. You can buy separate desks and chairs and combine them to work together, or you could also purchase a complete set from the market. Make sure to put ergonomics as your topmost priority, even if you purchase a gaming chair and desk combo.
Get exclusive rewards
for your first Autonomous blog subscription.

WRITTEN BYAutonomous
We build office products to help you work smarter.
Coming at You Live from Autonomous' Social Media!
Please fill the information below.
Thank you!