Finding a place to complete tasks, such as taking virtual meetings, finishing your homework, or crafting, can be difficult when you don't have much space at home. Thus, the challenge of planning a perfect and productive office layout pops up. Also, having a dedicated workspace is essential for productivity regardless of what you're doing, which puts anyone living in a small space in a bit of a bind. While you might be all set with some small home office ideas, not having a tiny desk could throw your whole plan off. But that's over. Hanging desks are here.
There are several reasons to adore a hanging wall desk, including the fact that they are ideal for even the tiniest spaces in your house but also give the benefits of a proper workstation. They all provide the workspace you require, whether they fold up when you're not using them or are made to fit into disused corners. All that is left to add is a personalized touch to feel productive in your home office. Below are some of our favorite DIY hanging table-on-wall ideas, which you can apply in any cozy small studio apartment setting, regardless of available space.
How to Choose the Right Hanging Computer Desk?
A wall-mounted desk seems like a straightforward choice, but there are a few considerations to consider when buying the right hanging computer desk.
Space Required
Just because a wall-mounted desk doesn't take up any horizontal space doesn't mean it can thrive in no space available. For a wall-mounted desk, you still need a free dedicated area to place it and build your work setup. While it is true that the space occupied is much less than a legged desk, you need a small corner of the room or even a whole spare wall for a floating desk.
For limited spaces and a bedroom office setup, a small L-shaped desk is an ideal choice. A wall-mounted small corner desk takes up the otherwise wasted corner space in the room and looks aesthetic compared to a central wall-mounted desk.
Some people also opt for a folding desk for a more space-efficient floating desk design. These desks can be made in a closet or any part of the room and are ideal for rooms with a shortage of space.
Material
Next, the thing that matters and impacts the most on the longevity and durability of a desk is the material. You cannot go with heavy materials for a floating desk, as the desk is mounted on screws and wall hangings. The desk itself, along with a load of accessories, must be as minimum as possible. For floating or hanging desks, the most popular choice hence is MDF. MDF is a strong material for desks and has a smooth surface finish that resembles natural wood.
It is also easy to paint on, and you can transform the color several times to match the theme of your house. On the other hand, there are also some wall-mounted metal desks, but these are heavier and not very aesthetically pleasing compared to a wooden or MDF desk.
Height
As you should constantly strive to maintain a good posture when working, the height of your desk is another factor to consider when picking the design. Avoid choosing a desk that is too high, which can strain your neck and wrists, or one that is too low, which will cause you to hunch over.
Storage
Plenty of storage is expected in a large desk or a computer desk with a hutch, but it is common not to have sufficient storage space for a small computer desk or a floating desk. Hence you need to decide if you are looking for any storage space in your wall-mounted desk. You can seek desks with built-in storage or spaces for additional shelves or storage underneath. If you work from home, make sure you have a place to store your documents and other office supplies while they are not in use.
Different Types of DIY Wall-Mounted Desk
The good news about a wall-mounted or hanging desk is that it is one of the easiest DIY projects you will find. Hence it gives you the most room for personalization of your home office setup. There are also multiple combinations of a DIY hanging desk, so you can choose the one that fits your desired setup or budget constraints. Here are some common ways to make a DIY wall-hanging desk.
Wood and Aluminum Hanging Desk
The first thing that pops into the mind about a wall-hanging desk is to start with wood. Wood is the most natural choice for an office desk. Wood's natural grain texture gives an aesthetic appearance and is long-lasting only if the weather conditions don't make it crowded with mold or termites. To mount a floating wooden desk, aluminum pipes are a good choice as aluminum is strong but not very heavy compared to a metal or steel pipe.
Wall Hanging Desk with Cable Storage
Most people pass on a wall-hanging desk because the cable clutter is too much to manage. But what if you could get a solution to that? A wall-mounted desk with a front covering is ideal for avoiding cable mess. All the cables from your gadgets go behind the covering, and your desk looks as professional as possible. The only problem? This idea does not work with a folding wall hanging desk.
Floating Desk Shelves
To finally solve the case of never-ending clutter on your desk. How about putting shelves on your workstation if you can't keep stuff underneath the desktop? A wooden pallet can be used to construct a fantastic wall-mounted desk.
Dual Counter Top Folding Desk
Here is another attractive desk that you may build yourself. It is a desk that floats on two countertops. It contains compartments for the keyboard, a pull-out shelf for the hard drive, and other devices. Install a shelf above the desk if you require additional storage.
Video ads for product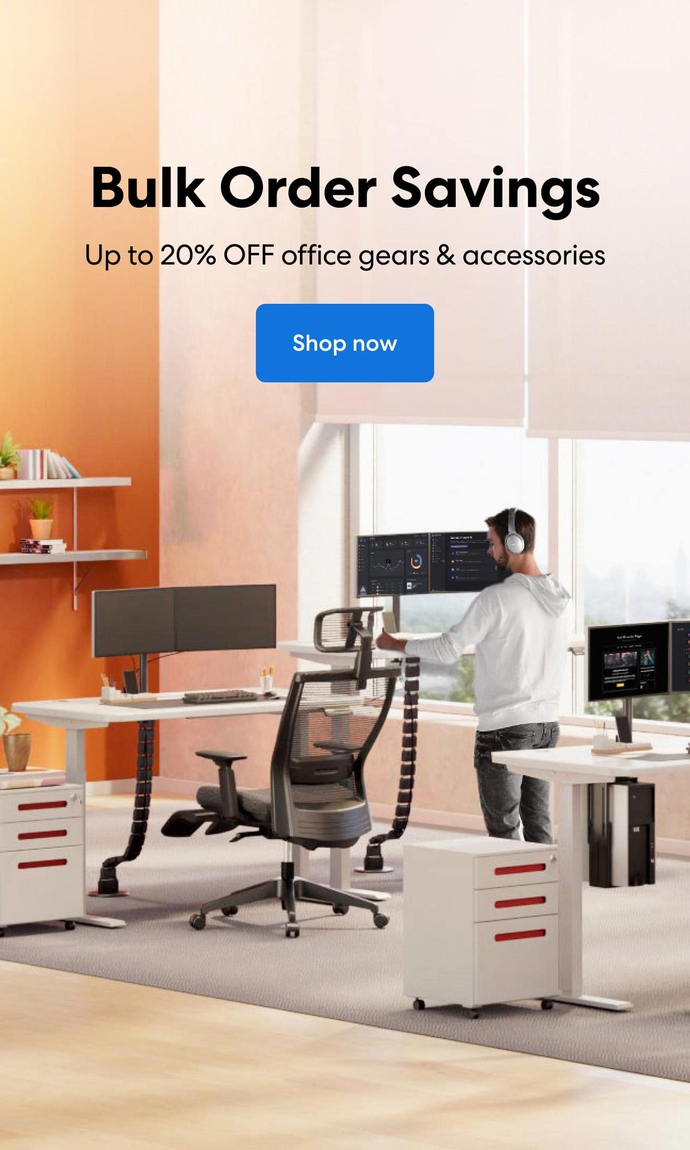 Subcribe newsletter and get $100 OFF.
Receive product updates, special offers, ergo tips, and inspiration form our team.