Working at home can be a difficult task, especially when you are accustomed to working from your office. However, you do not have to worry since it is possible and viable to recreate the same environment at home.
There are a lot of small smart office accessories and home office desk essentials that can help in building the same experience, and therefore you will have to search for similar aesthetics. If you have been facing the problem of working from home, this article will help you dive into the world of top standing desk accessories that we have shortlisted after analyzing a lot of available options. Here is a list of the top desk accessories for home offices.
1. A Picture
The first item in the remote work desk accessories list is pictures. Most people tend to put a picture frame on their work stations. You will find some super cool photo frames that you can put on your table after matching the aesthetics. You can also use the same photo frame that you had in the office to replicate the same vibe.
Putting a picture on your productive desk setup can be a great idea if you require complete silence while working and do not allow anyone into the room. You can also side the view with your favourite postcards and notes.
2. Wireless Charger
The battery can be an issue with smartphones when used continually, and therefore, they need to be charged without fail. Having a lot of wires on your desk will make your workstation cluttered, and consequently, you will lose out on creativity and focus. Therefore, you need to invest in a wireless charger, one of the most important desk supplies for home offices. 
There are many vertical chargers available in the market that require very little space and are highly efficient. You can opt for the model of this office desk accessory after comparing it with your mobile phone and then enter the world of seamless charging without any hassle.
An important thing to note is that some mobile phones support wireless charging only from the devices of their particular brand. Therefore, you must be completely informed before you order the charger for yourself.
3.  Metal Coffee Mug
If you have the habit of sipping coffee while working, a metal coffee mug must be the first thing of the home office desk essentials that you buy. It will keep your coffee hot for a reasonable amount of time so that you do not have to gulp it at one go. The mug is also prone to falling if most of the space of your desk is getting utilized by other elements. In these cases, a metal mug will keep both the mug and coffee from getting destroyed.
You can opt for various designs and colours according to your specifications. You may choose basic colors like white and black if you have a minimalist desk setup. If you end up dropping your mug a lot, it will endure some dents. These dents will be the right cue to replace your mug since the internal insulation will be wrecked, and it will not be able to retain the heat. 
4. Heating Pad
Heating pads are crucial and one of the best desk accessories for home offices that you need in places where the temperature is not favourable. It will keep your body temperature regulated so that you can work without any distractions and discomfort.
These heating pads are operated electrically, and therefore you will need an empty space in your extension board to enjoy this warm experience. If you already have a heating pad at home, cold will never be a roadblock that you will have to pass.
5. Bluetooth Mouse And Keyboard
Wired peripherals can be very restrictive and irritating. They limit your access and also force you to sit in a fixed posture because of the fixed length of their wires. Bluetooth peripherals, on the other hand, give you the comfort of taking them anywhere in a set radius. It is one of indispensable desk accessories for home offices. They also look pretty sleek and offer you seamless connectivity when working with a standing office desk. Pairing them with multiple devices is also a matter of a few clicks against changing the wires in wired peripherals.
6. Reusable Notebook
Making notes while working is very natural and sometimes the most important thing. If you opt for reusable notebooks, it will be counted as a small step towards preserving the environment and make your office eco-friendly. It will also save a lot of space on your desk setup for home office as you will not have to refer to different text materials for different things.
However, if there is something that has to be preserved, we would recommend making copies of the notes at a place where they can be revisited.
7. Leather Mouse Pads
Mousepads help with the navigation of the mouse's cursor because the surface might not be smooth every time. You can opt for any mouse pad and desk accessories for home office according to your requirements, but a leather pad provides elegance and a corporate touch.
It will also enhance the aesthetics of your workstation when sided with more such accessories. An important tip is always to buy a bigger mouse pad if your desk is large enough. There are many variants of leather mouse pads. The expensive ones can drain your pocket, and therefore you should stick to a budget while shopping for them.
8. A Plant
Having a small office plant at the side of your desk will increase your productivity. It will be a catalyst in providing fresher air so that you do not experience suffocation. They also revamp the aesthetics of your table and make it look wholesome.
You will have to look for a sturdy pot so that it does not break when it falls. Ceramic should not be an option while searching for desk pots. Once you are done finding the pot, plant your sapling and water it religiously to bring yourself ounces of joy. Plants also add a minimalistic vibe to the entire desk setup for home office. 
Final Words
All these desk accessories for home office are readily available in the market, and you can opt for any of them according to the size of your table and purchasing power. It is imperative to be in a specific headspace while working, and you must not compromise with your work.
Work from home can be a very tiring affair since you have to be fixated on one spot without getting any interaction. These minor quirks will surely help you to ease down the stress levels if not uproot them. So, grab your favourites from the list and start working!
Video ads for product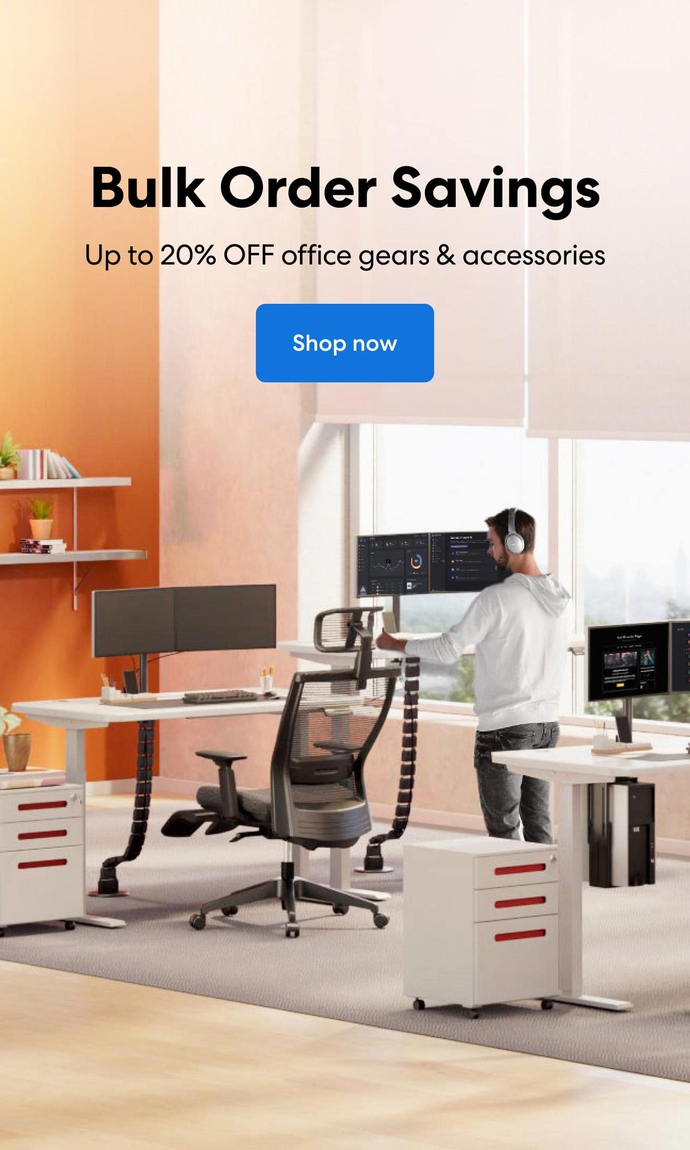 Subcribe newsletter and get $100 OFF.
Receive product updates, special offers, ergo tips, and inspiration form our team.