Smart Products
Top Under Desk Treadmill 250 lb. Capacity (2023 Updated)

Autonomous
|
Jan 30, 2022
2,757 Views
You're getting unhealthy because you lead an inactive lifestyle. Do you want to spend some time on your fitness regime each day, but your busy work schedule prevents you from doing so? How long do you sit at your desk each day? Is there any pain or stiffness in your lower back? You may be creating or aggravating your health problems by sitting for too long. That's a problem you can solve by installing an under desk treadmill 250 lb capacity.
Studies have shown that prolonged sitting does not just strain your back but also reduces your metabolic rate. Sitting for extended periods is a huge contributor to obesity. When working at home or the office, an office treadmill 250 lb capacity could make staying active a breeze.
If you have a computer, a phone, or even just read emails, you can gently walk while doing any of these things. A thin treadmill 250 lb capacity for your desk makes this possible. Keeping active and healthy while keeping up with your busy work schedule or routine is possible with a small treadmill 250 lb capacity under your desk.
Should You Have an Under-Desk Treadmill
A sedentary lifestyle is also linked to health problems, such as heart disease and premature death. Sitting most of the time on your back may not allow your body to respond well to exercise, even if you exercise. 
Unless you have no other option but to sit at a desk for eight hours a day, that doesn't mean all those hours must be spent sitting down. With an under-desk treadmill or a walking treadmill, you can remain active at your desk, increasing your metabolic rate and boosting your brain's function as well. Go through our treadmill buying guide for a full list of benefits home gym essentials can give you.  
A cost-effective solution
If you are looking for an under-desk treadmill desk (or walking treadmill), you will not necessarily look for similar features to those on a running treadmill that you are accustomed to. Moreover, the cost will be lower since the devices won't withstand miles of intense pounding, feature as much functionality, or reach speeds as high. Think of all other factors that could impact your purchase before making your final choice of an under-desk home office treadmill.
Size constraints
A walking treadmill should be easy to add or remove since most people have a single dedicated workspace in their home or office. Despite your desire to walk during part of your day of work, chances are you'll want to sit down at some point. You should be able to quickly get a walking treadmill out from under your desk home workout equipment and store it when not in use. It should also be lightweight, portable, and even foldable.
List of 250lb Capacity Under Desk Treadmill
1. Treadly
Unlike other treadmills, this one is a small, slim treadmill and takes up very little space when folded (a mere few inches when it is opened). As an upright ready-to-use product, it stands about 3.5 feet tall, but when folded up for storage, its height is only about 3.7 inches, the same as a typical coffee cup. On average, full-size treadmills have belts about 10 inches long and four inches narrower than the one on this machine. On the end of the Treadly treadmill desk are two wheels for upending it and moving it around the room, and a slim handrail that you can use both up and down.
2. A1 Pro Smart Walk foldable treadmill from Walking Pad
The WalkingPad A1 can be folded in half, making it an ideal pick for neat freaks and dislike displaying their items out of sight. It also works well for those with limited space. There are a mere two inches of height difference between the walking surface and the floor on this under desk treadmill 250 lb capacity, and the belt moves at 4 mph. Although it can be folded, the stainless-steel frame is durable and long-lasting.
3. Dual function under desk treadmill from Goyouth
Despite its lightweight 64 pounds, the treadmill is easy to move around thanks to its wheels. It's lightweight yet sturdy, and its top speed is 6 mph, making it one of the fastest models on our list. Remote control can be used to adjust the time, pace, calories burned, distance, and steps displayed on the LED screen. Simply pair your phone with the treadmill's Bluetooth speakers to jam out to your favorite tunes.
4. Walkstation Slim Flat Treadmill from Sunny Health and Fitness
In addition to being affordable, this Sunny Health & Fitness under desk treadmill 250 lb capacity provides added safety with a sensor that detects when you step off the treadmill and stops it after five seconds of no movement. Furthermore, if the machine hasn't been used for 10 minutes, it automatically turns off. A wireless remote control enables you to adjust the speed as you walk on the treadmill, which comes fully assembled.
5. UREVO's folding treadmill
A good workout is also possible with this Urevo model. Runners can run for a satisfying run at a speed of .5 to 7.5 mph, which is fast enough for most. With 12 preset training programs, an LCD screen shows you how far you have gone, how fast you are going, and how many calories you used up.
Belts with a wider width provide greater stability and freedom of movement, rather than narrow belts that can cause your alignment to be out of alignment. After your workout, you can easily fold down the treadmill to be stored under a bed or couch.
SmartDesk with Treadly for SmartDesk Tread
An office treadmill workstation made of a compact, portable treadmill and a black standing desk is perfect for any home office. When you work from home, taking walks during meetings or while working increases creativity and innovative thinking.
It is ideal for most office essentials, yet large enough to fit in any setting - home or office. The sit-stand height range on the desk is between 27" and 45", making it suitable for almost everyone.
Featuring a weight capacity of 265 lbs., a speed range of 5 mph and a weight capacity of 77 lbs., the Treadmill Basic is a compact treadmill that packs a powerful punch. Treadly iOS (Android basic control available) works with this combo to control the speed, track your stats, and immerse you in an online community.
Video ads for product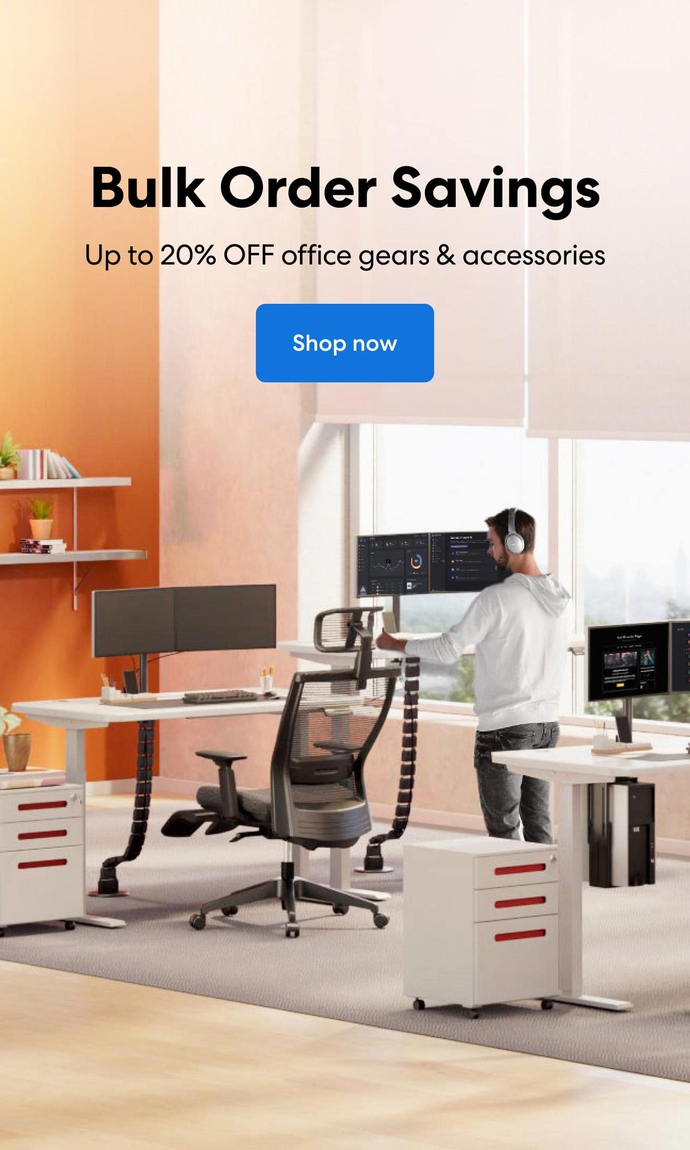 Subcribe newsletter and get $100 OFF.
Receive product updates, special offers, ergo tips, and inspiration form our team.