Smart Products
Top 5 White L-shaped Desks with Storage for Your Executive Office

Ethan Johnson
|
Nov 8, 2023
313 Views
Table of Contents
Introducing a workspace transformation that's as versatile as it is stylish: the sit-stand desk. Imagine the sleek functionality of an L-shaped standing desk seamlessly fitting into your corner office or cozy nook. Whether you're seeking a small standing desk for tight spaces or craving the adaptability of a corner standing desk, we've got your workspace upgrade covered.
Step into the future of ergonomic design by buying any of the 5 white L-shaped desks with drawers in our list.
Best White L-shaped Desk with Storage 
1. Martin Furniture Hartford L-Shaped Desk
The Hartford L-Shaped Desk by Martin Furniture is an elegant and functional piece of furniture. Thanks to its sleek black base, it has a classic look and is completed on all sides with a wood-toned top.
The desk's lockable file drawers, utility drawers, and keyboard tray all contribute to its practical design. A USB port, an AC plug, and wire-management grommets show it is also technologically aware.
It is built to last with high-quality wood and a 5-year guarantee. It's perfect for home offices and executive suites with its 66" width, 77.5" depth, and 31" height. The Hartford L-shaped desk from Martin Furniture will take your office to the next level.
2. Mercer41 55.1'' Desk
The Mercer 41 55.1" Desk is a contemporary desk focusing on utility and adaptability. A large file cabinet with three drawers and two shelves sits next to the desk, providing plenty of space for storing files, notepads, and other office necessities.
This flexible storage option may accommodate any of your items. Its precision edge technology and thick particle boards attached to heavy-duty metal frames guarantee its lifespan and strength.
This desk's sleek stainless steel frame and engineered wood top make it resistant to dust and moisture and simple to clean with a damp cloth. If you're looking for a modern and functional white L-shaped desk with shelves, grab this without thinking and reap the benefits.
3. Corrigan Studio Latwon L-Shape Desk
Corrigan Studio's Latwon L-Shape Desk is a paragon of modern flexibility in the workplace. With this chic desk, you can choose from five different finishes to create the ideal look for your home office. It's adaptable to your specific requirements thanks to its large work surface, three tiers of drawers and removable shelf.
The desk's modular construction lets you arrange the workspace as you see fit. The L-shaped desk's adjustable shelf and sturdy construction guarantee its durability and adaptability.
The Corrigan Studio Latwon L-Shape Desk is an elegant, practical, and flexible option for any home office, whether operating a company out of your house or just wanting a peaceful place to write.
4. Wade Logan Goyette 60.7'' Desk
The Wade Logan Goyette 60.7'' Desk provides a versatile and modern work environment with its reversible L-shaped form. Its clear sled legs and engineered wood construction give it a sleek, contemporary look. The desk's reflective surface gives the illusion of extra space and adds a touch of class to your office.
It's perfect for everything from typing on a computer to taking notes. There is plenty of room for files and office materials between the two drawers (which glide smoothly on ball bearings) and the open shelf at the desk's base.
This white L-shaped desk with file cabinet  is versatile since it embraces a modern aesthetic without breaking the bank. The Wade Logan Goyette 60.7'' Desk is a show-stopping addition to any home or office that values contemporary furnishings with clean lines and a slick, reflecting surface.
5. Selena L-Shape Lift Top Desk
The Selena L-Shape Lift Top Desk from CosmoLiving by Cosmopolitan is a dream come true for anyone looking for a chic and useful home office. It has a beautifully rounded molding and a rustic wood veneer finish, giving it a dramatic yet subtle eclectic vintage vibe.
The desk's adjustable top surface and separate storage section below are royal-worthy features. It meets your demands whether you like to stand or sit while working. Thanks to the built-in wireless charger, your device will always be available for those brief TikTok breaks. This desk is a great addition to your home office setup because it is robust, fashionable, and can support up to 168 pounds.
FAQ
1. What makes a white and gold L-shaped desk with drawers stand out?
Elegant gold hardware complements a white finish on an L-shaped desk with drawers, which provides plenty of space for paperwork and supplies. It's a chic place to get things done, and it's also very practical in terms of storage.
2. What's the key feature of a cabinet desk?
A cabinet desk is characterized by its integrated storage cabinet, often with shelves, drawers, or both. It's designed to help you keep your workspace organized while offering a functional and stylish workstation.
3. What sets an executive standing desk apart from other desks?
An executive standing desk is designed for professionals who need a combination of sophistication and health-conscious features. It typically offers adjustable height options, spacious work surfaces, and often includes drawers or storage compartments.
4. Why should I consider a desk with shelves and drawers?
A desk with shelves and drawers provides the best of both worlds - open storage for easy access to frequently used items and closed drawers for keeping documents and personal items secure and organized. It's a versatile solution for a tidy and efficient workspace.
Conclusion
Any home office or executive suite would benefit from the addition of a sleek white L-shaped desk with drawers. Their large surface area and storage capacity make them suitable for a wide range of uses.
There are a number of great alternatives to pick from among the five white L-shaped desks with drawers shown here. You can discover the ideal white L-shaped desk with storage for your requirements, whether you want something sleek and contemporary, rustic or a vintage-inspired one.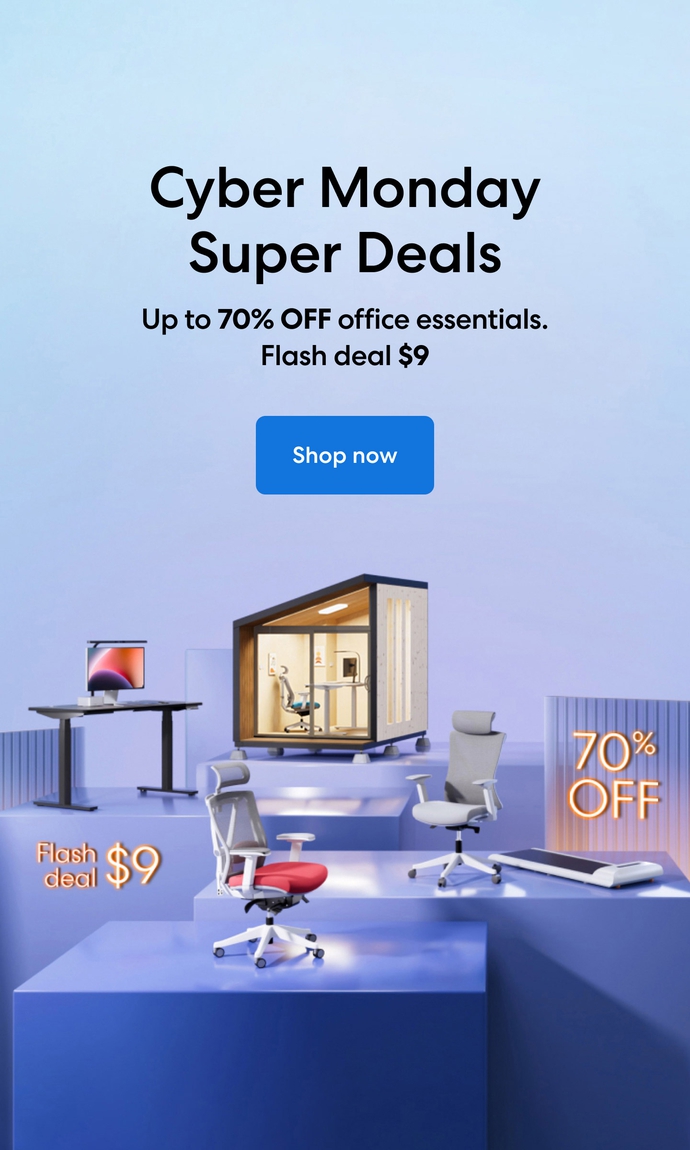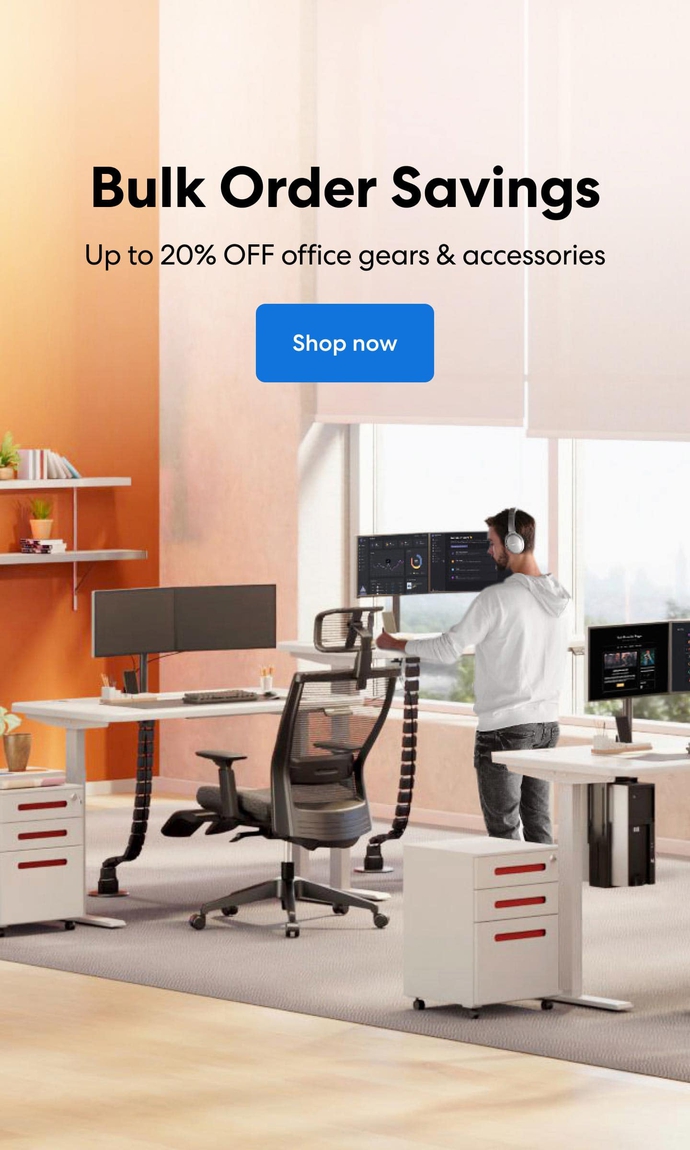 Subcribe newsletter and get $100 OFF.
Receive product updates, special offers, ergo tips, and inspiration form our team.