Workplace Inspiration
Trendy and Functional Dorm Furniture Ideas to Consider This Year

Autonomous
|
Jul 11, 2023
329 Views
Did you know that students' environment is key to their academic success? In other words, dorm furniture and decor ideas can impact or enhance your creativity and concentration.
Many students want to make their dorm rooms feel like home, while others create original, fun, and colorful spaces to boost their creativity. All are great options and can have an impact on their academic performance. 
Experts agree that students spend a lot of time studying, interacting, relaxing, and resting in their dorms. Therefore, it's important to create a conducive environment for all these activities. 
In addition, dorm rooms must make everything, including pencils and books, accessible to suit students' academic needs. Do you need help to achieve that goal? You've come to the right place. 
Read on and find the best trendy and functional dorm furniture ideas to turn these spaces into the perfect place to boost your creativity, improve your concentration, and rest after a long day. 
Best Stylish Furniture Options for Dorm Rooms
Do you need dorm furniture ideas to turn this room into the ideal space to study, have fun, and rest? 
Many people believe they need to spend a fortune on boring items to organize and decorate their dorm rooms. However, you only need good ideas to find stylish decorating options, even if you're on a tight budget. 
Under-Bed Storage You Can Also Use as a Table
All dorm rooms are different. Some are large, while others are small with limited storage space. If yours is like the second option, you need practical solutions.
 The best dorm furniture ideas involve designs that double as other useful items, especially if you don't have a lot of space to store your stuff. 
There is always too much space under the bed. Instead of letting dust bunnies pile up there, why not use it to set up a stylish but functional piece of furniture? Under-bed storage solutions that double as bedside tables are great! 
Many rolling storage bins fit snugly under your bed. Besides storing your belongings, you can use them as bedside tables for essential or decorative items. Plus, they'll add aesthetic value to your sleeping space.
Adjustable Standing Desks
Many modern solutions, such as a standing desk, are ideal for turning your dorm into the ideal space to study and do homework. It's one of the best dorm room furniture ideas! 
Why should you choose a standing model as your dorm room desk? Well, these pieces of furniture offer many benefits to students and workers. These are just a few of them: 
Boosted energy

Calorie burn

Improved mood and focus

Reduced back pain

Improved posture

Better blood circulation

Comfortable wrist and neck position 
Convertible Sleeper Chair
Do you love day naps or need an extra bed? A convertible sleeper chair may be the perfect solution. Besides being stylish and attractive, these practical and comfortable pieces of furniture can serve different purposes. 
During the day, a convertible sleeper armchair is ideal for reading a book or watching TV. At night, you just have to recline them out to form a bed. They're just amazing! 
Plus, you don't have to spend a fortune to buy a convertible sleeper chair. Many commercial dorm furniture providers offer excellent options at good prices.
Ergonomic Chair
Did you find the ideal desk? Now, it's time to look for an ergonomic chair to create the perfect learning environment. 
If you buy an ergonomic chair, you can enjoy the following benefits: 
Reduced back and neck pain

Boosted productivity

Posture support

Relieved hip pressure

Improved blood circulation

And more! 
In order to create the best dorm desk setup, you need a solid, durable surface and an ergonomic computer chair. If you want it to be more stylish and original, add some office accessories or implement modern decoration ideas.
Mirror with Shelving and Hooks
Do you find yourself looking in the mirror every time you're heading out the door? That's natural! People do this to confirm there's no leftover food on their teeth. 
However, you don't have to go to the bathroom. Instead, invest in a shelving unit with a mirror and hooks. Besides making your life easier and helping you make sure you always look good, these items are ideal for limited spaces. 
You can hang your keys and coat on this shelving. This way, you can grab them when you walk out the door. Also, you will give yourself one more glance in the mirror before leaving. 
Floor Lamp with Table Attached
If you're looking for the best dorm room furniture ideas, you cannot forget about lamps. You need good lighting while studying to boost your productivity and concentration, right? 
A lamp provides targeted lighting while you read or go over your notes for your next test. In addition, you can use them if you need light for ambiance. 
However, not all dorm rooms have enough space for multiple pieces of furniture. Therefore, you can consider using a floor lamp with a table attached. 
Many side tables have a built-in light, offering the lighting you need while taking up minimal space. As mentioned, the pieces of furniture that function as two items can make all the difference.
Creative Ideas to Personalize a Dorm Room
If you already found the perfect dorm furniture, you also need ideas to personalize and decorate this space, right? You can also find many here! 
Many of these decor ideas are cheap and may combine perfectly with your dorm room furniture. 
Choose an Original Rug
Choosing the right rug can add a personal touch to your dorm room. However, these decor items can also make the environment feel warm. 
Placing a rug in your dorm room can also help you cover carpets and flooring used by other students over the years, making this space look refreshed.
Hang Multiple-Pieces Frame Sets
A wall-filling solution can also give an original touch to your dorm room. Plus, they're customizable. 
You can hang multiple frames over your bed and personalize this space with your favorite paintings or photographs to have your memories close by. 
Besides making your dorm room more personal and fun, this solution will make you feel at home. 
Hang Photos on String Lights
Many fun lights also have clips to hang photos on. Besides lighting up your dorm room, these decorative items will help you feel that your families and friends are always with you. 
Also, string lights are usually cheap. If you are looking for an affordable decor solution to complement your dorm furniture, this is an excellent idea. 
Use Removable Wallpaper
Wallpaper can transform any dull wall into something completely new and original. Also, you don't have to spend a fortune if you like this idea. 
Instead, just cover the wall behind your bed and create a unique, original, and eye-catching environment that suits your style.
Where Can You Buy Dorm Room Furniture at a Good Price?
Are you ready to create the best learning and resting space? That's one of the most important things for students! However, there is still one question you need to answer – where can you buy dorm room furniture at a good price? 
Honestly, you can find many dorm furniture stores and suppliers. However, Autonomous is the best option if you want to buy high-quality products and save. 
Whether you're looking for standing desks, ergonomic chairs, or office accessories, the brand has plenty of options at great prices. 
If you are interested in buying bulk furniture, Autonomous is also the best option out there. Learn more about this program below! 
Learning About the Autonomous Bulk Order Program
Autonomous has a Bulk Order Program for businesses and individuals who want to purchase ergonomic or commercial dorm room furniture at good prices.
The world's most innovative companies have used the Autonomous Bulk Order Program to purchase solutions for over a million employees, boosting team performance and creating comfortable working spaces. 
Educational institutions can use this program to purchase furniture in bulk and adapt dorm rooms to students' changing needs.
Benefits of Buying in Bulk at Autonomous
Do you want to know if the Autonomous Bulk Order Program is for you? These are some of the benefits you can enjoy if you choose this option: 
No costly stockouts

: Ordering commercial dorm room furniture in bulk from Autonomous can help you maintain your stock levels and always have a solution for any arising issue or need.

Assembly service

: If you buy 10 units or more and are in California, you can request assembly service. It'll make your life easier! However, it only applies to SmartkDesks and ErgoChairs purchases.

Free gifts

: When you buy at Autonomous, you can also receive free bonus products.

Flexible shipping

: Autonomous will deliver products when customers need them. You just have to order and select a convenient delivery date. 
What Does Autonomous Offer?
Are you interested in the Autonomous Bulk Order Program? These are some of the products you can buy: 
Autonomous SmartDesk Core
This home standing desk is all you need for all-day productivity. In addition, it increases well-being and makes your setup much more comfortable.
The Autonomous SmartDesk Core has a strong, durable frame that supports up to 270 lbs. Also, it's height-adjustable and has a powerful dual motor that offers excellent performance but is completely quiet.
Autonomous SmartDesk Pro
If you are looking for a modern and functional standing desk, you can also consider this smart desk. It's one of the best dorm room furniture pieces you can find! 
The Autonomous SmartDesk Pro is height-adjustable, so all you have to do is push a button to increase the height from 26.2" to 52". In addition, it has a solid steel frame that supports up to 310 lbs and an upgraded dual motor that offers optimum performance.
Autonomous ErgoChair Pro
Are you looking for the perfect dorm desk chair? Autonomous also offers multiple options, including the ErgoChair Pro. 
This desk chair is ideal for those who want to create a comfortable setup and also expect to find modern and original dorm room furniture. These are the available colors: all black, cool gray, evergreen, black & white, red apple, and baby blue. 
Although the price is high ($499), you can save up to 7.5% if you place a bulk order.
Autonomous ErgoChair Core
If you want a cheaper ergonomic computer chair to save a few cents, Autonomous has another great option: the ErgoChair Core. Also, you can save up to 7.5% on bulk orders. 
This desk chair is more comfortable than a couch and has been specifically designed to offer great comfort. In addition, it has a breathable mesh back for optimal airflow. 
Autonomous describes the ErgoChair Core as the brand's most user-friendly chair.
Final Thoughts
Choosing the right dorm furniture can make this room the perfect space to study, rest, and achieve academic success. 
These ideas are great for that goal, but you can get creative and come up with many more! Also, if you want to find dorm room furniture at a good price, remember that Autonomous has many options!
Video ads for product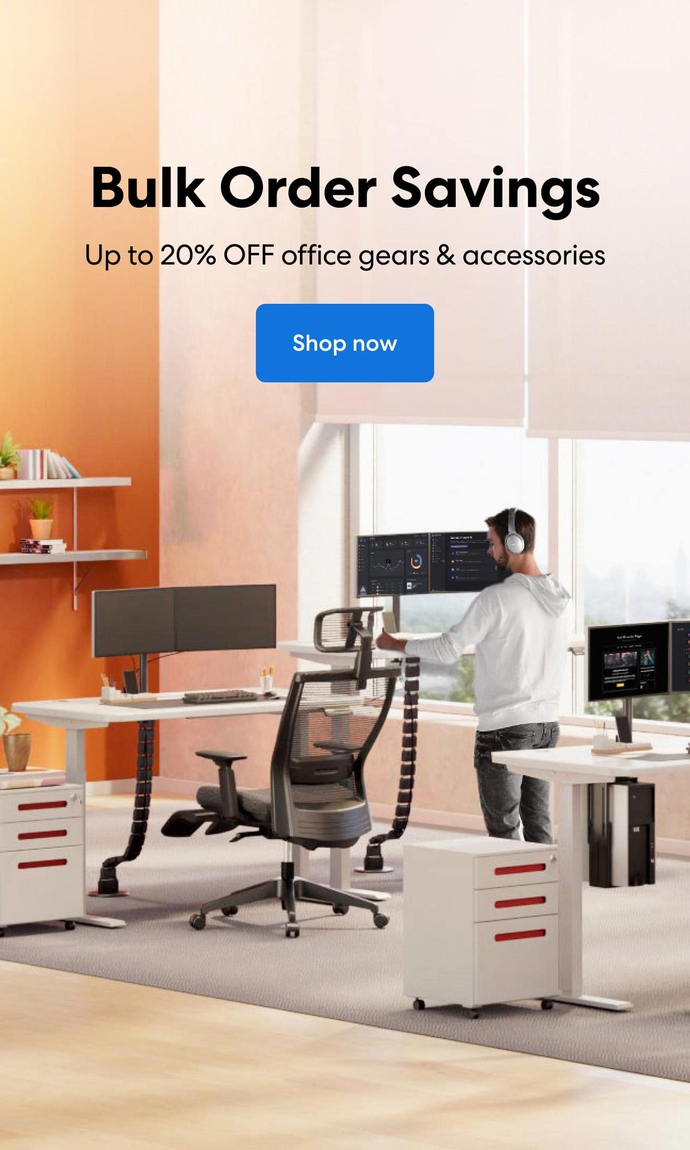 Subcribe newsletter and get $100 OFF.
Receive product updates, special offers, ergo tips, and inspiration form our team.