There is a serious chance you wouldn't have thought about a home office setup until 2019, but then the pandemic happened, and everything changed. From the empty corner to the spare room in the home, every area or free square footage became of interest when setting up your own home office. A home office setup is essential for a remote worker because, without a proper work-from-home setup, it is impossible to reach your productive self, let alone find the motivation to work. But a tough challenge arises when you cannot find a proper work-from-home space that suffices your office setup needs.
Some people, however, are lucky to have outdoor or backyard space that can be used for an office setup. If you have a moderately spacious backyard, you can pick any of the Autonomous pods or a variety of their office pods and prefab studio setups to bring about modern home office ideas. But if you already have an outdoor wooden pod for the garden that now functions as a shed, you can use the wooden potting shed to build the best home office setup one has ever seen. Yes, many wooden garden potting shed ideas work to bring the best home office setup for you, and in this article, we will cover some ways to transform your shed into a home office.
Although you already don't have a shed for your home, consider availing yourself of a good price with the Autonomous employee purchase program.
Custom Office Shed
The first thing you must pick when choosing a shed for your home office is the right structure. Thankfully there are many outdoor potting sheds with careful designs and customized options. These sheds are made with special attention to all the features one desires in a proper living space, such as windows, doors, insulation, electrical connection, and weather-resistant finish.
Converting these sheds into a home office is a worthwhile experience because you already have the entire infrastructure but need to build up and furnish the interiors.
Interior Shed
If you plan a secluded private room indoors, as the indoor area might be too big to waste, you can also settle with interior potting shed ideas. An indoor potting shed comes with all the designs and features that make it easy and private, even for indoor spaces. You can get soundproof paneling options to control the noise transmission and have private meetings in the middle of a chaotic place. Secondly, you can also get privacy panels installed if there needs to be zero visibility of what's happening inside your shed office.
Plan the Layout
It's crucial to plan the size and layout of your potting shed office because this will allow you to see if the furniture and other items you want to use will fit inside. Also, you should not cramp up the space with extra furniture and items. This clutter can reduce efficiency and lead to frustration when working daily in the shed.
When choosing a shed, consider the size of your garden and how much room it would require. If you already have one, ensure that all the furniture you plan to place within has the appropriate measurements and can fit comfortably. Next, measure the desk, chair, and other furniture items you wish to buy and consider leaving around 40% of the space in the shed free. You can discover a garden office in any size you choose since sheds come in various sizes, depending on how big your garden is and what type of office setup you are planning.
Personalize Your Shed
Personalization is always a great wooden potting shed idea, and one should not ignore the value of personalization in an office space. For office workers adding their personality touch to the workplace is highly beneficial for productivity. Thankfully you can personalize your shed when transforming it into a home office. You can find many potting shed kits with suitable tools and accessories to build a design that matches your needs.
Windows in a Shed
Windows breathe life into a shed because your office can take maximum advantage of the daylights, which is also highly beneficial for you at work. Having daylight access to your shed office can cut up the electricity costs that go into lighting and insulation. You can open the windows for a breath of fresh air in the evening and enjoy some chill time when done with work at night.
Office Essentials
It will be simple to get the essentials once you've chosen how you'll use your shed office. You should next think about the furniture, storage, and accessories you'll require. This will impact the layout and access needed and the amenities you'll require in the wooden potting shed.
You first need a workstation and a cozy chair. An appropriate cooling and heating system is also necessary to ensure a comfortable working environment. Remember to include and plan storage spaces where you rarely use office equipment and minimize the clutter. You could even want to equip the workplace with a refrigerator and kettle so you can make tea and coffee as you work!
Plan it Properly
A summer house works in summer, a tree house in winter, but an office shed is something you need 365 days a year; hence you need to make it friendly for the entire time. Especially with a wooden shed, temperature regulation and control are necessary, so don't take it for granted as something you would get by later on. It's crucial to take precautions to make sure a shed is structurally strong and won't leak water because it may be vulnerable to the elements during the colder months, especially if you'll be storing electronics there.
Electricity Access
You'll need electricity for your work computer, Wi-Fi, printer, lights, and other things. However, wiring electricity is not a task you should do alone. Employ a qualified electrician for this task. Most certified electricians provide a guarantee on their work.
The electrical work will be examined and required by a certified electrician if your building will be utilized as a place of business. Only rough-in work, such as installing wires and cables for basic power, lighting, Internet access, ventilation system, phone lines, and cable television, is included in this step of the electrical process.
Video ads for product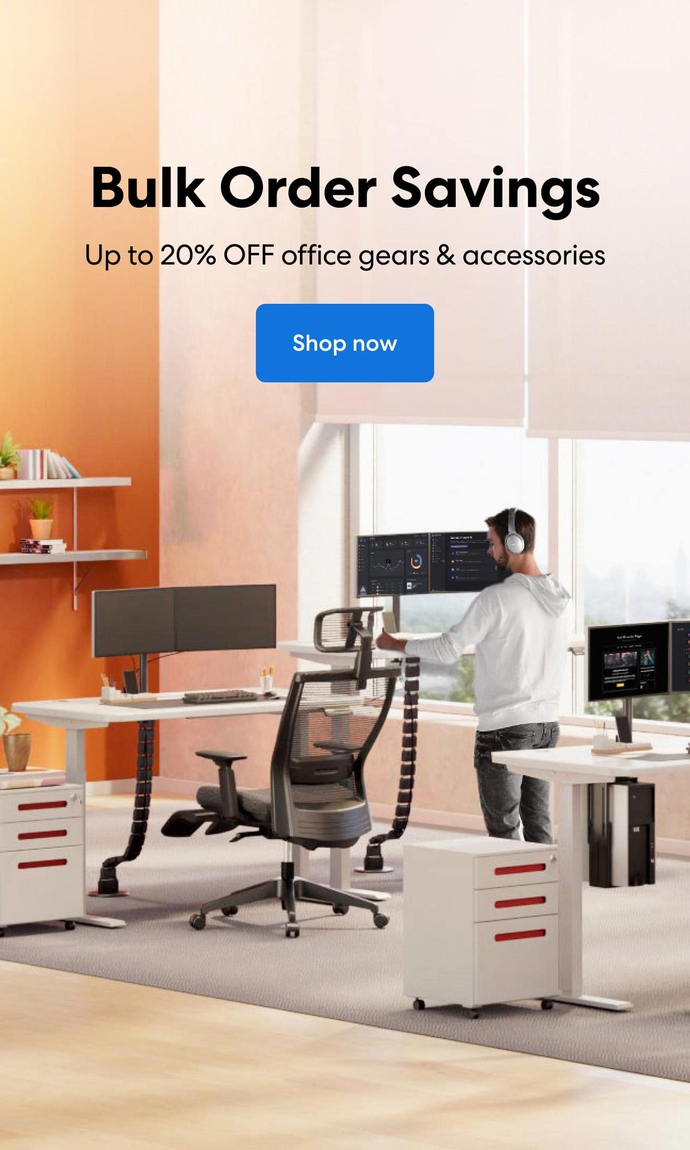 Subcribe newsletter and get $100 OFF.
Receive product updates, special offers, ergo tips, and inspiration form our team.