Workplace Inspiration
Types of Building Construction for Houses to Know: Pros and Cons
196 Views
If you have decided to construct a house, you must choose your preferred building construction type to execute your plan in full swing. There are different types of building construction methods that one can adopt to build a house or add an extension to an existing home.
But how will you select the right foundation or building structure? Even though your selection will be influenced by aspects such as your budget, location, or any personal preferences, the fact that each choice comes with its own pros and cons must be considered as well.
The good thing is we will be discussing the major types of building structures in this blog to help you out. You will learn the benefits and drawbacks of different types of building architecture once you are done reading this blog. So, let's begin! 
7 Types of Building Structures for Houses
Here are the details and pros and cons of 8 different types of building methods that you can adopt for constructing a house. 
1. Wood Framed
The wood-framed construction is a suitable choice for small office buildings or single-family houses. As its name suggests, the material that the builders use in its construction is mainly wood. Some people use it to construct a prefab guest house. You can classify such construction into two groups.
The first one is the older type of wood framed construction that features fire-rated materials for roofs, walls, floors, and frames, and the second group is the one with no fire-resistance rating. It is the second group of wood-framed construction that is more common these days. 
Pros
It is the most budget-friendly option.

It can adopt a variety of architectural styles. 
Cons
It is vulnerable to fire, but installing indoor sprinklers can help.

It has space limitations as per the International Building Code standards. 
2. Ordinary
Ordinary building construction covers a broad category of house construction options. Buildings that are made using concrete, masonry, bricks, or other non-combustible material fall into this category. One thing to note here is that the roof and interior structures of these houses may have a wood frame.
You will usually find these buildings with a tilt-up or tilt-slab construction. In these cases, the makers pour the concrete into a wall form and lift it into the desired position. So, why do people go for Ordinary? These buildings keep the fire within the exterior walls and prevent it from spreading to other buildings. 
Pros
It has a durable construction.

It is resistant to insects.

The construction options here are more varied.

Its exterior walls can resist the spread of fire for two hours. 
Cons
It has less fire resistance than fire resistive buildings. 
3. Modular Building Homes
Modular Building Homes are one of the best types of building construction because they have a consistent quality. These houses are mostly built inside factories and come in sections, and you can stack them in your desired choice to create a unique residential building.
The modular ADU by Autonomous is a great example of modular building homes. You may try different shed house ideas to become more creative with this type of construction. People love using these buildings' homes to add an extension to their homes because they are quite sustainable.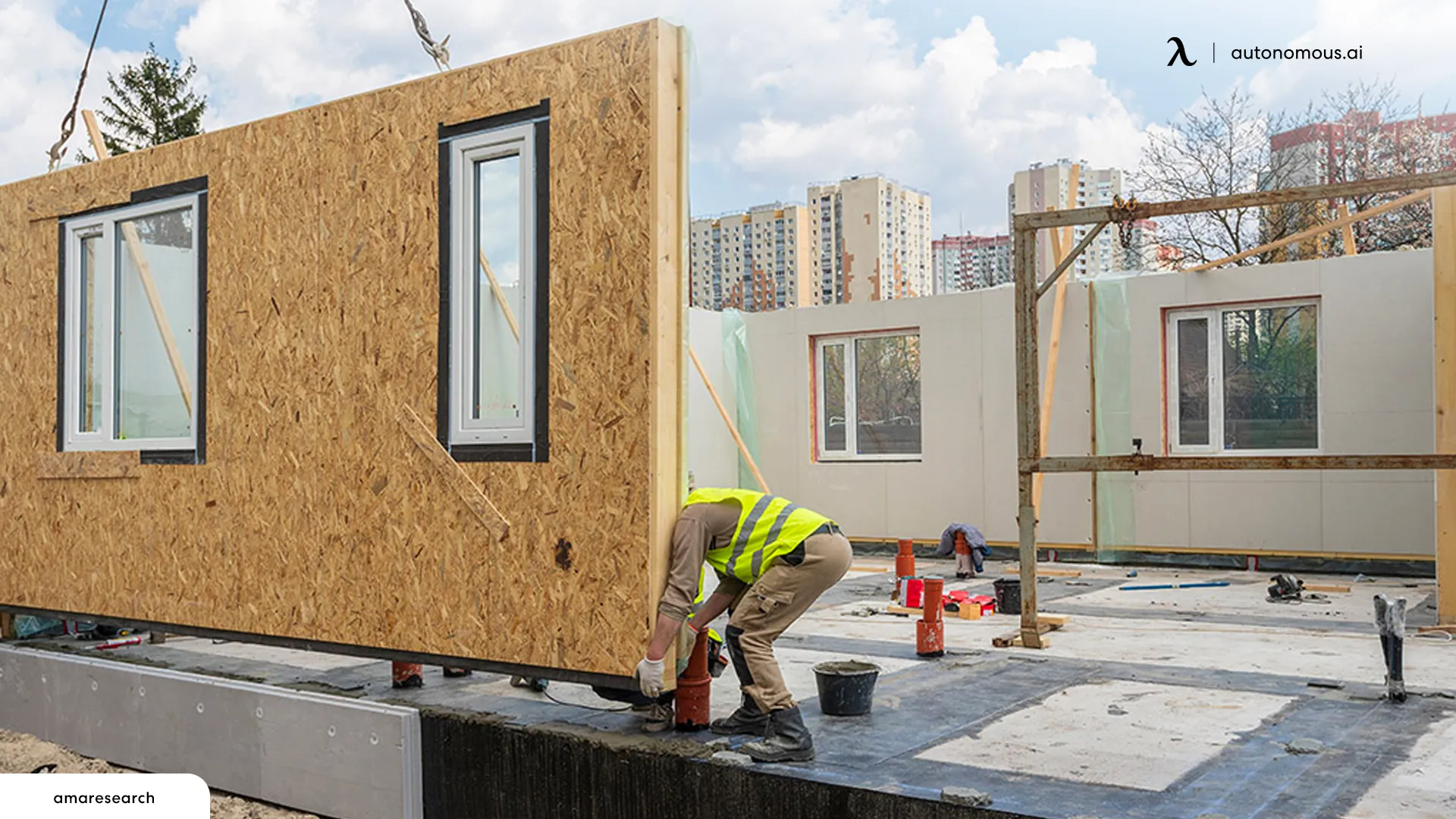 Pros
Modular construction is faster than traditional ordinary construction.

It is more efficient in terms of quality.

One of the most sustainable construction options. 
Cons
Customization options here are, at times, limited

There are certain size limitations.

It is often difficult to find land for modular homes. 
4. Panelized Building System
Panelized building systems are one of the most modern types of building foundations that incorporates high-end materials and advanced technology. Such homes are more energy efficient and require comparatively lesser construction time than traditional ordinary or wood framed homes.
You will usually find them as small house kits as their roof trusses, wall panels, and other components are built in factories. These components are then assembled on site for constructing a backyard guest house by implementing different guest house plans. You may even use them for adding an extension to your existing home.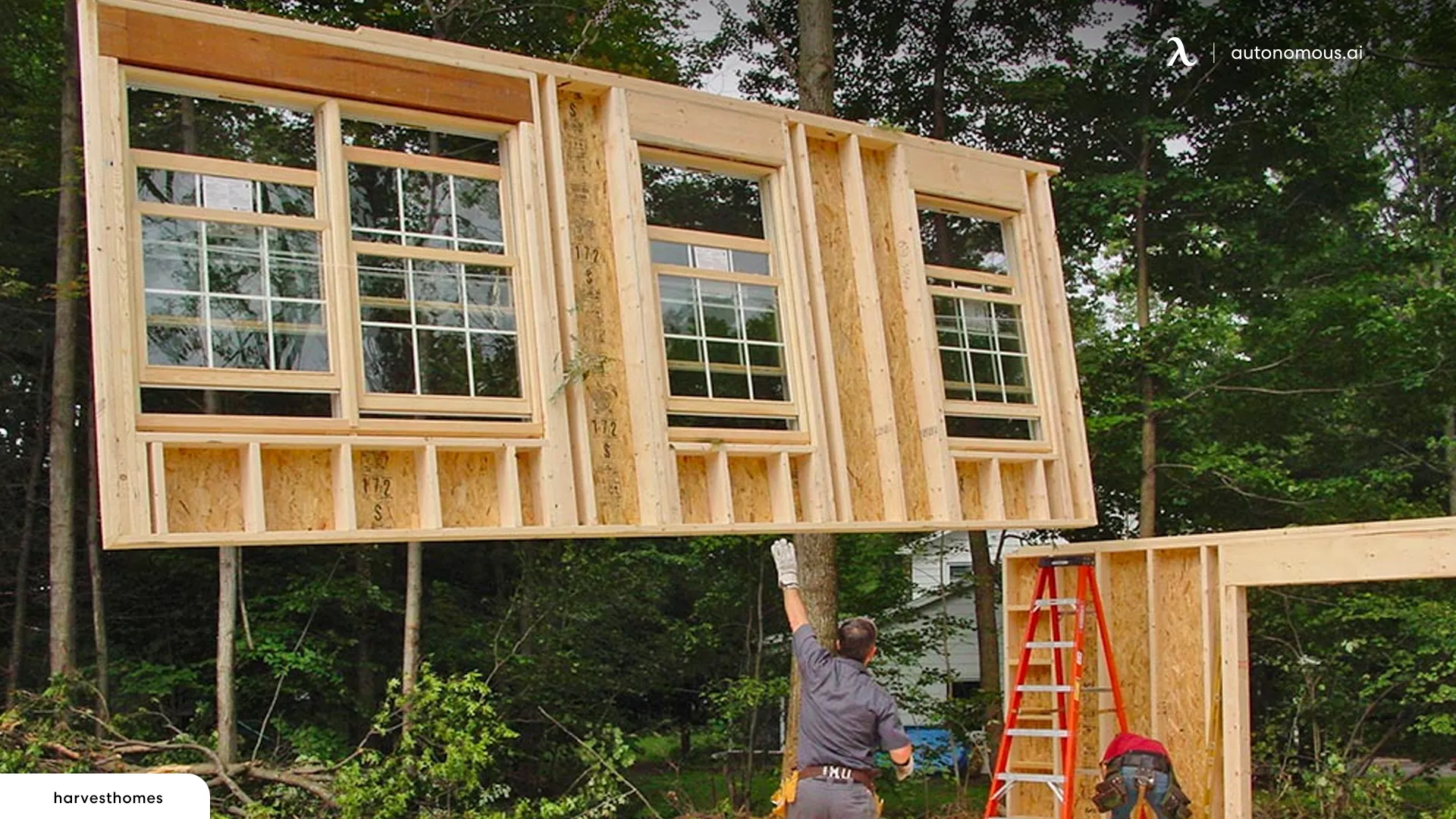 Pros
It reduces waste because the design is more accurate than traditional homes.

It features greater energy efficiency.

It may have some degree of fire resistance. 
Cons
It may offer a limited degree of customization.

These homes are usually small due to transportation limitations. 
5. Non-Combustible Building
The non-combustible building projects comprise non-combustible interior walls, floors, framings, roofing, and exterior. Builders usually use metal or concrete for such types of building construction.
Since these buildings are not coated in fire-resistive coatings, you cannot expect them to offer longer resistance to fire. Still, you will usually find such construction in building shopping malls, big-box stores, and newer schools. 
Pros
It is made of non-combustible materials.

The building's exterior can resist fire for up to one hour. 
Cons
Does not offer fire resistance for a duration longer than that in fire-resistive buildings. 
6. Heavy Timber Framing
Buildings with heavy timber framing comprise large beams of wood connected via metal bolts and plates. Heavy timber framing is one of the thickest types of building house structures because their columns, girders, and beams are around 8 inches thick while the floor is at least 6 inches thick. Such buildings only feature heavy wood planks; you may have noticed such construction at older churches or barns.
Pros
The building is more resilient to collapse.

Its exterior is non-combustible. 
Cons
Expensive

If the building catches fire, you will require a large amount of water to extinguish the fire. 
7. Fire Resistive
Fire resistive buildings are one of those types of building construction that is made using poured concrete and steel beams. Usually, high rises have a fire resistive construction which can resist fire for up to two to four hours. If you evaluate how safe these buildings are, they offer the highest degree of safety. 
Pros
Exterior walls have the highest degree of fire resistance, i.e., 2 – 3 hours.

It is the most specific of all

types of building architecture. 
Cons
End Note
That's all about the basics of different types of building construction that you must know to construct your house. There is a wide variety of building construction methods available. You must evaluate them in the light of their pros and cons to decide which one to pick. Good luck!
Subcribe newsletter and get $100 OFF.
Receive product updates, special offers, ergo tips, and inspiration form our team.
WRITTEN BYAutonomous
We build office products to help you work smarter.