Have you ever seen a unicorn? You may think not, but just hang on a second. If you've ever taken an Uber or a Lyft, then guess what: you've not only seen a unicorn, you've ridden one! And if you've ever stayed at an Airbnb, then you've slept with a unicorn, in a manner of speaking. But let's just clarify what we're talking about here, to be safe.
Unicorn definition: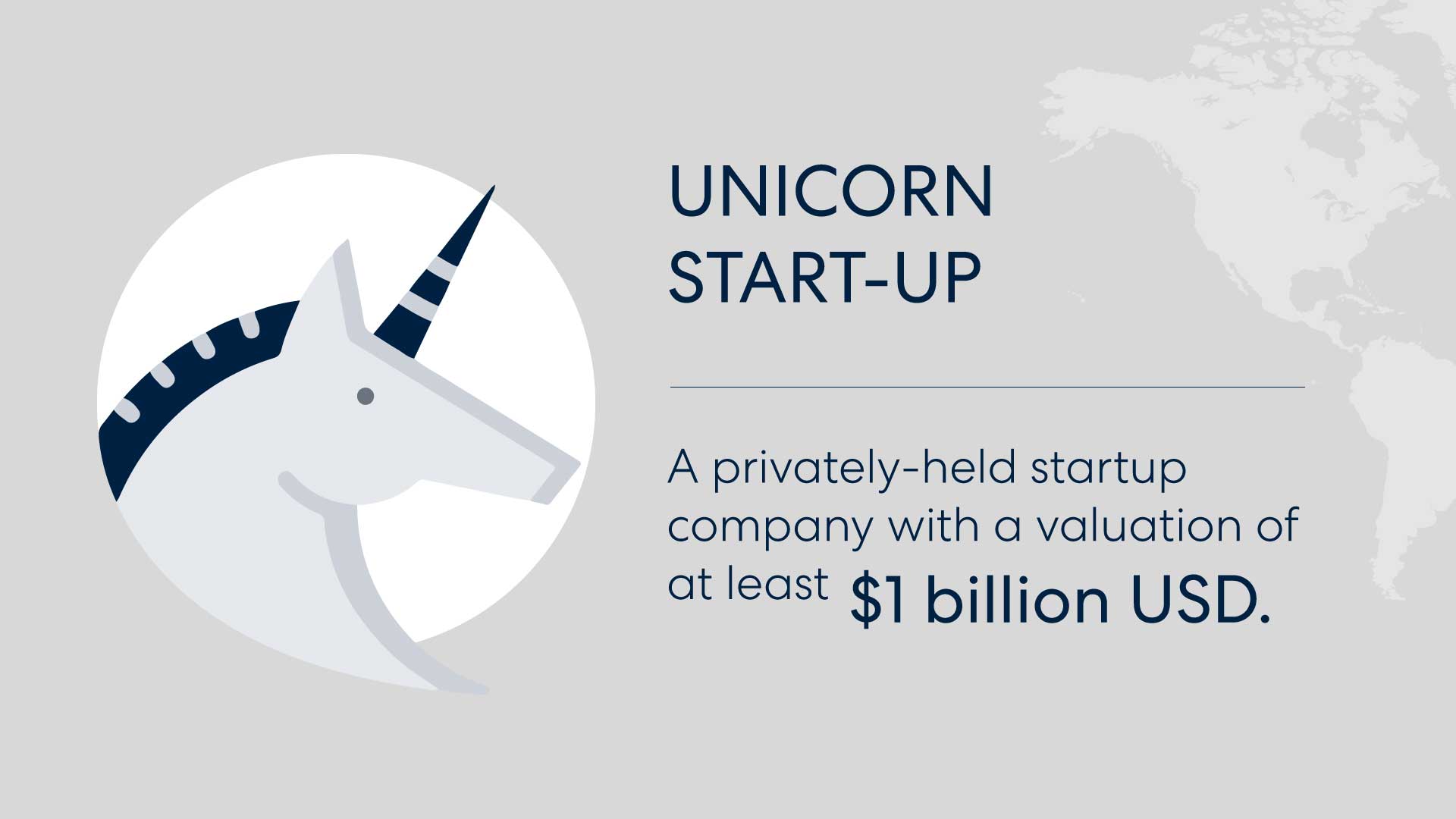 A.K.A.:
Something that is highly desirable but difficult to find or obtain.
In the United States, 47 tech companies reached unicorn status in 2018. That's up from 23 in 2017. There are obviously many factors involved in the growing number of successful startups, from an increasingly diversified market for new technologies to actual business planning and funding strategies. But one glaring difference between most startups and most traditional companies can be summed up in one word: culture.
Startups often encourage employees to be themselves, to express themselves and to let go of old norms of what they think an office job looks and feels like. And a huge part of that culture shift is the physical workspace itself.
So, if startups are using more creative office designs to attract top talent, and that top talent is leading to fast-paced business growth, why can't you do the same with your company?
We're going to take a look at five unicorns — including some big names and several that reached unicorn status in impressively short amounts of time — to highlight some of their unique office traits so you can see which ideas you might be able to implement into your own office design plan.
Uber
Founded: 2009
Location: San Francisco
Latest valuation: $82 billion - source
You know you've reached the pinnacle of your industry when your company name becomes a verb. Google achieved this feat. Now Uber has too. "How did you get home last night?" "I Ubered." Without hesitation, that's a perfectly acceptable phrase these days. Technically, Uber is now a former unicorn since its IPO in May, but it's still a very relevant example for this list. So how did office design play a role in the growth of the most successful ride-hailing company in the world?
To start with, when Uber hired design firm O+A to build their flagship office in San Francisco, one of the first things the firm did was ask employees what types of environments they enjoyed working in. The answers laid the foundation for the design plan.
"Two answers predominated: universities and coffee shops. What do those places have in common? Both assemble people in shared spaces for (mostly) heads-down work. Uber's San Francisco headquarters is a vast space made up of many interlocking comfort zones, an artful orchestration of communal areas and small enclaves for solo concentration."
- Excerpt from O+A's website
This is a great example of a company working with its employees to collaborate on creating the best possible work environment for everybody, rather than simply building an office based on trends or what the company thinks is best for business. And it's hard to argue with their success, with Uber now operating in 63 countries across the world while also expanding into other service areas with Uber Eats and Jump Bikes.
WeWork
Founded: 2010
Location: New York
Latest valuation: $47 billion - source
This is a company whose entire business revolves around offering effective, flexible and affordable office space for anybody and everybody. Needless to say, they've learned a thing or two about office design along the way.
Rapidly growing numbers of entrepreneurs and startups, combined with increasing real estate prices in many cities around the world, created a gap wherein a lot of smart people with potentially visionary ideas couldn't afford a place to work and nurture those ideas.
WeWork recognized this gap and set out to fill it by offering rentals for everything from individual desk spaces and meeting rooms to entire floors designed to provide a mix of multifunctional workspaces. And all at monthly rates cheaper than the traditional office rental market, along with shorter-term options.
One of the reasons they've been so successful is that they test out their design ideas on themselves first at their headquarters in Chelsea, New York. Experimentation and fine-tuning their designs based on real-life results is a philosophy any company can emulate. Sometimes the best strategies are the simple ones: trial and error.
Another thing WeWork does well is that it offers a wide variety of communal spaces. These spaces are used as game rooms and for hosting workshops and other social gatherings for members to up their skills, hang out, network or just enjoy some downtime. They understand that creating an effective office space is about creating a community where people enjoy being, working and even playing. Create an office where people want to be, not one where people want to leave.
Airbnb
Founded: 2008
Location: San Francisco
Latest valuation: approx. $35 billion - source
Empower homeowners around the world to become their own mini-hotels and earn extra income on the side, while you manage it without many of the huge overhead costs of running a traditional hotel chain. What a concept!
It took Airbnb just under three years to go from an idea to a unicorn, and it's now multiplied that unicorn status many times over. From long-established global cities like New York to developing cities across the world, it's become the standard and more affordable alternative to hotels for millions of travelers.
When it comes to office design, Airbnb is an example of a company that understood its brand and used that as a vehicle to create an office design that forged a deeper connection with its employees.
By studying actual Airbnb listings around the world and designing offices and meeting rooms at their San Francisco headquarters to resemble real-life listings, employees are immersed in what their company does and what it represents, giving them a true connection to their daily tasks. Going to work at Airbnb must feel like a little like you're going on a trip every day, depending on which part of the office you're working on or have a meeting in.
Desktop Metal
Founded: 2015
Location: Burlington, Massachusetts
Latest valuation: More than $1 billion (2017, no recent valuation update) - source
This unicorn can really fly. In fact, it's one of the fastest unicorns of all time, racing from a starting position as a founded startup to its $1 billion valuation in less than two years! And for a company that relies heavily on research and development gains for its success, finding the right office design for their space was crucial in the early going.
When design firm Unispace took on the project they started with a big empty room that didn't even have electrical or plumbing, and they created an ideal space for a breakout company.
"We took this blank canvas and fully-designed a quintessentially open environment with soaring ceilings, breakout spaces and writable walls throughout. As an R&D-focused company, workstations are adjacent to the lab space where testing and prototyping occur. Large glass windows connect the two spaces and serve as a conduit for cross-team engagement."
- source: Unispace
They also anticipated future growth by creating a plan for an unoccupied, adjacent part of the building, which could be an important part of your own office design process depending on which growth stage your business is at. You wouldn't want to invest a lot into a great new space only to grow out of it in a year.
Without the right office design to fit their workflow and with the space to expand, Desktop Metal's growth may have been stunted and this unicorn may not have reached its top speed.
TuSimple
Founded: 2015
Location: San Diego
Latest valuation: $1 billion - source
This is the first startup in the "robot-trucking" industry to reach the prestigious unicorn milestone. In a transportation market where autonomous vehicles have become a hot topic, and a hot pursuit, TuSimple already has driverless trucks on the road delivering hub to hub, even in storms! This is an impressive feat for the young company.
With their office design, TuSimple made a point of implementing smart office tools, such as sit-stand desks, to help employees work at a high level without compromising their health.
"The desks promote energy, productivity, and health which creates a healthy workplace. Our employees work at a high level, and the sit-stand desks make it easier for us to be active, which boosts mood and energy levels helping us to stay focused and be more efficient. Autonomous desks have helped us to work smarter, and that is a huge benefit that was introduced to our workplace."
- TuSimple Public Affairs and Government Relations chief, Robert Brown.
You can learn more about how TuSimple achieved their success to this point and what their focus is for the future in our Company Spotlight feature.
5 Office Design Takeaways From 5 Unicorns:
1. Ask your employees how they feel about the office. What's working and what isn't? Gather their feedback and work with them as collaborators to create the most effective office design.
2. Trial and error is your friend. Don't be afraid to test something out and change it if it doesn't work. And remember, the best offices are ones that have a sense of community, not just a work then go home culture.
3. Implement your brand in your office design. Airbnb used real-life listings. Whatever your company does, think of ways to connect your brand and your design, to ultimately build a stronger connection between your brand and your employees.
4. Customize your space to fit your needs, and plan space for expansion. Desktop Metal needed large windows along the wall separating their workstations and lab area to allow for better cross-team engagement. What design tool would benefit your company most?
5. Invest in the right tools so your teams can work smarter. Standing desks, ergonomic chairs, and other office accessories can make all the difference between a tired, aching employee and a healthy, inspired employee; the latter of which will be worth the investment.
Sort by

Top comments

This week

This month
How 5 Unicorns Rode Their Office Designs To Success