Smart Products
How to Use Outdoor Wi-Fi Extender to Extend Reach – 6 Tips

Autonomous
|
Sep 12, 2022
748 Views
Remote workers often face a Wi-Fi connectivity issue while working. A common problem that might be there is related to their Wi-Fi range if they have a shed to work on their office tasks. We know that you prefer working in a shed as a remote worker because it helps you focus on your tasks better. However, you may need an outdoor Wi-Fi extender to extend your Wi-Fi range.
It is not necessary that your shed receives the internet connection at a speed you experience at your home. So, you may wonder how to extend Wi-Fi range outside. If you know the right tips, you can extend the Wi-Fi's range to your outdoor home office quite conveniently. You may use outdoor Wi-Fi routers in some cases where you have the Autonomous Pod ADU, but if your shed lacks electricity connectivity, you will need an exterior Wi-Fi extender and a few tips on how to put it correctly.
The good part is that this article has all the information that you might be looking for right now. We have shared the best tips to extend the Wi-Fi range outdoors here. You may read ahead to learn more.
How to Extend Wi-Fi Range Outside
Search for Some Outdoor Outlets
Finding an outdoor outlet is the best you can have to extend your Wi-Fi range. If you have the Autonomous StudioPod, you will have an indoor outlet power supply for powering your Wi-Fi. However, if you don't have this shed and some others, you can plant an outlet there to get yourself a Wi-Fi connection. Usually, the equipment which is next to exterior walls has a good range too. 
Use a Wi-Fi Signal Testing App to Determine Your Range
It is vital to know your current Wi-Fi range before you extend your Wi-Fi range outdoors. There are certain apps that you may use in this regard. The Wi-Fi signal testing app helps you judge the strength and connectivity of your current Wi-Fi range. You will have to plug your Wi-Fi equipment in and run the test from several locations to check how well the networks are around. 
Use a Wi-Fi Repeater
A Wi-Fi repeater is a type of exterior Wi-Fi extender which helps you boost your Wi-Fi signals. A repeater is a small antenna that copies your router's configuration and multiplies your router's strength. The good thing is that they are a budget-friendly option and have a decent signal range. Some of its models also prevent interference, so you get a clean, uninterrupted signal. However, most of these repeaters require repeated logins once you have relocated. They may have compatibility issues, too, so you might find the Wi-Fi mesh a suitable alternative. 
Create a Wi-Fi Mesh Network
The Wi-Fi Mesh Network is a comparatively faster outdoor Wi-Fi extender. The mesh network is a collection of routers that require only one internet connection. Although some people might find it difficult to set up, its built-in redundancy and robust connectivity reduce the setup issues, avoid signal blackout, and provide a smoother work experience. Nevertheless, some people might think this is a costly choice. 
Avoid Any Signal Interruptions from Manufactured Features
Certain natural and manufactured features often interrupt Wi-Fi signals. If there is metal fencing or thick walls around, you may encounter connectivity issues. Your Wi-Fi connection would get disrupted, and office work would get compromised. What you can do instead is place your Wi-Fi router in a place where it does not get interrupted due to such manufactured features. A cool idea would be to place the device as close to your office shed as possible. 
Use Weatherproof Wi-Fi Equipment
Wi-Fi networks often get disrupted due to certain weather conditions like rainfall, humidity, and a comparatively higher or lower temperature than normal. What you can do is select only that Wi-Fi equipment that is resistant to weather changes. The weather changes often impact your Wi-Fi's power range and affect its efficiency negatively. Therefore, you must ensure the power range of your equipment is substantial and has weatherproofing features. 
Final Words

Trying out the simple tips that we mentioned above can help you extend your Wi-Fi range to the desired limit. However, you should be mindful that it is not extended more than the desired range to avoid connection problems. You must have taken some insights from the outdoor Wi-Fi extenders that we shared too. Doing that will boost your connection's strength and help you perform your remote tasks well.
We know that internet connectivity is the basic problem for most remote workers, but there are other office accessories that you must have to have the ideal experience. We understand that every remote worker cannot afford such a budget; that's why we have devised a purchasing program for such employees.
The Autonomous employee purchase program is specially designed for office workers. The plan offers multiple discounts on office accessories and furniture. Since Autonomous has a big name, you can trust the quality and durability of its products. The good thing about this program is that you start getting discount offers the moment you sign up for this program. The fractions of these discounts even increase with your purchases. All you have to do is create your account for this program using your corporate email, and you will be all set to avail of the discounts.
Video ads for product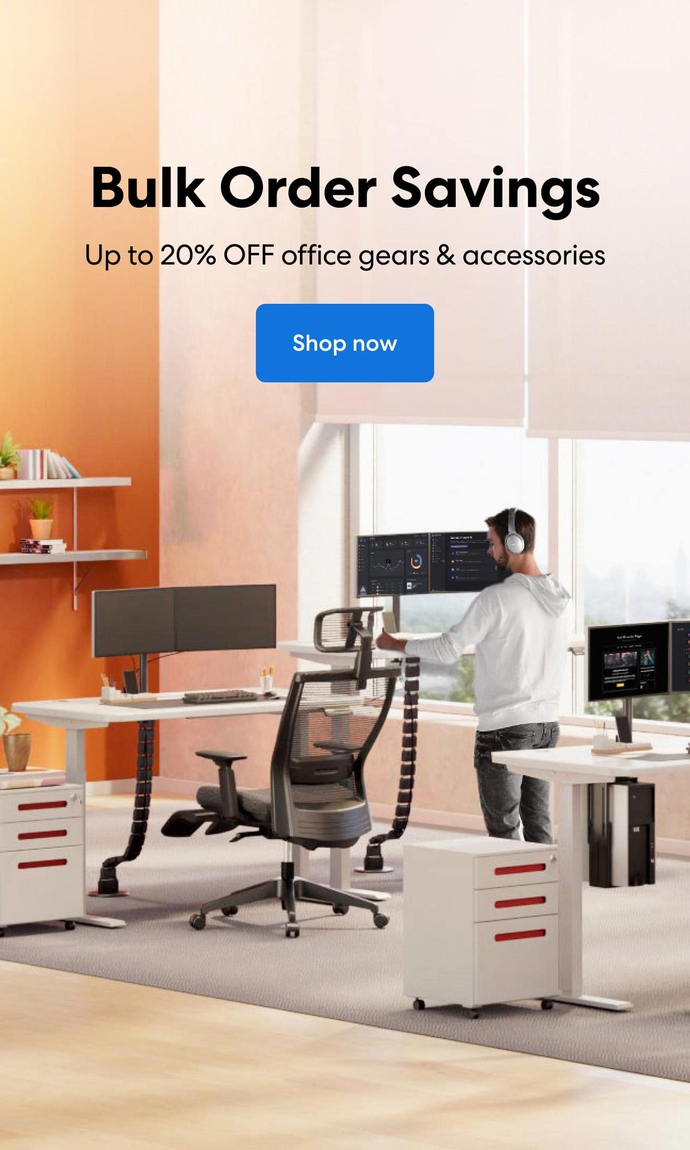 Subcribe newsletter and get $100 OFF.
Receive product updates, special offers, ergo tips, and inspiration form our team.