A good office chair is essential if you've spent a long working day with less-than-ideal furniture. Once you log out of the day, these cozy seats provide your body with essential ergonomic assistance and help prevent aches and pains. In that sense, they serve the same purpose as a strong office desk or standup desk. The greatest office chairs provide more than just that, though, because they may enhance the look and feel of your office, adding elegance and competence.
It is also important to note that to provide people with extraordinary desk chairs, Autonomous has collaborated with KERDOM. Therefore, as a brand, it remains our top choice for choosing the best yet most comfortable office chairs which will keep you relaxed while you work. Nevertheless, many other excellent choices are available, some of which we've highlighted on our list. Generally speaking, you should start with the essentials while looking for office chairs.
Sturdiness, highly adaptable, and ergonomic design are the major characteristics of office chairs in the KERDOM store. Furthermore, it's crucial to consider other characteristics, like whether you require a seat with casters or arms and the design style you want to obtain. With that said, a list of the top KERDOM ergonomic desk chairs currently on the market is listed in this article. All these have been ranked by lumbar support, construction, extra accouterments, and total value.
Our Top Picks from the KERDOM Ergonomic Office Chairs
Whether working at our homes or the workplace, most of us spend a substantial amount of time in office chairs. A high-quality chair would be supportive for extended periods and adaptable. If you devote most of your leisure time to work, it's especially essential. We tried a wide range of KERDOM office chairs to analyze the best ergonomically correct office chairs.
We discovered that you might determine your professional experience and the fate of your office furniture. And hence, we have discovered that various elements influence whether an office chair will be suitable for a particular user. To help you discover the ideal degree of comfort, our specialists have put the greatest KERDOM chairs to the test.
1. KERDOM Ergonomic Chair: Advanced Contoured Seat
This executive rotational chair has rollerblade tires and is a comfortable yet breathable mesh work chair with a headrest and high backrest for s. The seat's wheels are sturdy PU chair casters, precise roller bearings, and industrial-strength steel. The KERDOM ergonomic chair won't harm, tarnish, or scrape your flooring. You may float safely and effortlessly on the carpet as well. With an appropriate backrest, the ergonomic chair offers 4 sustenance points for the head, spine, buttocks, as well as your hands. The headrest, lumbar support, and seat elevation are customizable to suit various demands. Due to its adjustability, you may adjust this armchair arbitrarily to suit various demands, with its angles varying between 90 and 130 degrees.
2. KERDOM Office Chair: Flip-up Arms
Office workers frequently worry that they spend excessive time remaining seated on the wrong chair, which might eventually cause back, cervical, and other medical problems. The KERDOM office chair with adjustable lumbar support features a mesh back with remarkable flexibility that perfectly fits the waist and back curvature, which helps you get rid of back pain. Furthermore, this seat adds a style to the workplace with KERDOM breathable mesh desk chair's classic color and straightforward design. It works great in any location. Employees at work may maintain their proper body alignment while still being productive with the help of this cozy, customizable office chair.
3. KERDOM Ergonomic Chair: Additional Footrest
The ergonomically designed office chair incorporates the proper lumbar support as well as 5 support points for the skull (to rest on), spine, tailbone, arms, as well as your feet. This armchair is relatively simple to modify to fit the user's various demands. This chair's superior backrest and cushioning are breathable thanks to the mesh fabric. In contrast to traditional armchairs, they prevent your back and hips from sweating profusely and enable you to rest nicely for extended periods. The KERDOM ergonomic chair with additional footrest has wheels that can rotate 360 degrees. Due to its softness and smoothness, it will protect your floor from noise and scrapes. And it works with carpet, hardwood, and other sorts of floors.
4. KERDOM Office Chair: Adjustable Armrests & Headrests
The office chair incorporates a human-centered ergonomic design. It features a lock feature and a 360-degree rotation since the seat's elevation adjustment is pneumatic. With the supportive comfort of this ergonomically designed chair, you may work for prolonged periods while maintaining a neutral stance. It is simpler to ease pressure and muscular soreness. This KERDOM office chair with adjustable armrests & headrest has a deep cushion, backrest, and a high-density, ventilated mesh back to offer you the greatest comfortable posture possible. The reinforced explosion-proof chair plate provides you with a double covering and increased comfort. Additionally, it has silent nylon tires for easy mobility.
End Note
After cost, the two most important factors in selecting an office chair are convenience and flexibility. Comfort is simple to comprehend: A comfortable office chair should yield while offering a certain amount of hardness. Additionally, it ought to wick perspiration so that during the summer season, you won't sweat. Mesh seats and backs often do the most in this regard.
The seat must be roomy enough for persons of average height to sit down without feeling cramped into a child's chair. The armrests ought to be shaped so the elbows and biceps can rest securely on them. They should also be constructed of fabric or similar material so your elbows won't be jarred if you bump against them.
Additionally, as every individual is unique, choosing a chair with the proper adjustments will enable you to customize it to fit your particular body type. Generally speaking, the chair's adjustability increases with price. The fact that chairs under $100 often allow you to adjust their elevation is also important to remember. We found out that KERDOM offers their own KERDOM ergonomic office chairs at the best prices.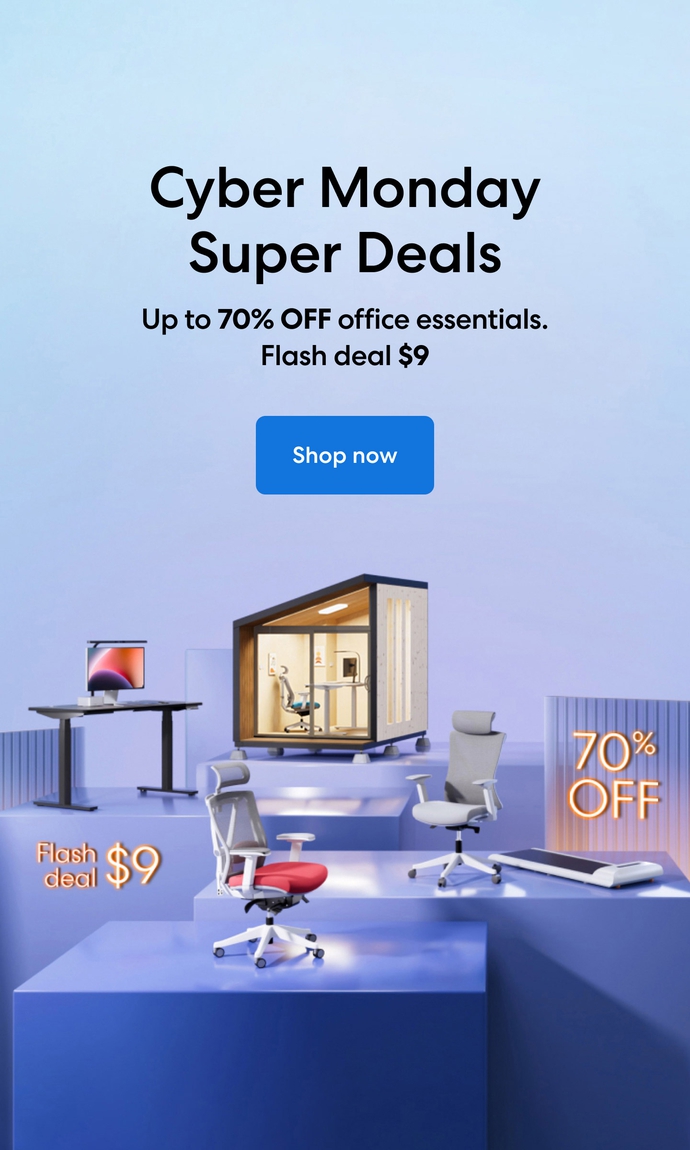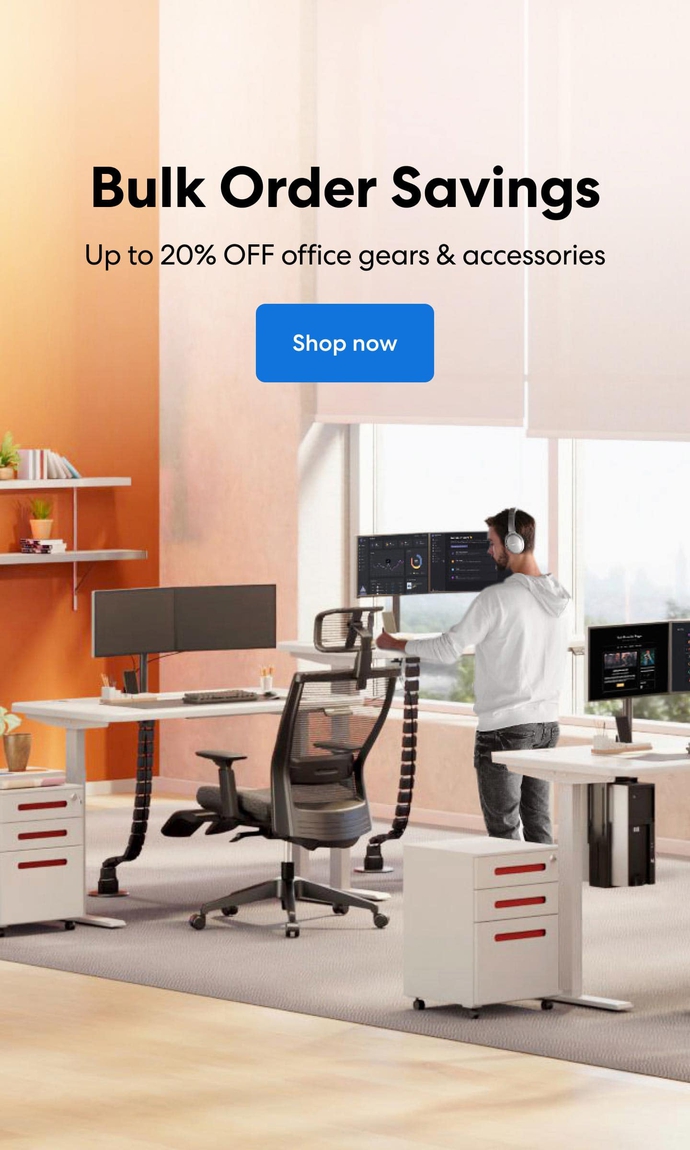 Subcribe newsletter and get $100 OFF.
Receive product updates, special offers, ergo tips, and inspiration form our team.