Want some insights into your workspace?
'I specialize in big ideas supported by real execution.'
Anthony is the Founder of consultancy Thoughtium, whose mission, as he describes it, is 'to enable organizations to think differently about the way that we learn in corporate America.' He describes himself as an entrepreneur, a strategist, and a 'designer of learning experiences' and isn't afraid to take new approaches and run with them.
We were interested to see that he has been following some of the same trends that we have here at Autonomous; particularly in taking inspiration from the start-up community that has been leading the charge in re-imagining the way we work.
He recently tweeted,
'I have been really geeking out about workspace recently. One of the most fulfilling aspects of my time in Silicon Valley has been experiencing how start-ups physically organize themselves around the most important things. I like to think it's an expectation carried over from the earliest days when the company was merely "a few people and an idea".'
He's also a big fan of our products, with his own home SmartDesk set-up.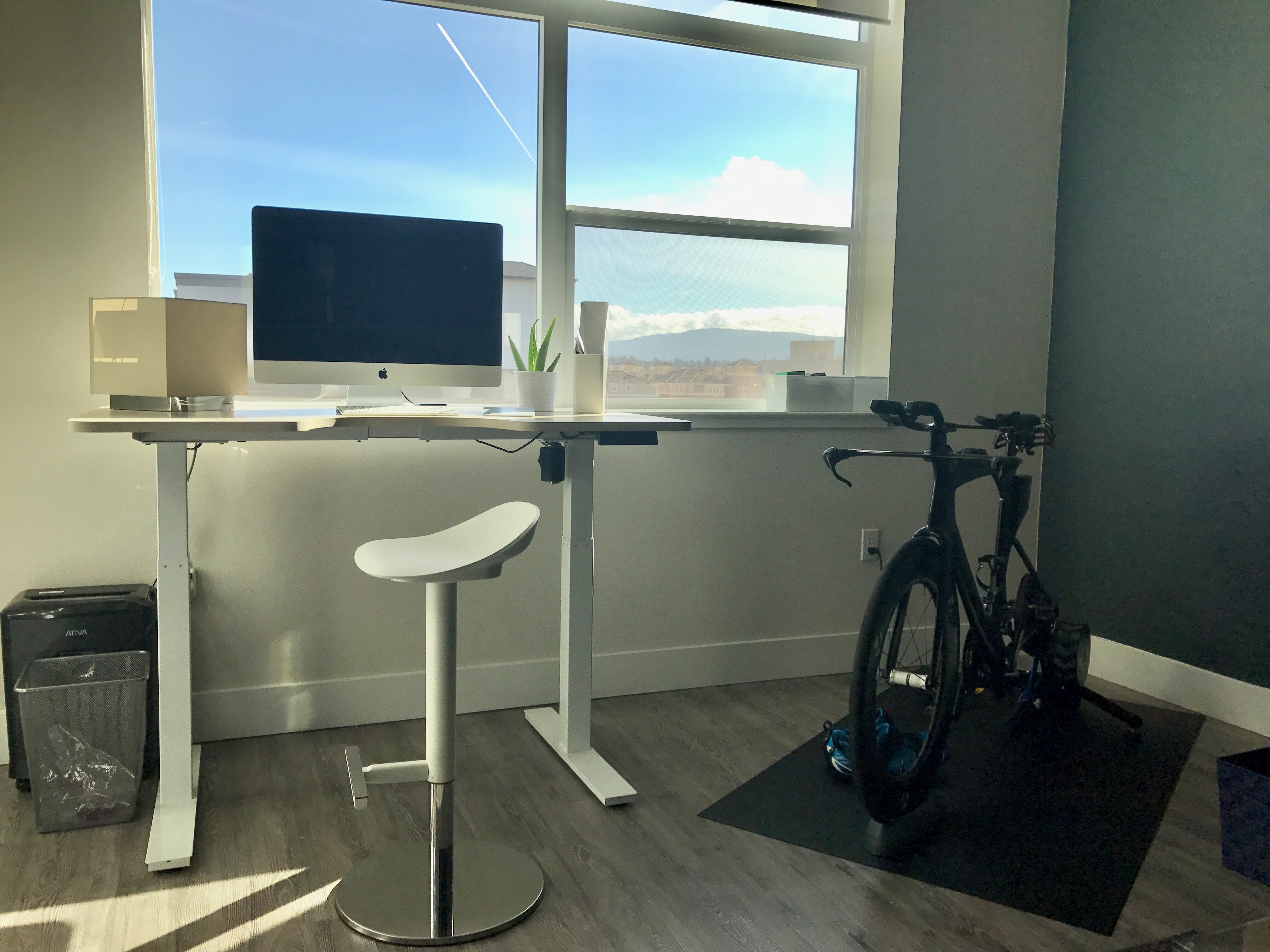 So we thought we would sit down with him to get his insights on how to optimize workspaces today. We also got some bonus personal tips on productivity!
Tell us a bit about yourself, your background and where you are heading
I grew up in Chicago around several great educators. I remember helping my mother prepare and stage her elementary classroom in the summer for the new year. I was fascinated with the configuration of the desks and how this would relate to the subjects my mom was teaching at the time.
Tell us about your platform, 'Thoughtium', how did you get started?
I recently started a consultancy, Thoughtium (www.thoughtium.com), that specializes in bringing big ideas and and real execution to my clients.
One of these big ideas is that our physical space can affect the way we learn as adults. I also work with clients to develop strategic blueprints that will enable organizations to define success for the future and map their resources to this vision.
What are the biggest problems that you see in the workspace?
We are seeing a bit of a departure from the last decade or so of trendy open floor planning. Organizations now more than ever are looking toward science and research to support their capital investments.
'For example, neuroscience is telling us a lot about how children and adults need to balance collaborative work with straight up focus time. We need spaces to accommodate both open creativity as well as individual focus work. These insights inform the way we design our space.'
What are the top 3 things you can do to a workspace to enhance health and productivity?
It is such an exciting time in workspace strategy and design. Offering variety, of course, is a smart play when designing a workspace. Because I work primarily in the learning industry, I am urging my clients to think about the way our design choices affect both the learners AND the facilitators. For example, an active learning environment is great for students, as it encourages small group work and collaboration. However, this can be challenging for instructors or facilitators as it typically pulls the front and center from the orientation of the room - which is usually the most comfortable spot for a facilitator. We have to work with our learning professionals to ensure they are confident facilitating in these new environments.
Which Autonomous products do you recommend to your clients?
I love the Autonomous standing desks. They have a commercial-grade quality that is more stable and functional than any other standing desk I've used. But the real catch is the desks look beautiful - so much so that I put one in my own home.
How have you seen Autonomous products help improve the working environment of your clients?
I referred Autonomous to a good friend who is opening a co-working space in San Francisco. He needed to make decisions on furniture before the final build out of the space, so flexibility was key. These desks are so economical, he had no trouble ordering ahead of time, knowing that he could use the desks in virtually any room configuration.
What do you think workspaces will look like in the next 10 - 30 years?
'If you were to ask me about "the classroom of the future" 10 years ago I would say it could look like the Starship Enterprise (technology everywhere). But I'm excited to see that we are putting more of an emphasis on a traditional design approach and curriculum that will continue to make learning very hands on and face-to-face. This means leveraging technology when needed, but pushing it out of the way when it's time for organic connections between students.'
This happens through a design strategy that is focussed on small group work and sharing out easily. I'm also fascinated with the makers movement that is emerging right now. I have seen course curriculum designed around small groups producing a final presentation by way of a physical model as opposed to PowerPoint slides.
What things do you do to keep productive?
I am really into sound as a tool for productivity. Brain.FM (www.brain.fm) is a great resource for scientifically proven focus music. Olympic athletes recently used it as a way to get focused before competition. I also think voice is going to be huge in the workspace. Personal digital assistants like Siri and Alexa are really penetrating the home and I think the office is next. I also think AI and machine learning will help us prioritize our work in the future.
What are your favorite app's for productivity?
Brain.FM (iOS app) for focus work. I also love the "Momentum" extension for Chrome - I use this to define my biggest priority for the day and manage tasks. Headspace (iOS app) for meditation and or a bit of a breather. Finally TripIt (iOS app) for keeping my travels straight.
Check out the Thoughium Vlog for more on these topics or follow Anthony on Instagram (@thoughtium.ae) for the latest news and insights.
Sort by

Top comments

This week

This month
Want some insights into where workspaces are heading?