Working from a desk is the perfect way to get work done. A desk is an essential part of your workstation, no matter your profession. You can find a lot of different types, desk sizes, and styles of tables and desks. But what desk size is best suited to my lifestyle?
What is The Ideal Desk Size?
It is advisable to purchase desk sizes of the right dimensions for your needs. Generally, a large desk should have a 60-inch x 30-inch surface and a 30-inch height. These desk dimensions baseline should be used for most general use cases and comfortably accommodate most cases. Your setup will help you choose the ideal desk size depending on what you will use it for.
Choosing the Right Desk Size
There is no "one size fits all" standard desk height because our bodies are all different sizes. Your overall comfort is determined by the distance from the ground to the tabletop desk sizes, which is usually 29" to 30".
It is possible to buy a desk in almost any size, shape, or configuration. We have compiled some useful information to help you get started to determine the average height and width of computer desk dimensions properly.
It is important to know how desks are measured since this will determine how much space is available in your room. Most people are confused by the width and depth of desks, which results in them buying desks that are too small. Find out what size desk do I need using these measuring tips:
You should measure the length of the desk from left to right.

The desk's depth is measured from the back to the front for maximum legroom.

Defining the desk's height as the distance between the top of the desk and its base.
If you're setting up your office, study room, or even a convenient corner of your living room, then you'll need a great desk. But what's the standard desk height? There are a lot of variations in a height changing desk, but most desks range from 29" to 30" high. Depending on your desk and chair, a standard desk height will work for you, but finding the right ergonomic fit for your standing desk will be different for everyone. In order to determine what a standard height is for a desk; we must consider the following:
From floor to tabletop, the height of the desk

To the very top of the desk, the distance is measured from the floor

.
What Kind of Desk Do You Need?
It is important to ask yourself questions about your lifestyle before choosing an appropriate desk style. Are you working in a small office or a large one? What amount of space will you need on your desk to fit everything you plan to use there? Is there a style that would complement the surrounding aesthetic of the room? It is crucial to ask yourself these questions to find something functional and visually pleasing.
Many desks you find are tailored for a specific profession or kind of person. Executive desks are spacious and aesthetically pleasing, whereas student desks have enough room to complete your assignments. The sample size will be much more manageable if you decide on an overall category and drill down into it. Here are a few helpful and specific guiding tips to help you find the perfect desk size by using the most common desk categories.
Desk sizes for students
For students, it can be challenging to find a desk that is compact enough for their space but is spacious enough to carry out their tasks. The desks of most students are, as a result, smaller than average, measuring 24-30 inches wide and 18 inches long.
Additionally, students should consider using storage solutions in their furniture to make the most of their space. The workstation has storage areas that you can use to organize study or work materials.
Desk sizes for working professionals
Surface area and storage options on executive desks are generally the largest. Employees of upper levels, managers, and professionals who require an efficient workspace usually have access to them. One pillar stands on either side of a large clear desk, while another is on the other side. Since office desks are often faced toward the building entrance, they have a backing connecting the posts and creating a facade.
Typically, executive desks measurement is at 60x30 inches or more. With a wide surface area, these desks can accommodate a lamp, a writing area, a monitor, a keyboard, and paper trays neatly without having to take up much space. Additionally, pillars serve as ample storage in the classic design. You can see some great ideas here on how to decorate your desk if you need inspiration.
Dual-purpose desks
Shared workspaces can benefit greatly from two-people desks. As long as they are 78 inches wide, they come up with the similar depth as several other desks. There is typically a storage column in the middle or on the sides of these desks, where they connect to one another. Co-working spaces, offices, and private homes can use these. 
When working side-by-side on a shared desk, some sources suggest allowing three feet of desk size for 2 monitors space for each person. The minimum width suggested is four feet for each person, but four feet per person is more appropriate for more comfortable arrangements.
Multi-monitor desk
You must know the size of the displays before setting up a desk area for a multi-monitor setup. As long as the monitor sits within the desk's surface, the length of the monitor base is less critical.
The manufacturer of your monitor can provide the width measurements or measure it yourself. Add 6 inches to both sides once you have the number handy. The monitors will look secure on the desk if there is enough space on the sides.
L-shaped desks
L-shaped desks offer the best balance between space and style in many cases. The corner of your desktop area essentially has two desktop areas connected so that you can switch directions and access a whole new set of gear or office equipment. You can also use L-shaped desks to divide up space and simultaneously change the direction you face. If two executive desks were intersecting at one corner, the size of an L-shaped desk would be similar. As a result, it is common to have two tablets with measurements of 60 inches by 24-30 inches that share a common hinge.
Video ads for product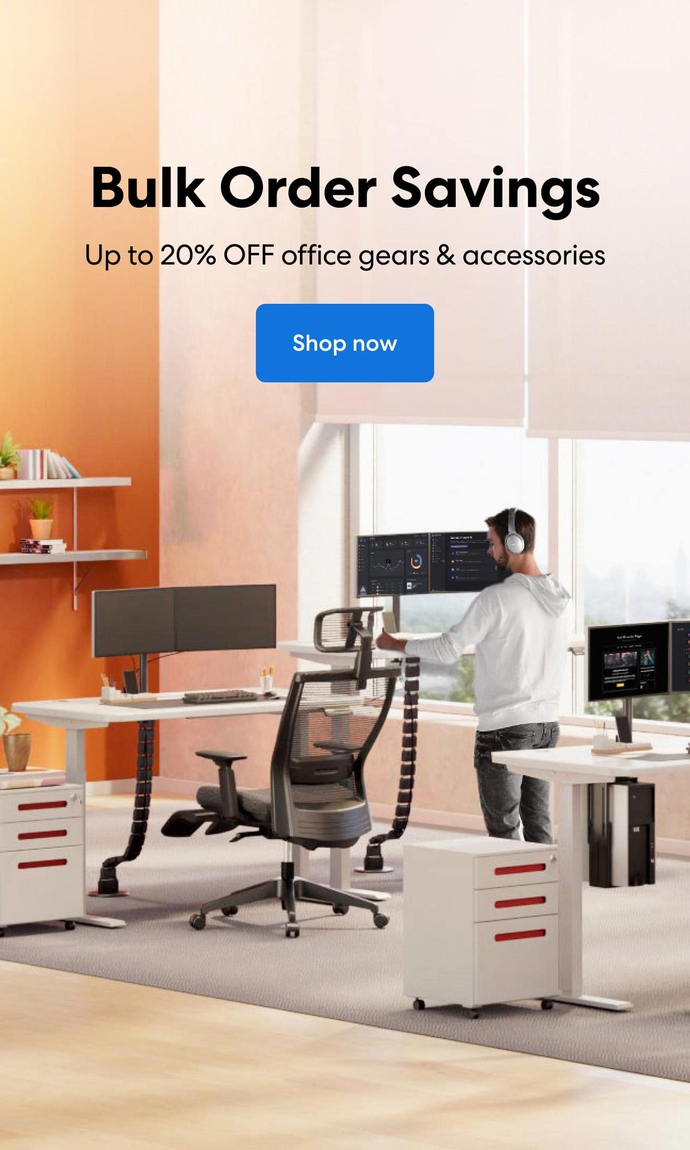 Subcribe newsletter and get $100 OFF.
Receive product updates, special offers, ergo tips, and inspiration form our team.