Work Wellness
What Is Work from Outside and How to Make the Most of It?

Autonomous
|
Apr 13, 2021
1,989 Views
Are you too tired to work inside a cubicle, then why not shift your work outside? According to a study, a drop of nature can stimulate your brain and is like morphine to your system. In another word, by staying outdoors, you can reduce stress and stay healthy.
So, yes, you must shift your work to the outdoors and see the wonders it does to your health. Moreover, working outside also increases your productivity, and you enjoy what you do. Even if it is complex, work becomes fun!
Read on to know more about what it is like to work outside and how you can benefit from it!
What Is It Like to Work from Outside?
All Thanks to modern technology, everyone can experience what is work outside. It does not matter what job you do; you can do it from anywhere. It is forecasted that by 2050 the number of workers working outside will surpass the number of employees working from the fixed office.
The impact of nature is unmeasurable, especially when it comes to working. Just to stay active and productive, you need more than an effective breaktime or coffee. You need to keep yourself refreshed throughout your working hours; it is not a day process. All this can be done through working outside.
Here are some reasons why you should work outside!
Reduction in Stress
Since our childhood, we have been taught the importance of playing outside or walking around in the fresh air. The sole reason behind those concepts is the benefit you receive from staying out. Therefore, it is highly essential to interconnect with nature for our well-being. Moreover, many successful companies have adapted to this design.
With too many work hours, it has become impossible to give time to breathe some fresh air every day. This has resulted in extreme stress and mental issues. One of the benefits of work outside is that you will see a significant change in your health and productivity.
Brings Movement to Your Body
There is no denying the fact that prolonged working hours has led to an increase in sitting hours. These long sitting hours have resulted in the depletion of your health significantly. Most of them are suffering from health risks such as back or neck problems due to long hours of work in the office.
By working remotely at your comfort, you can solve this problem. When you work outside, you do not have to stick to your uncomfortable office chair. By working from outside, you will give a healthy environment to your body as well as mind. Moreover, working outside gives you the best of both worlds—a good atmosphere and enjoyable work hours.
Maintains the Balance
In this dynamic, fast-moving world, you do not have time for anything else. You need to keep your head and continue to work to stay in the competition. However, this routine has some serious ill effects on your body.
By working from outside, you give a long wanting break to yourself. This is a break which your nan avails every day and do not have to wait for special holidays.  Working from outside brings little distraction, which is highly essential to keep you boosted in a positive way. Additionally, you can work more efficiently when you work from outside, which ultimately lets you reduce overtime working.
Since now you know why it is so important to work from outside! Read on to learn how you can work effectively from anywhere in the world?
How to Work from Outside Effectively
Although technology has brought significant changes in our lives, it also has challenges. If you want to work from remote places, it is essential to have and invest in remote work must-have items. With these items, you can work effectively as well as efficiently from anywhere. That being said, here are work outside best practices to consider when working remotely.
Right Devices
When you work in an office, you have a whole set of tools, be it a large screen, computer, or table. However, working outside does not need so many devices and tools. With smart office items, you can work outside efficiently.
With just a few pieces of equipment, you can efficiently work remotely, such as your laptop. However, you make sure that your laptop is protected. Moreover, you can get a mobile filing cabinet, a perfect tool to store all your files.
Connect Freely
Living in the era of the internet gives you the edge of connecting freely. Mostly all the places are well equipped with WIFI. You just grab your easy-going ergostool and work outside while enjoying a beautiful view.
Also, if you plan to work from your balcony, you can get an ergonomic standing desk for your home office standing desk. This way you can work at your comfort level, and you can also enjoy a beautiful view.
Public Places at Your Disposal
Working remotely gives you an edge of working without any boundaries. Although you should still maintain some, the benefits of work outside are just hard to ignore. You are not bound by four walls. You can work easily from your green rooftop or a restaurant having a relaxed ambiance. So, use it to your advantage and change your workplace quickly for better concentration.
Reduce Screen Time
Taking breaks from the screen is a significant productivity hack regardless of where you are working. However, a healthy break is not surfing your social media or eating chips. It is a ten-minute walk inhaling fresh air or a couple of minutes of meditation outside. To really ensure productivity, you need to keep your mind and body healthy as a healthy mind determines your efficiency.
Conclusion
With all above information, you can answer the question of what is work outside by yourself. There is no system in the world that does not need a break, and the same is your body system. Therefore, give your system an environment where you can grow mentally and physically through work from outside.
Remote working has far too many benefits which you cannot ignore. Moreover, you can always shift back to your office whenever you want. Hence, try adapting to the change and be more productive and healthier by doing work outside.
Video ads for product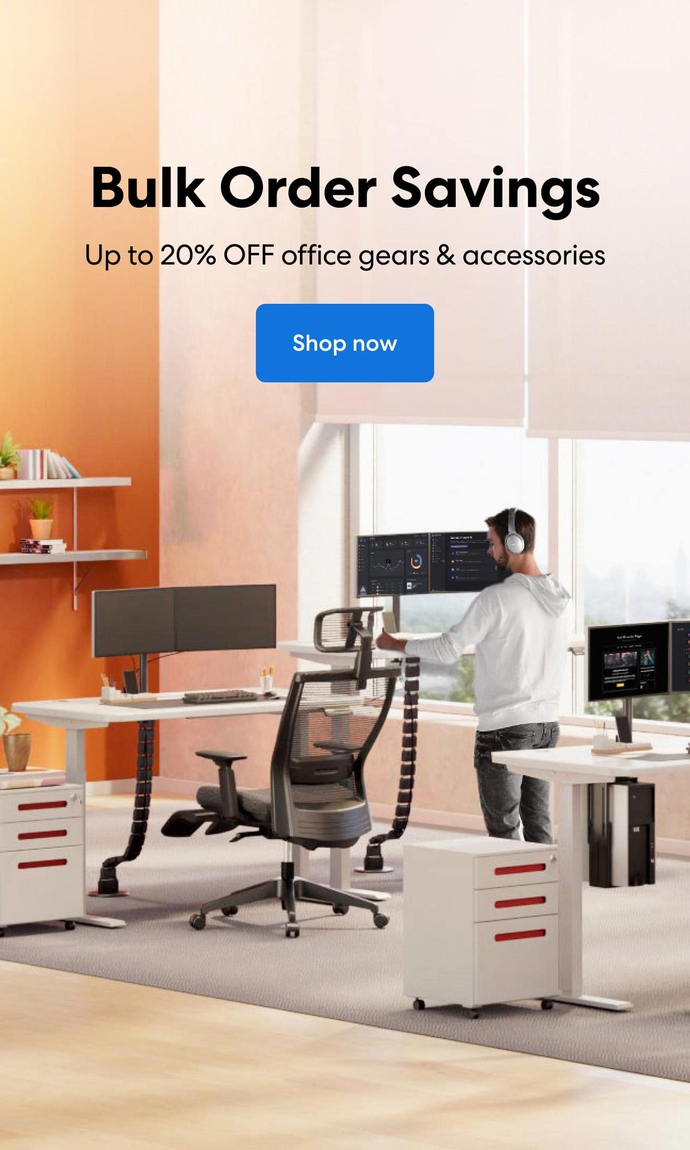 Subcribe newsletter and get $100 OFF.
Receive product updates, special offers, ergo tips, and inspiration form our team.