Smart Products
What Office Desk Size Is Right For You?
14,192 Views
Have you ever stopped to think about the size of measurement your office desk should be or how to come up with the correct desk measurement for that new desk you want to purchase? Very few people have considered how important it is to buy the best desk size that compliments their work efforts. Understanding office desk size is like knowing your shoe size. Buying the wrong size desk can be a missed opportunity on getting your best fit or a significant inconvenience hampering your productivity. An office desk is an essential part of your work, so it is crucial to understand how your choice of office desk size works for or against you.
What to Consider When Choosing a Standing Desk
There are several variables to consider when you want to purchase a new desk for your workspace:
1. The Space Available
Firstly, you have to consider the space available to you. The bigger office or home area, the more you can go to town with your office desk size. You may have limited space or a corner wall, which influences your overall possible desk size. To purchase the correct office desk, you need to know how to measure the office desk size requirements for your available space.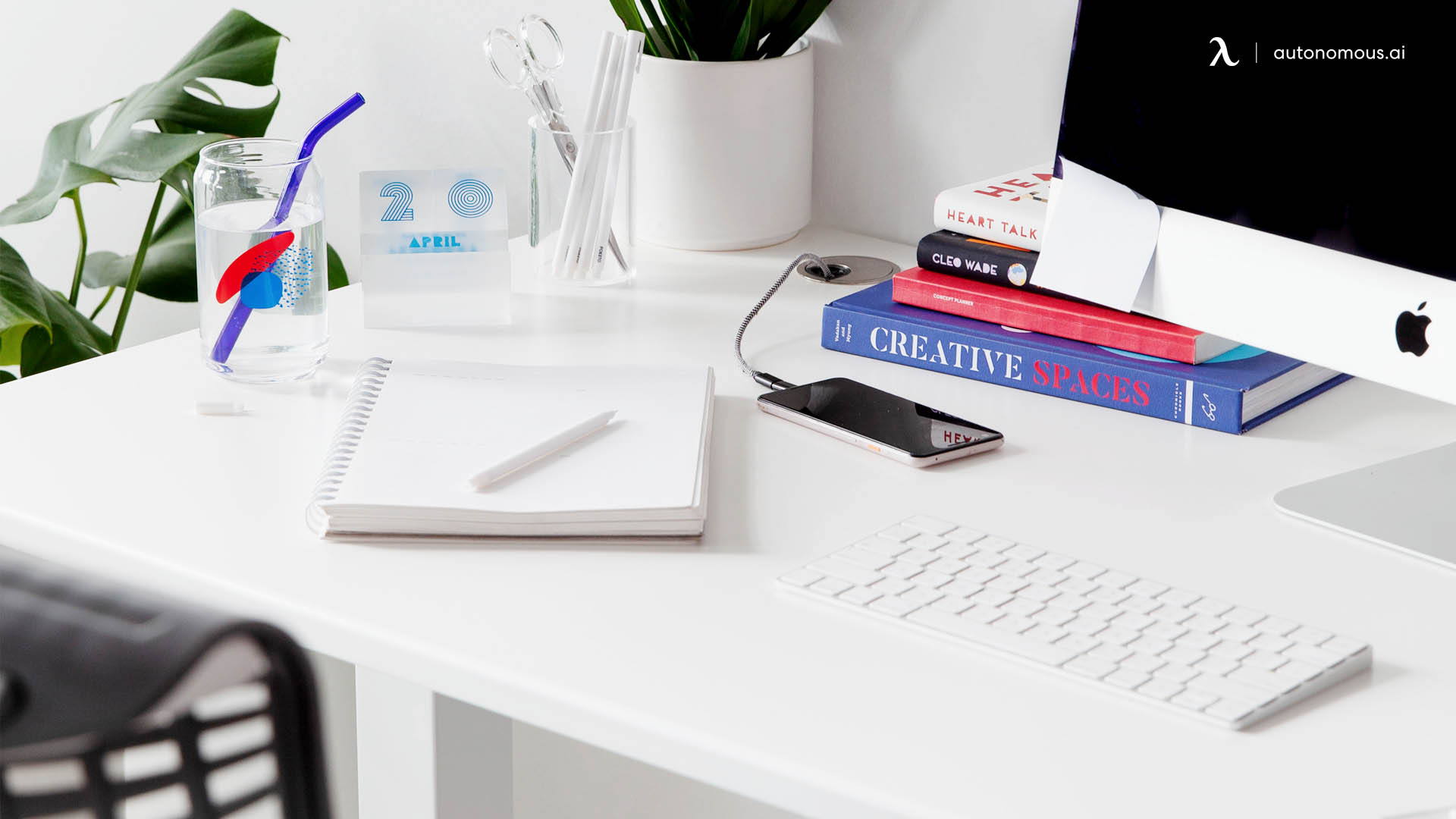 2. Your Budget
Your budget plays a vital role in your desk size options. You need to find the perfect confluence between your size requirement and your budget. You may not necessarily need an extra-large desk for your daily work task, with a medium-size desk working just as well. It may be more cost effective for you to create two workspaces from one large desk than buying two individual desks to fit.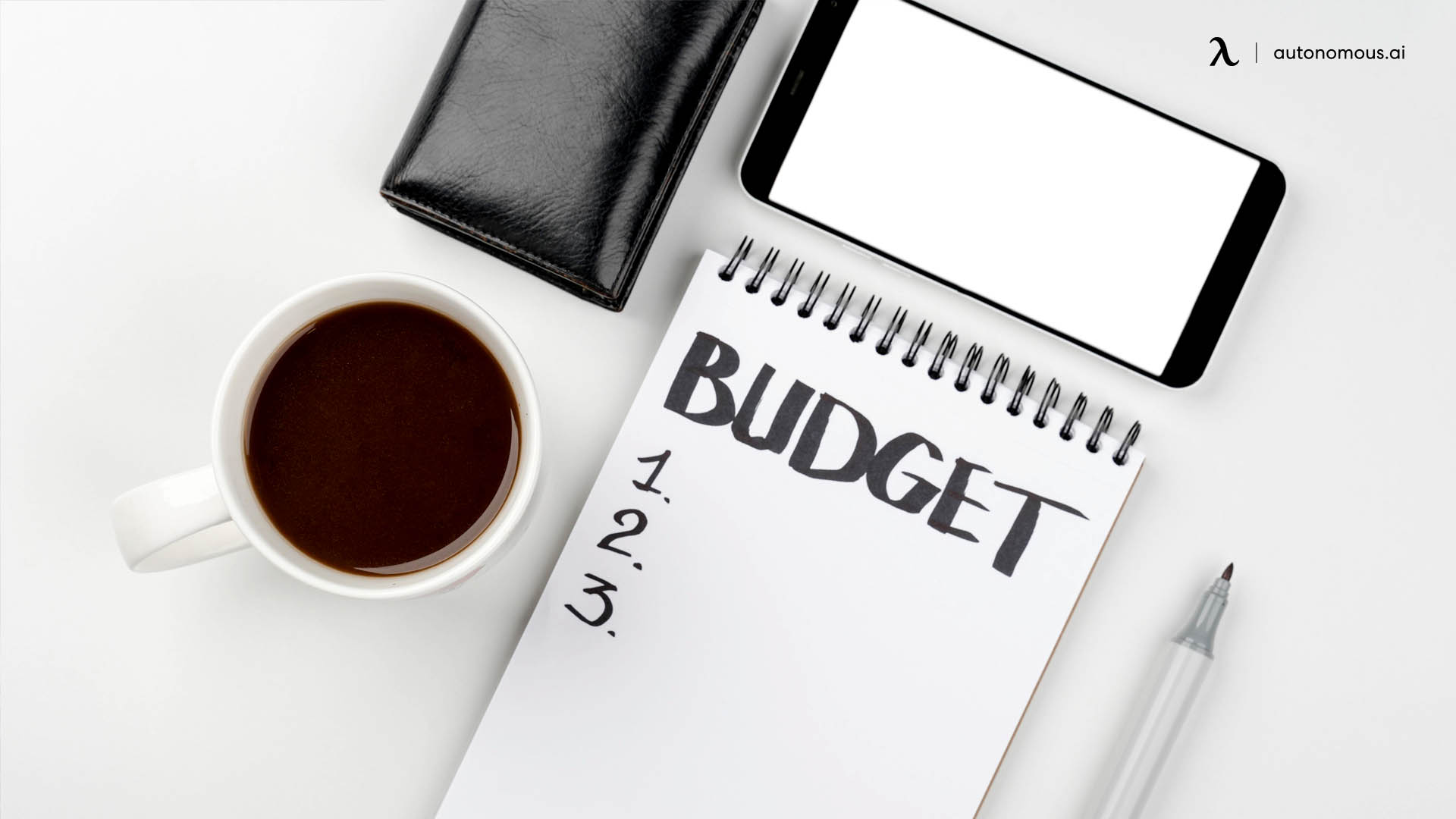 3. Your Height and Build
The average desk sizes may not be a good fit for everyone. There is no one size that fits all when it comes to desk size because average sizes usually cater for the more common built and height in a population. Always test out dimensions to see what fits your individual needs.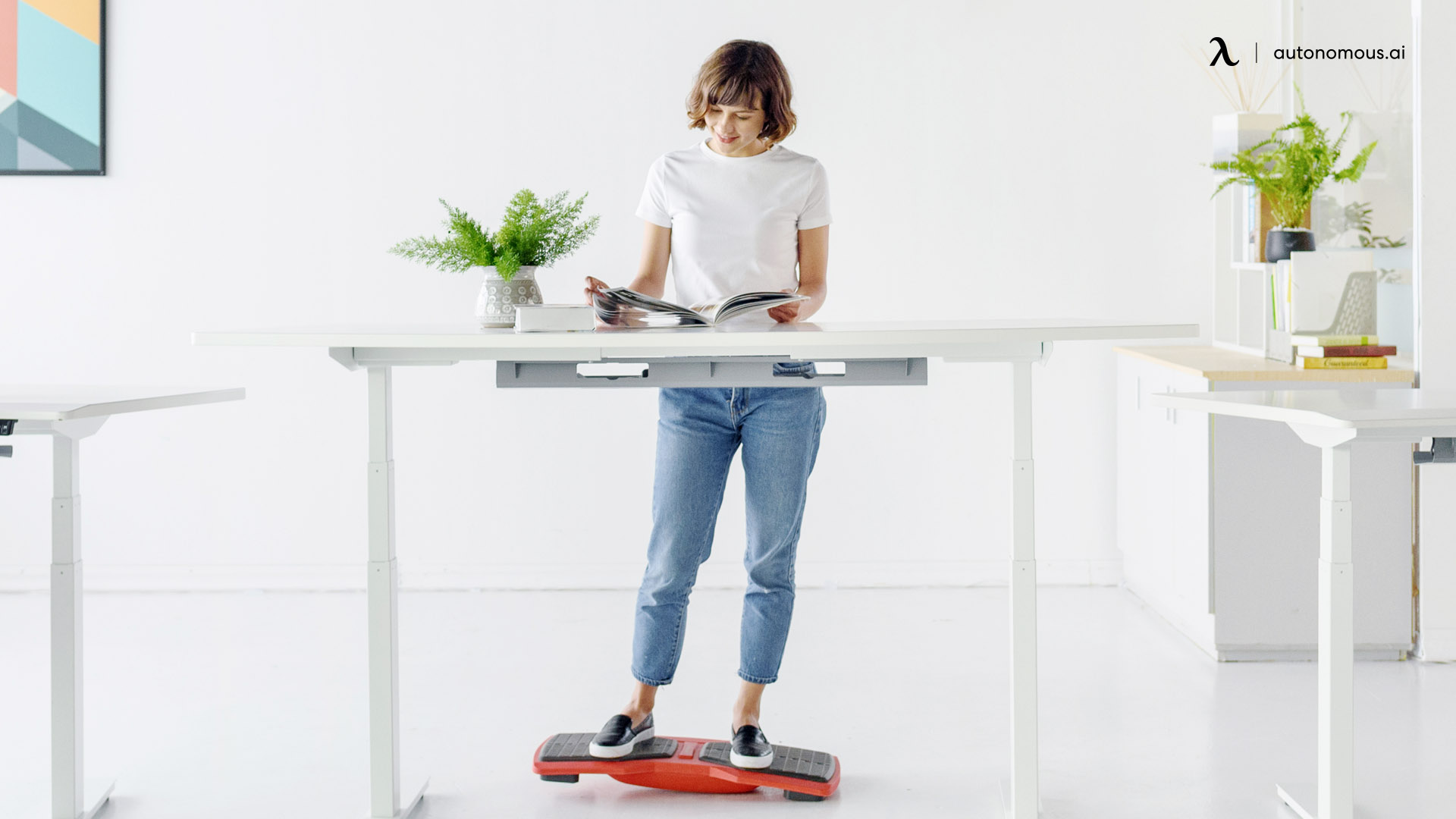 4. Ergonomic and Health Considerations
Creating an ergonomic workspace ensures you reduce the risk of back strain and injury from wrong sitting habits. The right desk size can help you maintain the proper posture, correct eye position, shoulders, and hands—likewise, factor in the appropriate keyboard, desktop, and computer positioning for a healthier office work posture.
You may also consider more flexible ergonomic office desk designs such as standing desks that have an adjustable height allowing you to have a more active and healthier work experience as well as reducing the risk of developing lower back pain.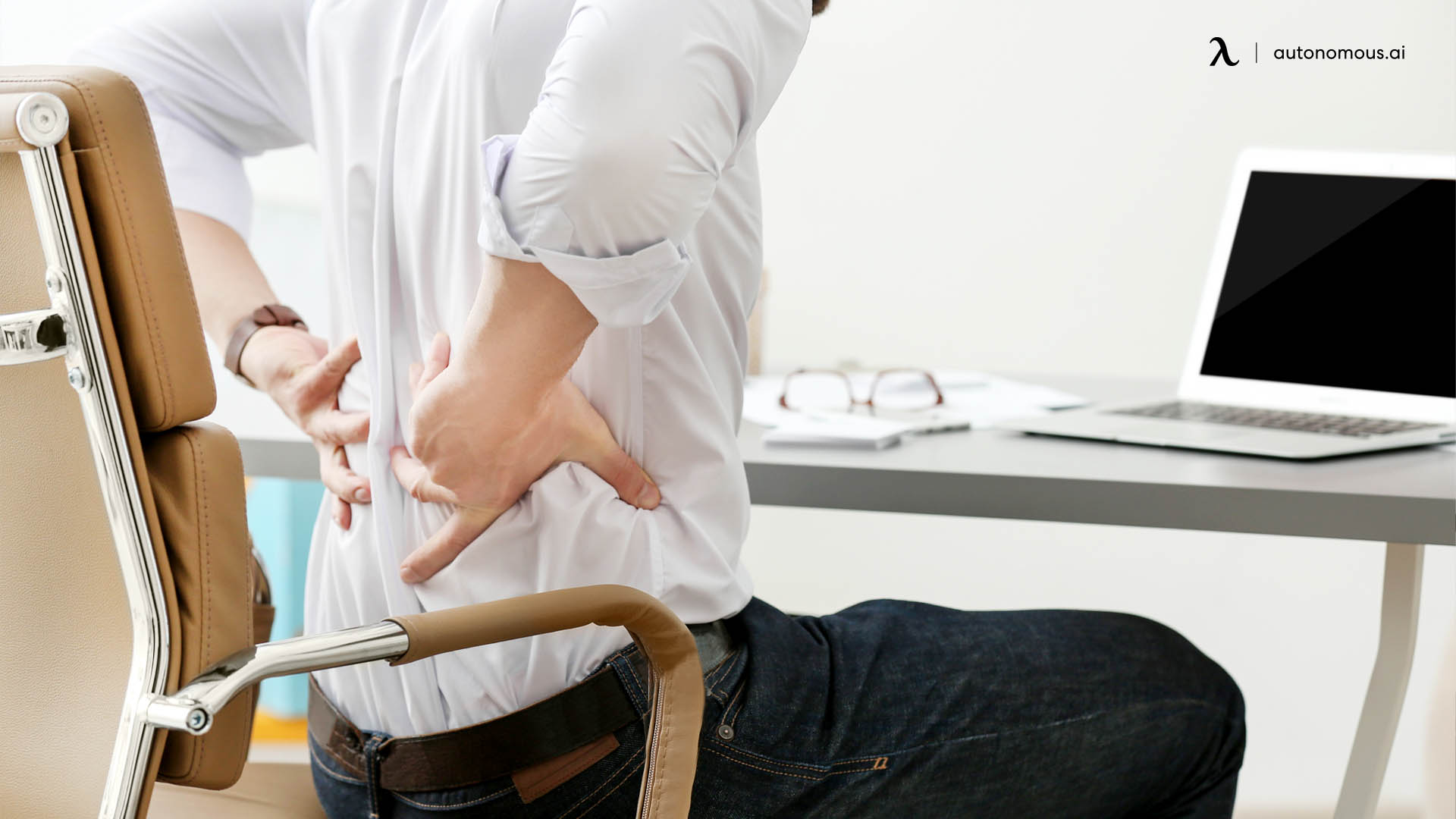 5. The Type of Equipment
A standard desk width and depth is usually sufficient for regular desk work and a few desk accessories. However, the nature of your work and equipment you need determines how much top desk space you require over and above the standard. If you require essential office equipment and stationery on your desk, you do not need a lot of top desk space.
The desk width is usually adjusted the most to increase the top surface area of the desk. You may need to have a fully contained workstation with a desktop computer, monitor, printer or scanner, document in and out trays, or recording equipment. The more equipment and work operations you need to carry out, the large the desk surface you need.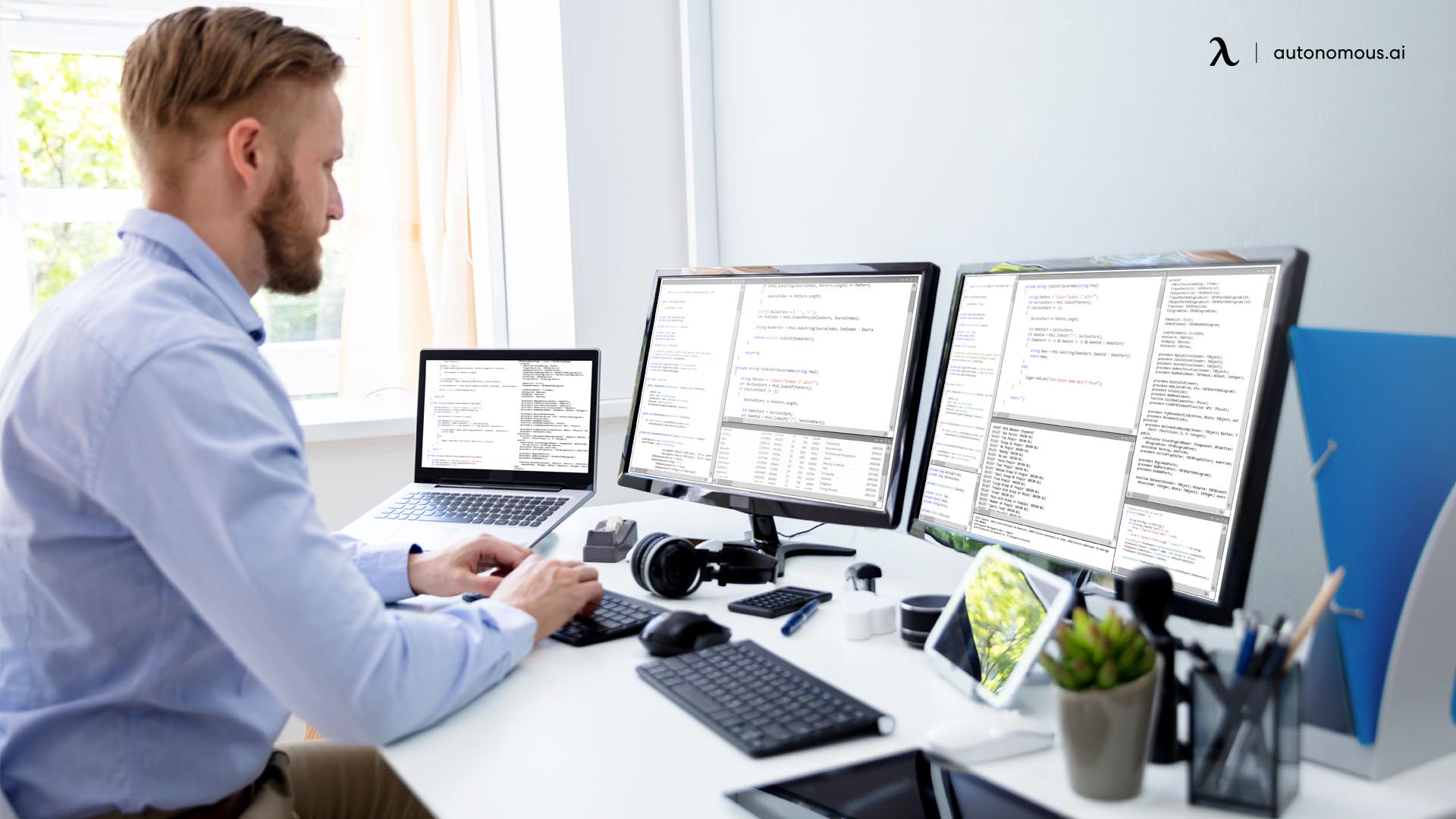 Office Desk Dimensions
Once you know the standard desk sizes, you would want to grasp how to measure your office desk size. However, before you measure your workspace to ascertain what office desk size best suits your space and needs, you must understand the dimensions of an office desk.
The standard office desk dimensions are given in terms of depth or length, width, and height, e.g., the dimensions of a classic top Smartdesk by Autonomous measured in inches are 53 L x 29 W.  Be sure not to confuse the depth (length) and the width to avoid ordering the wrong desk. These dimensions are given in inches.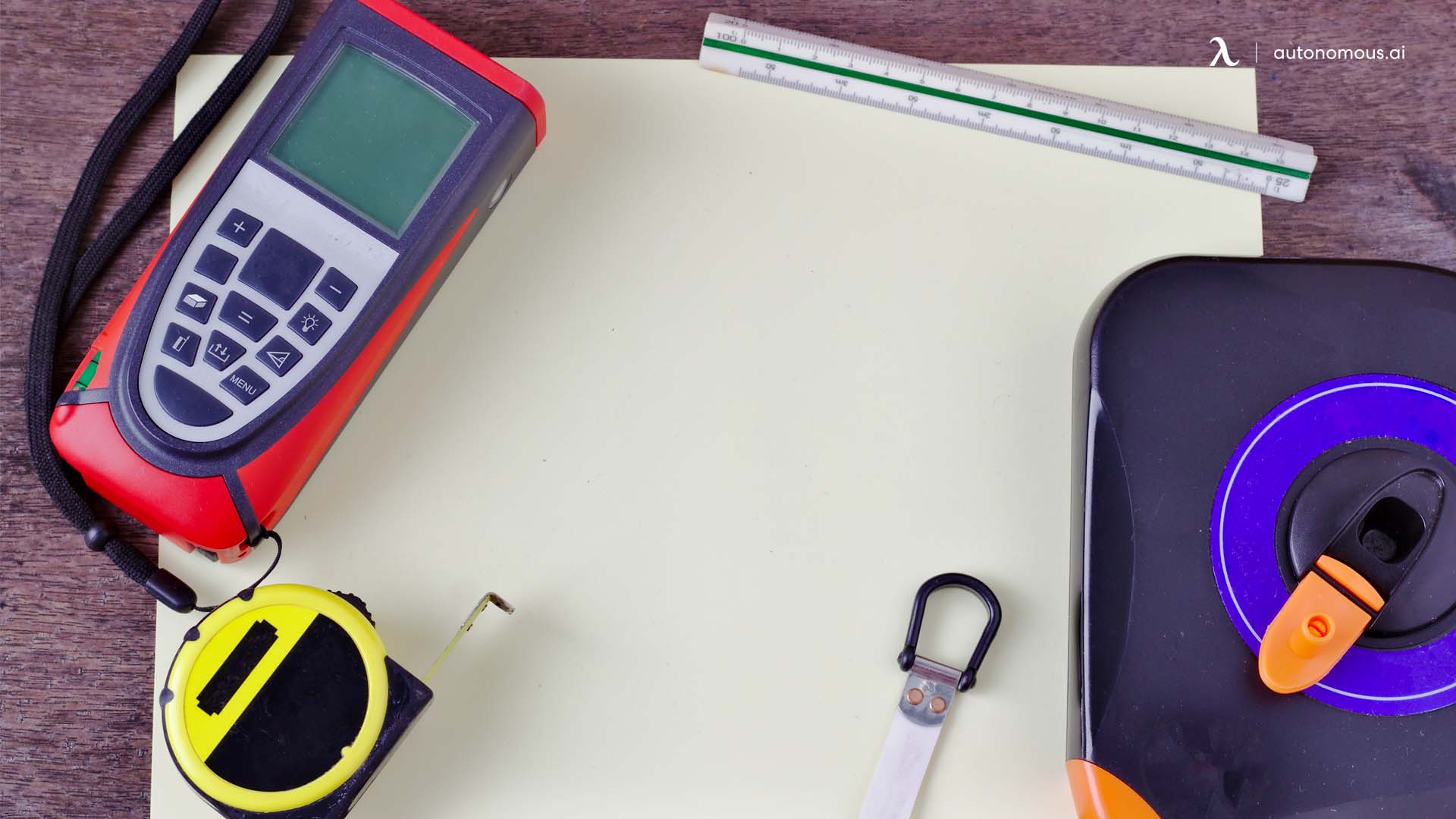 Width (W)
The width is the desk's horizontal dimension and is the measurement of the desk from left to right. It is usually the largest measurement and determines how spacious your desk is.
Depth (D)
The depth, sometimes denoted as the length (L), is the distance from the front to the desk's back.
Height (H)
The height is the distance from the surface of the desktop to the floor. The standard height for most office desks is between 28-30 inches.
A standard executive office desk can start at 30 x 60 x 30 (D x W x H). Desk dimensions, design, and shapes vary; however, the most crucial consideration when looking at a standard desk height and depth is the minimum desk measurement suitable for the human body. You can purchase an appropriate desk size over and above these standard (minimal) dimensions according to your office needs, home size, or intended use as this are the bear minimum for accommodating the human body.
Minimum Office Desk Dimensions to Accommodate the Human Body
The right desk dimensions depend on your available space and the desk size that is most comfortable for you.
Autonomous has a range of ergonomic standing desk height options available to suit different office and residential spaces.  Its adjustable standing desks have a height adjustment, which allows for more flexibility to accommodate more active and healthier work options. The desk can also fit people of different heights. The available Autonomous standing office desk dimensions are.
They are available in a range of colors, along with a classy black office desk selection.
How Do You Measure an Office Desk?
Knowing how to measure your office desk size requirements ensures that you order the correct office dimensions for your available space. Carefully follow the directions on which desk dimensions correlate with the desk's width, depth, and height.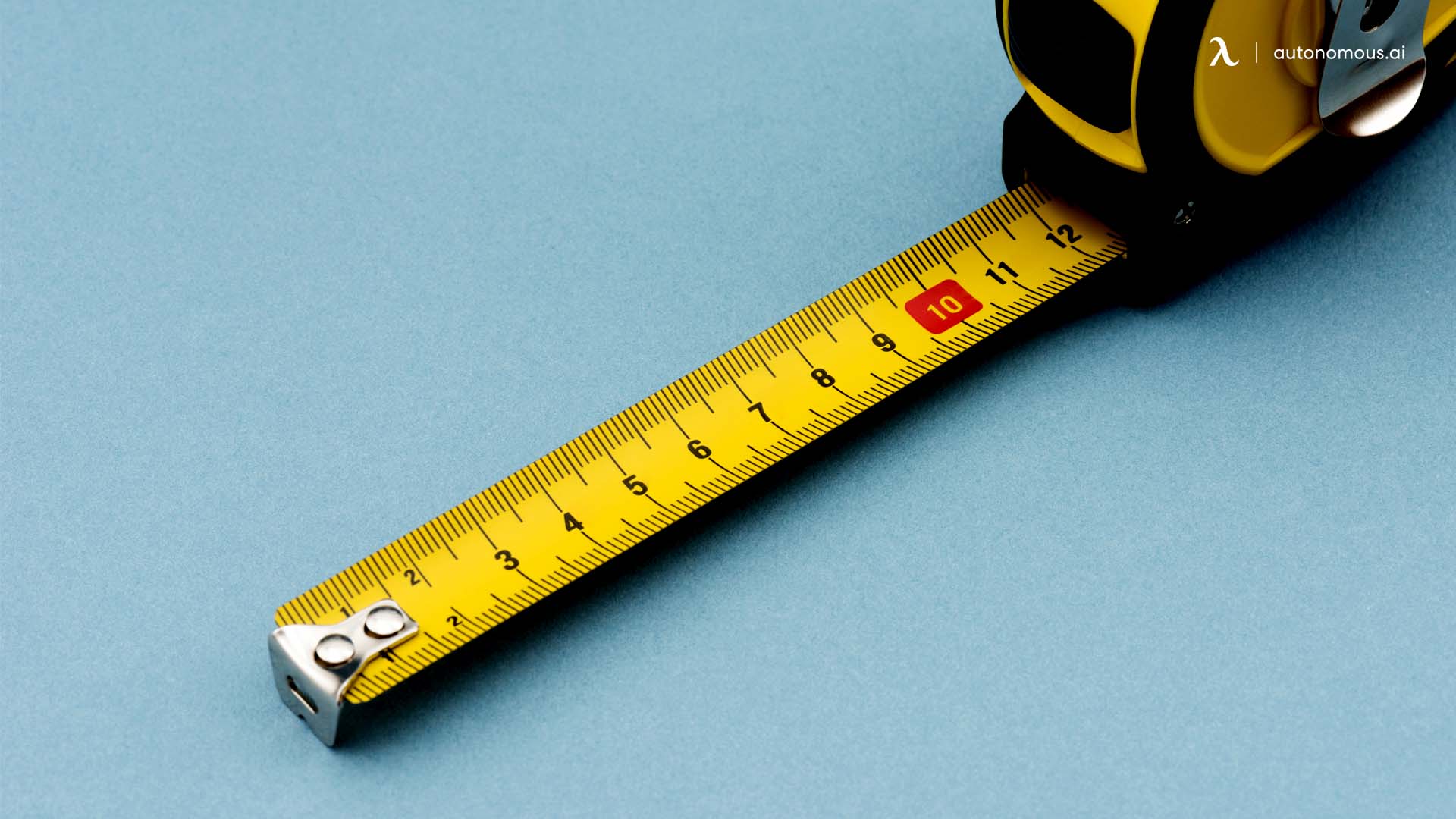 You can use a regular tape measure to measure out the office desk size to fit your personal needs and available space. Take note: not all furniture companies use the same office furniture dimension as the industry standards. Always get clarification about the units and dimensions used by the furniture store you are using.
There is no best fit for all when it comes to the best desk for you. There are average desk sizes available on the market, but the final office desk size depends on your physical and personal needs. When you factor in all the essential aspects for choosing the right desk size, you can narrow down your range of options and find the best desk for you.
How to Maximize the Space on a Small Desk?
Office desk dimensions are limited in size. Maximize the space on a small desk. Study about standard desk sizes, standard desk dimensions, standard office desk size, and office desk dimensions.
Getting the most out of a small spot is not always everyone's cup of tea. It needs high expertise, techniques, and few good desk setup ideas to store many items even in a small space. In the following paragraphs, we will state a few best ways that will help you maximize the space on a small desk.
Avoid Filling Your Desk with Papers
The 21st century is considered the digital era. Many new technologies were introduced in this century, which has eased off human life greatly. One of such technologies is digital notepads. Many apps are available on the computer that allows people to write, store data, and more. This removes the need to use paper. Papers, note pads, and overall analog systems consume a lot of space. It fills your desk cabinets and desk drawers with pages. And if you want to utilize your limited desk dimensions, going digital will be a great help. Store your important documents online and scan your pages and save them on your computer.
Throw Extra Stuff
I bet there are many old pages, magazines, newspapers, etc., on your desk that are not used for ages. They are useless, but you still keep them for an unknown reason. It's normal, and everybody does that. But the standard desk sizes are small. So, if you want to use your limited desk dimensions wisely, you must start throwing that extra stuff. Look for the stuff that you don't need and then trash them out.
Set a Tidy Desk Policy for Yourself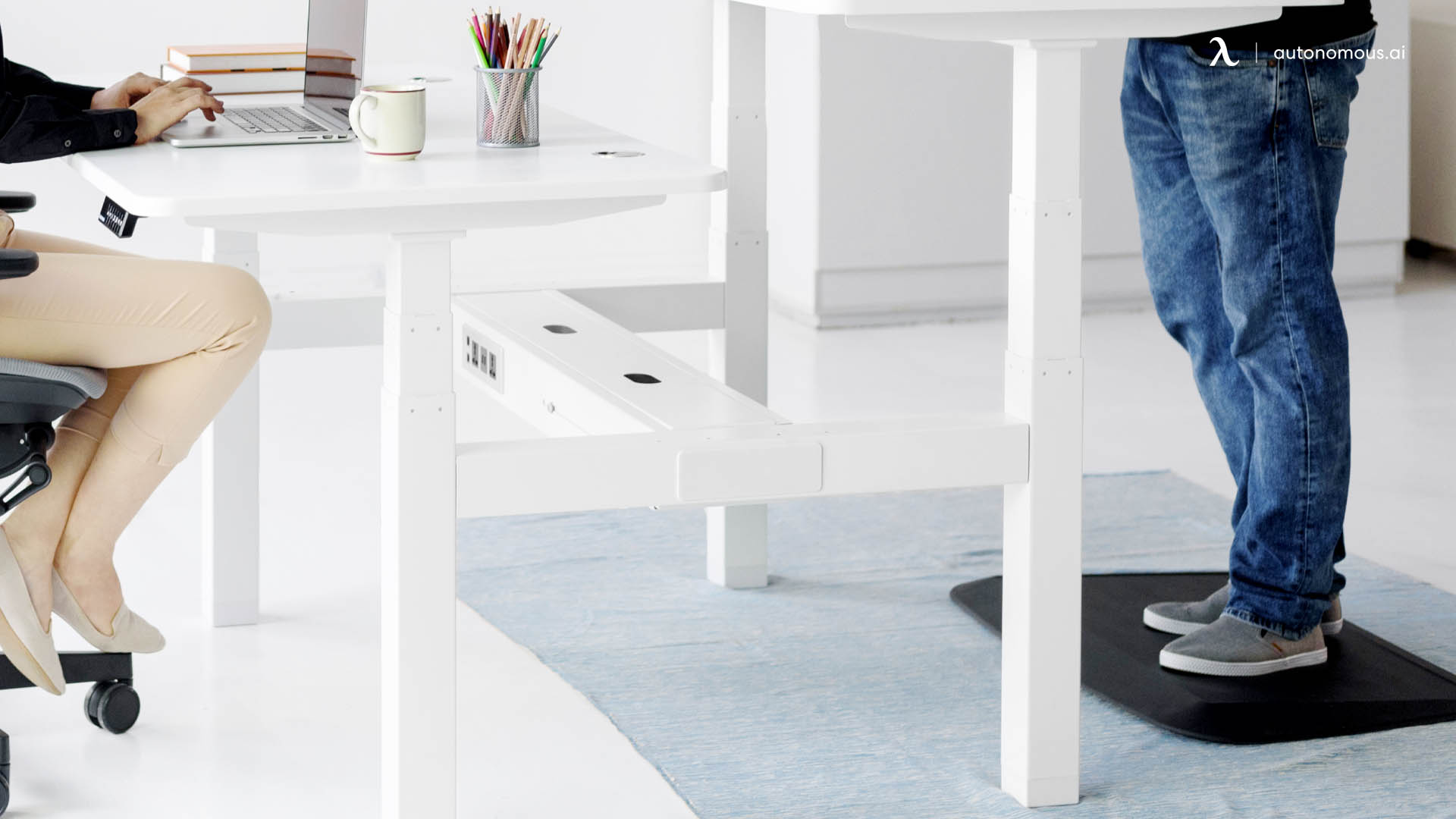 A messy and untidy place always devastates people. It changes human moods. What about if you have things like this at your workplace? Or, to be more specific, what about if you have this on your desk? Will you even be able to work on a messy desk where you have to look through all parts of your desk to find a single file? It will waste your time and reduce your productivity. So, the best way to save yourself is to set a desk policy. Make all parts of your desk, including desk drawer, monitor arm, and shelves, etc., clean. Organize your stuff. Put files on the separate spots.
Use the Space Below the Desk
The standard desk dimensions offer good space below the desk. In addition, it makes a great spot for keeping your stuff at a reach without blocking the way. So, utilize it to manage your small desk dimensions.
Store Stuff in Store Rooms
Outdated and old stuff consumes space without offering anything good. So, look for such items and send them to the storeroom. However, make sure to put those stuff in a box and label them.
Desk Dimension FAQs
What is the standard size of an office desk?
The standard office desk size is measured in terms of length, height, and width. All of these measuring points collectively provide an office desk dimension. Besides, their standard size also depends on their type. For instance, the standard size of a floating office desk is 29 inches to 30 inches in height, 48 inches to 72 inches in width, and 24 to 36 inches in depth. On the other hand, if you are looking for a desk against the wall, the standard desk dimensions may be around 56 inches to 66 inches. Therefore, generalizing its standard size is a little hard. Moreover, you can also look for some corner desk ideas in the attached link.
What size desk do I need for 2 monitors?
If you want a desk for two monitors, then you may consider getting a desk between the size of 47 inches to 55 inches.
What is the minimum size for an office desk?
The minimum size for a standing office desk is 24 inches in width, 18 inches depth clearance at knee level, 24 inches depth clearance at foot level, and 4 inches height clearance. However, if you are looking for a standing desk, then the depth level should be chosen as per your choice, while its width should be 20 inches per person. However, for sitting at an office desk, make sure to search for suitable office chairs for small spaces too.
What happens if your desk is too low?
If the desk is too low, it will disturb your sitting position and habit. If the desk is too low, it will cause back strain and injury. Besides, you will also spend much time holding your arms downward while using the keyboard. It will result in static tension in muscles and arms, leading to posture issues and pain in different body areas.
What if my desk is too high?
A high desk means that you are overworking your arms, muscles, and shoulders. The muscles will be contracted for as long as you work on your desk. As a result, it will adversely affect your upper backs, necks, and shoulders.
What are the minimum dimensions required in a shared-desk office?
The minimum desk dimensions required for two people working on the same desk depend on various factors. You can finalize something after looking into these aspects. The list includes cultural aspects, work nature, individual work perception, corporate climate, and much more.
What is the optimal distance between your chair and the front of the desk?
It requires a minimum 23 inches distance to leave your chair from the front of the desk to the nearest obstruction.
Keep up with Autonomous news
Stay informed, stay inspired with our new blogs.
WRITTEN BYAutonomous
We build office products to help you work smarter.