Productivity
What Should be in a Teenage Girl's Room: A Complete Checklist

Autonomous
|
Oct 16, 2021
1,323 Views
A cluttered room? Is everything spread up and about?  If you are tired and wondering how do you get your teenage daughter to agree to keep up her girly study room, here is the best guide.  As teenagers grow up, the hormonal changes taking place in their bodies could be quite demanding as they discover themselves.
Move away from this thought process! Instead, befriend them and work with them as a friend to help them organize.  Ask for their inputs and see what they have to say! After all, it is their room, space, and a place to be at ease; a place to be themselves at home!
Ten Important Things in a Teenage Girl's Room
1. Colors
Don't miss the different shades and hues that your daughter has spread around the girly study room to showcase her emotions. From a string of greeting cards to wallpaper adorned with her favorite soccer star, to different lights, perhaps? How can you forget the small trophies she has won as part of sports achievements adorned at the study desk!  Here are some more study room ideas for you to chip in with for your daughter.
2. Study Desk
Are you considering a study table for girls' room? You cannot avoid an ergonomic work desk. Ergonomic? What's that? Ergonomic desks are also called standing desks. It allows your daughter to stand and work after sitting for quite a while at her desk.
Benefits? Well, sitting for a long has been known to have negative effects on health. Your daughter could be at a higher risk for obesity, cardiovascular concerns, and more. Why? As you sit for long periods, your muscles don't take energy from the blood. This energy is available in the form of blood sugar that piles up inside the body. This piled-up blood sugar causes these health concerns.
As your daughter stands and works and when tired, she can sit down to work.  Keep her happy and healthy as she works remotely to engage with her friends and in a study group.  Don't miss our blog on remote learning space for your daughter.
3. Chair
A study room for a teenage girl cannot miss a study chair.  Do away with the traditional ones, and focus on her health. Use an ergonomic chair for her study desk.  What are ergonomic chairs? Ergonomic chairs offer good health as they can be adjusted to suit your body. What does this mean? Considering that every user has a different body shape, you need to have a chair to adjust it as per your body's needs. So with adjustable armrests, seat back, lumbar support, and more, you have a chair that offers the best support to your body's muscles. They can relax as they have to work to a minimum.
What should be in a teenage girl's room? You must know that merely buying an ergonomic chair doesn't give your daughter health benefits. Here are basic guidelines on how to fix posture while sitting for your daughter's good health.
4. Natural Light
Natural light helps you stay connected with nature.  It is the best source of illumination and is deemed to have a positive effect on the body.  However, for studying, your daughter will need extra ambient lighting. Here is one of the best LED Desk Lamps for you to consider. Why? Available to you in different colors, this LED desk lamp can work for more than 50,000 hours of usage.  Built from micro LED bulbs, this is available in four different colors. 
5. Monitor Arm
Now offer your daughter a different and extra wide screen to work. While you can easily fix it to a wall, here is a monitor arm to the rescue if that isn't possible.  You can easily install this monitor arm on any desk surface as it uses a C clamp.  The best part is that this monitor arm can easily be rotated by 360 degrees for your daughter's convenience. In addition, the twenty inches vertical range is helpful for those large screens. Wonderful, isn't it?
6. Cabinet
As a parent, don't be surprised to get a filing cabinet for a girl room with study table.  As your daughter progresses in her studies, having a filing cabinet to maintain her assignments, project work, group studies, and more are helpful. It can sit under the standing desk easily, saving her space.
7. Desk Organizer
The most important thing in a girly study room has to be a desk organizer. Who says girls are the only ones that mess up their rooms? Help your daughter stay organized with this desk organizer that is modern and functional to declutter her room.
8. Cable Tray
Help your daughter stay organized with a cable tray for all the cables that run up to the study desk. With a metallic cable tray, she will have ample storage space for most cables. This cable tray fits in easily under any study desk and is easy to install. Steer clear from all accidents, making more space for her to play or dance around in her girl's room with a study table with her friends.
9. Anti-Fatigue Mat
Keep all that tiredness at bay with this anti-fatigue mat!  Arrange for her to use this a few minutes a day to manage her energy levels and drive away those tiredness symptoms. A playful thing, this anti-fatigue mat is has a gentle two inches of recline from the heel of the foot towards the toes.  You can also place it under the study desk as your daughter studies, with her foot resting on them.  The material is tear-resistant and has a high-tensile strength. Made from PU & vegan leather, you cannot afford to have her miss this. Of course, the material is used, considering it is anti-slip and abrasion-resistant.You know how teenagers can be expected to keep their desks! Cluttered and messed-up! Later, when they need it, here comes the frantic shout to parents for help.  Why? 'I cannot find my book.'  Help your daughter stay organized using a swivel desk drawer. You can easily install this under the study desk for your daughter's use.
10. Swivel Desk Drawer
Have you considered a study room with bed design ideas for your daughter?
Summary
What should be in a teenage girl's room? With most teenagers' today having a different need to be connected to the outer world from their room, how can you help as a parent? From basic things like a standing desk to an ergonomic chair, as a parent, the best you can do is give them comfort and take care of their overall health and well-being. After all, who else is closer than your daughter to you?
Video ads for product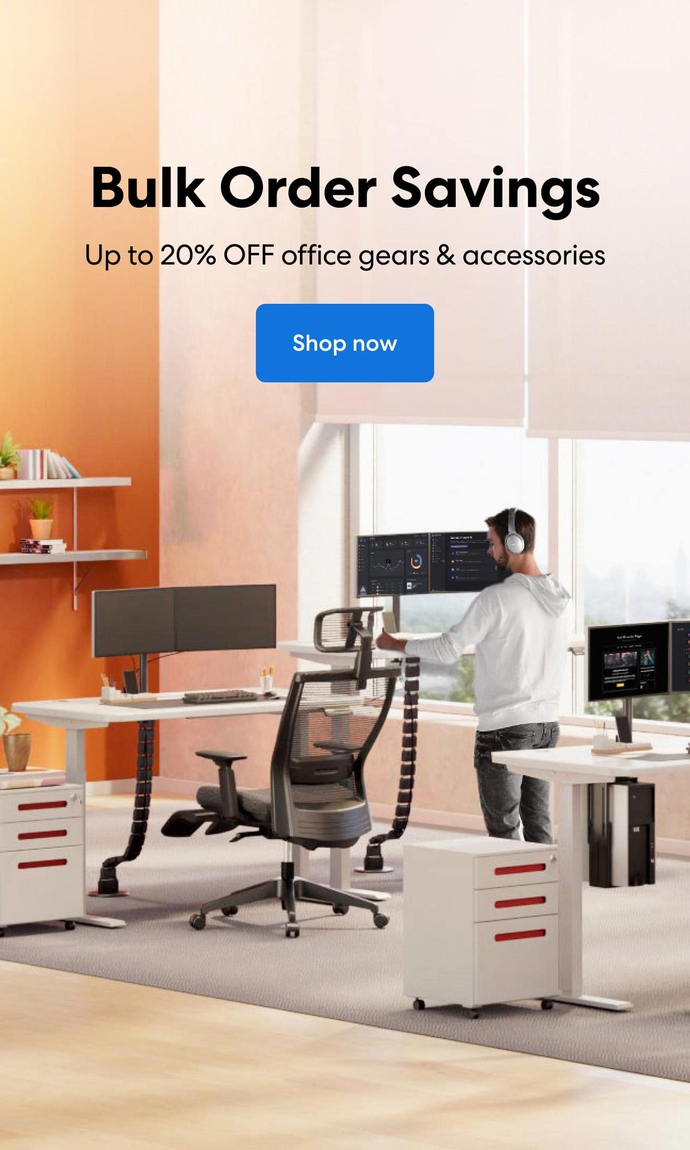 Subcribe newsletter and get $100 OFF.
Receive product updates, special offers, ergo tips, and inspiration form our team.