The end of the year brings a lot of excitement and a chance to set your life straight because a change of year is what we need to start over. But as we wait for the New Year's celebrations, fireworks, and dinners, a major portion of us is excited about the New Year's day sale. Yes, even after Christmas and you have drained your budget by buying holiday gifts for everyone, the retailers put on a best New Year's Day sale to soften the blow.
These sales are amazing and cover a huge range of products so you can follow your New Years goals more realistically or do over your life you wish to. But what are the things you need to hunt during the New Year's Sales, and what items to pass on? In this article, we will cover all the products you can shop from New Year's Sale and improve your life.
Best New Year's Day Sale on Office Furniture
From Black Friday in November to New Year in December/January, office furniture remains popular. This change is more prevalent since people have started to work from home, or maybe 2023 is when your office goes hybrid; hence you need a proper work-from-home office setup too. Building a home office is challenging, especially from a monetary point of view, but with New Year's Day furniture sales, you are in great luck to save at this time. Here are some items you can buy from New Year's Office Furniture sales.
1. Autonomous SmartDesk Pro
Standing desks are the new change you need to make in your New Year fitness routine. The Autonomous SmartDesk Pro is a height-adjustable electric desk with programmable settings. The desk is powered by dual electric motors and is suitable for regular XL desktop options.
Top dimension
Small Top: 43"L x 24"W x 1"H
Classic Top: 53"L x 29"W x 1"H
XL Top: 70.5"L x 30"W x 1"H
Frame dimension
27.5"W x 40" - 73"L
Height range
With top: 26.2" - 52"
Without top: 25.2" - 51"
Materials
Top: Warp-proof, MDF wood, natural Bamboo
Frame: SPCC steel
Colors
Top: White, Black, Walnut, White Oak, Bamboo
Frame: White, Black, Grey
Weight capacity
310 lbs
Warranty
7 years for frame
1 year for top
2. Autonomous ErgoChair Pro
Working while standing could be on your New Year's Resolution list, but your home office will be incomplete without an office chair. The ErgoChair Pro from the Autonomous ErgoChair series is the best you could get. It is fully adjustable, reclines, and gives a comfortable sitting time.
Dimensions
29"L x 29"W x 46" - 50"H
Seat height

18" - 20"

Materials
Polyester fabric with molded foam interior and durable nylon plastic frame; PU handrest pads
Colors
Cool Gray, Evergreen, All Black
Red Apple, Black & White, Baby Blue
Weight capacity
300 lbs
Warranty
2 years
Feature
Adjustable height, armrest, headrest, backrest, and seat tilt
3. Autonomous SmartDesk Connect
A smartphone controls an ergonomic height adjustable desk, the SmartDesk Connect. You can monitor the desk height, control the pre-set settings and also operate the desk movement, all with the help of single button control.
Top dimension
Classic top: 53"L x 29"W x 1"H
XL top: 70.5"L x 30"W x 1"H
Frame dimension
40" - 73"L x 27"W x 23.6" - 49.2"H
Materials
Classic top: High-quality MDF wood (White/Black); Natural Bamboo
XL top: High-quality MDF wood (White/Black)
Frame: SPCC steel
Colors
Top: White, Black, Dark Bamboo, Pink, Teal, Blue
Frame: White, Black, Grey
Weight capacity
350 lbs
Warranty
7 years for square leg frame
5 years for round leg frame 
1 year for top
4. Autonomous ErgoStool
The Autonomous ErgoStool gives you a great break from standing to sitting several times a day. The ErgoStool is height adjustable, lightweight, easy to use and an ergonomic sloped seat for people who suffer from back pain or poor posture.
| | |
| --- | --- |
| Product dimensions | 13"L x 13"W x 25" - 35"H |
| Seat dimension | 13"L x 13"W |
| Seat height | 25" - 35" |
| Range of motion | 30° |
| Materials | Polyester fabric with molded foam interior and durable nylon plastic frame |
| Colors | Navy Blue, All Black, Cool Gray, Evergreen |
| Weight capacity | 270 lbs |
| Warranty | 2 years |
| Feature | Adjustable armrest, back tilt angle and tension, seat height |
5. EUREKA L60 L-shaped Standing Desk: Keyboard tray
The Eureka L60 L-shaped desk is specially designed as gaming furniture. This desk comes with pre-set memory settings, is height adjustable and works with the dual motor operation. The desk has a weight capacity of 220 pounds and offers a 5-year warranty.
Top dimension
61"L x 43"W
Knee space
50"L x 24"W
Height range
29.5" - 48"
Materials
Steel, Particle board
Colors
Top: Rustic Brown
Base: Black
Gaming Configuration
Keyboard tray, headphone hook, cup holder, RGB light
Warranty
5 years
6. FinerCrafts Standing Desk: Curved Top
The FinerCrafts standing desk is a good pick from the New Year furniture sale as this desk is perfect for work, gaming and long-day use. It is height adjustable, has a 2-stage frame for extra load and is powered by dual electric motors. The desk has 4 programmable keypad settings too.
Top dimension
Classic:  55"L x 28"W x 3/4"H
Medium: 60"L x 24"W x 3/4"H
XL: 71''L x 32"W x 3/4"H
Frame dimension
40" - 73"L x 26.8"W
Height range
Without top: 27" - 48"
With top: 28" - 49"
Materials
Warp-proof MDF wood, SPCC steel
Colors
Matte Black, Natural Maple, English Walnut
Weight capacity
350 lbs
Warranty
10 years
7. EUREKA IM63 Curved Desk: Additional Storage & Manual Height Settings
Eureka Curved desk's L shape leg design has a 63 inches large gaming surface. It brings you plenty of areas to combat and work freely. The gaming desk has a carbon fiber desktop and is height adjustable.
| | |
| --- | --- |
| Dimension | 63"W x 27.56"D |
| Height range | 26'' - 32'' |
| Included accessories | Mouse Pad, Cup Holder, Controller Rack, Headphone Holder |
| Weight capacity | 200 lbs |
| Warranty | 5 years |
New Year's Day Appliance Sale
Appliances and computer accessories are vital in improving efficiency and making a workplace more productive. Here are some must-have appliances from the New Year's Sale.
1. Autonomous LED Desk Lamp
Digital eye strain is common in workplaces hence the Autonomous LED desk lamp with smart brightness features. This desk lamp is height adjustable, can be controlled in brightness and offers ergonomic adjustability.
| | |
| --- | --- |
| Dimensions | 21"L x 3"W x 7.5"H |
| Colors | Black |
| Materials | Die casting Aluminum & Metal |
| Input voltage | AC 100 - 240V 50/60Hz |
| Brightness | 600 lm |
| Light colors | 3000k, 4000k, 5000k, 6000k |
| Lamp lifetime | 50,000 hours |
| Item weight | 18 lbs |
| Warranty | 1 year |
2. Autonomous Power Outlet
The Autonomous power outlet can power your PC, laptop, phone, tablet, and desk lamp. Clamp the outlet to your desk to charge everything completely.
Dimensions
8.6"L x 5.7"W x 2.5"H
Colors
Black, White
Outlet specs
12A, 125VAC, 60Hz, 1500W
Weight capacity
26 lbs
Item weight
2 lbs
Features
03 US power socket (Flat prong plug)
02 USB charger socket
71 inches US power cord
Warranty
1 year
3. Cloud Nine ErgoTKL Split Mechanical Keyboard
Among many desk accessories, a great keyboard greatly impacts your productivity. It makes things easier; with a faster response rate, you get quicker results, and an ergonomic keyboard such as this one has features like tilting palm rests, a multi-function smart wheel and programmable hot keys.
| | |
| --- | --- |
| Dimensions | 16.1'' H x 9.9'' W x 2'' D x 4 lbs |
| Keys | 91 keys |
| Switch style | CHERRY® MX (Brown) |
| Max separation width | 8'' |
| Warranty | 2 years |
4. LumiCharge-Mini-7in1 LED Lamp Phone Charging Stand
Get your hands on this multi-functional LED desk lamp with a wireless charging option for iPhone. The Lumicharge 7-in-1 wireless charger with a USB port, LCD time display, alarm clock and varying colour modes is a smart device on your work desk.
| | |
| --- | --- |
| Dimensions | 4.5" L x 2.5" W x 11" H |
| Colors | Black |
| Materials | ABS high gloss metallic finish |
| Input voltage | AC 110V 50/60Hz |
| Brightness | 1200 lumens |
| Light colors | Daylight, Warm Light, Cold |
| Lamp lifetime | 50,000 hours |
| Item weight | 1.5 lbs |
| Warranty | 6 months |
5. MEE audio X20 Truly Wireless In-Ear Headphones: Active Noise Canceling
Whether for office work or your day-to-day routine, a set of active headphones can help you with easy communication. These noise-canceling headphones with a portable design are easily used and made with wireless technology.
| | |
| --- | --- |
| Dimensions | 5.7"L x 5.7"W x 3.2"H |
| Product weight | 0.12 lbs |
| Frequency response | 20 Hz to 20 kHz |
| Bluetooth version | 5.0 |
| Charging connector | USB-C |
| Water resistance rating | IPX4 |
| Includes | 3 sets of eartips, charging case, USB-C charging cable |
| Warranty | 1 year |
6. Pixio PX274 Prime Gaming Monitor
The PX274P, designed for productivity, has a bright 27-inch WQHD 1440p 500 nit IPS display and can support up to 75Hz for some light gaming during downtime.
Dimensions
With Stand: 24.21"W x 18.46"H x 10.35"D
Without Stand: 27.76"W x 20.87"H x 6.50"D
Front bezel size
24.25" x 0.65"
Display Size
27"
Light Source
ELED Edge Type
Resolution
2560 x 1440
Frequency
75Hz
Item weight
10.8 lbs
7. The Office Oasis Magnetic Desk Organizer
This versatile desk organizer is both practical and contemporary. This adaptable desk organizer has a proprietary design for maximum organization, effectiveness, and lifetime-quality materials.
Dimensions
13.5"L x 3.25"W x 3.75"H
Colors
Natural/ Brown/ Black
Materials
Bamboo base with N52 NiCuCi magnets
ABS plastic organizing compartments
Non-Slip Silicone Feet
Include
2 Tall tray
1 Short tray
1 Phone stand
1 Medium tray
1 Post-it holder
1 Magnetic Grid
Warranty
Lifetime
Home Gym Equipment New Year Sales
Among many New Year resolutions, fitness resolutions take the lead. This home gym equipment collection from the New Year sales will help you become a better and healthier version of yourself.
1. MyKronoz Body Scale: App Control
As you embark on your fitness journey, don't forget to keep track of your goals. The Mykronoz body scale is digitally controlled and accurate to a fault. This scale not only measures your weight but also gives a check on other essential body details.
| | |
| --- | --- |
| Dimensions | 13.4" x 0.8" H |
| Product weight | 4.63 lbs |
| Color | Black, White, Gradient |
| Materials | Tempered glass, ABS bottom housing |
| Weighing range | 9 - 396 lbs |
| Units | Kg, Lb |
| Compatible apps | Apple Health, Google Fit |
| Warranty | 1 year |
2. REVBALANCE Focus Balance Board
Your entire body is engaged when you use this focus balance board at your desk, especially that difficult-to-reach core. The best aspect is that you can stay active while getting things done. And while work is at best monotonous, who doesn't enjoy a little fun?
| | |
| --- | --- |
| Weight capacity | 450 lbs |
| Color | Granite, Slate |
| Warranty | 3 years |
3. WalkingPad Foldable Walking Treadmill C2
Treadmills are too mainstream. How about a walking treadmill? Get your hands on this foldable, compact as it could get an easy-to-use treadmill from the WalkingPad. Use it while working, and you are active and healthy during work calls.
Dimensions
Unfolded: 56.9'' L x 20.4'' W x 4.9'' H
Folded: 32.5'' L x 20.4'' W x 5.4'' H
Item weight
48.5 lbs
Color
White / Black
Materials
Panel: ABS plastics
Power
1 HP
Speed range
0.3 - 3.7mph
Weight capacity
220 lbs
Warranty
1 year
4. TREBLAB Turonic GM5 Massage Gun - Deep Tissue Massager
You probably have to meet sore muscles several times when you are a fitness freak. This deep tissue massager works through muscle knots and swollen parts after a proper workout session just as good as you would get in a professional therapy.
| | |
| --- | --- |
| Amplitude | 11mm |
| Intelligent mode | 10 min smart timing |
| Torque pressure | 0~7.5kg/cm |
| Charging time | 3h |
| Battery capacity | 3400mAh |
| Massage gun weight | 1.68 lbs |
| Include | 7 replaceable heads and 5 intensity modes |
| Warranty | 1 year |
Video ads for product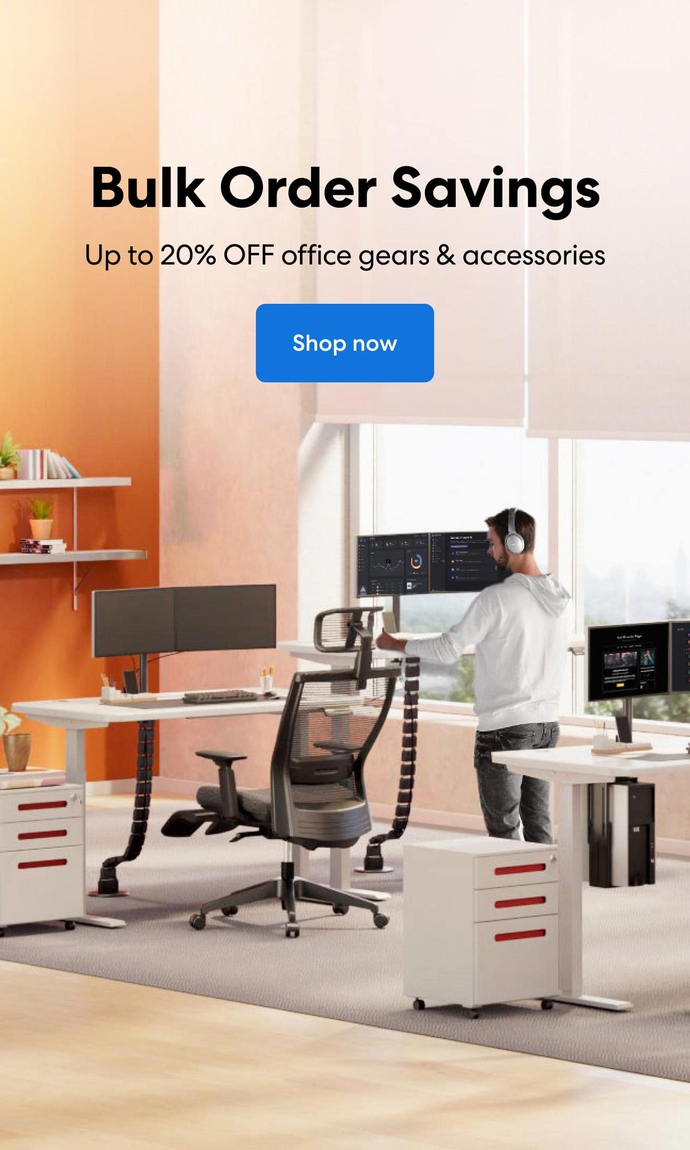 Subcribe newsletter and get $100 OFF.
Receive product updates, special offers, ergo tips, and inspiration form our team.