Smart Products
What Wood is Used for Furniture: Best Type to Choose for Office

Autonomous
|
Feb 15, 2021
5,101 Views
Are you confused about the type of wooden office furniture to get? Well, it may all look aesthetically pleasing, but choosing wood goes beyond just looks. If you wonder what wood is used for furniture and the best type to choose, look no further.
In this article, you will get the details you need to choose the best type of wooden office furniture!
Why Is Wood Used for Furniture?
You may think about why is wood used for furniture when there are cheaper alternatives. Though you may purchase inexpensive options like plastic and metal furniture, they are cost-effective only in the short term. Here is a list of the pros and cons of using wood for office furniture.
1. Aesthetics
Wooden furniture such as a white oak standing desk can instantly add a touch of flair to your workplace. Whether you work from a home office or a regular one, wooden furniture looks classy and elegant for every setting type.
2. Long-lasting
Apart from looks, a feature that automatically comes with wooden furniture is durability. If you choose original, quality wooden furniture such as solid wood, it has a prolonged life span. Additionally, they are solid, and some wood types are also dent and scratch-resistant.
3. Always in Trend
Do antique wooden and décor pieces leave you in awe? Well, wooden furniture is a timeless fashion that exists for centuries. The only difference is now you have modern options like an ergonomic office chair designed for current day workstations. 
4. Stress-busting Effect
Believe it or not, wooden furniture has a stress-busting effect on everyone around. Natural items like wood help lighten up your mood as it equals spending time around nature. Additionally, it is non-toxic, and most types of solid woods do not involve chemicals. Therefore, it is definitely good for your health and mental well-being!
5. Renewable
You will probably dump worn-out plastic and metal furniture, which will end up in landfills. Wood, on the other hand, can be used for producing energy
Type of Wood for Office Furniture
Are you wondering what is the right type of wood for office furniture? Wooden furniture has two primary types—solid wood and manufactured wood. Let's look at each of these thoroughly.
Solid Wood
It is the real or original wood used in office furniture like a wood standing desk. It directly comes for lumber and does not go through any manufacturing process. Solid wood further has two categories:
Hardwood
It is the heavy-duty, quality wood that is used in making office desks, chairs, floors, and much more. Hardwood comes from trees that grow at a slow pace and is thus, more expensive than other types. Here are a few types of hardwoods used in home and office furniture.
Oak

Maple

Cherry

Mahogany

Walnut

Teak
Soft Wood
Though softwood furniture pieces are as popular as hardwood ones, they come from less dense trees. Evergreen trees that grow at a fast pace are used for making softwood furniture. Following are the softwood examples.
Manufactured Wood
Engineered or manufactured wood such as plywood and particleboard is made by combining various types of real woods. These wood types include gluing different layers and fibers of lumber with adhesive. Manufactured wood is a common type of wood for office furniture.
What is the Best Wood for Office Furniture – Things to Look For
Now that you are aware of the varying types, you may be wondering what is the best wood for office furniture. Here are the things to look for while choosing wooden office furniture.
Durability
The prime thing that you need to see in wood type for office furniture is its durability. If you buy office chairs online, make sure they are made of maple, bamboo, mahogany, oak, or cherry. All these are hardwoods that reflect quality, are dent-resistant, and last for a prolonged period.
Looks
Once you have the durability factor ticked, you need to get down to aesthetics. After all, no one wants to work in a dull-looking office. Choosing a bamboo standing desk or other beautiful-colored furniture like white chairs and shelves can add elegance to your office.
Price
If you are looking for inexpensive wood options, pine and cedar are a few of them. These are softwoods that are lightweight and beautiful. Cedar is also weather-resistant and has an aroma to it. Still, they are more vulnerable to damage than the comparatively expensive hardwood types. Red oak is one option that is strong, beautiful, and inexpensive.
What Wood is Used for Furniture – Examples
So far, you have gained quite an insight into the varying types of wood. Now that you know what wood is used for furniture let us look at some examples of the same.
Chairs
Wooden chairs may be made from varying types of woods. These range from hardwood like mahogany, oak, and maple to softwoods like cedar and redwood. If you want to know how to buy ergonomic office chairs, make sure to look at factors like comfort, style, and durability.
Desks
Wooden desks especially an office desk has become very popular in modern office furniture. These are modular pieces that add functionality as well as looks to your workspace.
Shelves
Oak, maple, and cherry are the best wood options when it comes to shelves. You can use these wood types for modular drawers, cabinets, and other similar office pieces as they are hard, durable, and stylish.
Endnotes
When it comes to choosing the right type of wood for office furniture, getting confused is inevitable. However, that must not restrict you from choosing beautiful wood office furniture.
Wood has a plethora of benefits such as durability, aesthetics, timeless fashion, and positive health effects. However, you need to choose quality furniture to enjoy these features.
This article lists the various types of wood to clear your doubts about what wood is used for furniture. So go ahead and choose the best wooden office furniture and level-up your workstation!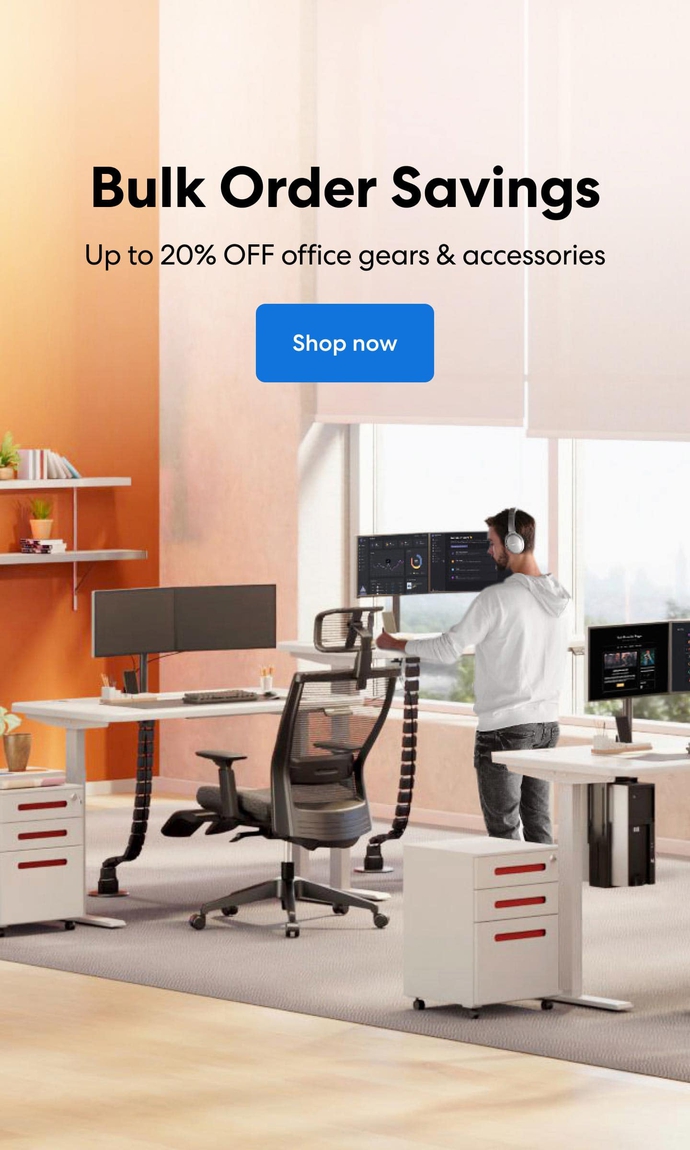 Subcribe newsletter and get $100 OFF.
Receive product updates, special offers, ergo tips, and inspiration form our team.