Latest Updates
When and Where To Snag the Best Discounts: Black Friday 2018

Autonomous
|
Oct 22, 2018
3,917 Views
Every year, Black Friday boasts amazing discounts on furniture, appliances, TVs, holidays and numerous other products. Most people often wonder how they can find the best Black Friday deals and spend hours perusing articles which can help them in finding these. There is an adrenaline rush and a feeling of self-accomplishment from being able to bag something at a great price. Moreover, it even adds to the enjoyment of the purchase.
Black Friday 2018: When Is It?
Black Friday will be the day after Thanksgiving, which means this year it will fall on November 23. However, sales are expected to start much earlier and therefore, keeping a lookout for these sales is a must.
Based on Black Fridays in the past, most Black Friday deals and sales will start on Thanksgiving (or before) and continue throughout the Black Friday weekend and into Cyber Monday 2018.
Black Friday deals will be promoted across most major retailers, including but not limited to, Argos, Currys, Amazon, John Lewis, Debenhams, Macys and House of Fraser.
How Did Black Friday Start?
Black Friday started originally in the US. Since Thanksgiving is always observed on the fourth Thursday every November, the Friday after is often taken as an unofficial holiday.
Since many people are not at work, retailers reduce prices, mostly for one day, to kick off the Christmas season.
Retailers in the UK have also recently jumped on to the bandwagon as the trend spread across the Atlantic Ocean a few years ago. Between 2010 and 2013, Black Friday gradually became more popular amongst the UK audience and in 2014, Black Friday sales were recorded as the highest pre-Christmas sales online.
From 2015 to 2017, many other retailers started launching sales in the days leading up to Black Friday which elongated the peak period further. Most shops like to keep their Black Friday plans a surprise until the day itself but many others start unveiling them earlier.
To maximise high street sales in the UK and US this Black Friday, shoppers should set their alarms early to beat the long queues and enter the stores as soon as they open.
What's The Difference between Cyber Monday and Black Friday?
To be honest, there isn't a huge difference between both the days. Many Black Friday 2018 deals and coupons will extend all the way through to (and after) Cyber Monday as well.
Originally, Cyber Monday was not linked to Black Friday. The term "Cyber Monday" was originally invented to signify the date when people realised that it was nearly Christmas and they hadn't purchased any presents.  As a reaction to this, they would start ordering a whole list of things online during the hours they should have been working.
Previously, Black Friday sales were usually advertised for consumer electronics and Cyber Monday sales were restricted to jewellery and clothing. However, these lines have blurred now and deep discounts can be found across all product lines on both those days.
Black Friday 2018 Deals and Coupons: Which Retailers Are Safe Bets?
As Black Friday sales have started becoming more predictable, it is reasonable to assume that the following retailers will release some of the best deals.
Amazon
Amazon will give big discounts on its own products. The online giant has started offering shoppers attractive price cuts, one month before Black Friday begins. This year, Amazon has launched sales on its Echo speakers, Fire HD tablets and Fire TV sticks. The prices have been slashed up to 25% which is a treat for shoppers who had been eyeing these products for some time now. However, these sales are only expected to last until October 24.
Another set of deals that Amazon offers during or around Black Friday are the Amazon Warehouse deals. These offer discounts on open or used box products. Amazon tests the physical and functional condition of each product and then grades it before selling it online. Another plus is that Amazon's satisfaction guarantee is still applicable on these products so the shopper doesn't forego any of the protections that are received on other regular Amazon purchases.
Apple
As Black Friday edges closer and closer, most people are lusting to get their hands on products by the tech giant, Apple. Even though Apple has participated in Black Friday sales for the last two years, none of its deals have been mouth-watering. In fact, at most Apple has only offered a few gift cards between $30 (for Apple iWatch purchases) and $150 for high value purchases (Apple iMac or Macbooks). However, Black Friday 2018 could prove to be a game changer and Apple may end up offering steep discounts on its iPads, iPhones and Apple MacBooks. Moreover, Apple retailers such as Argos and Currys will be participating in the Black Friday sales so a high-street shopper can still avail discounts on tablets, smartphones and laptops through the high-street.
eBay
When it comes to snagging some of the best discounts, eBay is definitely worth checking out as a large selection of its products are heavily discounted. In 2017, eBay offered savings of up to 70%. Many products lines such as tablets had sales of 20% like in the case of the 7 inch Amazon Fire. Kitchen appliances like blenders had 30% off and the price on Apple's MacBook Air was also reduced significantly. Not just that, Sony sound systems had 50% off, Acer laptops had 35% off, PS4 bundles had 12% off and Google Chromecast Media Streamer had up to 40% off.
Walmart
During the week leading up to and following after Black Friday and Cyber Monday, Walmart boasted more deals than any retailer, except Amazon. Moreover, there was one area where Walmart even outdid Amazon and this was the section pertaining to toys. In general, Amazon usually has more Editor's Choice deals but Walmart had more Editor's Choice deals for toys than the online shopping giant and about 75% more toy deals altogether. There were steep discounts on well-known brands like Lego as well as many other trending toys. However, Walmart even offered sales on its other product lines from apparel to electronics with some prominent sales on outerwear. Women's puffer vests went as low as $8 although better outerwear deals are usually available around New Year.
Best Buy
Best Buy may not rank as highly as Amazon or Walmart for Black Friday deals but it has consistently been ranked as one of the best places to shop for electronic deals. Best Buy's advertisement for Black Friday is like a short book with last year's advertisement almost fifty pages long. This makes it easy for seasoned shoppers to know beforehand whether they would like to purchase something from Best Buy. Many of the best deals can only be availed in-store but there are a plethora of online options as well.
Some of the hottest deals at Best Buy last year included a smart Samsung 65'' 4K TV for $750 and a smart Sony 50'' 4K TV for $450. Moreover, even the Apple products came in with some great discounts like a 2017 9.7'' iPad was for $250. Laptops and Blu-rays also had some amazing deals.
Kohl's
This is the place to go to for Black Friday sales if one doesn't mind getting money back in the form of credit instead of discounts. Kohl's Black Friday deals revolve around its home goods and clothing lines as well as some generous offers on high-end electronics. These deals are usually found on the likes of fitness trackers and smartwatches. In 2017, Kohl's offered steep discounts on the Apple Watch Series 3. It was available for $329 with another $90 in Kohl's Cash.
However, most of Kohl's sales are on everyday items. For instance, in 2017, Nike running shoes were being offered for $30 and three small kitchen appliances were being sold in a bundle costing $15. There were many other clothing offers as well.
Dell
Dell's deals were advertised across quite a few of its product lines like Dell Small Business, Dell Refurbished and Dell Home. A lot of these deals were on PCs and laptops. This makes Dell a must-visit for tech-savvy shoppers. However, many of Dell's deals were accompanied by Dell gift cards which may not be as valuable for people who seldom buy large electronics.
GameStop
Pop culture enthusiasts and gamers should definitely scan the Black Friday deals at GameStop. If one is looking to increase their library of video games, GameStop is definitely the place to go to. GameStop is known to be one of the later stores to offer Black Friday sales with sales in the past being offered just on or after Thanksgiving. The sale then lasts throughout the weekend and although, similar deals are available on all of those days, inventory clears up quickly which is why one must snag the best discounts as soon as they are made available. The best deals are offered on PC accessories, PC games, consoles and console video games as well as gaming-related décor, apparel and toys. For instance, in 2017, a 1TB PlayStation4 cost $200 and was offered with a $50 gift card. It was an eye-catching deal as it was the lowest price ever seen for a 1TB PS4. Moreover, PlayStaion4 Pro also had its price reduced by $50.
Target
Target is usually amongst the earlier stores to advertise its Black Friday offers. This early release is helpful as it provides clues to what other retailers may have to offer as they compete with Target to beat or match its prices. However, that is quite hard as Target's offers are usually better than all of its competitors.
In 2017 and before, Target usually advertised its sales about two weeks prior to Thanksgiving. Therefore, if the trend continues, Target Black Friday sale advertisements are likely to be seen between 5-8 November. Many retailers continue their sales throughout Thanksgiving until Cyber Monday but Target takes a break. In 2017, Target opened its stores at 6 pm on Thanksgiving and was open until 12 am. They then opened on Friday morning at 6 am. Although the opening hours haven't been confirmed for 2018 yet, similar trends are expected.
One of the best things to shop from Target during Black Friday is the iTunes gift cards. During 2016 and 2017, it was possible to purchase one iTunes gift card and receive up to 30% off another one. Moreover, on the weekend following Black Friday, there were some excellent discounts on holiday decorations. Upon spending $75, shoppers saved around $25 on a wide range of items such as gift wraps, stockings, ornaments, trees and lights. Target also gave $20 off to customers for future shopping trips if they spent $50 on Black Friday in any of the Target stores. It was easy to become eligible for this deal if one was on a shopping spree to purchase several small items or maybe just one big high-value item.
Lastly, Target does some terrific deals on Apple products too such as the latest iPhones. In 2017, Target offered iPhone 8 or 8 Plus with gift cards on the condition that the shopper signed a 24-month contract with one of the major telecom providers. This year, a similar deal is expected on the iPhone XR, but probably not on the XS Max or XS.
Final Words
In 2018, Black Friday is likely to be one of the busiest shopping days right before Christmas. While less shoppers are seen each year in brick-and-mortar stores compared to previous years, the focus has started shifting to e-commerce and online platforms. This e-commerce penetration is expected to increase dramatically as more and more stores start offering steep discounts on their products during Black Friday and Cyber Monday.
Other smaller retailers are also likely to join Black Friday sales. For example, at Autonomous, we want the world to work smarter and faster. There are likely to be good discounts around standing desks and ergonomic chairs. So sign up now to know more about our best offers and stay updated during Black Friday sales so you can get amazing deals for yourself and your family!
Video ads for product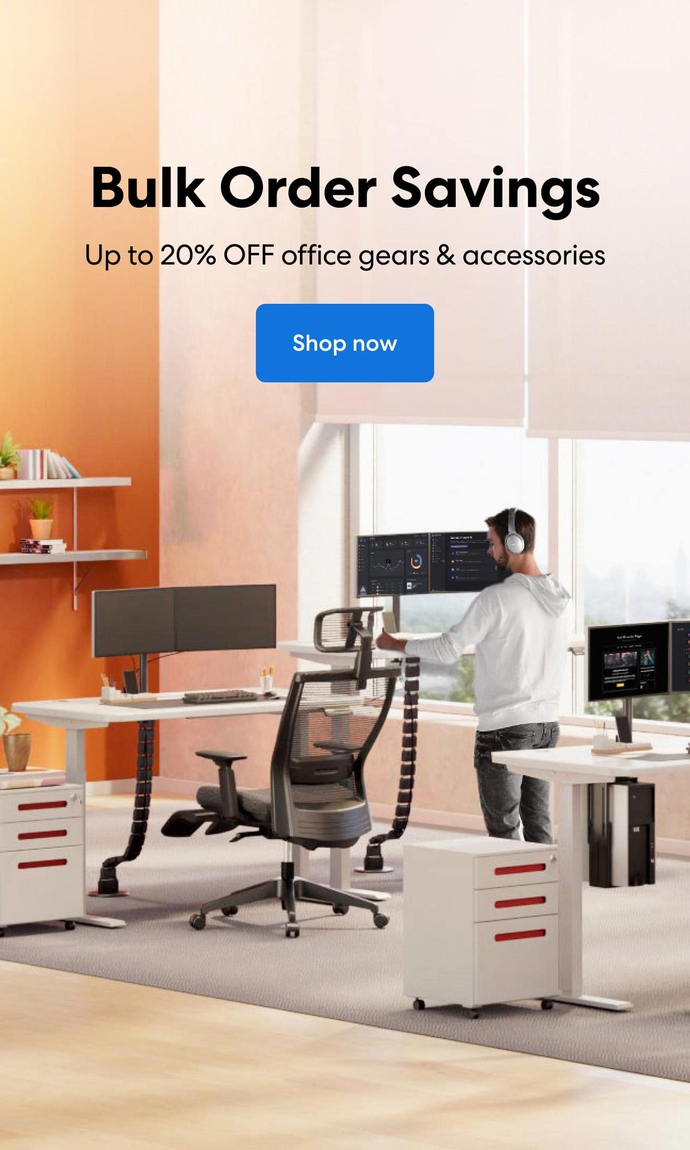 Subcribe newsletter and get $100 OFF.
Receive product updates, special offers, ergo tips, and inspiration form our team.