Workplace Inspiration
Why A Clean Office Setup Is Essential for Productivity

Autonomous
|
Apr 20, 2022
1,243 Views
Even the smallest aspects of your workspace can affect your productivity and health, such as the height of your monitor. We've outlined the best ways to set up your clean office setup for ergonomics and productivity based on what science says.
You could do something about a stressful workspace every day, but uncomfortable chairs, messy desks, and poor lighting do exactly that, even if you don't notice them. Nevertheless, there are several adjustments to how to make a clean desk setup to prevent your work environment from killing you.
Reasons For a Clean Office Setup
You're giving your brand a sleek, professional look
Consumers associate a neat work environment with superior, quality products and services. You can do any job from a clean home office setup, whether selling furniture, doing taxes, or serving food more efficiently. Your brand's outlook is assessed by how your office looks and feels and any products or services you may offer. The last thing you want is your disorganized work turning away a potential customer before the opportunity to speak with them has even arisen.
First impressions are everything
It is aesthetically pleasing and, more importantly, welcoming for potential clients to work in a clean office desk and tidy environment. The client is instilled with confidence and trust throughout the process and leaves an impression of efficiency and attention to detail. In contrast, dirty floors or smudges on conference room tables send potential clients that your business lacks the professionalism it takes to take care of its employees, let alone a new client. 
Organized employees are happy employees
It's common for employees to consider their workplace as a second home, so keeping it clean and tidy is important. Maintaining a well-maintained work environment with a minimalist small office design ensures your employees are productive, efficient, and, most importantly, happy. When employees spend around eight hours at work, you want to ensure that they are comfortable.
Improved and efficient workspace
It would help if you never assigned cleaning duties to your employees. Hire a dedicated team of cleaners or hire a professional cleaning service that can clean every corner of your office, from the floors and carpets to the walls, windows, bathrooms, hallways, and even the exterior. A one-time deal is also possible, or you can hire them to clean your offices every few months if you are completely satisfied with their services.
It is recommended that you educate your employees about keeping an office clean and hygienic. When your work environment isn't a clean desk setup, different germs and allergens thrive, emphasizing the importance of keeping it clean.
Tips For a Clean Office Setup
Clutter control
We recommend clearing your desk of clutter or finding a bigger space for them in terms of L-shape desk ideas. Make sure you have easy access to frequently used items, such as your smartphone, home office supplies, and gaming accessories. The items you don't use as often can be kept in drawers, underneath your desk, or at the side.
Organizing your desk with pegboards and shelf units is another good way to organize frequently used items from others that are not. Most people keep their peripherals, phones, monitors, and laptop mounts on their tables due to impressive minimal setups.
Lighting
Our top tip would be to allow for as much natural light as possible, either through windows or skylights, as warm natural light can help improve any desk setup. Glare may need to be considered during certain times of the day, though using blinds or curtains can help prevent it.
In some situations, natural light may not be enough. Lighting can make a significant difference in these situations. Desk lamps with articulating or flexible arms can help you reach the light you need and support various tasks. Using a screen bar lamp can also reduce the amount of glare from your monitor while lighting up your desk.
Desk organizers
What can you do about the smaller stuff? What are the tools you always have at your desk? The secondary stuff should be in a separate location. Everything else should be kept in a box or drawer on your desk. You want to keep all of them in check with a magnetic desk organizer. Wonderful! Your desk now has a functional setup.
Magic of nature
The simple addition of a plant or two to your home can have a tremendous impact on your well-being in the long run. In a boring, gray, and dull space, houseplants add color and life to the space and help us connect with nature. You can reduce your stress levels by keeping houseplants (watering and pruning are great stress relievers).
Your working environment may require succulents, ferns, or flowering plants, depending on the lighting conditions. Make plants more engaging by adding a terrarium and biodome that you can interact with and readjust every day. Or you could create a jungle vibe by adding potted plants, some vines surrounding your PC or pegboard if possible, and a nature-themed desk mat.
Cable management
You can get rid of them, but they're unsightly. It would help if you got as many wireless devices as possible: headphones, mouse, keyboard, etc. You can't eliminate them to get a clean office setup, but you can purchase a surge protector to direct all cables in one direction. You can purchase cable organizers and gutters for a cleaner and less chaotic environment.
Wall storage
Wall storage can hold everything you need right where you need them and is out of the way. One side of the desk has a pegboard storage unit that you can use to store your gadgets, including extras for when you need them to achieve a clean office setup. Additionally, a dual monitor setup and a few light units are freed up on the desk. You illuminate your space, making it appear cleaner and tidier than before.
Document management
This one is easy – you store away all your files in one accessible place. Your first guess would be a drawer in your shelf or closet. Drawers and closet shelves weren't designed to hold documents, at least not too many of them. If you have a decent amount of work, consider getting a filing cabinet. You can also think about adding a 2-drawer file cabinet. If your room is smaller, don't clutter it up with bulky furniture. Your alternative is a slim file cabinet. This gives you the right amount of storage without occupying too much space in your room.
Video ads for product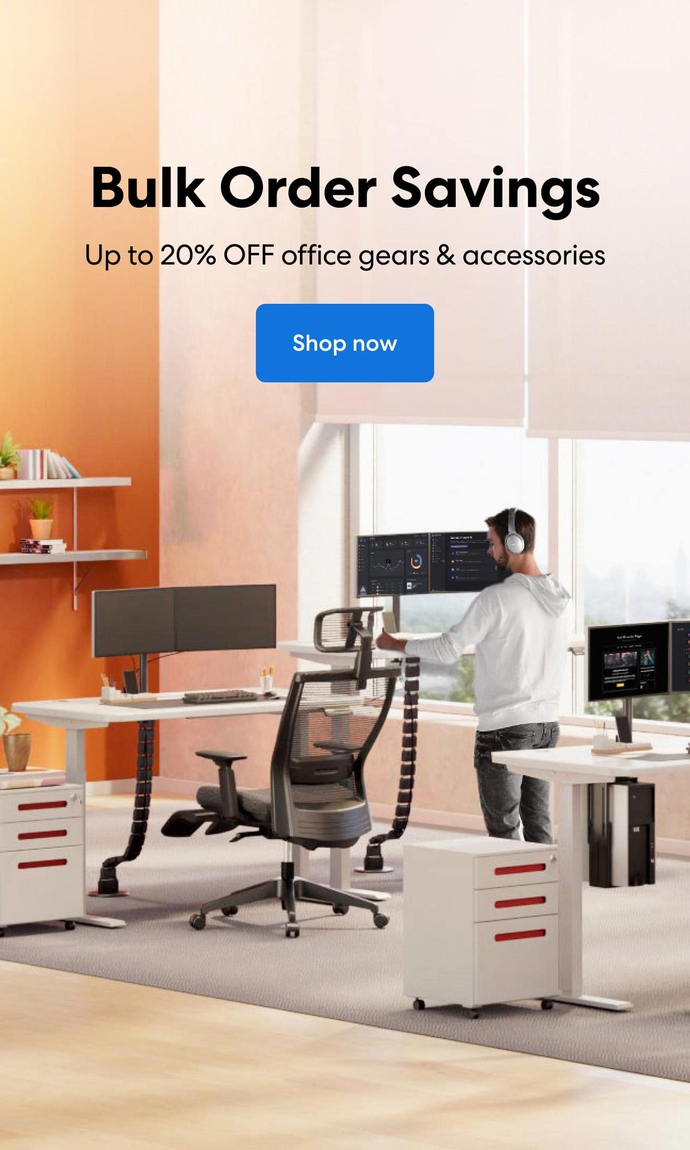 Subcribe newsletter and get $100 OFF.
Receive product updates, special offers, ergo tips, and inspiration form our team.