As Richard Branson says, "Clients do not come first. Employees come first." The verdict is in: happy employees are more productive employees, and a happy workplace is good for your bottom line. Check out all the different ways of creating a happy work culture that will improve your business.
This article is a part of the full guideline office design series:
Not all that long ago, in the wake of a global financial crisis, it seemed that if you had a job — any job — that earned you enough to pay your bills, then you were considered one of the lucky ones. It didn't matter how miserable the job made you. It didn't matter if your boss treated you like dirt and your company did too. You were lucky.
It's amazing how much things have changed in a decade.
Now, with such a growing variety of career options for young, talented job seekers, companies need to do more than simply offer a job and a paycheck and expect the employee to be forever grateful. They need to keep their employees happy in order to keep their employees at all.
The beauty of this new business environment, however, is that it isn't a one-sided affair. It turns out that creating a happy place to work actually benefits everybody, and can help grow your company in ways you might not have even thought about before.
Happiness is good for the bottom line
Every business has customers in some form or another. And these days customers from all walks of life have louder and more influential voices than ever before. Whether you're a restaurant or a bank, customers have multiple outlets to voice their pleasure, or displeasure, with your service. And the impact of customer satisfaction goes well beyond the surface of service-based industries.
Let's say you're an investor and you're looking to add to your portfolio. You have two companies in mind that you're looking into. Both are doing well in the market and have similar growth potential. But every time you call Company A, you're met with abrupt, moody employees on the phone, while Company B always leaves you with a smile on your face.
Then, you do a little research and find a bunch of customer feedback on Google, Facebook and other social media platforms that show you're not the only one who's experienced moody interactions with Company A. Throw in a few bad employee reviews on Glassdoor and it doesn't take long before the investment decision becomes pretty easy. Even if Company A has a great product and business plan, the happiness of their employees, or lack thereof, has trickled down and poisoned the quality of the service they are providing.
Which brings us to our next point…
Happiness is contagious
If unhappiness can spread through your company, then it only makes sense for the opposite to be true as well, and maybe even at a higher rate. Check out this beautiful little video to illustrate the point:
Who wouldn't want to work with that guy? Now, this doesn't mean you need to turn your office into a comedy club, but what a difference it would make to have employees that feel good while they're at work instead of wishing they were someplace else. And if the majority of your employees feel that way, especially senior staff, the trickle-down effect could have a huge impact on your bottom line.
"When looking at Fortune's '100 Best Companies to Work For' stock prices rose an average of 14% per year from 1998-2005, compared to 6% for the overall market."
- Dr. Noelle Nelson, author of "Make More Money by Making Your Employees Happy".
Being happy feels good. Being productive feels good, too. If your workplace provides the former, the latter will follow and create a feedback loop that rewards both the employees and the company.
Happiness attracts and retains talent
In such a diversified job market, it's common for employees to have one eye on their current job and one looking out for something better. This is a dangerous situation if you're a company with a bunch of talented but unhappy employees. If too many were to leave in too short a period, you could be in trouble.
According to a LinkedIn study, replacing an employee can cost a company up to two times that employees' annual salary. And when it comes to more senior positions, those estimates could increase exponentially when considering the direct impact on business operations and a potentially longer hiring process for a replacement. Then, even with the best possible replacement, it will take time to get them up to speed.
Needless to say, training employees well and keeping them on board is the best gameplan, and providing a happy environment is a huge part of that. You want to be the company where talent wants to go, and stay.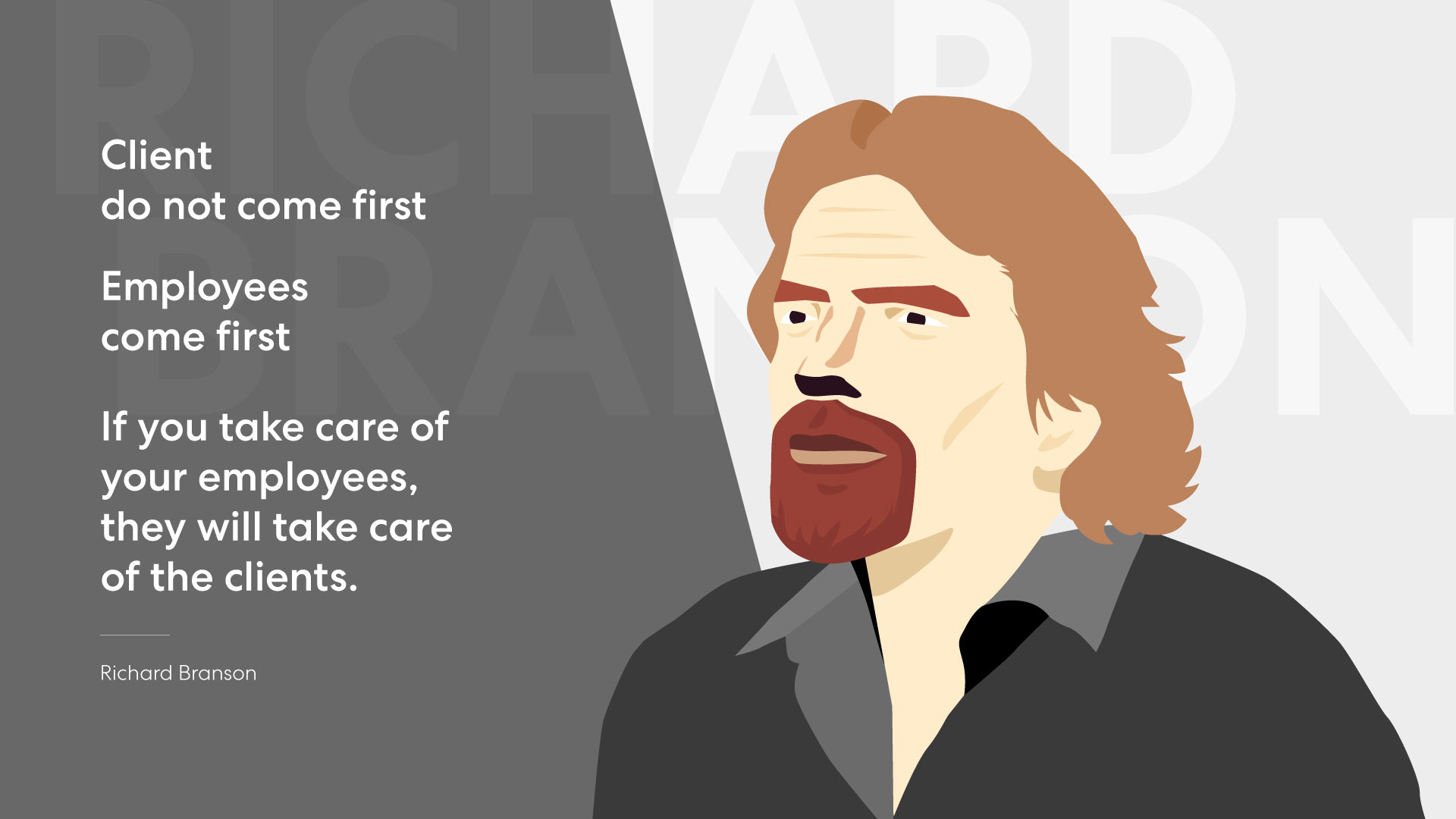 Loyalty might be one of the most underrated aspects of building a successful, sustainable business. Loyal employees create a foundation for long-term stability and growth, and can also work to attract top talent. Glassdoor states that in 2016, most job seekers read six company reviews before forming an opinion and 70% considered reviews before making career decisions.
If your company and or specific office has a bunch of 2.5 out of 5 reviews on these sites from current or past employees, you may have a difficult time filling any vacancies or be forced to hire candidates that are not ideal or best suited for a given role.
So, what makes employees happy?
Consider a recent study done by global consulting firm Gallup, Inc. It found that 82% of engaged employees across the United States and Canada strongly agree that they like what they do. However, only 31% of respondents actually felt engaged with their work, so that means only around 25% of the total respondents felt happy at work.
4 tips for creating an engaging work environment
1. Spiff up your office
One of the best ways of engaging your employees is making sure your office space is the kind of place somebody would enjoy working in. Incorporating natural light and specifically chosen colors can make a big difference, along with choosing the right styles of ergonomic furniture. For more, check out our full guide on how to redesign your office space.
2. Communicate… and listen
Would it really be that hard to simply ask your employees what they think, what they want, and then try to accommodate them? There are strong indicators that communication at the workplace plays a huge role in how employees feel when they're at work. The below survey from Gallup shows a sharp decline in employee engagement when managers are considered unapproachable to questions or ideas. The better the communication, the more likely it is that your employees will feel happy and valued.
3. Invest in training and skills development
Nothing says, "We don't really care that much about you," like hiring somebody and throwing them into the fire without any kind of training at all. The same goes for not offering employees any way of building up their professional skills. A recent survey conducted by PwC found that 35% of Millennials said excellent training and development programs are a major factor in feeling like an organization is compelling to work for. People today aren't just looking for security in their work, they're also looking for growth.
4. Loosen the tie and get flexible
If startups and their increasingly popular cultures have proven anything, it's that you don't need to wear a suit and sit in an office from 9-5 in order to produce great work. In fact, those boundaries might actually hinder talented employees more than motivate them.
Easing up on strict dress codes and offering flexible working hours to allow for better work-life balance can go a long way to developing a loyal, dedicated workforce. Show your employees that you care about their happiness and well-being; train them well; communicate openly; offer professional growth, and provide an office that they enjoy working in. These simple things can make all the difference towards creating a happy work environment, and thus, a productive one.
Sort by

Top comments

This week

This month
Why Being Happy At The Office Is Good For Your Business