Do you know why you should use a standing bamboo desk in your office? Sitting continuously in the office for long hours brings health risk of sitting and less productivity. That's right, according to the study -you need to change places for productive working in offices.
The right standing desk will not only help in efficient working but will boost your health as well. Choosing the perfect bamboo electric standing desk will be an enduring investment for you and your employees as well.
Is Bamboo Good for Your Desk?
The surface of your desk is the most vital and prone to accidents. Therefore it should be stylish as well as super strengthening. Using bamboo for your desk surfaces always makes you wonder - is bamboo good for a desk?
The bamboo sit-stand desk is not ugly-looking as you would imagine from the name. Instead, you can find excellent quality and textures for a bamboo sit-stand desk.
Eco-friendly
If sustainability is your thing, then these bamboo standing desks are perfect for your eco-friendly office. Bamboos are one of the fastest-growing plants. It would be interesting to know that bamboo is not a tree but it is grass.
This grass is known to grow an inch in an hour, making itself rank in sustainable materials. Its fast growth and robust features make it an amazingly eco-friendly option for your desk. Why miss the opportunity of having a desk which is both - eco-friendly and of the latest technology?
Highly Durable
An adjustable bamboo desk is a perfect fit for all types of climate and conditions. Having features like resistance to swelling from water or humidity, these wood standing desks are highly durable. If you shift your office outdoors, these desks are a perfect choice as they are resistant to temperature and climate of all types. The thick bamboo desk is incredibly sturdy.
The surface of a desk with a crafty bamboo core gives the edge to a stylish-unique look, making it perfect for your office. The tops of these desks are highly robust - you can put as much stuff as you like.
Benefits of Choosing Bamboo Adjustable Standing Desk
With the development of technology, everything around you is evolving. Then why stop yourself from having a comfortable life even at the office. Here are some of the reasons why you should choose a bamboo adjustable desk.
Programmability
When choosing a desk, you think of several features for a desk like an adjustable height or stand and sit desk. One perfect solution with all the desirable features is the bamboo standing desk. The ideal height adjustable bamboo desk comes with advanced features.
With the touch of a single button, you can adjust your bamboo electric standing desk according to your desire. Additionally, it memorizes your pattern and adjusts itself accordingly. These desks are perfect for any setting and blend well with your office interior design.
Great for health
Another benefit of bamboo standing desks is they are great for health. Some of the researches have demonstrated that sitting for long hours results in degradation of your health even if you are exercising every day. Hence, a solid wood standing desk is the best choice for staying fit and working simultaneously. You also can boost productivity and improve your work performance with it. 
Recent research by a university professor has stated that people should work standing for at least 30 minutes/hour. Furthermore, the usage of bamboo desks reduces the risk of inhaling or coming in contact with hazardous pollutants.
A bamboo desk goes through a process known as carbonization. In this process, bamboo is compressed for a longer duration for manufacturing high-quality standing desks without using harmful chemicals.
Economically Viable
Taking so much from this beautiful world, we should try our best to sustain it as well. One such way could be by using an office standing desk. Using a bamboo adjustable desk would help to make your environment a better place to live.
Moreover, it will also help you contribute to the well-fare of society. Bamboo is grown in rural zones. By buying a bamboo desk, we are contributing to making other economies better.
Between Sitting and Standing
Undoubtedly, sitting for 8-10 hours is bad for your health. However, this simply does not mean you spend the whole day standing at your work. The perfect solution to this problem is this highly compatible sit-and-stand desk. This bamboo electric standing desk lets you switch positions, making it more convenient to use.
According to research, standing desks are very good and have many health benefits. They help in reducing obesity in employees and other diseases like blood pressure. However, it is also necessary to divide your office hours sensibly between sitting and standing. As a matter-of-fact, excess standing can also cause harm to your health.
Maintenance and Lightweight
A bamboo standing desk is easy to maintain, as it does not get damaged from water or any other substance easily. Additionally, these desks are resistant to termite and easy to maintain.
With just a small piece of cloth, you can keep your desk clean and shiny. Furthermore, another benefit of bamboo standing desks is that it is super easy to transport, as they are considerably light. This is an important aspect, as it helps you and your employees to shift desks according to your convenience in the office.
Conclusion
Apart from less sitting time, using a bamboo standing desk helps you work more efficiently, providing the best of both the world. These desks are perfect for people working for more hours in the office or at home. You should schedule sit-stand sessions to improve your health.
Not only are these desks eco-friendly but they are also quite economical due to the fact they are long-lasting. If you want productivity from your employees, then you should keep the level of activity of your employees high.
Using a bamboo electric standing desk is a great choice, as standing helps increase productivity by 10%. By using a bamboo standing desk, you can enjoy the benefit of both sitting as well as standing!
Video ads for product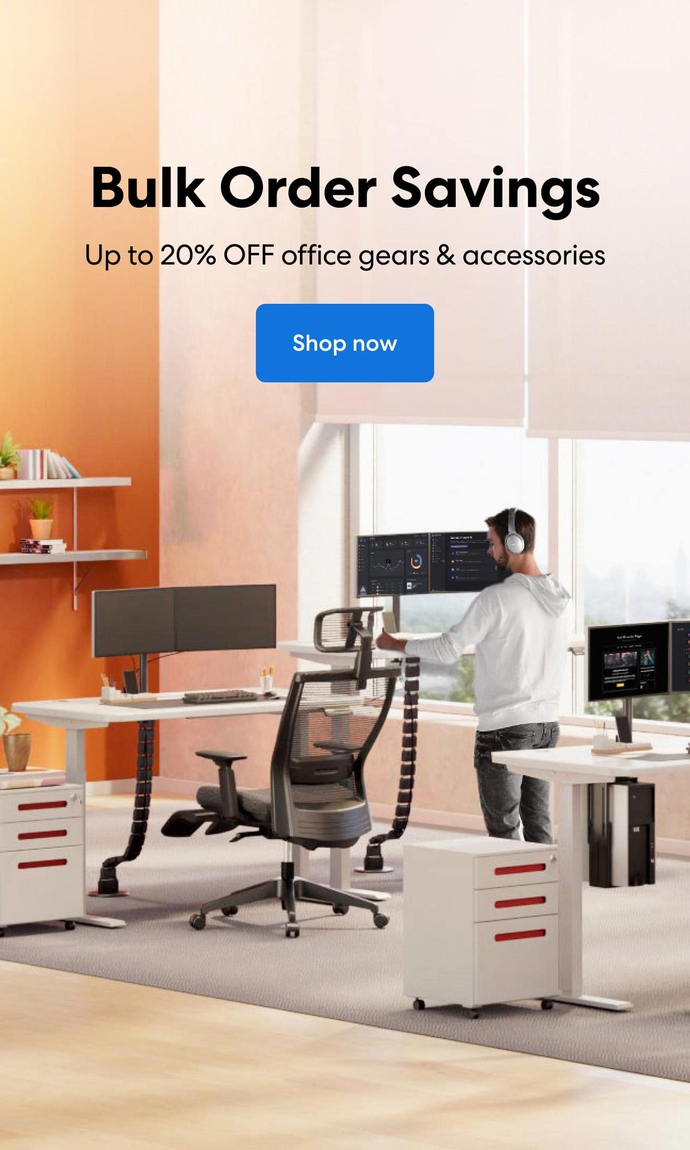 Subcribe newsletter and get $100 OFF.
Receive product updates, special offers, ergo tips, and inspiration form our team.