Hybrid Working
Why Is Hybrid Office Software Important for Your Business?

Autonomous
|
Jul 24, 2021
1,614 Views
There are many tools to facilitate hybrid office arrangements. However, since a change in the workplace is not easy and employee satisfaction is a keen factor in productivity, taking the help of the right tools and software is a mandatory part for a smooth transition. Hybrid office software is one such thing that helps you with the implementation of a hybrid work system.
A hybrid work software has a very integral role in optimizing and synchronizing the processes of a modern workplace, and there are many kinds of hybrid software that, when combined, can do the job for you. From office hoteling software to hot desking software and other desk booking systems, you can use each of the hybrid office tools and make things better and easier for your employees.
What is a Hybrid Work Software?
Since a hybrid office combines both in-house and remote employees, the operations are much more different than a conventional office. There is a lot to manage beyond human reach because of the geographical distances and differences in time. This is where hybrid office tools come in handy, which streamline the processes and make the geographical distance disappear through virtual closeness.  
Though there are many types of hybrid work software, you can choose the best one depending on your organization's needs. Some of the common types of office tools for a hybrid system include:
Collaboration and communication

Office management

File sharing and storage

Virtual offices/ Meetings
Importance of a Hybrid Office Software
In 2020, the most significant shift for businesses has been remote working. Companies are still figuring out how to balance in-office personnel with those who continue to work from home a year later. Hybrid workspaces are filling this vacuum in many offices. Hybrid and semi-remote personnel are increasingly displacing 100 percent, onsite teams.
This framework helps strike a balance between remote work's freedom and the companionship and support that comes with working in an office. And now that firms like Microsoft and Google have launched campaigns to promote this behavior, others are starting to follow likewise.
For many businesses, this is a significant change. As a result of their growing popularity, the question inevitably arises: what is the importance of hybrid software tools? There need to be proper measures to bring about that change in any organization where there is a change. A hybrid work arrangement is no exception.
Your organization must be smart enough to address the upcoming concerns, and the importance of hybrid office software cannot be ignored. Here are some ways in which hybrid office software helps your business.
Eliminating Bottlenecks
In a physical office, one could ask for a document or verbally communicate their needs to the colleague. However, in a virtual workplace, communication becomes a concern. Especially for employees who are not on board with this change, they might find it frustrating to ask for information each time there is confusion. Using software that uploads tasks with their details can help people ask for tiny details.
Every team member can do their work and upload it to the group or even share through the software, so there are no bottlenecks in the process flow.
Safe Storage
Gone are the times when everything had to be written down physically. Most of us have forgotten how to pace up with pens. The world of video cameras, voice recorders, and everything digital is making things easy for humans. A cloud storage system is one such thing. With a hybrid work model, since no one has their computer or cannot take it home with them, there must be suitable cloud storage where each employee can upload a file and get back to it the very next day.
Privacy
Even if you choose a basic storage system for your files and accounts, the risk of cyber theft has never been greater, especially when its information is worth millions of dollars at stake. The benefit of hybrid office software is that they are designed and encrypted so that no one can hack or access private information other than the user. Unfortunately, this extra security feature is not found to be in common software systems.
Same Platform
Virtual office employees who are not working in-house often feel left out. This is a major concern for hybrid workplaces since remote workers often feel unaware of office affairs and don't find themselves a part of an organization. Naturally, this causes them stress, but the employers also tend to overlook the efforts of remote workers in an equal way as in-house employees.
Safety
With the right hybrid office software, you can bring your whole office and its operations online without having a physical workspace. The future of workplaces is indeed hybrid, and organizations must practice health safety at all times. The hybrid office tools eliminate the need to physically exist in the office and make the virtual world your new workplace.
How New Software Help You Build Hybrid Office Model
If you are still ambiguous about whether or not to bring a hybrid work model in your organization, you must understand how the future of organizations is changing. From learning the pros and cons of hot desking to finding the right way to bring employees to a hybrid workforce system, many businesses move towards flexibility.
So, how can businesses shift to a world of work that includes both onsite and remote employment while also developing business processes that improve collaboration, productivity, and innovation? Again, technology will be the key to a new, more flexible world of work, just as it has made wide-scale remote working feasible.
Transition to a Hybrid Workplace
Making a change such as opting for a hoteling office space or adapting hot desking for an organization is a gradual process. It takes time, practice, and many failed attempts to achieve the desired results. Therefore, if your organization is undergoing this big change, you must be patient with the results and develop long-term strategies to achieve the goals.
Using reliable and popular hybrid office software and hybrid tool solutions is one thing, but to make sure you move forward with a proper hybrid work model is an integral part of this modification. Another important factor is educating the employees and training them about the importance of bringing this new change to the organization.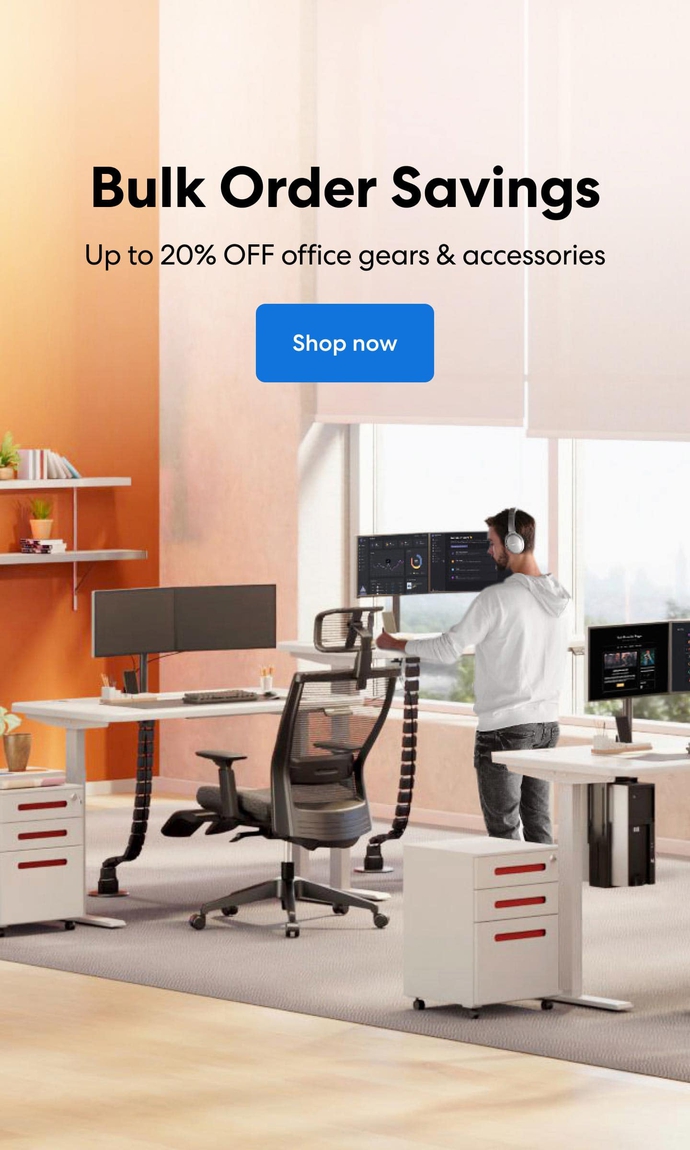 Subcribe newsletter and get $100 OFF.
Receive product updates, special offers, ergo tips, and inspiration form our team.